Enchanting Borneo. By David Bowden. Published by John Beaufoy Publishing, UK, 2011.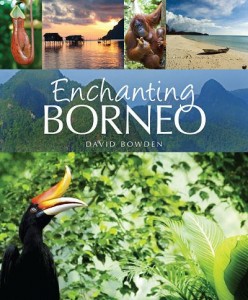 I first visited Borneo earlier this year and if I have any regrets, it's that I didn't have David Bowden's Enchanting Borneo before I went. If I had, I might have been less ambitious about trying to see the place in five days.
Bowden's book has brought home to me what a treasure house Borneo is – rich in wildlife, natural beauty, history and cultural experiences. The world's third largest island (after Greenland and New Guinea, and excluding the Australian continent), Borneo is home to the Malaysian states of Sabah and Sarawak, the independent Sultanate of Brunei and the Indonesian state of Kalimantan.
This 80-page book is the first in a series of pictorial travel guides that also includes titles on Cambodia, Laos, The Philippines and Thailand. As well as providing a brief visitor's guide, the book is brimming with enticing photos, many of them taken by the author himself.
Bowden is an Aussie who has been in Asia for more years than he cares to remember. A resident of Kuala Lumpur, where he works as a freelance photojournalist, he first visited Borneo as a consultant to the World Wide Fund for Nature (WWF).
He has returned numerous times to write and photograph Borneo for regional publications, and not surprisingly, has fallen in love with it.
Described by Charles Darwin as "one great luxuriant hothouse made by nature for herself", the island is rich in fauna and flora, including more than 600 bird species, and a diversity of mammals and marine life.
My trip, unfortunately, was one of those where we were trying to squeeze several destinations into just a few weeks. Nevertheless, even getting just a taste of Borneo was exciting.
I was thrilled to see the strange-looking Proboscis Monkey in the wild, was captivated by the antics of Orang-Utans at Shangri-La's Rasa Ria resort, and had the rare privilege of seeing the mighty Rafflesia, the world's largest flower. It was a case of ticking a lot of things off the bucket list at once.
We trekked in the foothills of South-East Asia's tallest mountain and had to calm our nerves after tackling the rope walk in the rainforest canopy near Mount Kinabalu.
Yet, as this colourful book makes clear, there was so much more we could have done, from exploring the world's largest cave in Sarawak's Mulu National Park to visiting oil-rich Brunei and becoming acquainted with some of the many tribal communities.
But then, you always need a reason to go back.