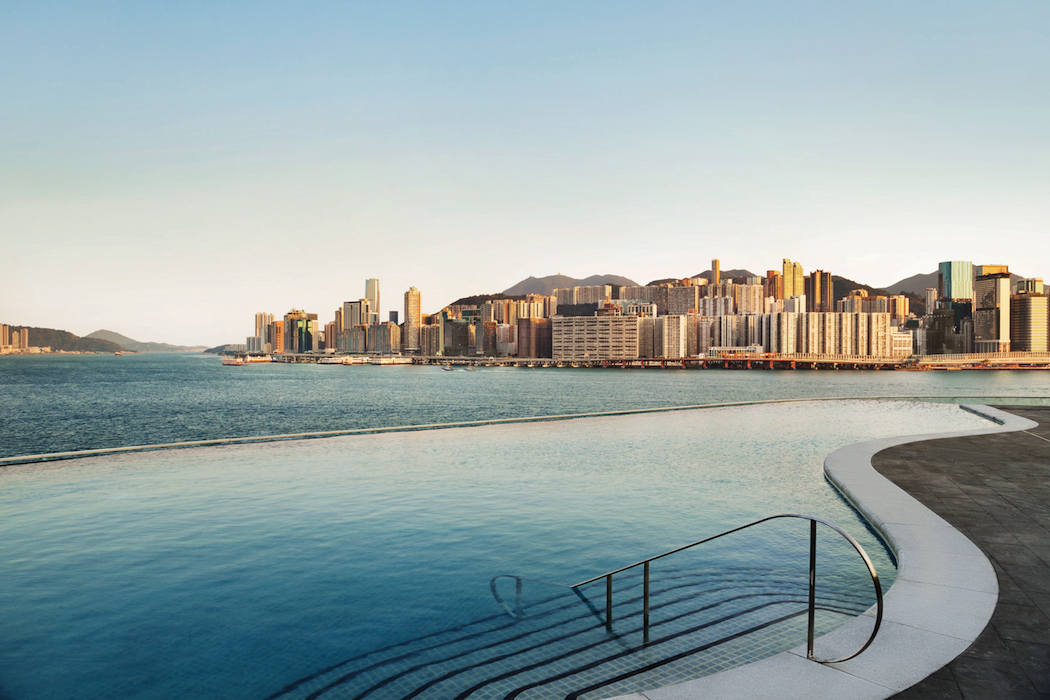 The Kerry Hotel describes itself as Hong Kong's first urban resort, and with extensive gardens, a 25-metre outdoor infinity pool, and a 24-hour fitness centre called Base Camp Kerry Sports, it certainly offers a very different experience from most of the city's other 5-star hotels.
The hotel opened in 2017 in Hung Hom Bay, an interesting area that is currently undergoing a revitalisation. More residential than touristy, it has a rich history and cultural background, but like everywhere in Hong Kong, it is meeting the 21st century head on.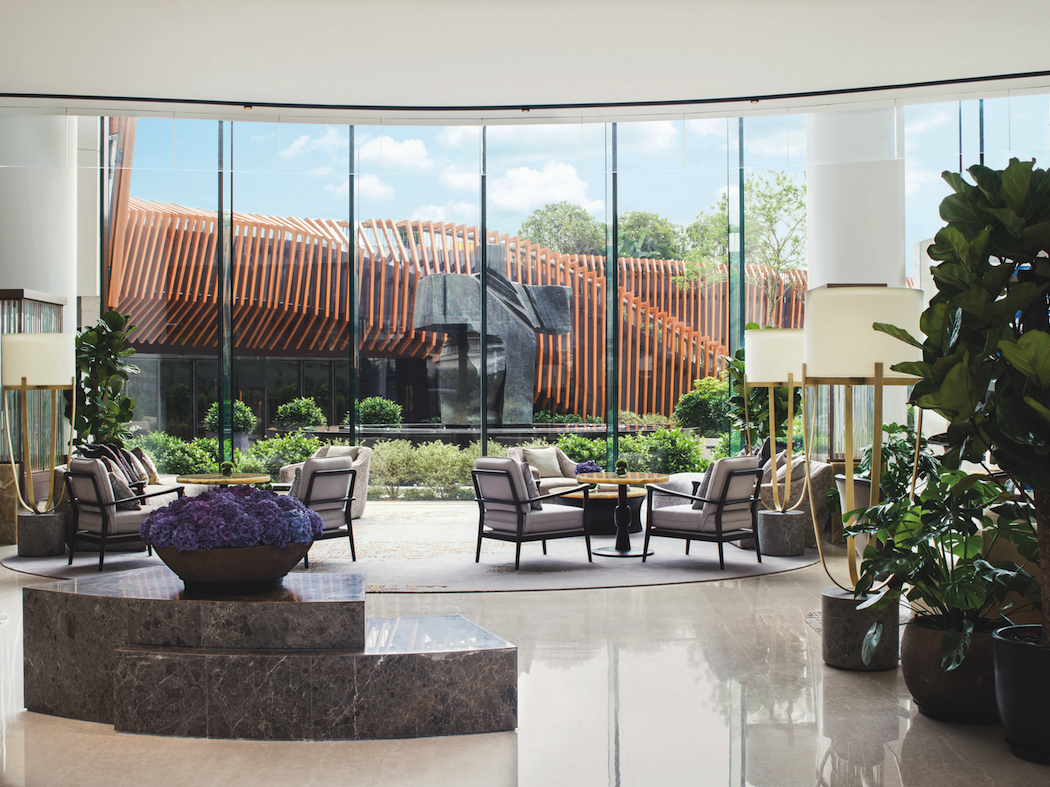 The hotel has produced a terrific little guide to things to see and do in the area, from an old-fashioned cinema to some interesting temples and lots of greet street food, coffee and other dining suggestions. You'll see a side to Hong Kong that you might not have seen before, and yet you'll still get to experience the stupendous views of Victoria Harbour.
With Hong Kong's supremely efficient metro system, it's just as easy to get around the city from here as it would be if you were staying in more touristy areas of the city. The hotel is within walking distance of Whampoa MTR Station, and there's a regular ferry service across Victoria Harbour to North Point on Hong Kong Island, which takes about 8 minutes.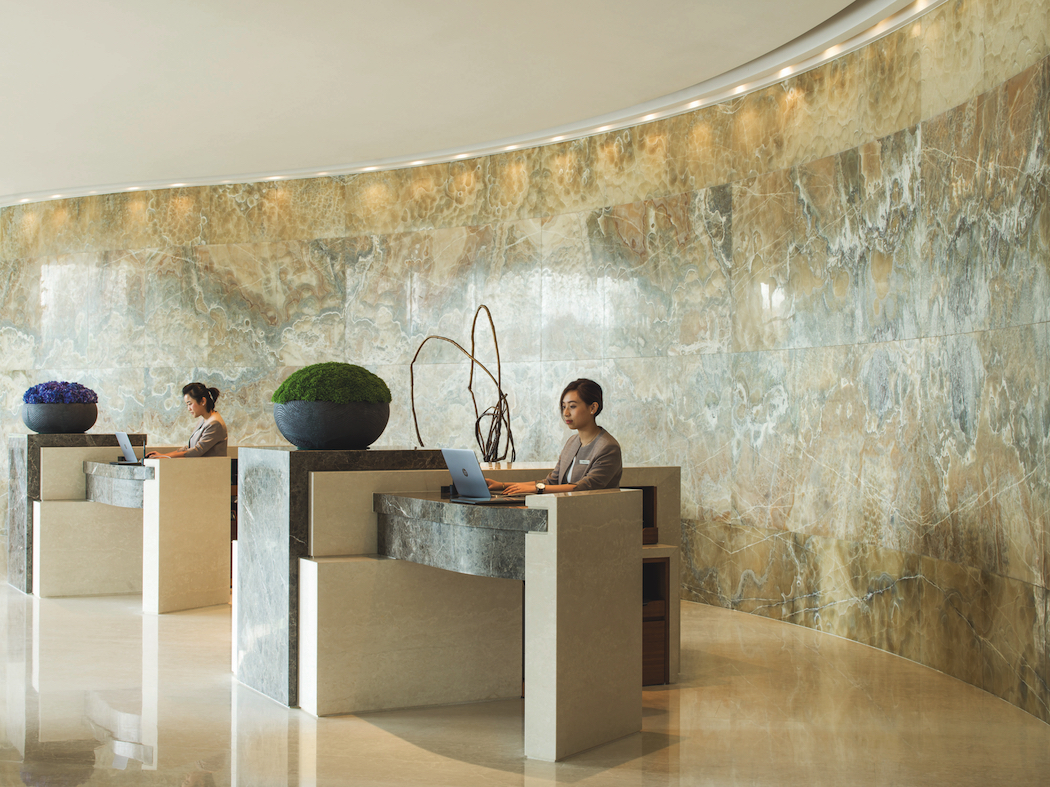 When we check in at Reception, a sweet young woman with the unlikely name of Vince tells us we have a room with a king-sized bed and a sea view. She is so sweetly spoken that she almost seems to be apologetic. (Do we mind? Thanks for asking but we'd rather have a room overlooking an alley …)
It turns out that the view is even more jaw-dropping than we could have expected. Indeed, more than 60% of the 546 guest rooms have uninterrupted views of the harbour. The floor-to-ceiling windows in our room are like a movie screen revealing its magic, and it can all be taken in from the comfort of a huge, dream-like bed.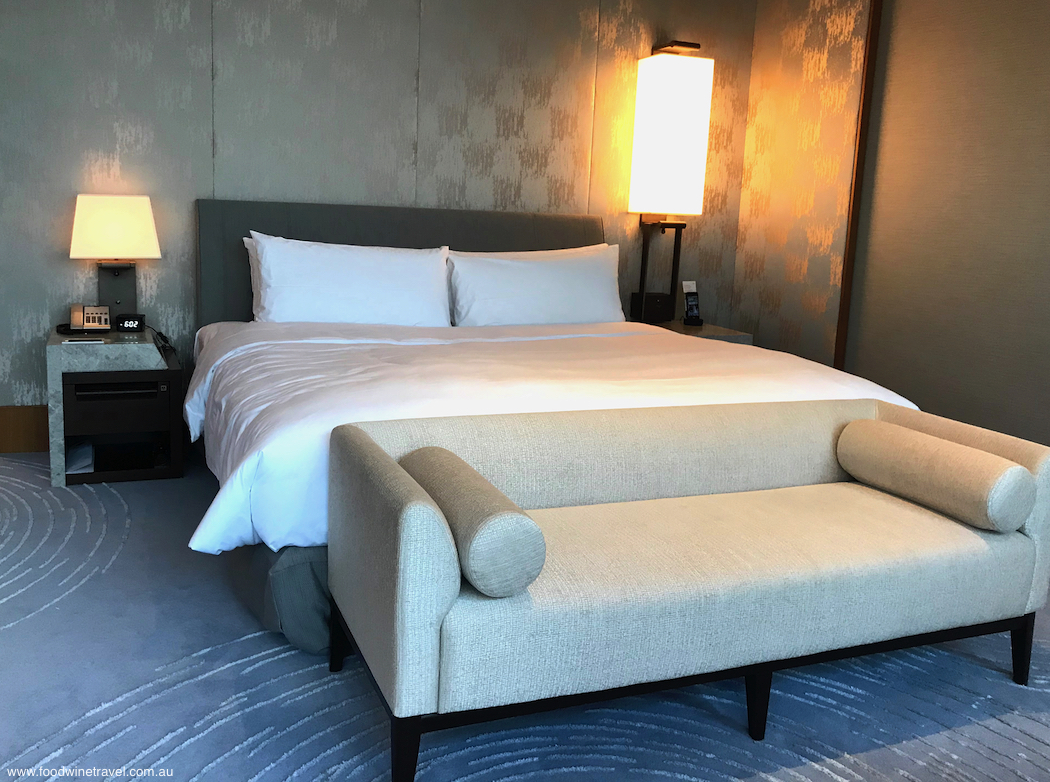 I don't want to leave this bed; I could happily lie here all day, watching the skyline give way to twinkling lights at night, waking in the morning to watch the rain and mist lift to reveal the day. There's all the activity on the water to keep us entertained too: ferries and restaurant boats at night, a cruise ship in the morning.
One of the biggest advantages of the hotel's location is that the designers had room to play with. "We aim to give our guests more room for life," says the guest directory, and indeed our room is enormous, bigger than any you would get in Kowloon or on Hong Kong Island.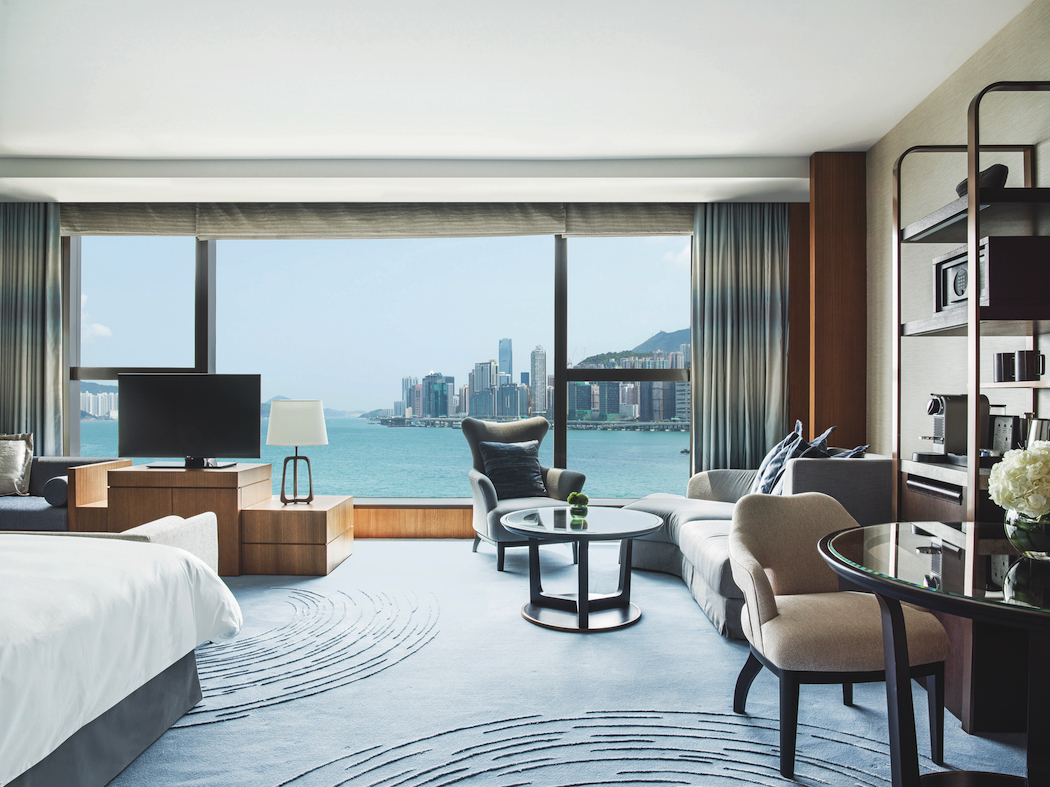 It has a lovely pale blue carpet with a swirling pattern and a gorgeous soft feel underfoot and there are two couches and an armchair to watch that splendid view, as well as a table and two more chairs. The walls are lined with a silky fabric decorated with a fine streaky silvery pattern. It's all very beautiful and soothing, and a couple of nice ceramic pieces add to the picture.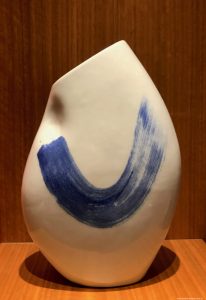 A full pillow menu is on offer, with a choice of contour, buckwheat, bolster or foam pillows, but we manage just fine with the feather-soft pillows provided. There are bluetooth speakers on the bedside table, Nespresso coffee machine and tea-making facilities, and a complimentary minibar with water, soft drinks and beer (wine and spirits cost extra).
If it's hard to get out of bed, it's nearly as hard to get out of the bath. The luxuriously large marble bathroom has a separate bathtub, rain shower and toilet, premium L'Occitane toiletries, and a make-up/shaving mirror with light (very considerate for those of us who are short-sighted).
Designed by leading Hong Kong architect and interior designer, Andre Fu, the resort makes the most of its waterfront location with landscaped tropical gardens and terraces looking out over the harbour. The facilities include a beautiful infinity pool, manned by life guards, but unfortunately during our stay the weather was too gloomy to enjoy it. There's also a spa with sauna and jacuzzi.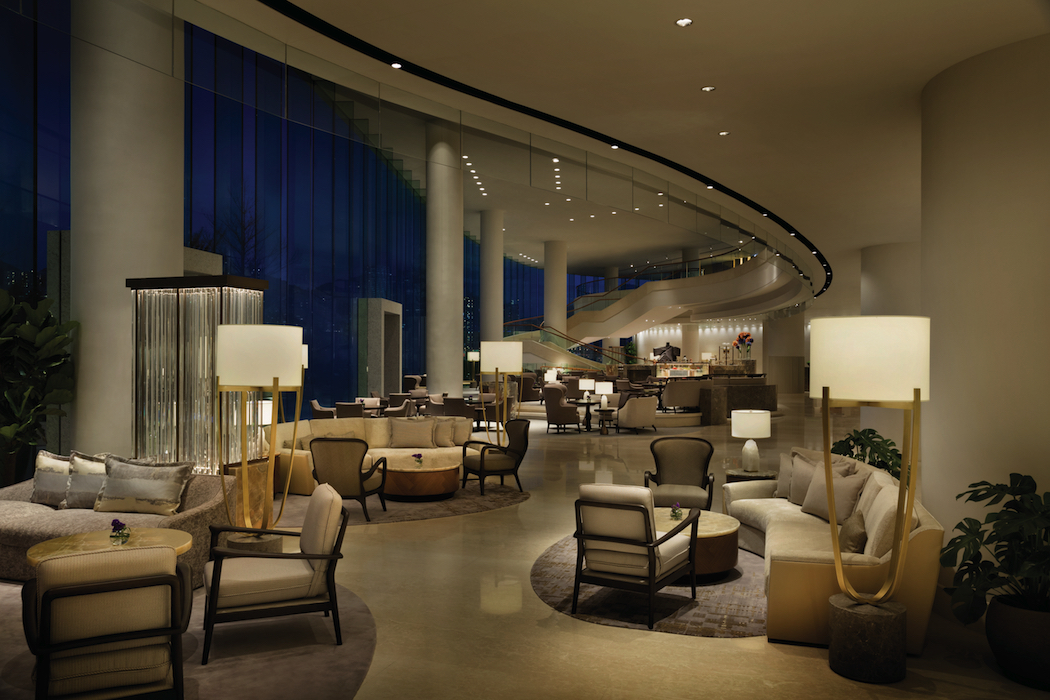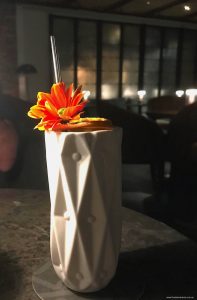 With its sweeping staircase, gorgeous curves and marble reception, the Lobby provides a grand entrance. Floor to ceiling windows in the Lobby Lounge draw the eye through to the lush garden outside, complete with striking bronze sculpture by Taiwanese artist Ju Ming. The hotel has more than 1000 original artworks. Afternoon tea in the Lounge features re-interpretations of nostalgic local dishes, Asian-inspired cocktails, and Hong Kong flavours such as Yuanyang and Silk Stocking tea.
Breakfast is served in the Big Bay Café, a classy but casual space with indoor and outdoor dining areas, and seven distinct pavilions each dedicated to a different cooking technique. Also casual is Dockyard, a food hall with a difference. It's very hip, with an industrial look, food choices to suit every palate, and a lager made especially for it by local craft brewery, Young Masters Ales. Dockyard is incredibly popular with the locals.
The hotel's signature restaurant, Hung Tong, offers a contemporary Chinese dining experience, with décor inspired by the neighbourhood's maritime heritage. Trendy Red Sugar Bar continues the industrial look with raw red bricks, tinted glass pendants, and vintage leather chairs. It has a rooftop terrace and 270-degree views of the harbour and Hong Kong Island, making it a place to see and be seen while you are kicking back with a craft beer or Asian-inspired cocktail.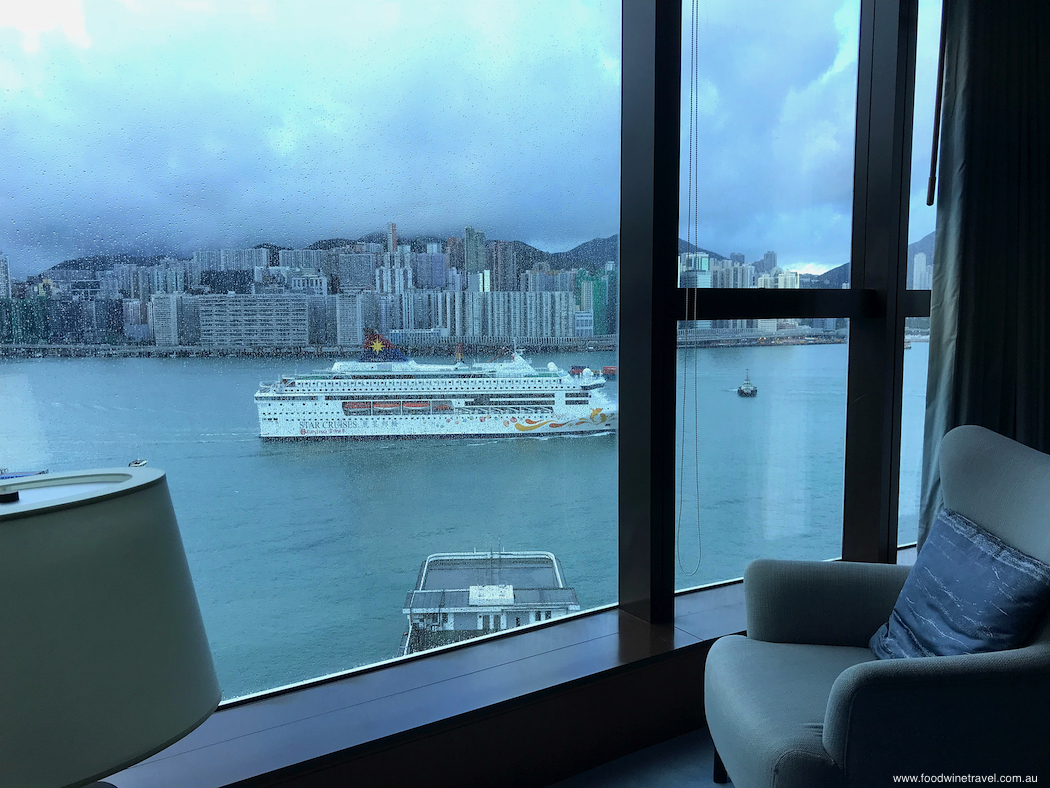 Our Club Premier room included access to the Club Lounge which offers breakfast, all-day refreshments, a light afternoon tea and evening cocktails and canapés. We didn't take advantage of the Club Lounge breakfast as the spread in Big Bay Café looked way too appealing, but we did go for the evening canapés – and let's just say that going out for dinner looked a lot less attractive once we found our little spot in the Club Lounge.
The view from the Club Lounge is pretty extraordinary and one table in particular nestles in a corner where the windows meet. Not only does it offer views in each direction along the waterfront, providing a dazzling view of the skyline by night, but it is quite private, lending a feeling of sitting in the prime spot of a 5-star restaurant. The canapés are generous, varied and delicious, and having been lucky enough to score that amazing spot, we weren't going anywhere.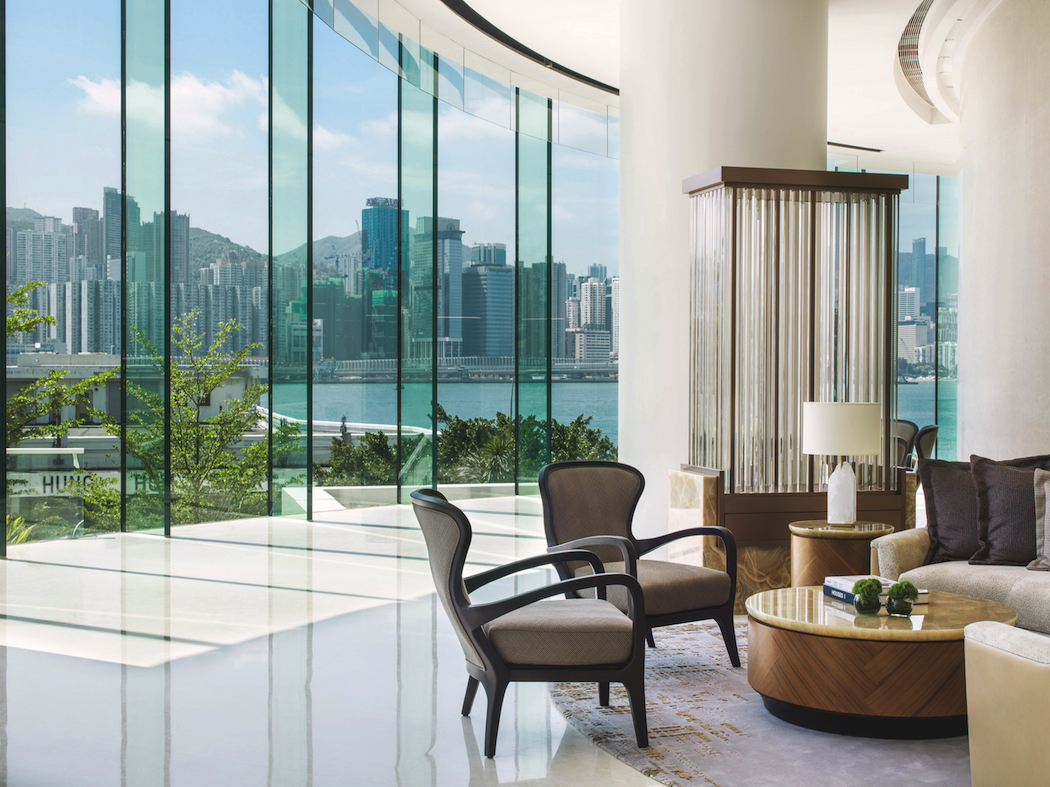 With thanks to The Kerry Hotel for hosting our one-night stay. Photos are our own where indicated. Other photos supplied by The Kerry Hotel.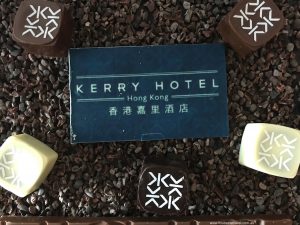 If you go:
Kerry Hotel Hong Kong
38 Hung Luen Road
Hung Hom Bay, Kowloon
Hong Kong
Tel: +852 2252 5888
www.thekerryhotels.com