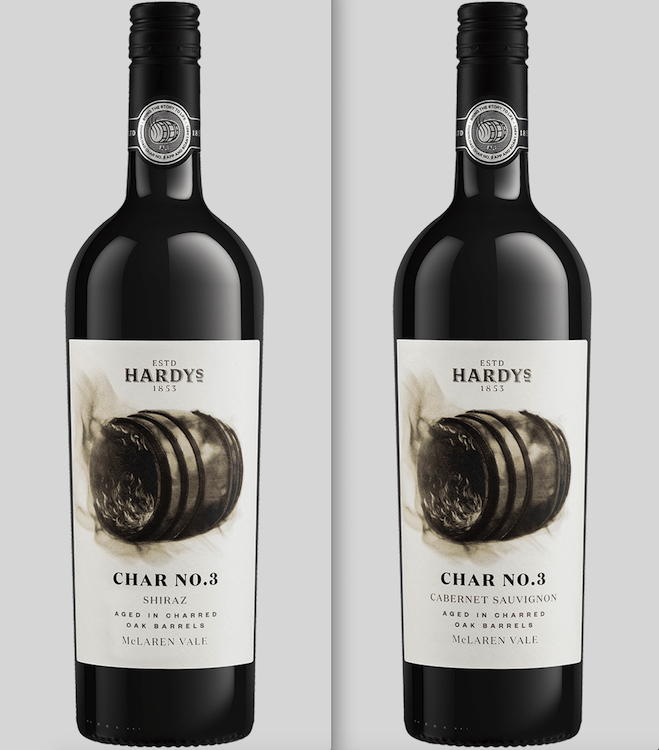 We've seen a lot of really innovative product launches over the years but none have created quite as much of a talking point with our wine-loving friends as the Hardys Char No.3 packaging did. As we opened the box our samples were sent in, we were taken aback to hear a sound coming from the box. On lifting the lid, we were surprised to find a screen on the underside playing a video with a great story about how the Char No 3 Shiraz and Cabernet Sauvignon wines were created.
And what a story it is. These bold, rich reds are aged in charred oak barrels giving them a unique tasting profile that is quite addictive. With heady notes of chocolate, mocha and cinnamon, they're the sort of wine that you'd consume with a big juicy steak, a hearty ragu or a chunky beef and Guinness pie.
The packaging might be a clever gimmick – it even came with a USB cable so that it can be recharged – but there's nothing gimmicky about these two new additions to the Hardys stable.
Both wines come from McLaren Vale, a South Australian region renowned for its full-bodied reds, and each comes in at a recommended retail price of $26. Wine in the $20 to $35 category is showing strong growth in Australia, with consumers apparently wanting to purchase higher quality and more finely crafted regional reds. The Char No.3 wines are Hardys' attempt to jump on the bandwagon and hitch a ride on some of this success.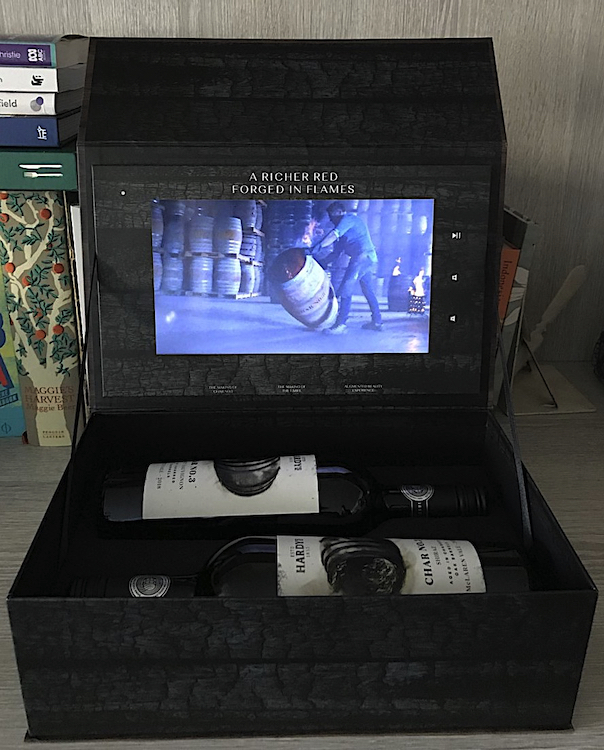 Andrew Stark, from parent company Accolade Wines, says consumers are aspiring to drink "more bold and complex wines that reflect a unique tasting and visual experience". "In the red wine category, consumers are looking for more innovative wines that offer something new and different, showcasing creativity and craft," he said.
He hoped the two reds would encourage new consumers to the brand "who are ready to take the next step in their wine journey". "It will help give them the confidence to try more premium wine and to further develop their appreciation for these classic varieties," he said.
Ageing in charred oak has imbued the wines with a subtle toasty flavour, smooth finish and gorgeous aromas. The tapered bottles with their distinctive labels stand out on the shelf. The artwork for the labels was created by artist Steven Spazuk, who has played up the fire and smoke theme.
Hardys Char No.3 Shiraz 2018 has layered use of French oak, giving it complexity and a lovely roundness. The tannins are smooth and velvety, balancing out the robust flavours of blackberries, plums and cherries. There's a hint of licorice and cloves too.
Hear winemaker Matt Caldersmith's take on the Hardys Char No.3 Shiraz:
Hardys Char No.3 Cabernet Sauvignon 2018 is bolder with vanilla, spice and plum notes, hints of coffee and mocha, and a deliciously long finish. It would be hard to pick a favourite between the two.
Hear Matt Caldersmith's take on Hardys Char No.3 Cabernet Sauvignon:
Hardys has a remarkable history in Australia going back 165 years. It's great to see it honouring its legacy of innovation with the launch of these two innovative wines.
Char No.3 comes with an "augmented reality" app, so that you can place the bottles in front of you, point your camera at the labels, and access two videos, one on the making of the wine and one on the making of the label. So cool.
Watch the video to see how the Char No.3 range was created: