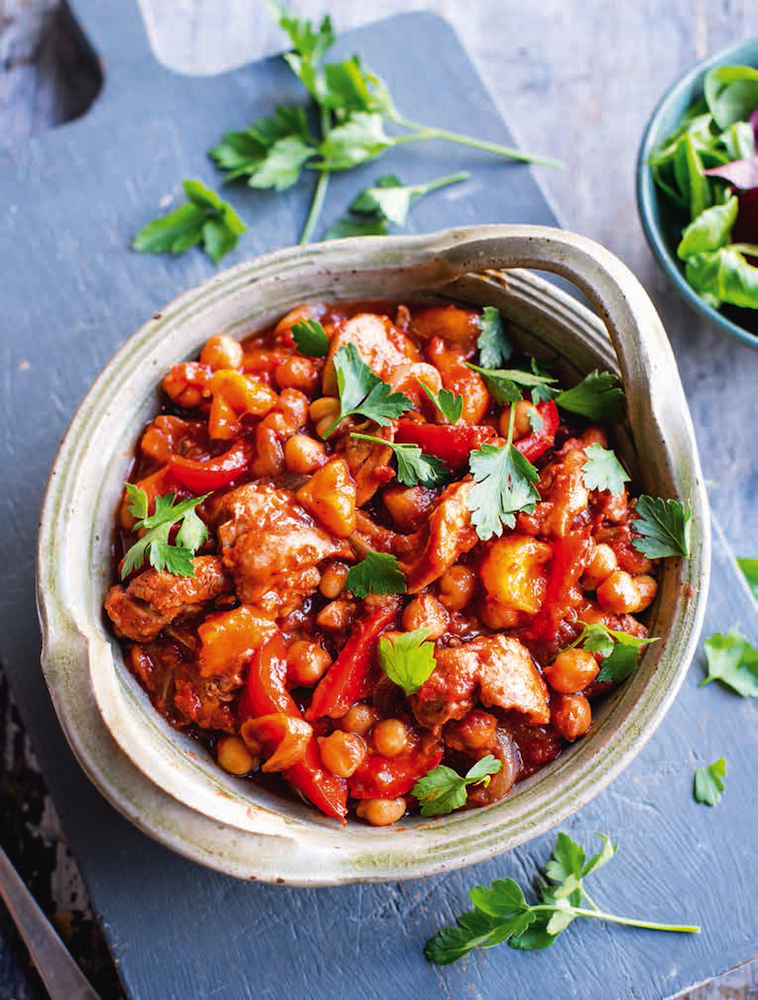 Six years ago, Dr Michael Mosley kicked off a health revolution when he produced The 5.2 Fast Diet, telling the world about the power of intermittent fasting. Earlier this year, he followed it up with The Fast 800, bringing together all the latest science in an easy-to-follow program that encourages weight loss through eating no more than 800 calories a day.
The Fast 800 was a huge hit and became one of the biggest selling books in Australia in 2019, with more than 100,000 copies sold within the first few months of release. The Fast 800 Recipe Book, published by Simon & Schuster, is a companion to The Fast 800, providing 150 recipes to help you combine rapid weight loss and intermittent fasting for long-term good health.
The book is written by Dr Mosley's wife, Dr Claire Bailey, a GP who has written a number of books previously herself. Justine Pattison, one of the UK's leading healthy-eating recipe writers, collaborated on the recipes. Dr Mosley wrote the foreword.
Recipes by calories
One of the things that's really appealing about this full-colour Australian and New Zealand edition is how easy it is to follow. Every recipe has a colour-coded circle specifying "Under 100 calories", "Under 200 calories" or whatever. At the back of the book, there is an index of recipes by calories. There are also a couple of two-week meal planners, some with meat/fish and some meatless, which takes all the hard work out of deciding how you're going to put the recipes together for best effect.
The recipes generally follow the low-carb, Mediterranean way of eating, which basically means moving away from processed foods and towards eating food cooked from scratch – although mindful of everyone's time-poor lives, the authors have kept the recipes as simple as possible. You'll find recipes like this Easy Chicken Tagine, a Creamy Cashew and Tofu Curry, Pan-fried Fish with Lemon and Parsley, some super-speedy lunch ideas and even recipes for occasional treats like Chocolate Beetroot Brownies and Byron Bay Bars.
There's some great advice on how to stay hydrated (super important when you are reducing calories), ways to jazz up vegetables, and an ingenious method for cooking, cooling and re-cooking starchy foods so you absorb less of the starch. For anyone wanting to lose weight, reduce inflammation, and/or reduce their blood pressure or blood sugar, The Fast 800 Recipe Book is a valuable guide that takes all the hard work out of sticking to a healthier way of eating.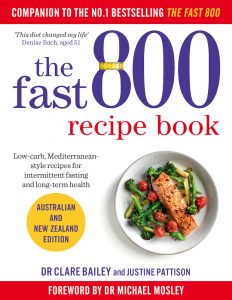 ---
Buy your copy of The Fast 800 Recipe Book from Book Depository now (free delivery worldwide).
Buy your copy of The Fast 800 Recipe Book from Australian-owned Booktopia.
---
Recipe For An Easy Chicken Tagine
Don't be put off by the number of ingredients – once the chicken is browned it's an easy throw-it-in-the-oven number. Serve with a large portion of green beans or a generous leafy salad.
Serves 2
2 tbsp olive oil
1 medium onion, peeled and thinly sliced
3 boneless, skinless chicken thighs (around 300g), quartered
1½ tsp ground cumin
1½ tsp ground coriander
¼ tsp ground cinnamon
1 red capsicum, deseeded and cut into roughly 3cm chunks
1 × 400g can chopped tomatoes
1 × 210g can chickpeas, drained (around 130g drained weight)
4 dried apricots (around 25g), roughly chopped
1 chicken stock cube
handful fresh coriander or parsley, leaves roughly chopped, to serve
Preheat the oven to 200 deg C/fan 180 deg C/Gas 6.
Heat the oil in a medium flame-proof casserole over a medium heat. Add the onion and chicken and gently fry for 6 to 8 minutes, or until the onion is lightly browned, stirring regularly. Sprinkle with the spices and cook for a few seconds more, stirring.
Add the capsicum, tomatoes, chickpeas, apricots and crumbled stock cube. Pour in 250ml water, season with sea salt and plenty of ground black pepper and bring to a simmer. Cover with a lid and cook in the oven for 45 minutes, or until the chicken is tender and the sauce has thickened. Sprinkle with coriander or parsley to serve.
Note: For a more fiery taste, add 1 tablespoon harissa paste with the tomatoes. For a meat-free version, omit the chicken, use a veggie stock cube and add 200g cubed butternut pumpkin instead.
---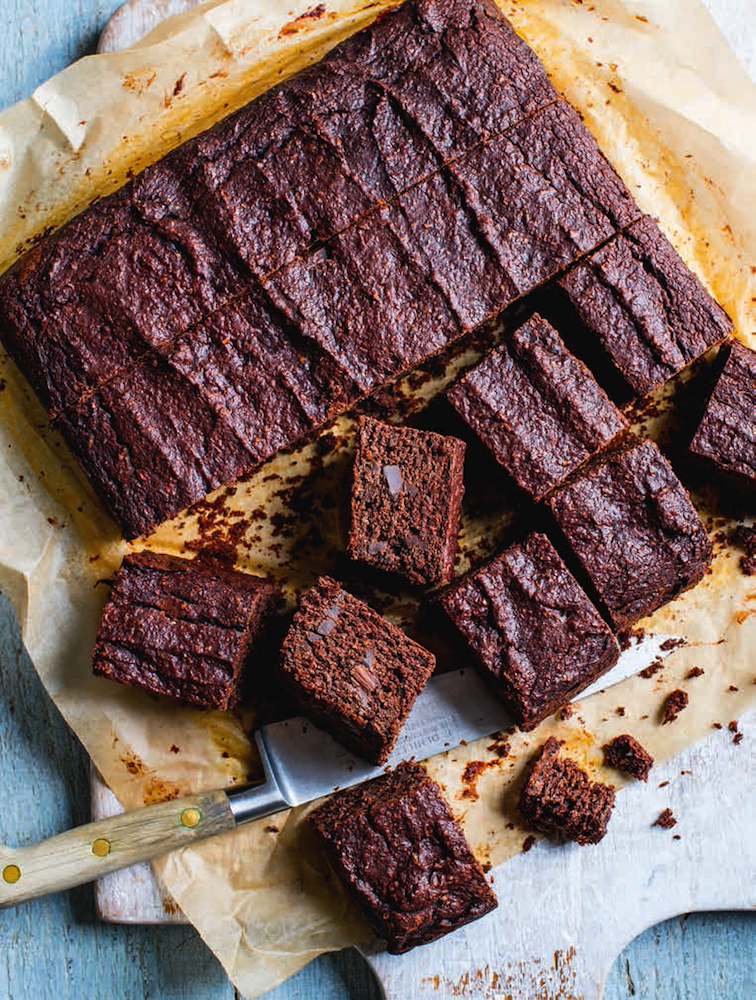 Recipe For Chocolate Beetroot Brownies
Serves 20
100g coconut oil, plus extra for greasing
275g cooked beetroot, drained and cut into small chunks
3 large eggs
60g cocoa powder
100g soft pitted dates
100g wholemeal self-raising flour
1 tsp ground cinnamon
1 tsp bicarbonate of soda
75g plain dark chocolate, (around 85% cocoa solids), roughly chopped
Preheat the oven to 200 deg C/fan 180 deg C/Gas 6. Grease and line the base and sides of a 20cm loose-based square cake tin with non-stick baking paper.
Place the beetroot, eggs, cocoa powder, dates and coconut oil in a food processor and blend until thoroughly combined.You can also blend the ingredients together in a bowl using a stick blender.
Add the flour, cinnamon, a pinch of sea salt and the bicarbonate of soda and blend until well combined. Add an extra tablespoon water to loosen the mixture, if needed. Stir in the chocolate, then spoon into the prepared tin, spreading to the sides. Bake for about 20 minutes, or until risen and just firm to the touch. Cool in the tin for 10 minutes, then turn out and cut into squares to serve.
Note: To add a bit of crunch and extra protein, throw in 150g roughly chopped pecans with the chocolate. Serve after a meal with a handful of berries, a dollop of full-fat yoghurt or crème fraîche. (You can reheat in the microwave for a few seconds first, if you like.)
Recipes and images from The Fast 800 Recipe Book, by Dr Claire Bailey, published by Simon & Schuster and reproduced with the publisher's permission.
This story originally appeared in PS News.