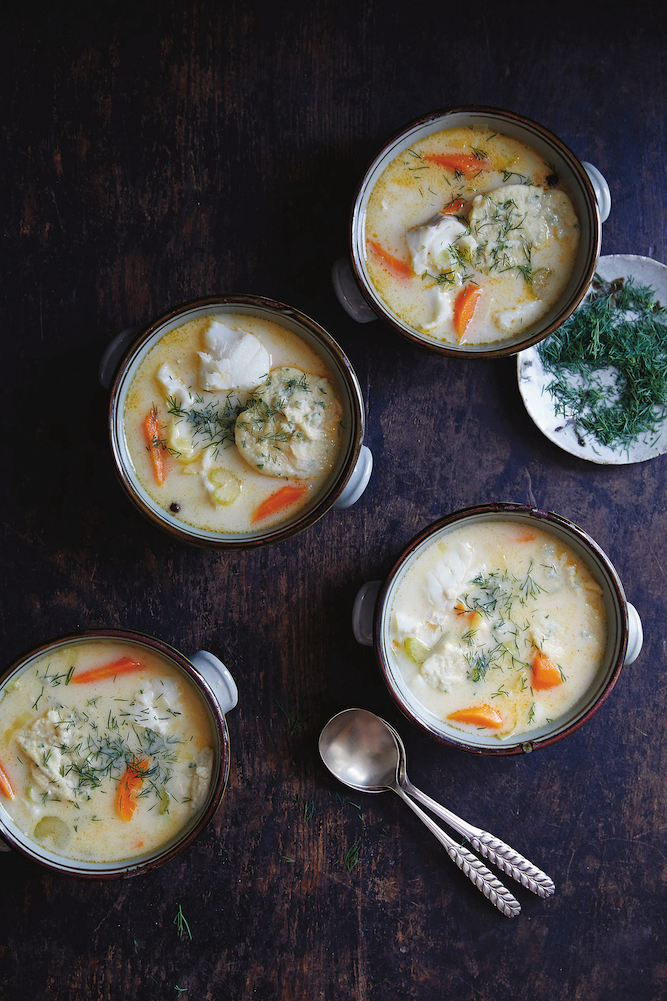 "While in the West we tend to think of soups as something to eat when we feel in need of comfort, warmth and sustenance, the people of the Baltic region have soups for every occasion," writes Zuza Zak in Amber & Rye: A Baltic Food Journey, published by Murdoch Books.
"There are warm soups that nourish and soothe the soul, but equally there are cool soups that will refresh your senses on a swelteringly hot day. There are meaty, umami-rich soups and light, vegetarian ones; there are tangy soups full of fiery ferments and sweet soups packed with seasonal fruit."
The warm and nourishing soup here is an amalgamation of an Estonian fish soup and an old Polish-Lithuanian soup. Its melt-in-the-mouth dumplings take on the delicate flavour of the stock.
Polish-born Zuza moved to the UK as a child and previously wrote a book on Polish cooking. Describing herself as a "storyteller cook", she is currently doing a PhD in which she is exploring Eastern European food from a socio-cultural perspective.
Food of the three Baltic states
Amber & Rye looks at the three Baltic States, Estonia, Latvia and Lithuania, with Zuza approaching them through the lens of a cultural anthropologist as much as a keen foodie. In addition to the recipes and travel stories, there are snippets of poetry, literature, songs and proverbs, making the book a cultural reference point for travellers (when we eventually get to do that again) as well as a showcase for traditional and contemporary Baltic cuisine.
There are plenty of recipes for fermented dishes, foods that have become fashionable now that their health benefits have been proven (although Eastern Europeans have known about their properties for many generations). The process of fermentation is what gives Baltic cooking many of its unique flavours.
In a chapter called The Main Event, Zuza presents unique twists on Baltic classics, with plenty of twists for meat-eaters and -avoiders alike. The choice of recipes reflects modern Baltic cooking, rather than "the sort of stodgy meat-heavy cuisine that has tainted the reputation of Eastern European food for far too long," she says.
---
Buy your copy of Amber & Rye: A Baltic Food Journey from Book Depository (free delivery worldwide).
Buy your copy of Amber & Rye: A Baltic Food Journey from Australian-owned Booktopia.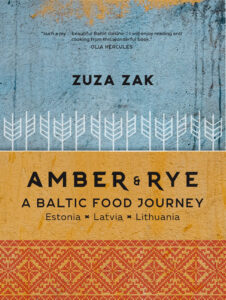 ---
Creamy Fish Soup With Parsley Dumplings
Serves 8 to 10
1 tablespoon butter
2 carrots, peeled and thinly sliced
1 leek, thinly sliced
1 celery stick, thinly sliced
1 bay leaf
4 to 5 allspice berries
2½ litres (10 cups) good-quality fish stock
500 g (1 lb 2 oz) firm fish fillets, such as salmon or halibut, cut into large chunks
200 g (¾ cup) crème fraiche
Juice of ½ lemon
Salt and white pepper
Finely chopped dill, to serve
For the dumplings:
1 egg, lightly beaten
1 tablespoon butter, melted and left to cool slightly
50 ml (2½ tablespoons) whole milk
50 g (2 oz) plain (all-purpose) flour
1 teaspoon finely chopped flat-leaf parsley
First make the batter for the dumplings. In a bowl, whisk together the egg, butter, milk and ¼ teaspoon of salt. Now gradually whisk in the flour to make a smooth batter. Mix in the parsley, then cover and refrigerate while you make the soup.
In a large saucepan over a medium heat, melt the butter and fry the carrot, leek and celery for 4 to 5 minutes or until starting to soften. Season with salt and pepper, add the bay leaf and allspice berries and cover with 2 litres (8 cups) of fish stock. Bring to the boil, then turn down to a simmer. Add the fish to the soup and cook for about 12 minutes, until the fish is just cooked through.
Meanwhile, cook the dumplings. Pour the remaining 500 ml (2 cups) of fish stock into a small saucepan and bring to a gentle simmer, then drop tablespoonfuls of the chilled batter into the hot stock – the dumplings will float to the surface when they are done. Remove with a slotted spoon and place on a plate.
When the dumplings are ready, put the crème fraîche into a small bowl and stir in a few spoonfuls of the soup (this will help to stop it curdling), then pour into the pan. Add the lemon juice, season with salt and pepper to taste and sprinkle with dill. Place a few dumplings in each bowl and ladle over the soup.
Recipe and image from Amber & Rye: A Baltic Food Journey by Zuza Zak; food photography by Ola O. Smit. Published by Murdoch Books. Reproduced with the publisher's permission.
This story originally appeared in PS News.