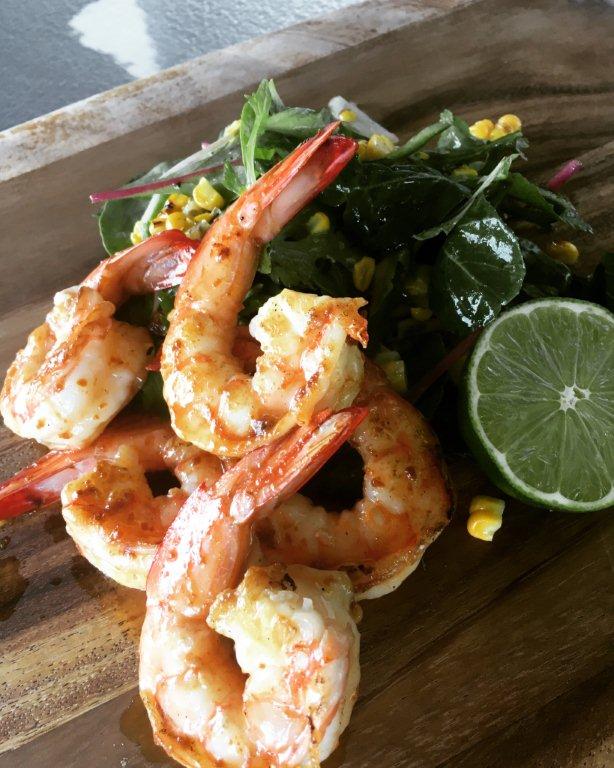 It might be hard for our northern hemisphere friends to believe, but Christmas down under is not about snow falling, ice skating and roasting marshmallows in a winter wonderland. It's about searing hot days and sizzling barbecues, kicking back at the beach or in the country with a cold beer or a crisp white wine.
An Australian Christmas feast, in my humble opinion, should always include prawns (lobster and bugs preferably as well, but definitely prawns). And so I bring to you, courtesy of Katrina Ryan, owner/chef of the Golden Pig Food & Wine School in Brisbane, this wonderfully easy recipe for a spectacular dish of prawns that will be perfect for the Christmas table.
The Golden Pig has some great ideas for Christmas gifts, including gift certificates that can be redeemed for a cooking class, food or wine workshop, event or in-store purchase. Its most popular gift idea is a Christmas Gift Pack ($195) that includes a Golden Pig gift certificate valued at $165 and a charcoal-coloured, cotton chefs' apron. Foodie friends might also appreciate the Festive Cake that is made in-house.
Christmas cooking class
Located in a former warehouse in Newstead, the Golden Pig operates as a licensed café on weekdays and switches to cooking classes, demonstrations and corporate events on evenings and weekends. As well as introducing guest chefs, the school runs an engaging program of four-hour, hands-on cooking classes.
The Christmas Table Cooking Class coming up on December 18 ($165) offers a stunning summertime menu of dishes including Prawn crostini with lemon, dill & aioli; Whole boned salmon with a stuffing of bread, almond, bacon and currants; Boned and rolled chicken stuffed with goats cheese frittata & sweet pepper sauce; Salad of fresh figs, radicchio, walnuts, pecorino & honey vinegar dressing; and Baked panettone with frangipane and stone fruit with sweet mascarpone.
A new South American Cooking Class is planned for February 8. There'll be a Valentine's Day French Bistro Class on February 14 and a Sourdough and Bread Making Class on February 23. Bookings for all classes: www.goldenpig.com.au
GRILLED PRAWNS WITH MISO BUTTER AND CHARRED CORN SALAD
Serves 4 (Entree)
12 green king prawns, peeled and butterflied with the tails left on and skewered
For the Butter:
1 tablespoon miso paste
125g soft butter
2 teaspoons ponzu (or 1 tsp lemon juice and 1 tsp soy sauce)
Wrap the miso in a doubled-over foil packet and flatten with your hand. Roast the miso briefly over the barbecue to toast. Mix with the rest of the ingredients by mashing with a fork.
For the Salad:
2 corn cobs with husks
100 g mixed leaves
½ cup coriander leaves
1 green chilli sliced
½ cup mint leaves
1 small golden shallot thinly sliced
For the Dressing:
2 teaspoons maple syrup
sea salt to taste
3 tablespoons lime juice
¼ cup extra virgin olive oil
Grill the corn all over on the barbecue to cook. Cool then cut off the kernels and place in a bowl with the rest of the ingredients. Mix together the dressing ingredients.
Oil the barbecue and season the prawns with salt and pepper. Barbecue until just cooked and transfer to a dish. Dollop on the soft butter.
Dress the salad and place on a plate. Arrange the prawns on the side and top with the melted butter.
With thanks to Katrina Ryan of the Golden Pig Food & Wine School for supplying this beautiful summer recipe. This is not a sponsored post.