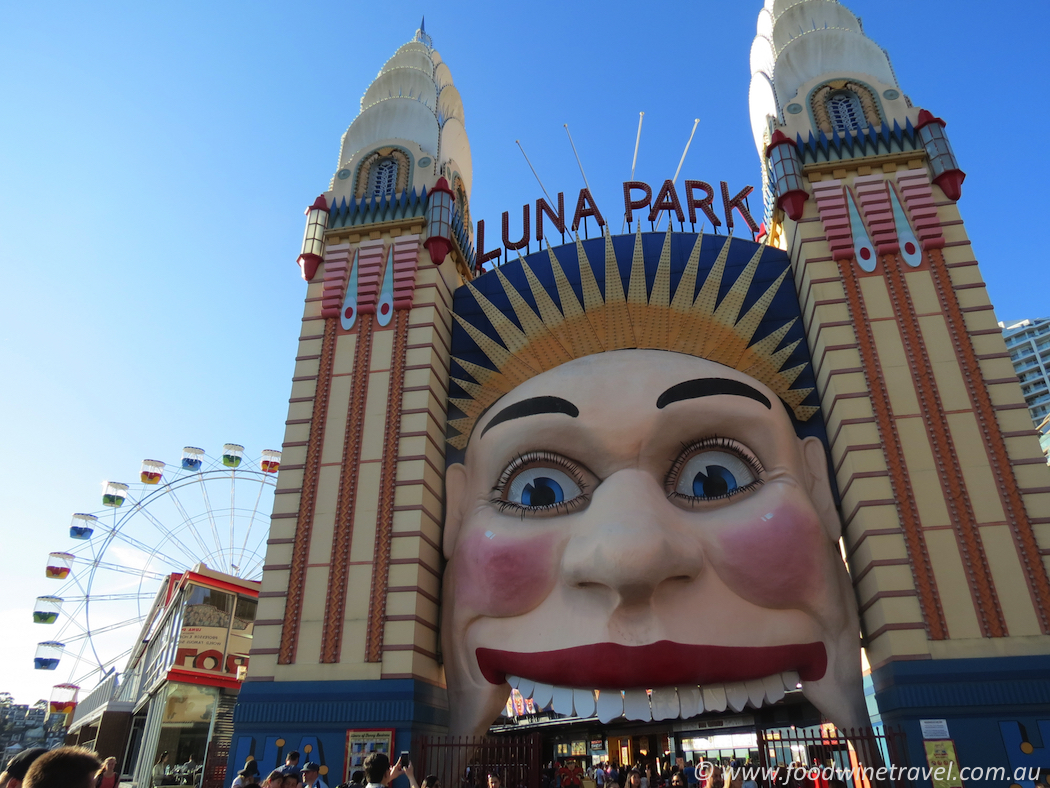 My other half likes to say that he grew up in the glare of Luna Park and the shadow of the Harbour Bridge. His is one of those stories of loss and longing. The loss of a home in Milsons Point, Sydney, that had been in the family for 150 years, sold just before the real estate boom which would have made a working class family rich beyond their wildest dreams. The longing for a time when things were simple, happy and innocent – when the waters of Lavender Bay and the make-believe of Luna Park were a child's playground.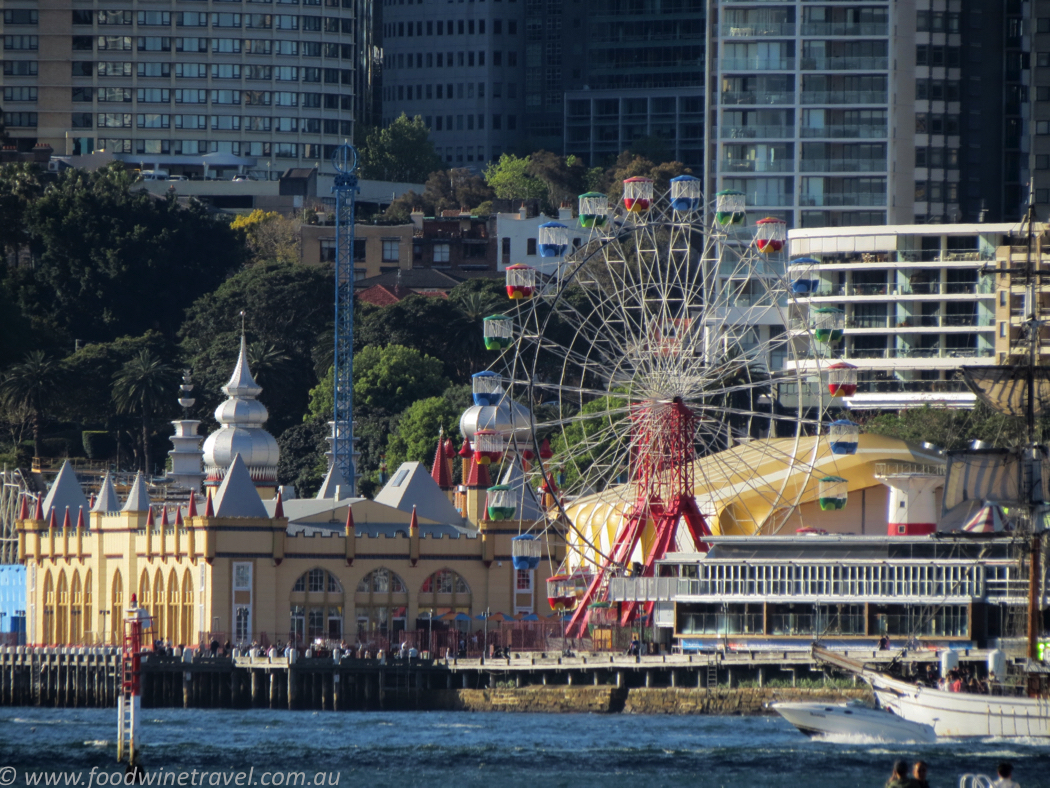 So when the opportunity came up to dine on the ferris wheel at Luna Park, it didn't take much persuasion to book a flight to Sydney. You can guess who had the seat looking out over Milsons Point and Lavender Bay. I didn't exactly come off second best. That view over the Opera House and Harbour Bridge is certainly one to behold. When you're up there dangling in your own private ferris wheel carriage, watching a bright blue Sydney skyline transition through the pink glow of sunset to the illuminated night, it's not hard to think you're in one of the world's most beautiful cities.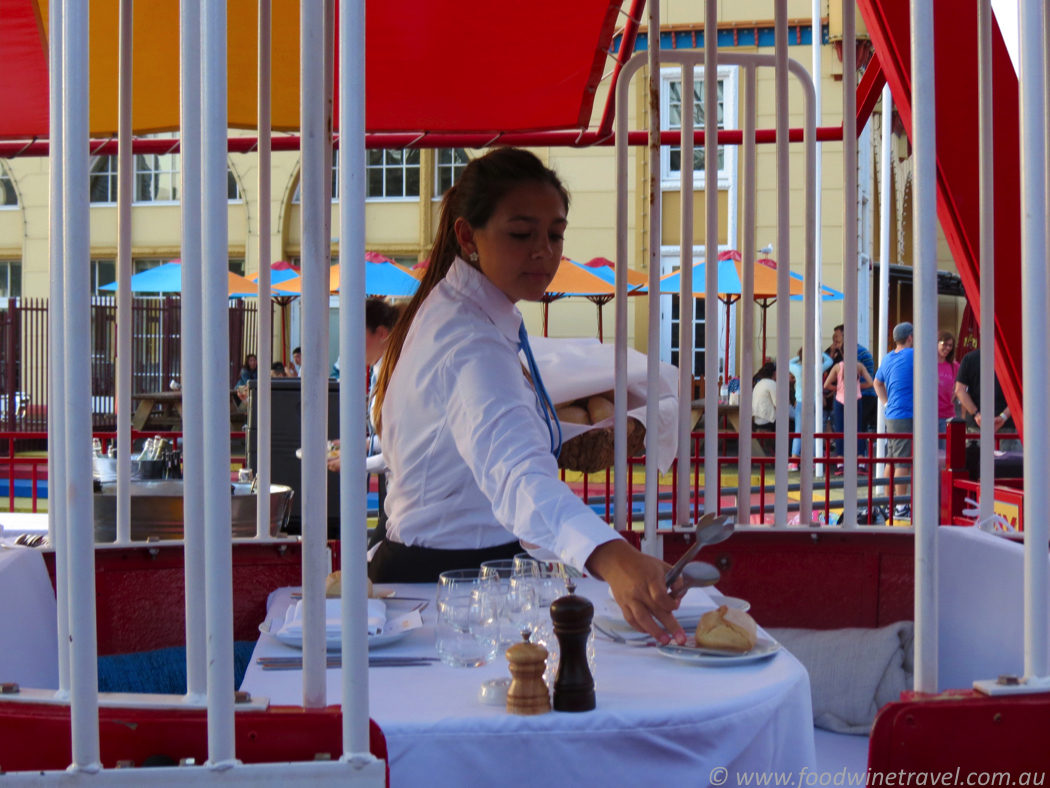 The ferris wheel dining experience, held on Sunday nights during the warmer months (October to March) is run by The Deck Restaurant and Bar, and the excitement begins as soon as you arrive in the specially reserved area of the bar. Guests are greeted with a flute of Marc Bredif Brut, a non-vintage sparkling Vouvray from France's Loire Valley, and an amuse bouche of piquant watermelon with feta and coriander seeds. And then while you are waiting for the booking formalities to be completed, you are left to enjoy THAT VIEW.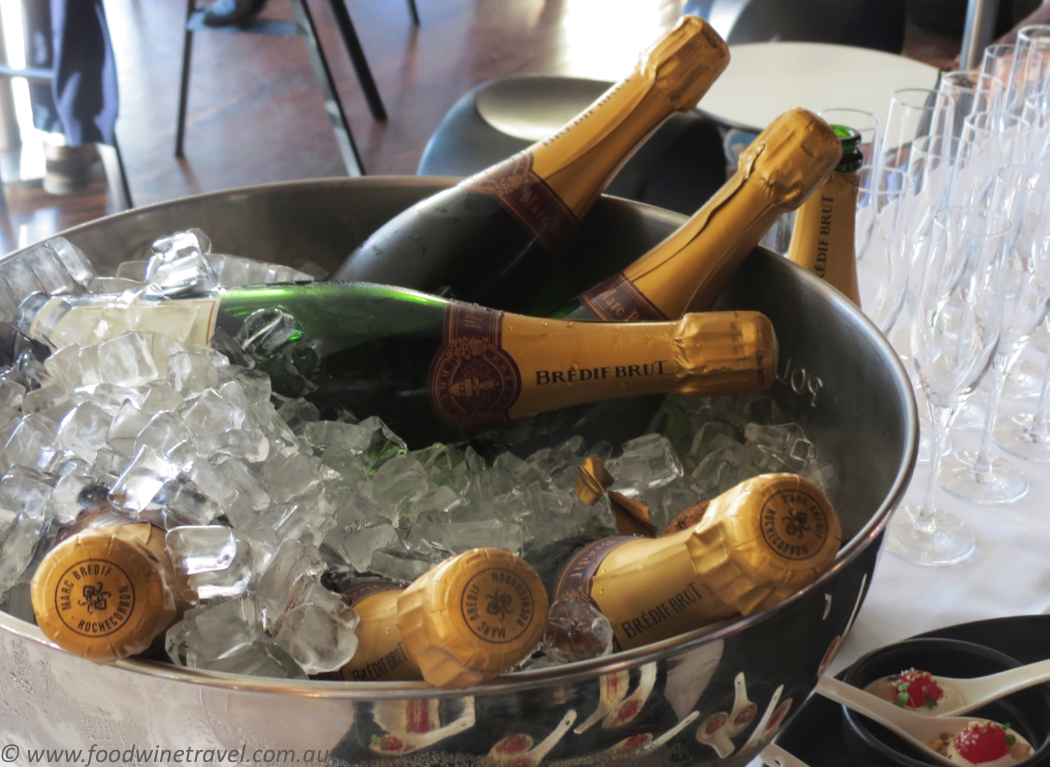 Before long, we are being shown to our private carriage, which has a table set up between the two bench seats with cushions for comfort and blankets for warmth if we need them (we don't). The table is set with crisp white linen and the tableware includes fine quality, stemless wine glasses. It's all done with a sense of style and glamour, and we love it.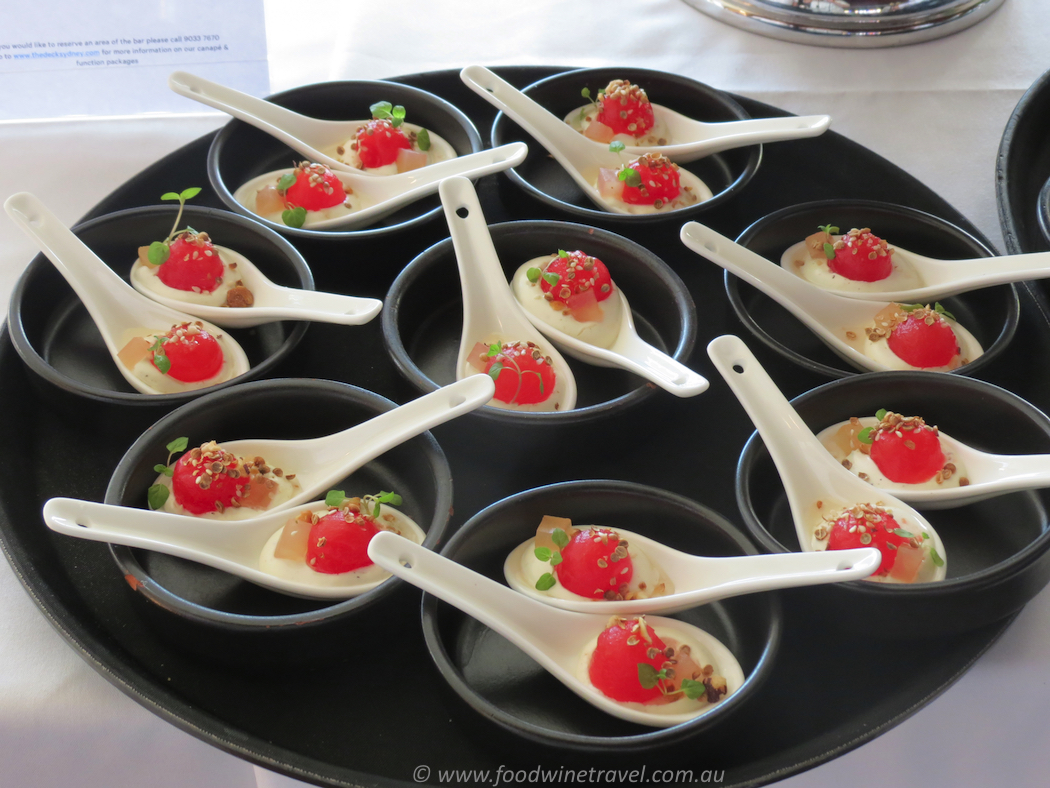 The three-course menu, designed by The Deck executive chef Michael Roper, includes set entrée and dessert platters, and a pre-ordered main course, all with matching wines.
On the entrée platter are freshly shucked Sydney rock oysters with wakame seaweed and ponzu dressing, foie gras with toasted brioche and burnt orange puree, ceviche of kingfish, and dainty pots of grape tomato panna cotta with basil jelly, parmesan foam and pancetta.
All delicious and all beautifully matched with a glass of Jansz Late Disgorged 2007 Vintage Cuvee from Tasmania. We could have chosen a Pascal Pouilly Fume from the Loire Valley but I like these Tasmanian bubbles and they don't disappoint.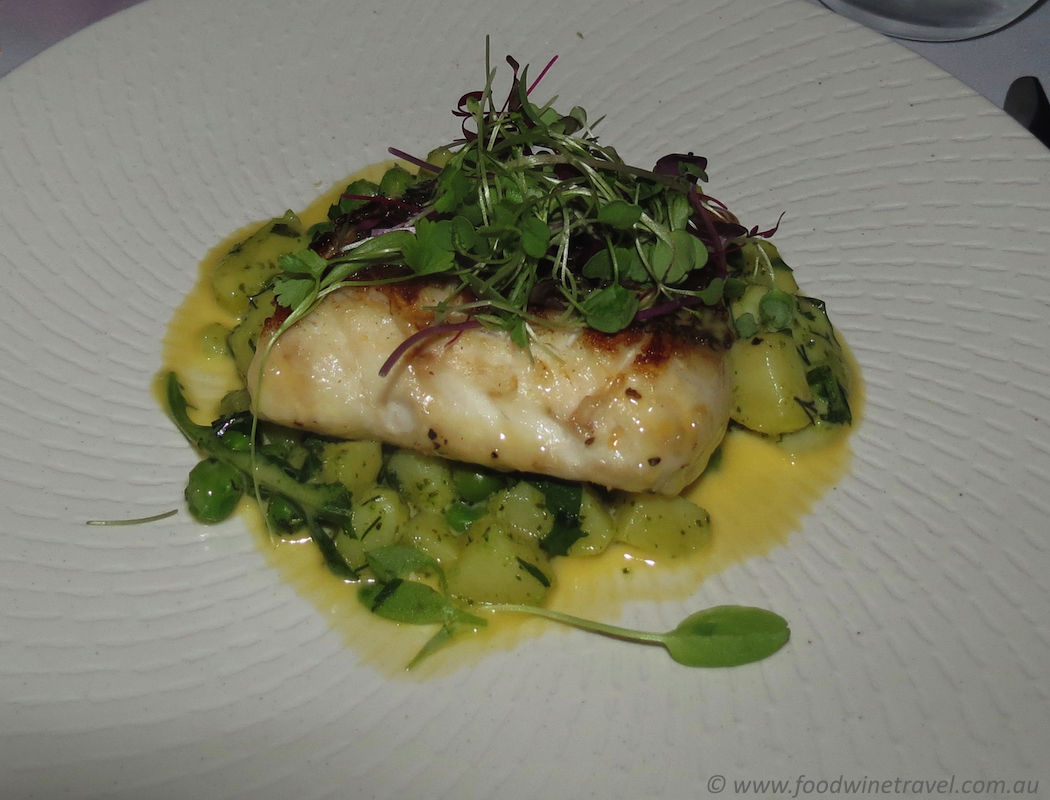 For the mains, we've been offered a choice of Grilled Black Berkshire pork cutlet with an apricot jus or Gold Band snapper with lobster primavera and lemon, sorrel and butter sauce. We both opt for the fish, and although I can detect very little lobster, the snapper is perfectly cooked and has lost nothing in its delivery, a fact that we marvel at.
There's a choice of white or red for the mains and they're both fine wines: Brokenwood 2009 Latara Vineyard Semillon from the Hunter Valley or Wirra Wirra 2015 The Absconder Grenache from McLaren Vale.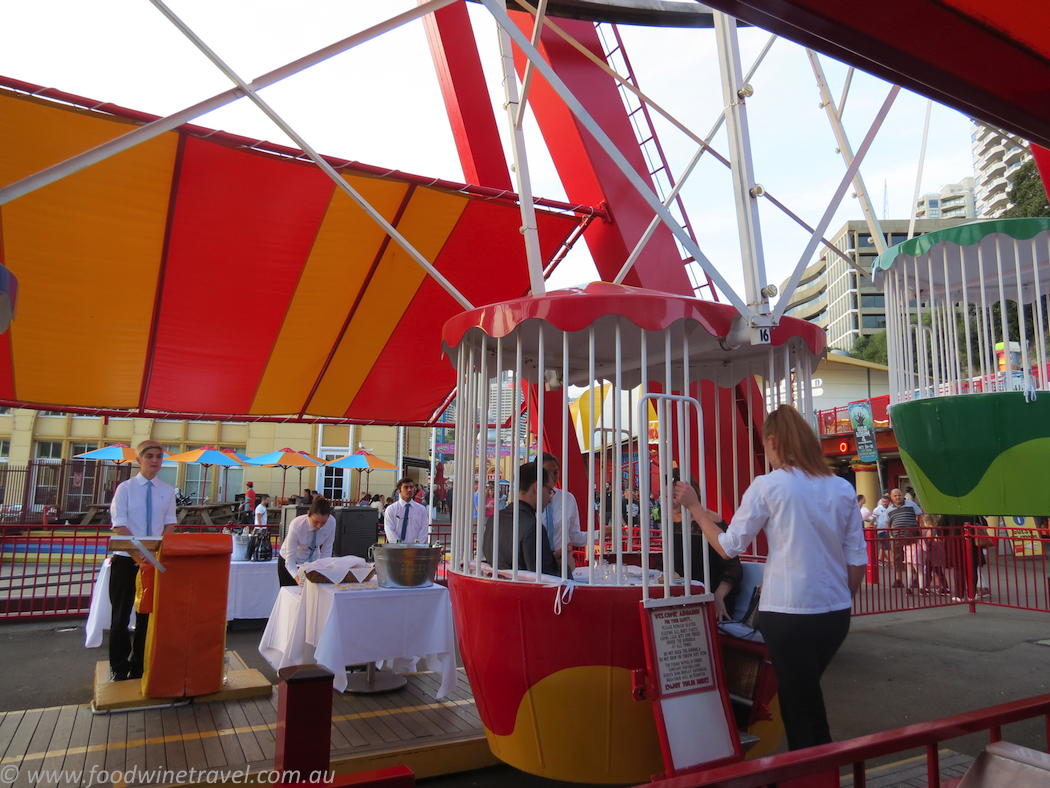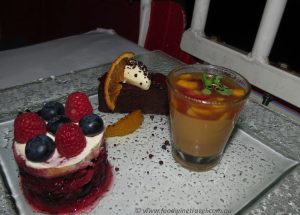 While the main courses are served to the lower carriages, there's plenty of time to enjoy the view from above, and then we're onto a platter of delicious desserts, including a Belgian chocolate terrine with Grand Marnier oranges, Summer berry pudding, and Salted caramel crème brulee with mango and raspberry salad, and chocolate popping candy. I love the dessert wine, a lightly zingy, fruity Alasia 2014 DOCG Moscato d'Asti from Piedmont.
The whole dining experience is beautifully executed. Each table is given a light to signal the wait staff if you need a toilet stop or you'd like your glasses re-filled. We were impressed with the deftness of the serving and that everything came out at the right temperature and at the right pace.
I loved the gentle lull of the wheel going around and there were enough revolutions to really savour the experience. There was a childish sense of fun looking down over the merry-go-round and towards Coney Island, yet it was private and romantic in our own little carriage.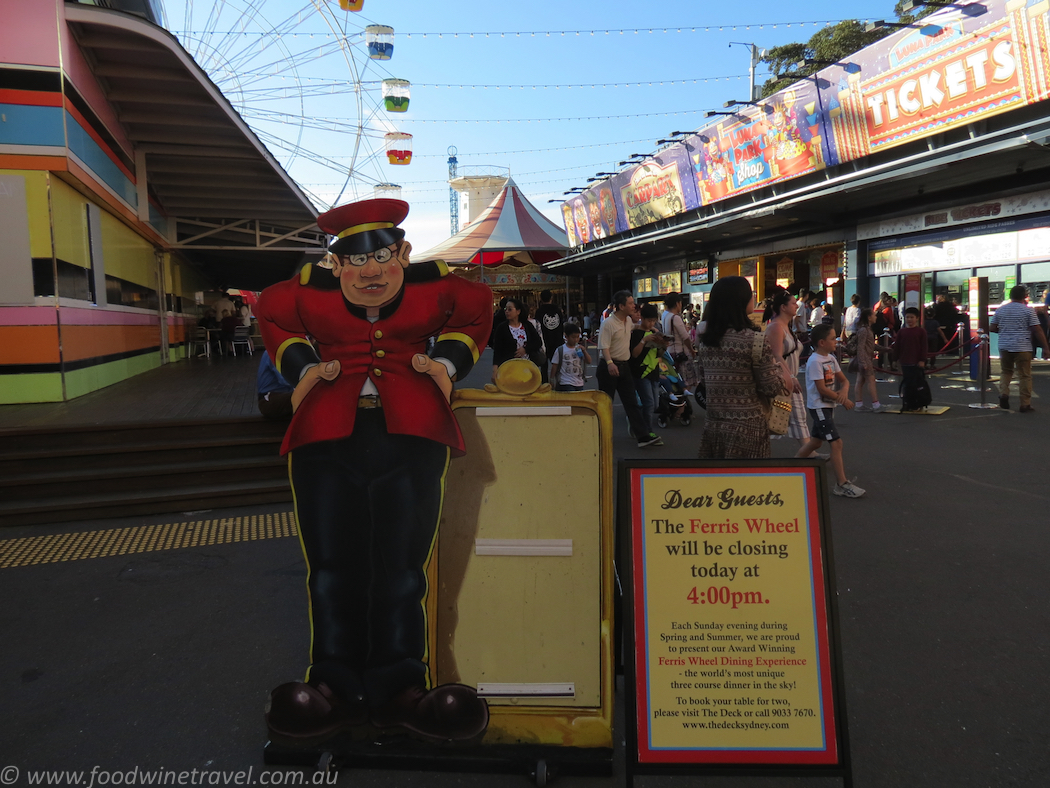 For visitors to Sydney, this should be high up on their list of things to do, but it is more than just a tourist attraction, it's one of those magical experiences that everyone should enjoy if they are able to. On the night we dined, one of the guests was celebrating a birthday, while a marriage proposal was taking place in another carriage.
Tea, coffee and chocolates are served in The Deck bar area after dinner, but few of the guests seemed to partake of this, or if they did, they didn't linger. Perhaps everyone wanted to go off into the night, enjoying the moment in private. Certainly the newly engaged couple would have been reveling in the experience of a lifetime.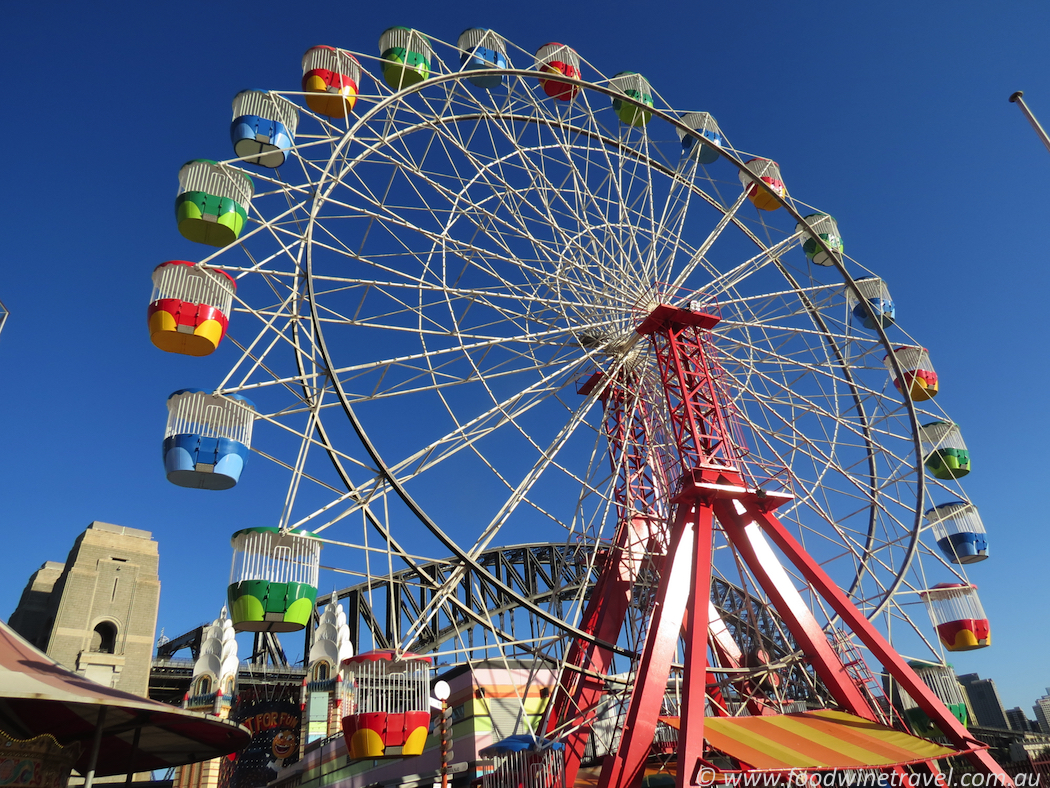 If you go:
Where? Ferris Wheel Dining Experience
The Deck Sydney
1 Olympic Drive
Milsons Point NSW 2061
Australia
When? Sundays from 6pm, till end of March, 2017
Cost? $399 for two, including all food and drinks
Bookings: +61 2 9033 7670
www.thedecksydney.com
Christine and Maurie were guests of the Ferris Wheel Dining Experience.