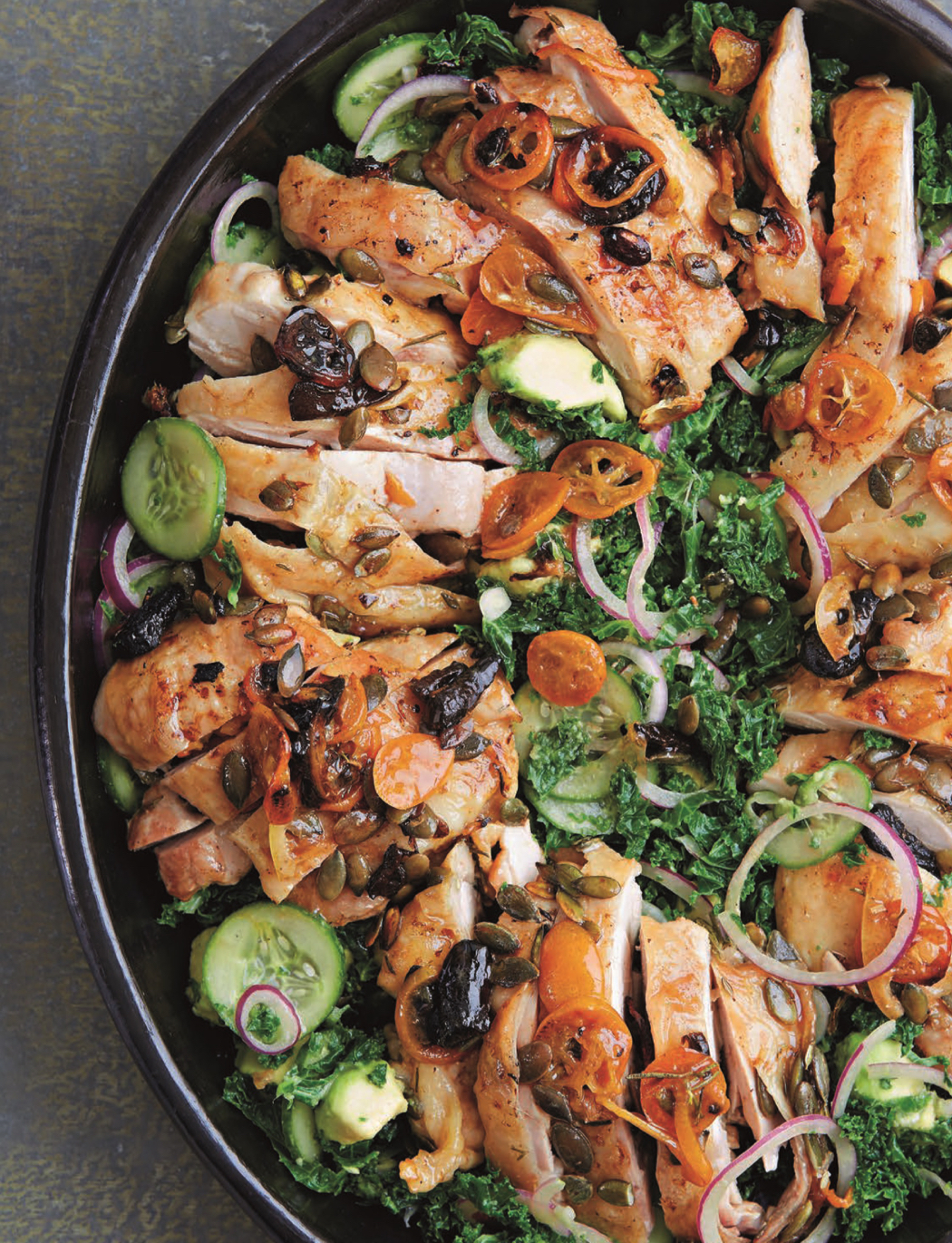 Just over a decade ago, Peter Gordon produced Salads: the new main course. The New Zealand born chef, who has restaurants in London and Auckland, is renowned for his eclectic, fusion-style of cooking and the book reflected that. Yet salad as a main course was fairly unconventional at the time.
A decade on, his latest book, Savour: Salads For All Seasons, published by Murdoch Books, shows how things have changed. "The idea of having a salad as a main meal instead of just as a starter or side dish, no matter what the season, no longer seems as strange as it did a decade ago," Gordon says.
"We've come to appreciate that salads are not just for summer; they can be enjoyed all year round. From what I witness in my restaurants around the world, people are eating differently: sharing plates and small dishes are now commonplace, and the abundance of vegetables in a dish is almost a given."
Gordon says nowadays people want healthy foods, including more grains and vegetables, in their diet, along with sustainably caught fish or animals, less gluten and dairy, and less animal protein.
"These are all things I've been advocating, and the way I've been cooking and eating, for as long as I can remember – and salads are a terrific way to bring all this together."
What defines a salad?
The dishes featured in Savour draw on a huge range of ingredients, so you'll see Miso-based aubergine (eggplant) with dates, feta, crispy buckwheat and tahini yoghurt, for example, alongside Grilled carrots with manchego, orange, agave, pecans and sultanans; and Beetroot-cured salmon with grilled artichokes, shredded cabbage, crème fraiche and pomegranate (yes, most of the ingredients are listed in the titles!)
What defines a salad? According to Gordon, it's an assemblage of ingredients that either work in harmony with each other or oppose each other (such as a crunchy texture next to a smooth one). The components are individually prepared, rather than being cooked together.
The beauty of salads is that they can be prepared ahead, making them great for entertaining, although I find them quick and easy for our own table as well. The Roast Chicken Salad here uses black garlic, a fermented garlic that is gradually becoming more widely available. Along with kumquats, kale and avocado, it adds another dimension to the dish.
This is the 8th cookbook for Gordon, who won wide acclaim for his cooking at The Sugar Club in Notting Hill and Soho. Today he has The Providores, Tapa Room and Kopapa in London, and Bellota and The Sugar Club in Auckland, the fourth iteration of this well-known brand.
There's a wonderful originality to Gordon's cooking and something for everyone to enjoy in these salad recipes. No single ingredient is king; it's the perfect combination that makes the dish.
**Buy Savour: Salads For All Seasons from Book Depository.
Food Wine Travel gets a small commission on purchases through this link but it doesn't cost you any extra.
ROAST CHICKEN WITH KUMQUATS, BLACK GARLIC, KALE AND AVOCADO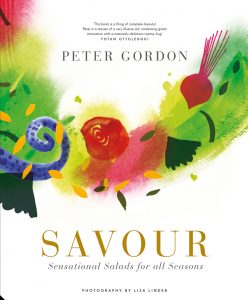 8 boneless chicken thighs
8 black garlic cloves, sliced
8 kumquats, unpeeled, thinly sliced
2 tsp fresh rosemary (or fresh thyme or oregano or a mixture)
4 tbsp sunflower seeds
2 tbsp avocado oil
1 small red onion, thinly sliced into rings
200g (7oz) kale, thick stem removed and discarded
2 avocados
2 tbsp lemon juice
1 cucumber, ends discarded, thinly sliced
Preheat the oven to 180°C (350°F/Gas mark 4).
Place the chicken thighs, garlic, kumquats, rosemary and sunflower seeds in a roasting dish. Pour on the avocado oil and 2 tablespoons of water and season with salt and pepper. Toss everything together. Roast, turning the chicken several times while cooking, until the chicken is cooked through and the skin is golden and crispy, about 30–40 minutes. Remove from the oven and leave until cool enough to handle, then cut each thigh into four or five slices.
While the chicken is cooking, soak the onion in cold water for 10 minutes, then drain. Meanwhile, blanch or steam the kale for 3 minutes. Tip it into a colander and, when it is cool enough to handle, squeeze out as much water as you can, then coarsely shred it.
Remove the flesh from the avocados and cut into chunks. Mix with the lemon juice to prevent it going brown. To serve, toss the kale, onion, cucumber and avocado together and lay it on the bottom of a serving dish. Lay the chicken on top then spoon over the contents of the roasting dish.
Recipe and images from Savour: Salads For All Seasons by Peter Gordon, published by Murdoch Books and reproduced with permission of Murdoch Books.
This post was originally published in PS News online.