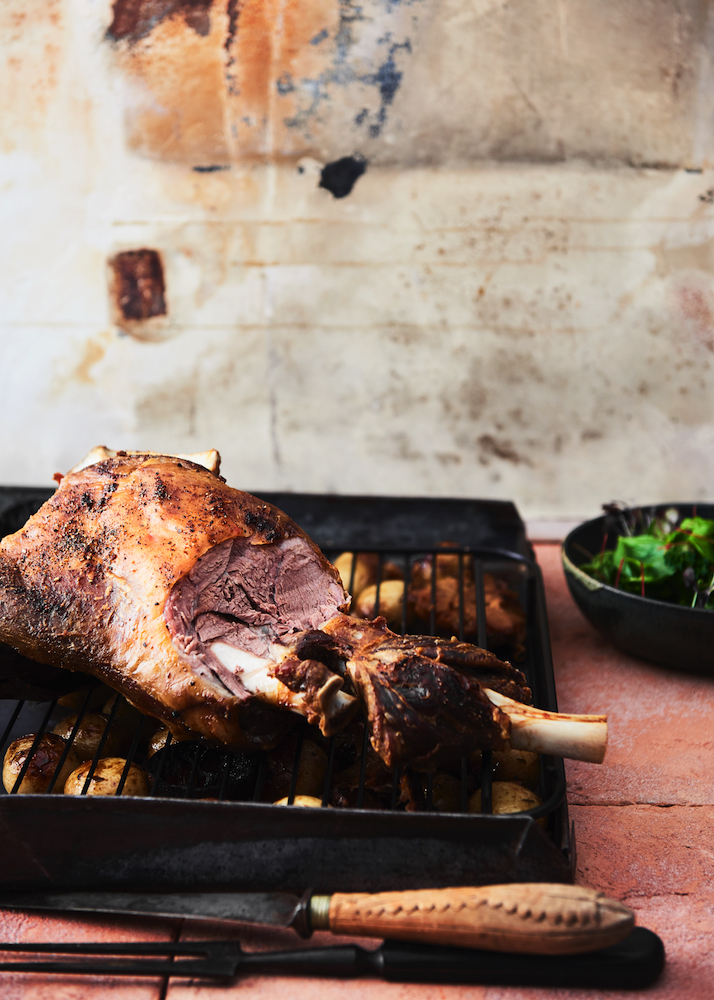 I've had some of the finest meals of my life in Catalunya, so The Catalan Kitchen, published by Smith Street Books, is a welcome addition to my bookshelf. It's an inspiring and delicious guide to Catalan cuisine by Melbourne woman, Emma Warren, who has spent a large chunk of her adult life going backwards and forwards between Australia and Catalunya. Warren moved to Spain in 2001 and immersed herself in the world of Catalan cuisine, splitting her time between Mallorca and Barcelona. She learnt to cook professionally there and learnt to speak both Spanish and Catalan.
Back in Australia, she helped set up the kitchen at the Spanish Club in Melbourne's Fitzroy, and has worked as sous chef for some of Australia's biggest names, including Karen Martini, a friend and mentor who has given the book a glowing endorsement. Martini has set up a restaurant, Cala Bonita, on an Ibizan beach, and Warren recently returned to Spain to help her in the venture.
Beautifully packaged with a colourful cover and graphics in the vein of the great Catalan artists, The Catalan Kitchen: From Mountains to City and Sea – Recipes from Spain's Culinary Heart features stunning location and food photography that makes you want to pack up and follow in her footsteps. The recipes and Warren's introductory texts are a celebration of Catalan cooking, a unique cuisine that is intrinsically bound to history, creativity and identity.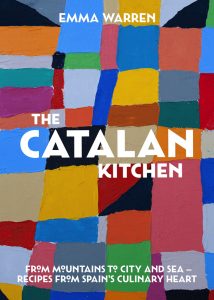 The province has more Michelin stars than any other region in Spain and is known for pushing the boundaries when it comes to food. At the same time, there is a great respect for tradition, and as Warren points out, "even the most abstract of dishes tie back to something already understood". Then there is the question of identity, the province once again in the spotlight in its quest for independence from Spain. All of these factors, not to mention the abundance of wonderful fresh, seasonal produce, have made it one of the world's richest and most exciting cuisines.
Drawing on its Mediterranean coastline, fresh seafood is integral to the Catalan diet, while the countryside is all about warmth and comfort with stews, braises, grills and roasts, as in the recipe here. Famous dishes include calcots (special onions cooked over a fire and dipped into Romesco sauce), paella (made with the addition of vermicelli noodles, and without saffron), myriad types of Catalan sausage served with white beans, sauces such as aioli and picada, and a great array of pastries and desserts including Crema Catalana (a version of crème brûlée).
If you love Spanish and Mediterranean food, let Warren take you by the hand and lead you into The Catalan Kitchen.
Buy your copy of The Catalan Kitchen from Book Depository now, with free delivery worldwide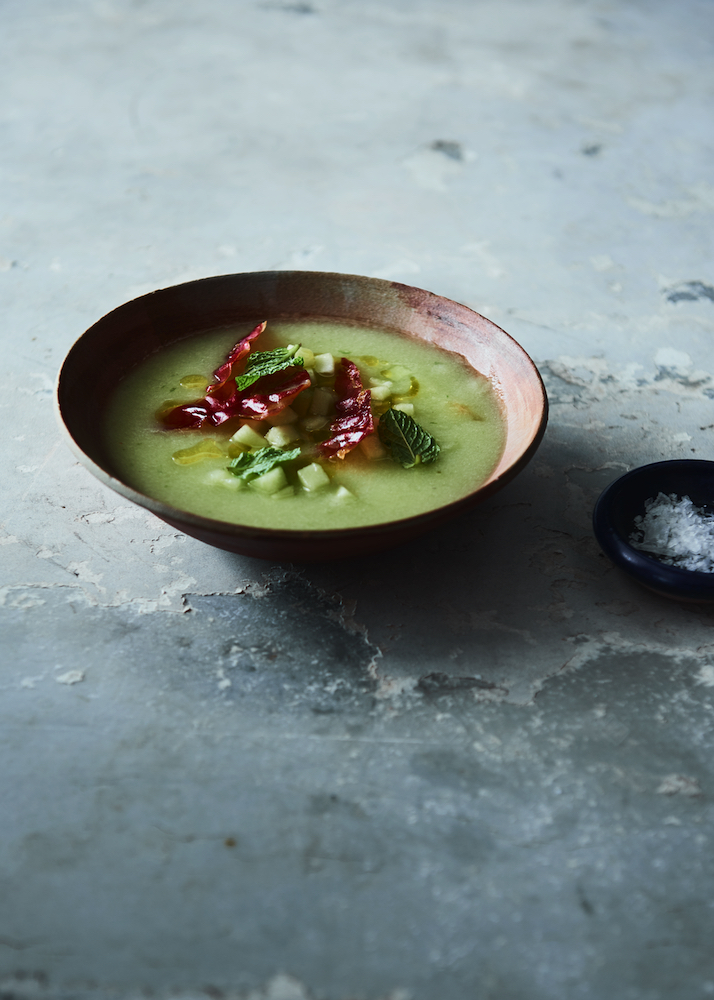 SOPA FREDA DE MELÓ
(Melon Soup)
Serves 4
1 kg (2 lb 3 oz) honeydew melon (about 1½ melons), thickly peeled, seeds removed
zest of ½ lime
juice of 1 lime
salt flakes and ground white pepper
8 thin slices jamón
1 bunch mint, leaves picked, reserving a few to garnish
60 ml (2 fl oz/¼ cup) light-tasting extra virgin olive oil
Preheat the oven to 180°C (350°F) fan-forced. Line a baking tray with baking paper.
Slice a thin wedge off the melon and cut the flesh into small dice. Set aside. Blend the remaining melon in a food processor with the lime zest and juice and salt and white pepper, to taste. Add 125 ml (4 fl oz/½ cup) water and blend until smooth. Pour into a large jug and refrigerate.
Lay the jamón on the prepared tray and bake for 12 to 15 minutes, until crisp.
Bring a small saucepan of water to the boil and blanch the mint leaves for 1 minute. Drain and refresh in iced water, then strain and squeeze out as much water as possible. Transfer the mint to a food processor, add the oil and blend on high until smooth.
Give the melon soup a good stir, then pour into serving bowls. Decorate with the jamón shards and diced melon, drizzle with the infused mint oil and garnish with mint leaves.
Authors note:
The Mediterranean culinary tradition of combining fresh fruit with cured meats lives on strong in this dish. In Catalunya it has transitioned itself into a cold soup, where it is a popular wedding menu entrée at many Barcelona hotels.
You can make this recipe using rockmelon (cantaloupe), watermelon – even kiwi fruit works well – but I've opted for honeydew melon here. Be liberal when peeling to make sure you remove all the bitter pith.
ESPATLLA DE XAI AL FORN
(Oven-Roasted Lamb Shoulder)
Serves 4
500 g (1 lb 2 oz) rock salt
2 sprigs rosemary
2 fresh bay leaves
1 cinnamon stick, halved
8 juniper berries
2 to 2.5 kg (4 lb 6 oz to 5½ lb) lamb shoulder, bone in
1 tablespoon extra virgin olive oil
1 teaspoon freshly cracked black pepper
125 ml (4 fl oz/½ cup) sherry vinegar
125 ml (4 fl oz/½ cup) dry white wine
2 garlic bulbs, cut in half crossways
2 lemons, halved
500 g (1 lb 2 oz) chat (baby) potatoes
1 teaspoon salt flakes
mixed fresh herbs, such as mint, dill, parsley, basil and tarragon leaves, to serve
In a blender, blitz the salt, one rosemary sprig, one bay leaf, half the cinnamon and the juniper berries until evenly chopped.
Place the lamb in a large baking dish and rub with the salt mix to coat. Set aside in the fridge for 2 hours.
Preheat the oven to 230°C (445°F) fan-forced.
Rub the salt off the lamb and rinse well. Pat dry with paper towel and allow to air-dry on a wire rack at room temperature for 30 minutes.
Smear the lamb with the olive oil and sprinkle with the pepper. Place the lamb and the wire rack on top of a baking dish and pour the vinegar, wine and 1 litre (34 fl oz/4 cups) water into the base of the dish. Throw in the garlic, two lemon halves and the remaining rosemary, bay leaf and cinnamon. Roast for 30 minutes, then remove from the oven and turn the shoulder over. Reduce the temperature to 150°C (300°F) and return the lamb to the oven and roast for a further 30 minutes. Remove, turn the lamb over again and place the potatoes in the baking dish. Return to the oven for another 30 minutes. Keep an eye on the liquid and add a little more water if the baking dish is dry and the potatoes are starting to burn. Finally, increase the heat back to 230°C (445°F), turn the lamb shoulder one last time and roast for 15 minutes.
Transfer the lamb and potatoes to a large serving dish. Squeeze the remaining lemon halves over the potatoes and sprinkle with the salt.
Scatter the herbs over the lamb and serve.
Authors note:
Catalan families often eat this dish a couple of times during the Christmas period, kicking off on 8 December and carrying on through to Three Kings' Day on 6 January. It's sometimes served as a latenight dinner on the 'Nit de Nadal' (good night) or Christmas Eve.
Recipe and images from The Catalan Kitchen: From Mountains to City and Sea – Recipes from Spain's Culinary Heart, by Emma Warren. Photography © Rochelle Eagle | Food styling © Lee Blaylock Published by Smith Street Books and reproduced with the publisher's permission.
This story originally appeared in PS News online.