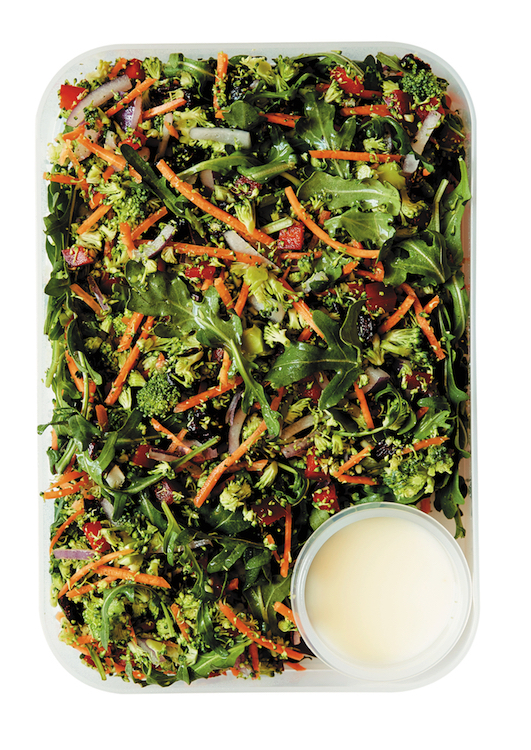 Buying your lunch is usually less healthy and almost always more expensive than bringing your own lunch to work, but it can be such a chore trying to come up with lunches that are interesting and nutritious. No-one wants to eat the same pitiful sandwich or the same tired salad day after day.
Salvation comes in The 5-Minute Salad Lunchbox by Alexander Hart, published by Smith Street Books. Hart is a cook and food writer based in the Blue Mountains, and this is his first book, though he has long been an advocate that a healthy lunch leads to a healthy life.
He's put together 52 of his favourite jar salads for this book, enough for a different one each week of the year. They don't need to be carried in a jar of course – you could just as easily use a lunchbox – but he does stress that the dressing should be carried in a separate container or jar. Dressings are the big culprit of soggy salads so you should add it just as you're about to eat.
Using last night's leftovers
The recipes in The 5-Minute Salad Lunchbox are speedy enough to be made before work, but you could do them the night before if you wish. Most can be made from scratch in five minutes, while others re-purpose last night's leftovers.
The recipes are in five categories: Vegetables; Noodles and Zoodles; Grains and Seeds; Beans and Legumes; and Classics and New Classics. There are plenty of low-carb ideas and wholegrain recipes built around a central protein. Hart gives tips and tricks for ingredients like beetroot, chicken, grains and noodles so you can cut the prep time down even further.
You can use pre-cut broccoli and carrots in the recipe here, and to save even more time, use a good-quality store-bought buttermilk ranch dressing.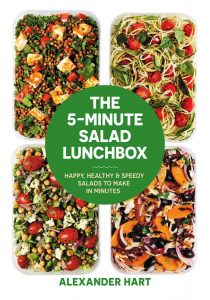 ---
Buy your copy of The 5-Minute Salad Lunchbox from Book Depository now, with free delivery worldwide
Broccoli Rice, Carrot & Cranberry Salad With Buttermilk Dressing
½ head of broccoli, blitzed to coarse grains or use store-bought broccoli 'rice'
Handful of shredded carrot
¼ red capsicum (bell pepper), diced
¼ red onion, thinly sliced
3 tablespoons slivered almonds
2 tablespoons dried cranberries
Handful of rocket (arugula)
Buttermilk dressing:
2 tablespoons buttermilk
1 tablespoon Greek yoghurt
Juice of ½ lemon
¼ teaspoon minced garlic
Salt and freshly ground black pepper, to taste
Toss the salad ingredients together, then tip into your lunchbox. Combine the dressing ingredients in a small jar or container with a tight-fitting lid. Pour the dressing over the salad just before serving and toss well.
Recipe and images from The 5-Minute Salad Lunchbox by Alexander Hart, published by Smith Street Books and used with the publisher's permission. Photography © Chris Middleton / Food styling © Deborah Kaloper.
This story originally appeared in PS News online.