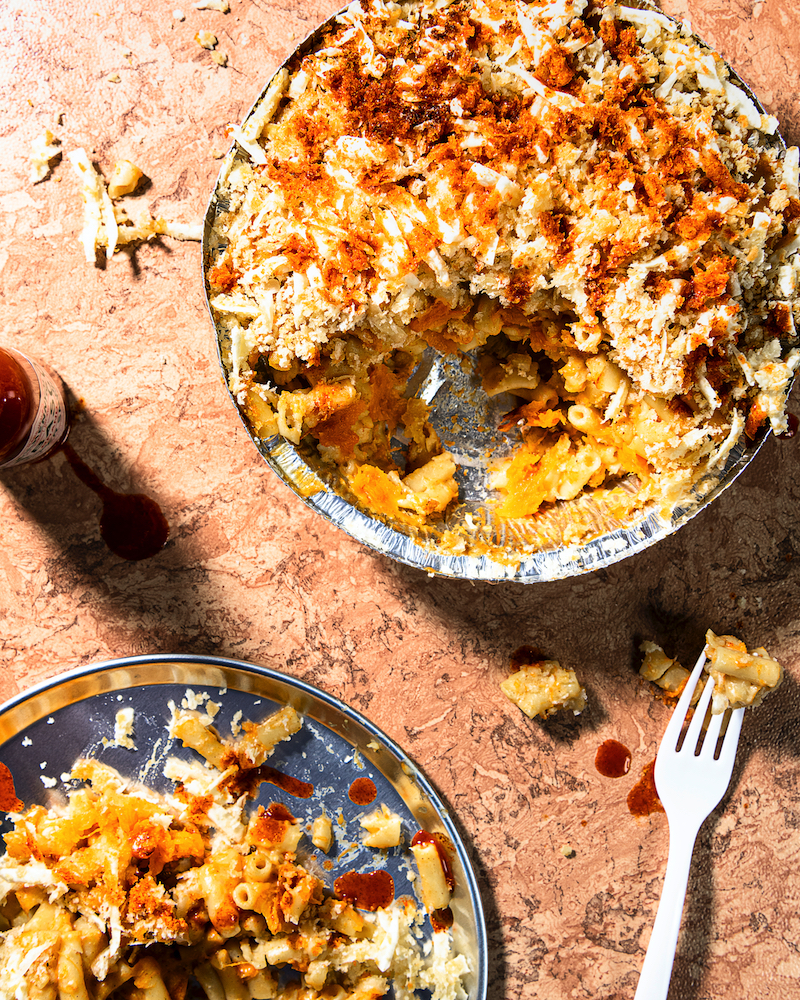 Even vegans dream about tucking into a greasy burger, apparently. Zacchary Bird certainly does. The Melbourne-based vegan recipe developer makes his living designing plant-based alternatives for meat products. But he's an unabashed lover of junk food and in 2016 he made waves with his first viral sensation – a recipe for vegan 'KFC-style drumsticks'.
That success has led to his appearances at food festivals (he's also a bit of a comedian) and now a 'down and dirty cookbook', Vegan Junk Food, published by Smith Street Books. The book is described as the "anti-vegan cookbook for vegans". Most vegetarian and vegan cookbooks focus on the steamed tofu/whole wheat/kefir/green cleanse/lentil aspect of meat-free diets. Not so Bird.
For him, it's all about deep-fried mac 'n' cheese balls, Philly faux-steak, the Big Zac (a Big Mac, reimagined), and beer-battered chocolate. Not to mention Buffalo Cauliflower Dip, Butternut Mac n Cheese, and deep-fried banana fritters. "The greatest plant-based feasts are often dripping in greasy goodness, covered in sauce and heavy on the (vegan) mayo," reads the books back cover.
Unlike many cookbooks, this one won't have you searching through a spice market for five hours just to find all the ingredients. The recipes draw on ingredients that can be readily found in supermarkets. Novice chefs won't have any trouble making them either. If you spend a lot of time dreaming about calorie-laden products but don't want to eat animal products, or if you simply want to dip your toe into the waters of veganism, this book is for you. If not, look away now.
---
Buy your copy of Vegan Junk Food from Book Depository (free delivery worldwide).
Buy your copy of Vegan Junk Food from Australian-owned Booktopia.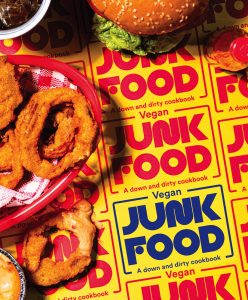 ---
Recipe For Butternut Pumpkin Mac 'n' Cheese
Serves 3 to 4
200g to 300 g butternut pumpkin, peeled, deseeded and roughly chopped
200 g dried macaroni
1 tablespoon olive oil
1½ tablespoons plain (all-purpose) flour
310 ml (1¼ cups) soy milk
125 g (1 cup) shredded dairy-free cheese
1 teaspoon garlic powder
1 teaspoon Dijon mustard
2 tablespoons nutritional yeast
½ freshly grated nutmeg or 1/8 teaspoon ground nutmeg
1 teaspoon finely chopped thyme leaves
1/8 teaspoon chilli powder
½ teaspoon ground sage
sea salt and freshly ground black pepper
30 g (½ cup) panko breadcrumbs
Preheat the oven to 200°C. Line a baking tray with baking paper.
Place the pumpkin on the prepared tray and bake for 20 minutes or until soft and cooked through. Transfer the pumpkin to a bowl and lazily mash it with a fork to create a lumpy mash. Reduce the oven temperature to 160°C.
Cook the macaroni according to the packet instructions until just before al dente. Drain and set aside in a medium baking dish.
Heat the olive oil in a saucepan over medium heat. Sift in the flour and stir constantly for 2 minutes until you have a roux. Once the roux starts to bubble, gradually whisk in the soy milk a little at a time. When all the milk has been incorporated, stir in three-quarters of the cheese, the garlic powder, mustard and nutritional yeast and cook, stirring, for 8 to 10 minutes, until thickened. Remove from the heat and stir through the nutmeg, thyme, chilli and sage.
Pour the cheese sauce over the cooked pasta, add the mashed pumpkin and gently mix to combine. Season with salt and pepper, then scatter the remaining cheese and the breadcrumbs over the top.
Transfer to the oven and bake for 30 minutes or until the breadcrumbs are crisp and golden.
Allow the mac 'n' cheese to cool for 10 minutes before serving.
Recipe and image from Vegan Junk Food, by Zacchary Bird. Published by Smith Street Books and reproduced with the publisher's permission. Photography © Pete Dillon, Food Stylist © Bridget Wald.
This story originally appeared in PS News.
---
You might like to try these other great vegan recipes!
---