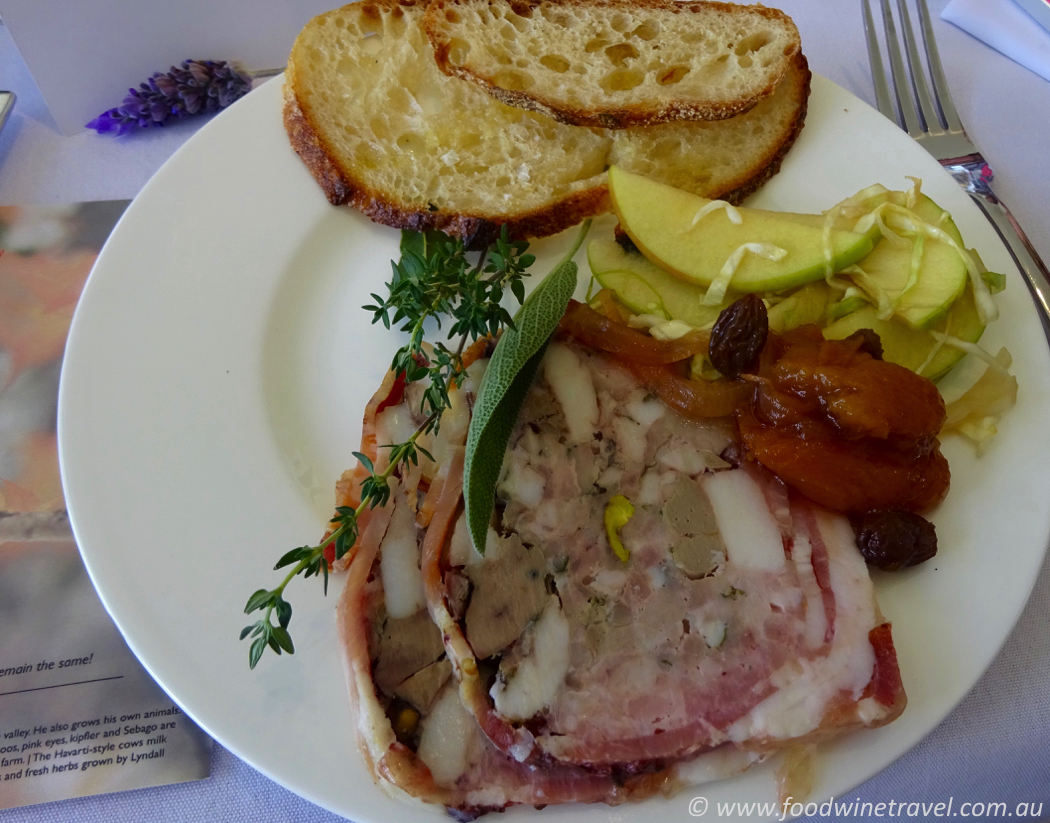 A flavour-filled homemade terrine conjures images of a rustic lunch under a shady tree or leafy stone terrace in France, complete with crusty bread, a crisp salad and a glass of Rosé. Yet you can have the same experience using the flavours of Southern Queensland Country, as we discovered at an exquisite Autumn Shared Table lunch.
Brisbane chef, Jocelyn Hancock, who hosted the lunch at her country property near Killarney, made this delicious Pork and Pistachio Terrine, for which she has generously shared the recipe. She served it with a Pink Lady apple salad, a stonefruit relish made with apricots from her own trees, and slices of sourdough toasted in her Aga oven.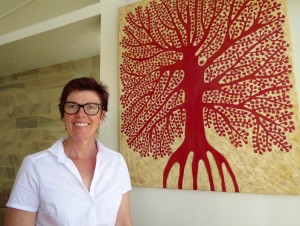 Jocelyn says the real preparation for a terrine is in the sourcing of ingredients. If you can, choose free-range or organic meats, bacon and livers as they result in a better texture and end flavour. She used pork and bacon from the Killarney Butchery, which has its own smokehouse and sources all its meat from local farms.
Jocelyn recommends that you coax your butcher to coarsely mince the pork for you – it gives flavour and moisture to the meat during cooking. Make sure that your bacon pieces are long enough to fold over the top of the terrine.
PORK AND PISTACHIO TERRINE
INGREDIENTS
10 rashers streaky bacon
1 duck or chicken breast (skin removed), chopped to 1cm cubes
500g coarsely minced pork shoulder
250g chicken livers roughly chopped and trimmed of sinew
200g pork back, roughly chopped
50g pistachios, natural and shelled
1 tbsp fresh thyme, finely chopped and some for garnish
1 tbsp fresh marjoram, chopped
20g sea salt
2 tbsp brandy or cognac
¼ tsp freshly ground white pepper
1 fresh bay leaf (extra branch for garnish)
METHOD
Line a 22cm x 8cm x 7cm loaf pan or terrine dish with bacon, with the excess hanging over the sides. Mix all the other ingredients, except the bay leaf, together and combine well with your hands. Cover and place in the fridge for several hours.
Place mixture into the bacon-lined tin, pressing into the corners. Fold bacon over the top and place the bay leaf and a sprig of thyme on top. Cover with a neat piece of baking paper then a double sheet of foil to secure tightly on the edges.
Place in a water bath with hot water halfway up the sides and cook for 1.5 hours, testing with a meat thermometer. When it reaches 70 degrees C, remove from water bath and place on a low-sided tray (to catch the drips). Weigh down with several food cans and refrigerate for up to two days before serving.
To serve, place for a brief minute in hot water to release the seal. Remove paper and herb pieces and invert onto a serving board or platter and garnish with extra thyme and bay leaf. Cut into thick slices and serve with crusty bread, a spicy fruit relish or cornichons.
Recipe courtesy of Jocelyn Hancock.
For a country Queensland getaway where you can see and experience four distinct seasons, check out all the great ideas at www.southernqueenslandcountry.com.au
Escape to Southern Queensland Country on these fabulous Autumn Breaks.