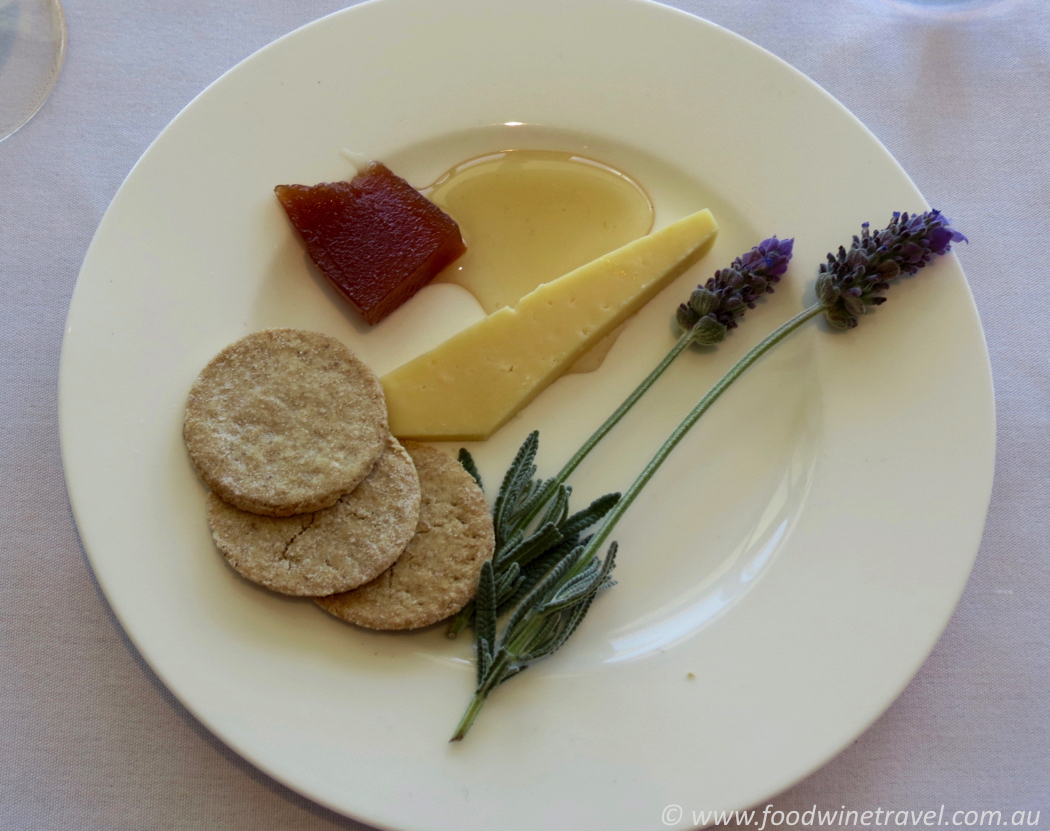 "We like to treat our visitors like they are part of our family," says Mary-Clare Power, CEO of Southern Queensland Country Tourism. And so to highlight the point, we're sitting at a long shared table in Jocelyn Hancock's home in the country, eating beautiful food cooked in the Aga oven, and definitely feeling like we're part of the family.
Jocelyn's home is just outside the town of Killarney, overlooking rolling hills in Southern Queensland that reminded early European settlers so much of Ireland that they named the town after it. Mary-Clare is here to tell us all about the 15 fabulous Autumn Breathe Breaks that SQCT has planned for visitors who want to experience this very special part of the country, just 90 minutes from Brisbane.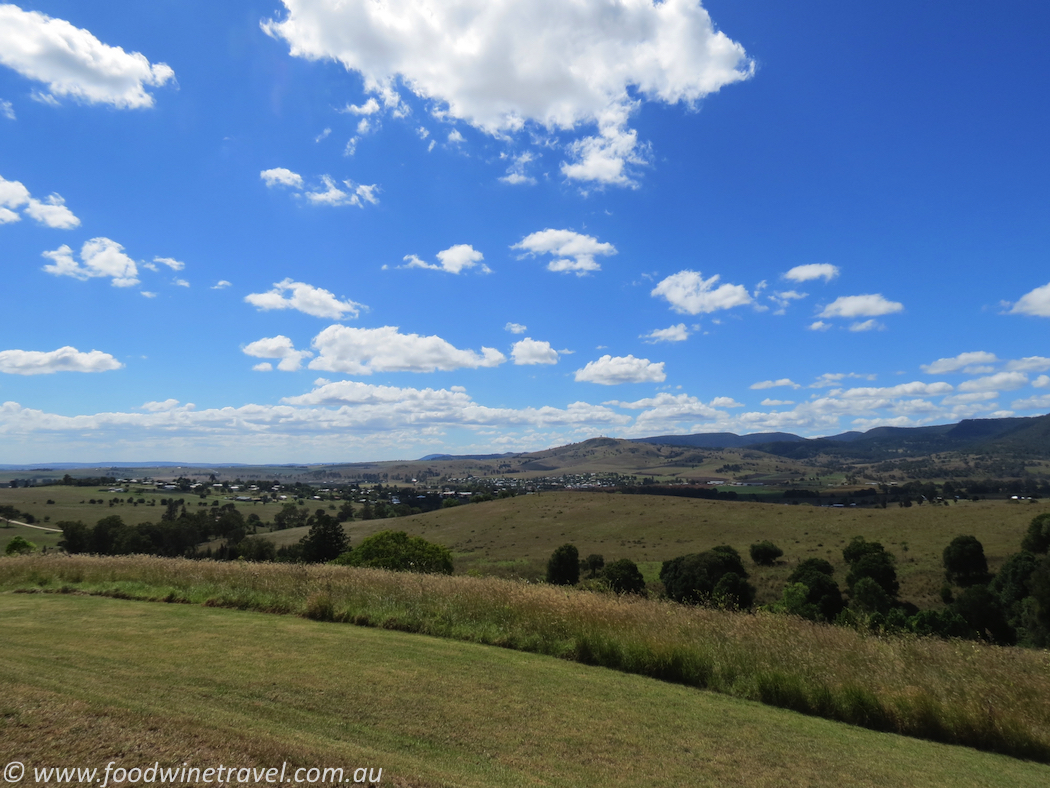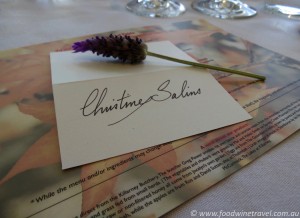 Autumn is the perfect season to experience the region, as here, more than anywhere else in Queensland, you'll be able to hear the crunch of autumn leaves underfoot, and perhaps even relax in front of a cozy log fire, thanks to the higher altitude that takes the temperature down a few notches. You'll be able to follow some of the excellent food and wine trails and taste some terrific wines, as Southern Queensland Country encompasses the Granite Belt and South Burnett wine regions.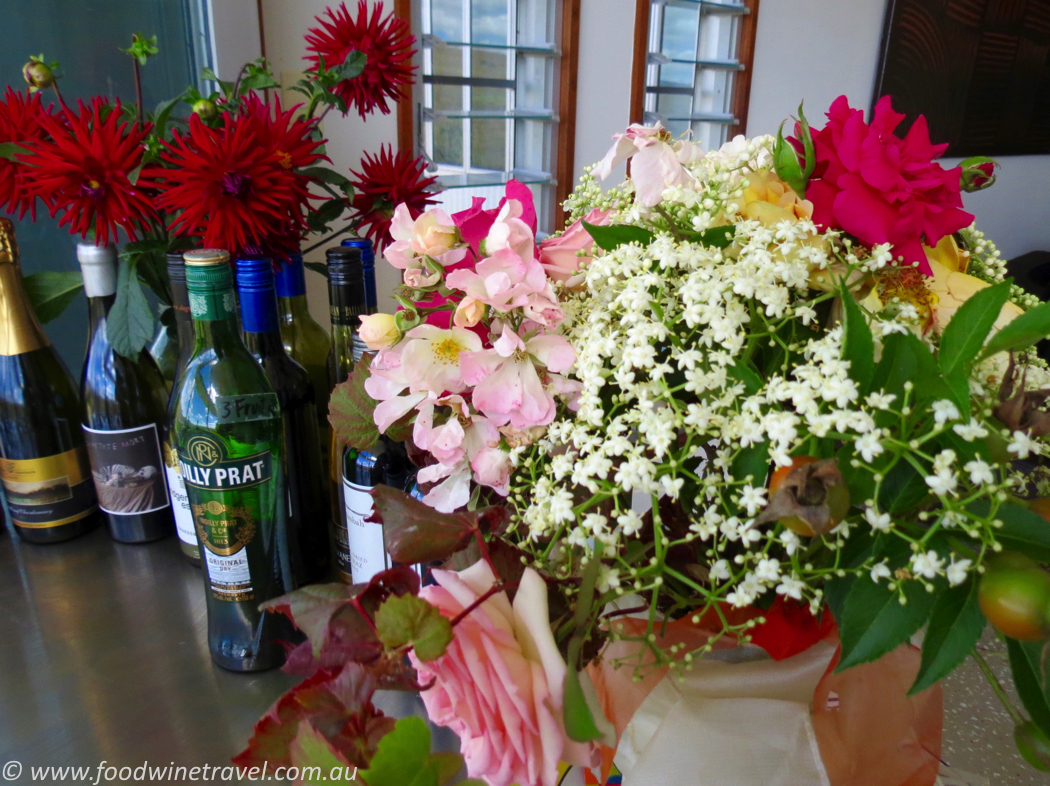 Brisbane sommelier Peter Marshall chose the wines that we are drinking at this Autumn Shared Table Lunch and he welcomes us to Jocelyn's home with a glass of Robert Channon 2012 Sparkling Chardonnay that sets the mood perfectly. While Jocelyn and her offsider, Chris, are busy in the kitchen putting the finishing touches to our lunch, we mingle on the terrace nibbling on parmesan sables and puffs filled with sweet corn and double smoked bacon from the Killarney Butchery.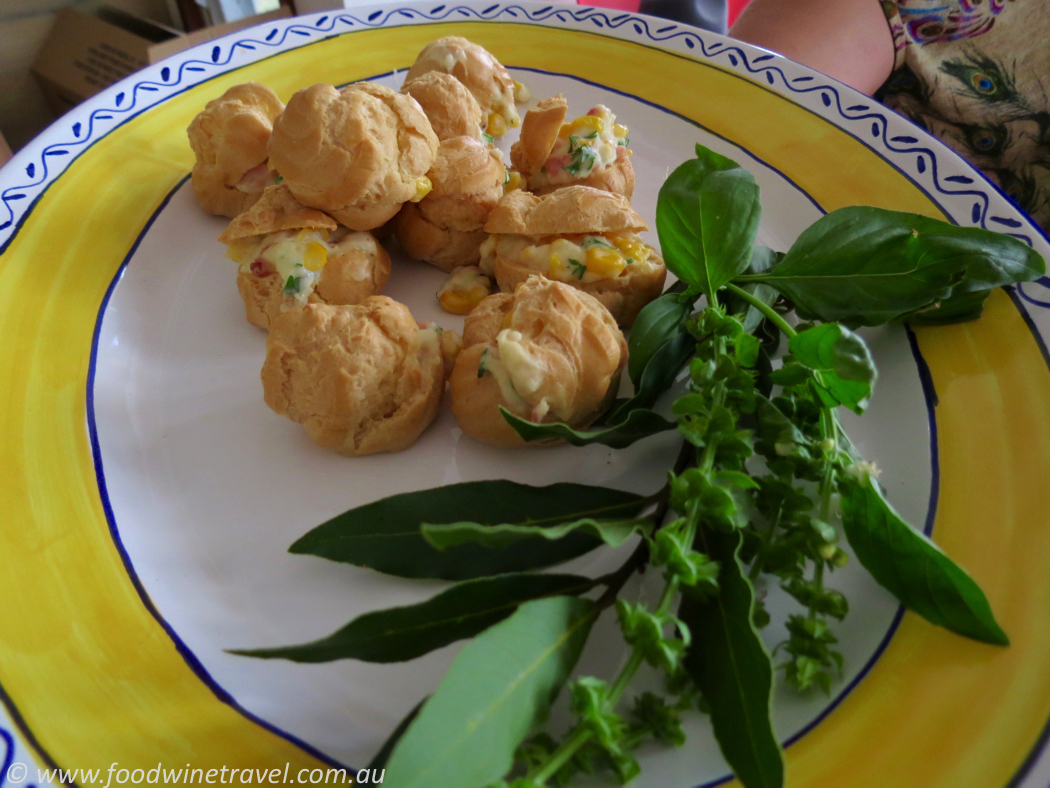 Peter says that when he first tasted Queensland wines he thought how ordinary they were, but the distance they had come in 20 years was phenomenal. "There used to be a lot of rough and a few diamonds. Now there are a lot of diamonds and very little rough," he says. "The Granite Belt is called the Granite Belt for a reason. Granite is good (for wine)."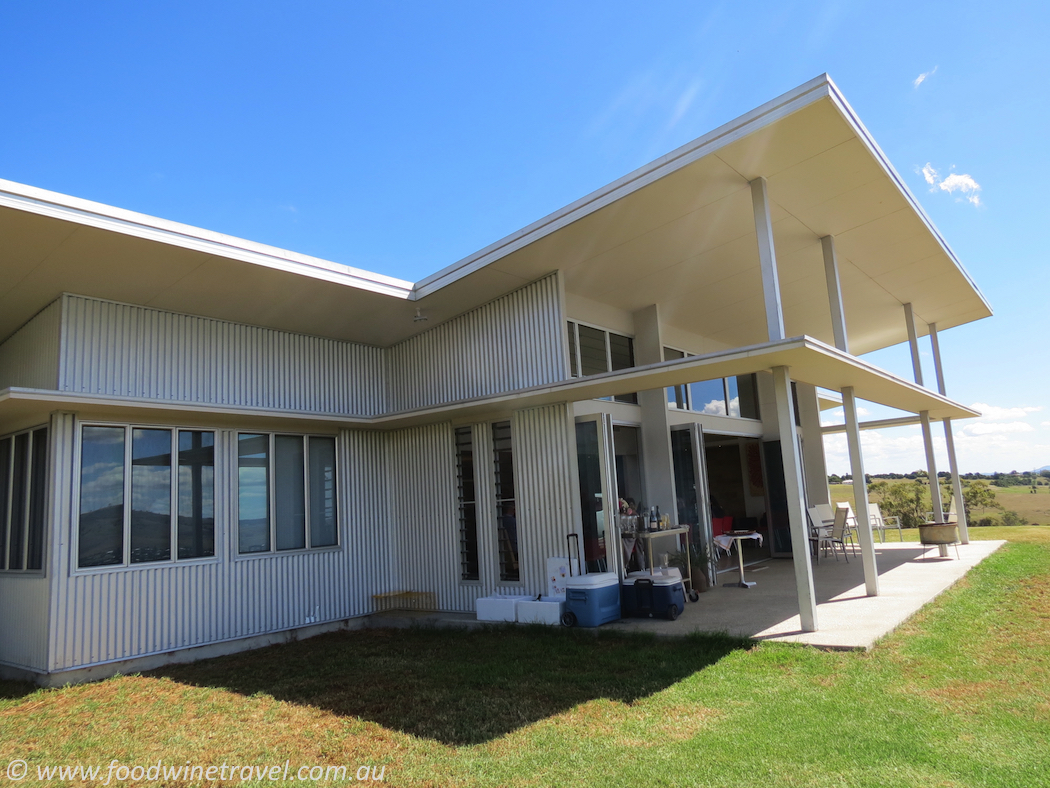 The truth of those words is evident in the Ridgemill Estate 2014 Chardonnay he pours. It's pure class and the wine of the day for this unabashed Chardonnay lover. Peter is also pouring some of the other great beverages from the region: Sutton's Dry Cider and a couple of beers from Granite Belt Brewery, Storm King Kolsch and India Pale Ale.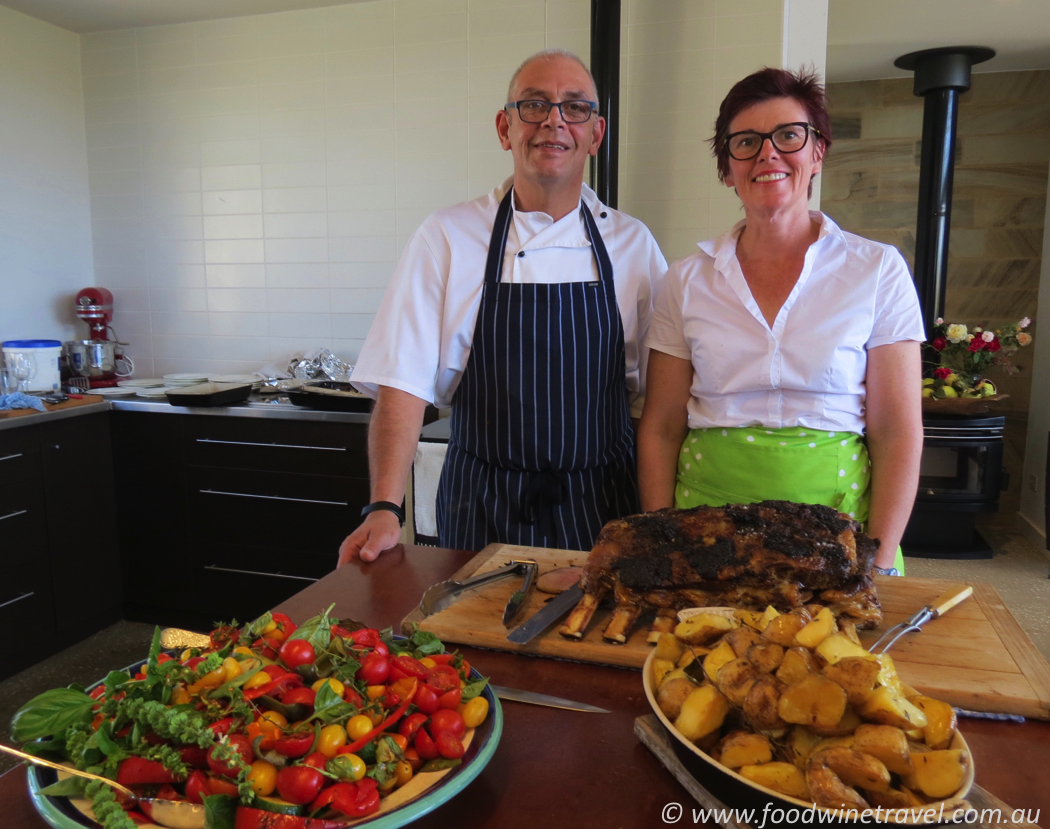 We're on to the entrées now, and they're served alternatively but Maurie and I swap plates halfway through like we usually do, so we get to sample both. One is a pumpkin, sage and pine nut frittata made with eggs from Juanita and Randal Breen's Echo Valley farm in the Goomburra Valley.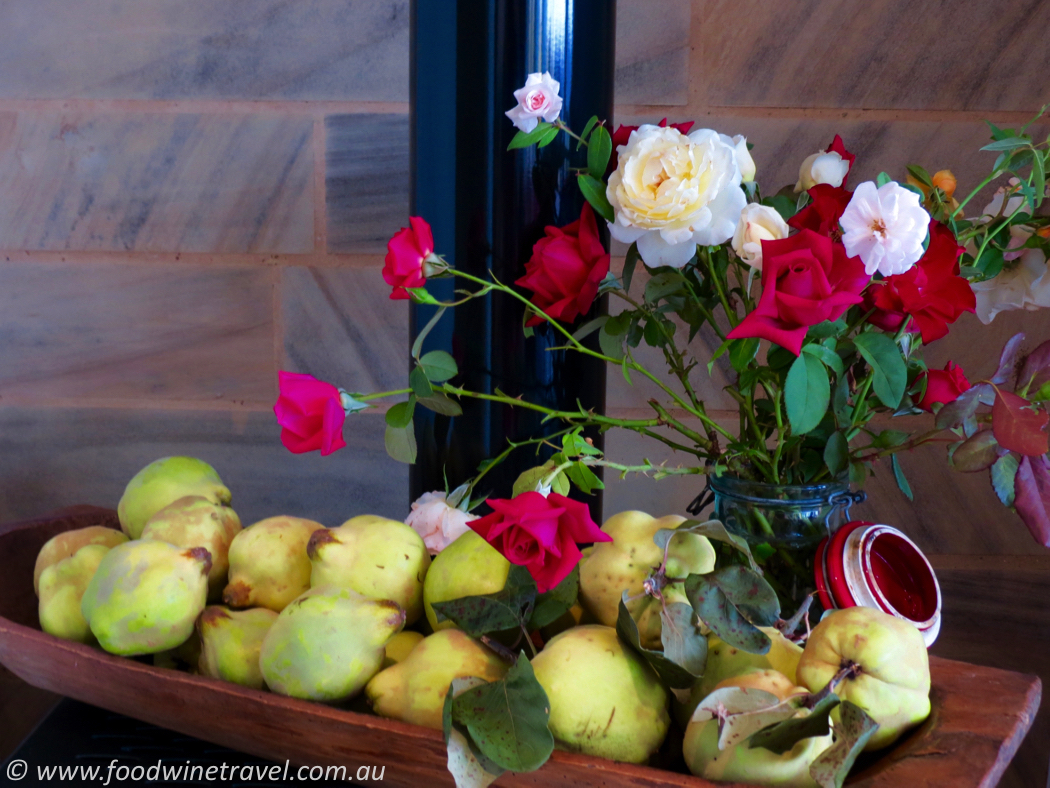 Randal is keen to tell us all about his ethically raised chooks. "We're not certified organic but we don't use any chemicals," he says. "Farming today has really become monocultural and unfortunately what happens is you get disease in the system. We have beef cattle, sheep, a few pigs and we have 2000 hens under a pastured poultry operation over 60 hectares. They're never locked in a shed at any time. Our sheds are all mobile and every three days they're moved to a new location so our chooks always have access to pasture. That produces happy healthy hens that produce nutrient-dense rich eggs. We produce 1600 eggs every day and every single egg is cleaned by me and my wife."
Randal sells his eggs at the monthly Toowoomba Farmers Market and the weekly West End markets in Brisbane. He also sells to valued restaurateurs and shop owners like Jocelyn, who uses them in the cakes and pastries she sells at her West End shop, Cake & Bake.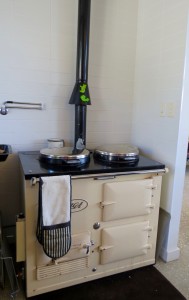 The alternative entrée is a rustic Pork and pistachio terrine that Jocelyn has generously shared the recipe for. It's served with a Pink Lady apple salad and a stonefruit relish made with apricots from her own trees. It comes with a couple of slices of sourdough that have been toasted in the Aga oven – oh how I envy that oven!
While we're sipping on a glass of crisp, bracing La Petite Mort 2015 Barrel Fermented Marsanne, Jocelyn's sister, Lyndall McCormack, tells us what she loves about living in Southern Queensland Country. She enjoys a largely self-sufficient lifestyle with her family and says that being on a property that has been in the family for generations evokes a "sense of connection". The bright red 1930s truck that we passed on the way in was used by Lyndall and Jocelyn's father and is still in use.
"I love the ocean too but the country is really interesting," Lyndall says. "People mistake this place for Maleny or Northern Rivers. It's not. It's an agricultural place. You can grow so many gorgeous things. The top soil here is almost two feet deep. You have four seasons. It's this constant canvas that's moving. Everyone knows what phase of the moon we're in. It's amazing seeing the moon come over the mountains. The clouds are fabulous. It's a spiritual place. That's what I love about it here, apart from the fact that it's deathly quiet."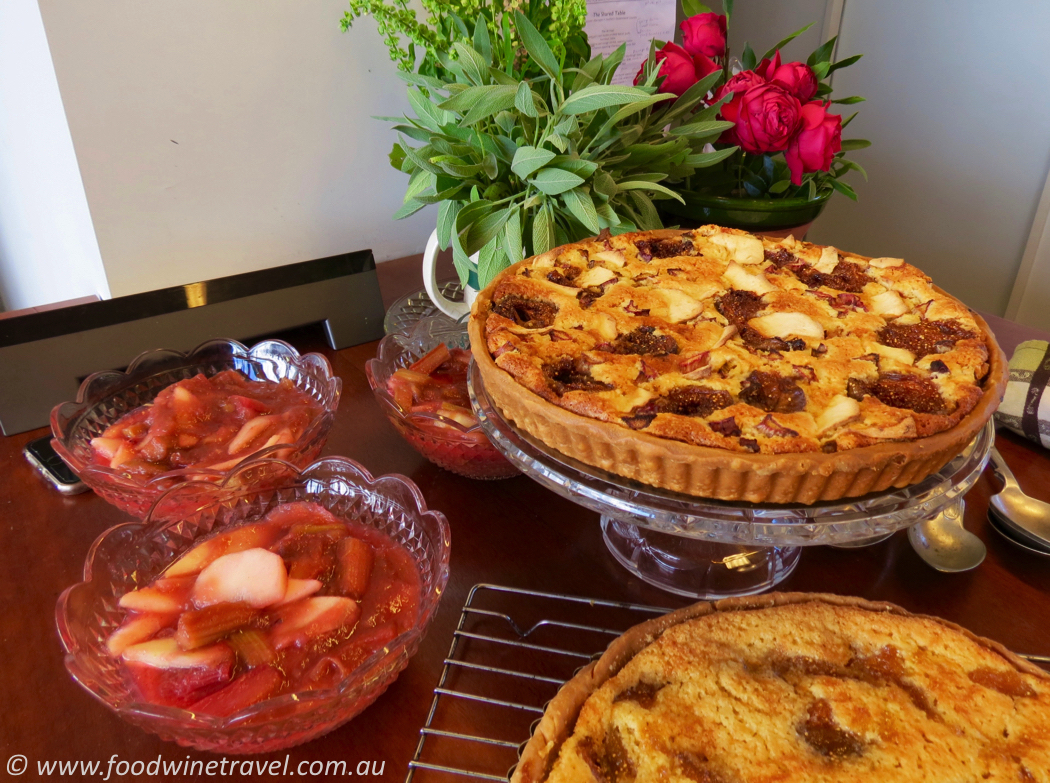 Lyndall says that despite the fact you're not going to find super-trendy cafés in the region, it's very easy to eat local, such is the wealth of produce. I'm convinced she is the only person who can make a visit to a cattle sale sound appealing, as she recommends Tuesday at the Warwick saleyards "for the best paddock to plate experience".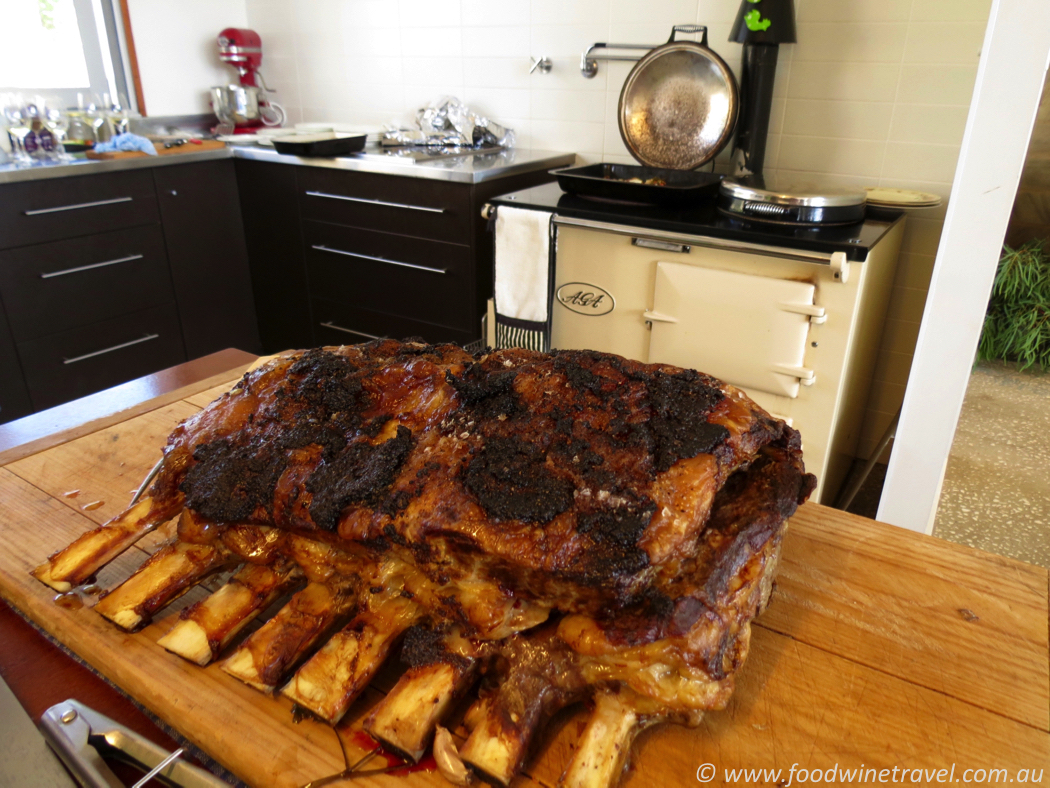 Speaking of beef, we're in carnivore heaven as Jocelyn and Chris carve the yearling that has been roasted in the Aga oven for two hours before being rested for three hours. "It was grown about 10km from here and was raised by the butcher in town," says Jocelyn. "This is the rib on the bone and when you roast it on the bone, you get amazing flavours. Cooked in cast iron in the Aga it retains moisture and permeates all through the beef."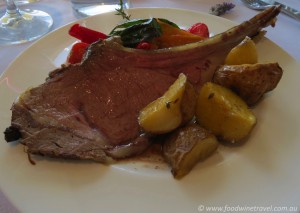 All the pork, bacon and beef used in this lunch come from the Killarney Butchery, whose owner, Greg Power, smokes his own bacon and sources all his meat from either his own farm or other farms in the valley. Most of the beef he sells is milk and grass fed from small herds.
The roast Ruby Loo potatoes are grown on nearby Spring Creek Mountain by Mal and Helen Smith who specialize in this variety, along with pink eyes, kipflers and Sebago potatoes. The colourful tomato and basil salad with grilled yellow peppers is dressed with Lirah caramelized balsamic vinegar from Stanthorpe.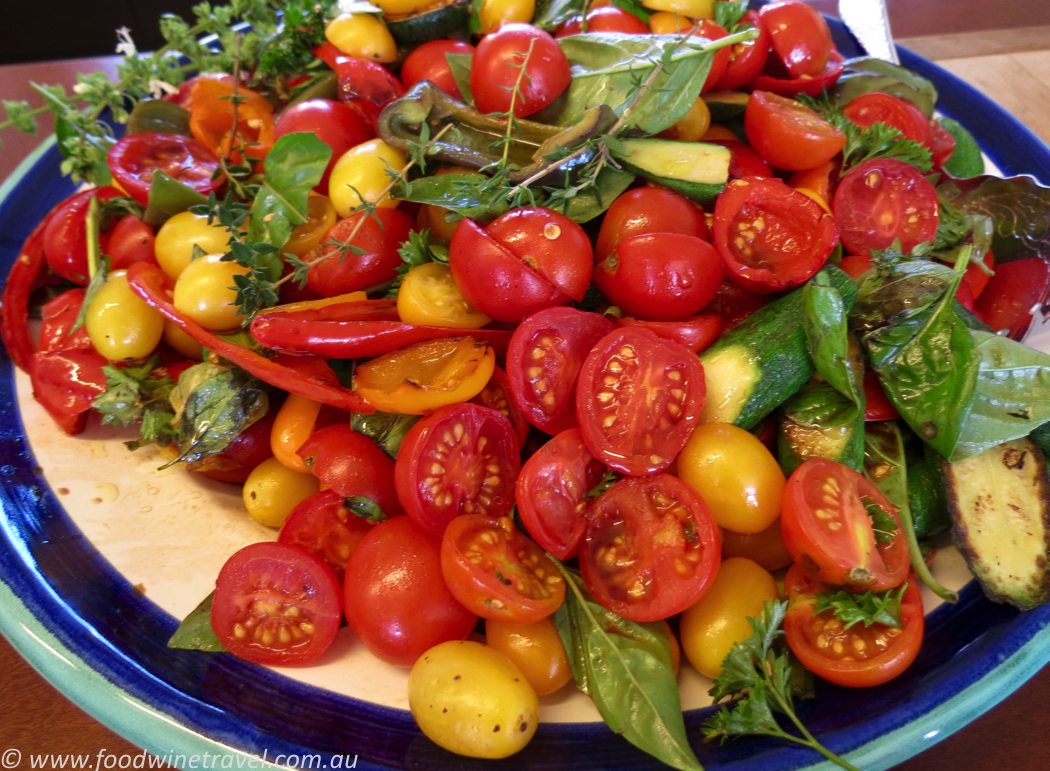 The Boireann 2014 Cabernet Sauvignon goes beautifully with the hearty roast. Peter emphasizes the role that the Granite Belt's high altitude plays in enabling wines of this quality to be produced. "The Granite Belt is 850 metres above sea level. South Australia talks about their high altitude winemaking in the Adelaide Hills, which is 400 metres. The perception is Queensland's hot but what we get is diurnal shifts – big differences between day and night time temperatures – and grapes love that."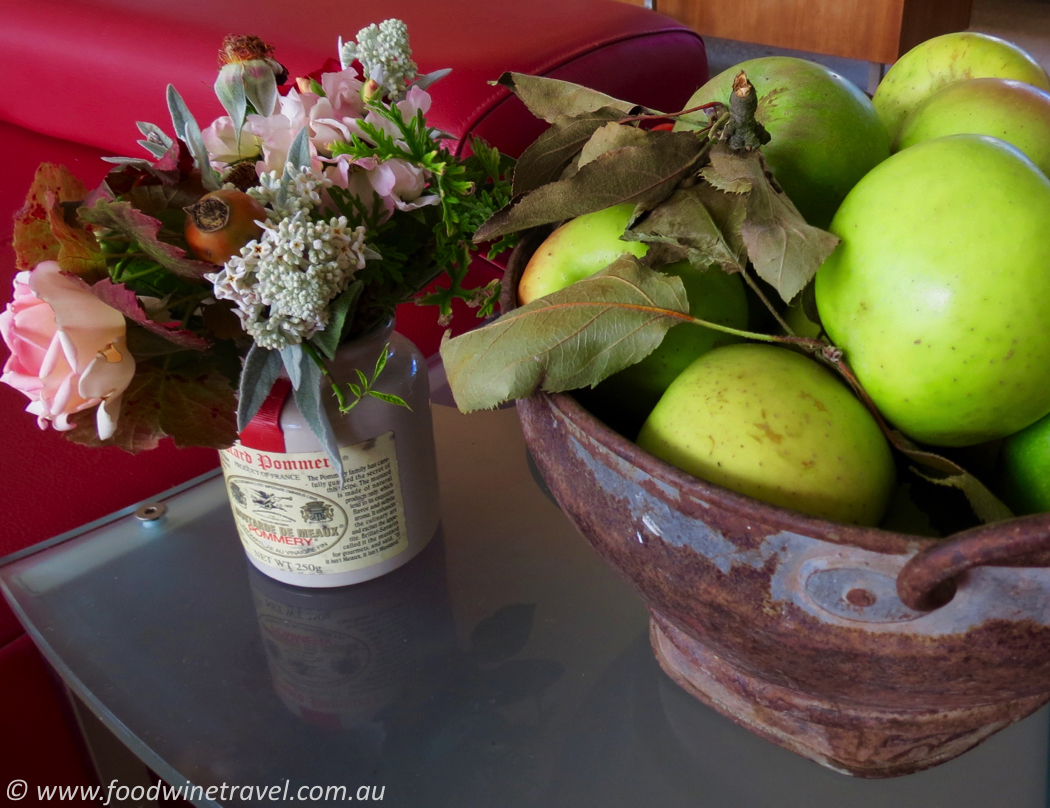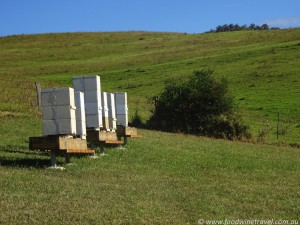 The cheese platter that Jocelyn serves in between the main course and dessert is the prettiest dish of all, decorated as it is with a sprig of lavender from her garden. The Havarti-style cow's milk cheese, quince paste and oatcakes come from Stanthorpe, and the deliciously light, floral honey was harvested just two weeks earlier from Jocelyn's hives. It's matched with Ballandean Estate 2014 Late Harvest Sylvaner, a variety not commonly seen in Australia.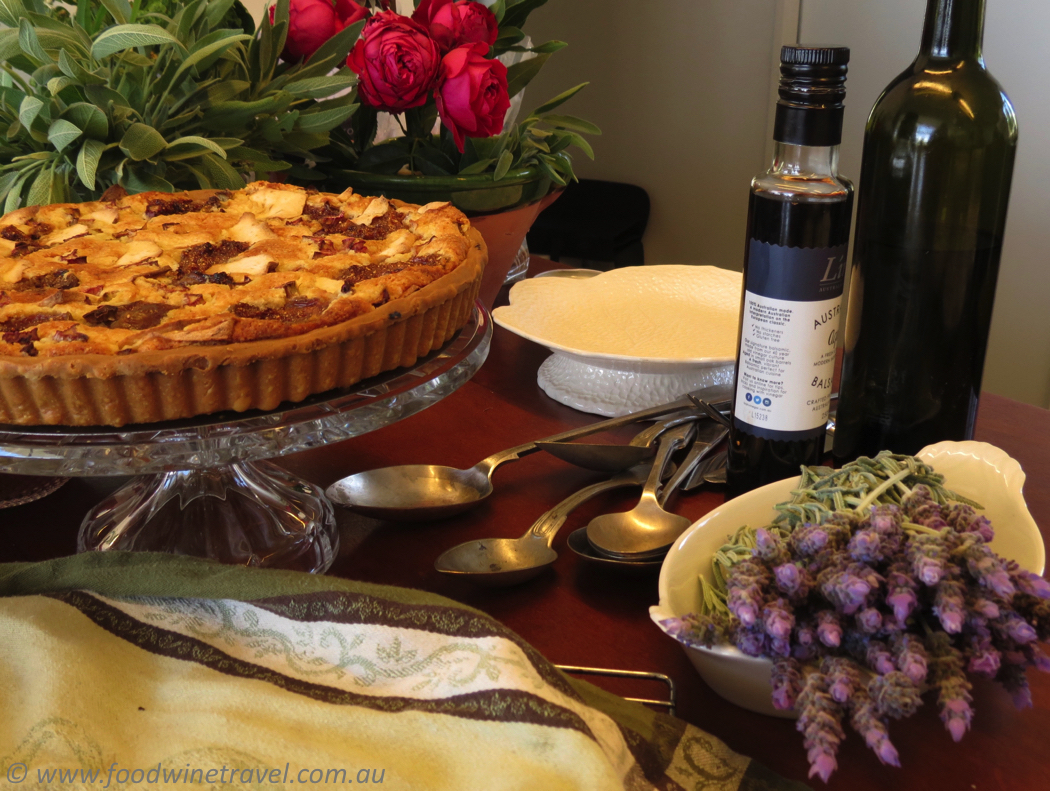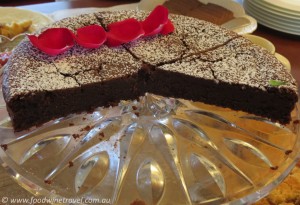 Where to start with the desserts? "I love making desserts," says Jocelyn, and that's clear for all to see with the beautiful array of tarts, cake and compote.
The fig tart is made with her own figs, preserved in syrup a few weeks earlier, while the chocolate cake is made to an Elizabeth David recipe with Randal's eggs, couverture chocolate, almond meal and a little bit of coffee and brandy. Yum!
The classic English-style compote is made with locally grown rhubarb and super-crisp Stanthorpe apples with a hint of Lebanese rosewater folded through at the end. Peter opens a Barambah 2012 Rack-dried Shiraz from South Burnett to go with the desserts, the rack-drying intensifying the sugars in the fruit, producing a Shiraz that pairs surprisingly well with dessert, especially with the chocolate cake.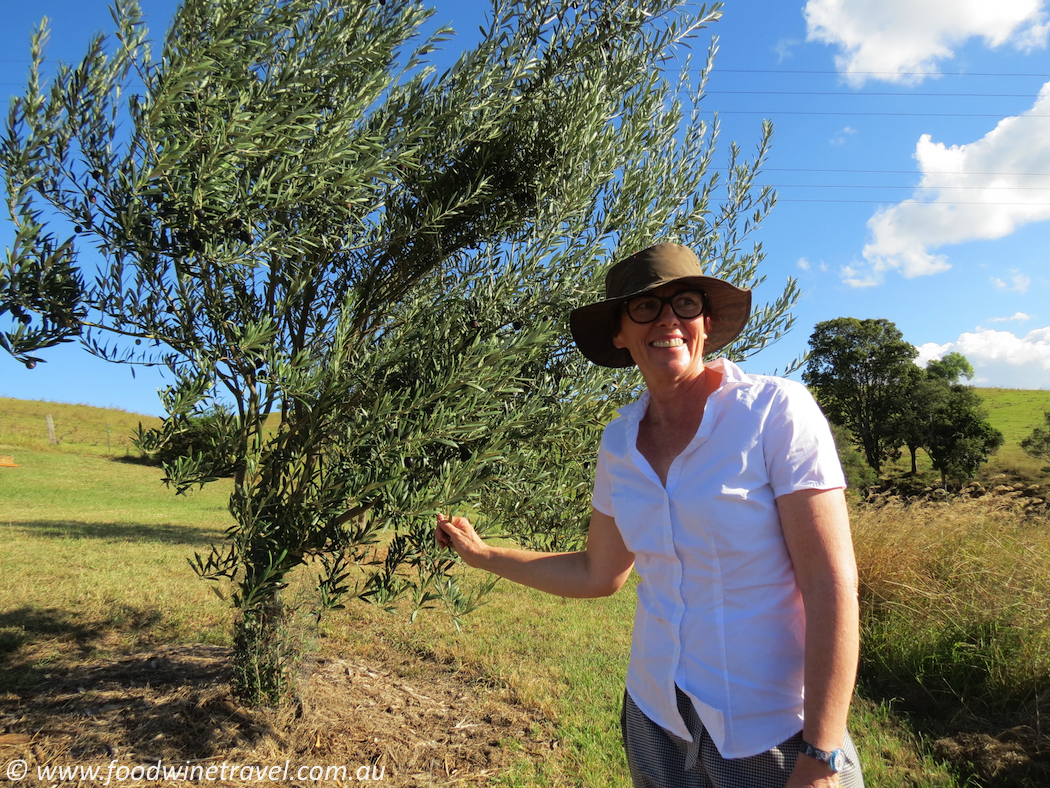 It's been a feast of epic proportions, and a wonderful tribute to the amazingly talented producers who abound in Southern Queensland Country. But we're not finished yet. Off we go for a gentle stroll around Jocelyn's orchard, taking a look at her beehives and her flourishing apricot, apple, pear, fig and olive trees. We make our way back to the house through a path of sweet-smelling lavender. It might not be Provence but we're very content after our autumn lunch in the country.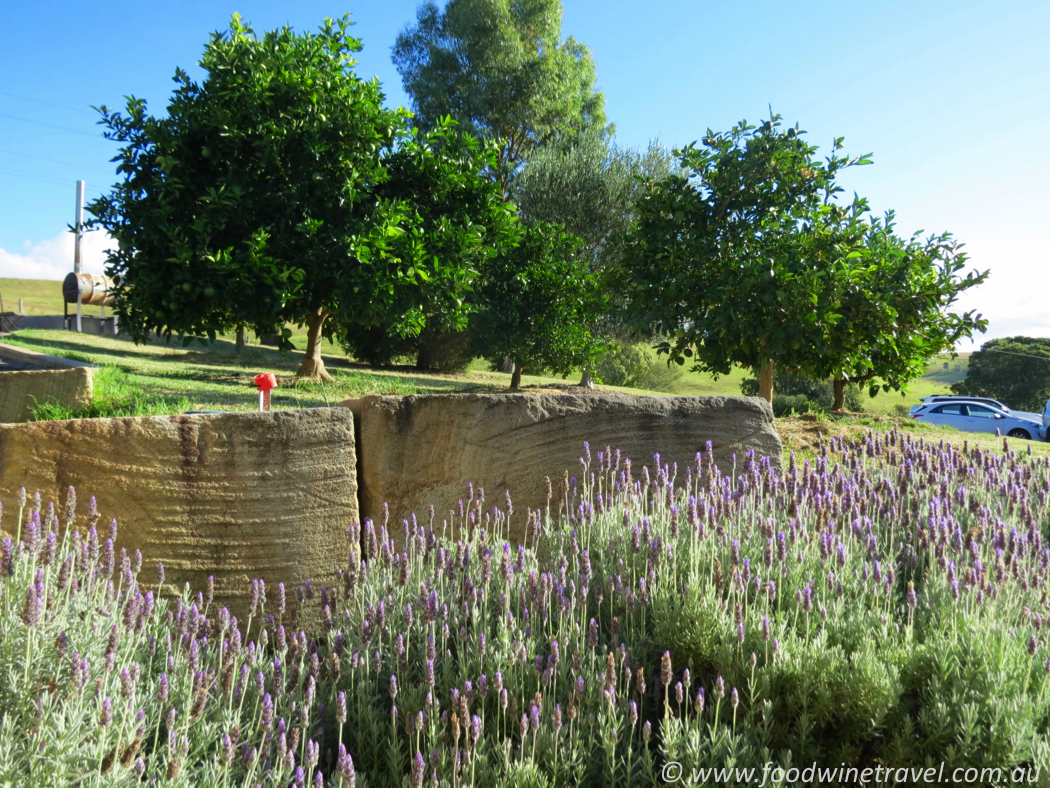 Food Wine Travel was a guest of Southern Queensland Country Tourism. We stayed at the lovely B & B Wanulla in Toowoomba, which we'll be writing about in due course. In the meantime, if you would like to find out more about visiting this beautiful region, visit www.southernqueenslandcountry.com.au
Find out more about Southern Queensland Country's Autumn Breathe Breaks.