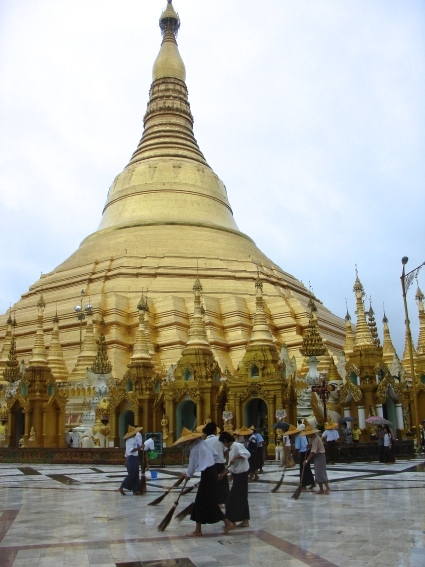 Somewhere in remote north-west Myanmar (Burma), there's a little girl who is probably still talking about our encounter. Ten-year-old Yu Mon Win had never met a foreigner before her father popped her on the back of his motorbike and brought her to meet me on the steps of a temple in Kalewa.
Word must have spread quickly after the MV Pandaw docked in this river town which looks like something out of the wild west with its wide, dusty streets, rusting trucks and buses with putt-putt engines, and shops displaying faded posters advertising Nivea face cream.
Yu Mon Win's proud dad seized the opportunity for his daughter to practise her English, and within minutes of me stopping to rest on the temple steps, they arrived on a very clear mission. She was wearing her prettiest frock, a necklace and a flower in her ear, and in her father's words, her heart was "beating very fast" as she spoke to me in limited but beautiful English.
In this Golden Land of Asia, so ostracized by the world because of its authoritarian government and human rights abuses at the hands of the controlling military junta, it is the warmth and friendliness of the people that provides the lasting memories.
Just 200,000 foreigners a year visit Myanmar, still widely referred to as Burma by the locals. And since just a trickle make their way up the mighty Irrawaddy and Chindwin rivers, away from the tourist triangle of Bagan, Mandalay and Inle Lake, the curiosity that surrounds our arrival is overwhelming.
Pandaw river boats
Privately owned by a Scottish man, Paul Strachan, who has long been obsessed withBurma, the Irrawaddy Flotilla Company operates a small fleet of Pandaw river boats, splendid replicas of the vessels that plied these waters in colonial times.
The Chindwin excursion is a relatively new addition to the program and since the river is navigable for only a short time during the monsoon season, and the itinerary varies with each excursion, there's a definite feeling of being the first foreigners many of these people have seen.
Every time we dock, we feel like the Pied Piper as great crowds swarm around us and follow our every step. The children are especially excited by our presence, and parents thrust their babies towards us to be photographed, with no expectation of anything in return.
The magic of digital cameras allowing the kids to see their own images produces squeals of delight. School teachers interrupt their lessons so their pupils can greet us. It's a photographer's dream, tempered only by our reflections on the intrusion of tourism into their lives.
Ours is just a small group of 17 and in most places we dock there is little to see other than a temple or river view. Instead, it is the encounters with the locals and the glimpses into their everyday life that provide the visual feast.
And what a feast it is – women carrying pots and sacks on their head, men carrying ceramic pots hanging from poles slung across their shoulders, wizened old people smoking cheroots, bullock carts weaving their way between thatched houses where people cook in the open, and novice monks in rust-red robes carrying stainless steel tiffins.
The boat stops for a shore excursion once or twice daily, usually in the early morning or late afternoon to avoid the intense heat. Passengers can explore alone or accompany a guide. Apart from a few slightly larger towns, most of the settlements along the river are small villages, home to fishermen and farmers.
There is almost no contact with the outside world in most of these villages, which lack electricity (other than what they generate themselves), telephones and computers, not to mention schools and hospitals. There are few roads, so most people travel on the river using all manner of craft, from bamboo rafts to long, shallow motor boats. Most people live close to a subsistence lifestyle.
While our arrival was quite an event in the villages, life also carried on just as it has always done. Those who happened to be bathing or washing their clothes in the river usually just continued on with whatever they doing.
At Monywa, a town of 350,000 people where many still bathe in the river, the activity continued unabated when our boat moored within metres of men, women and children pounding their clothes on the rocks, meticulously shampooing their hair, tipping buckets of water over themselves and even cleaning their teeth in the muddy water.
Like being in a time warp
Travelling in these parts is like being in a time warp, a place where almost everyone still smears their cheeks with thanaka, just as they have done for hundreds of years. The earliest script recording the use of this natural cosmetic dates back to the 15th century. It's said to offer protection against the sun, preventing wrinkles and ageing.
On several occasions we were invited into homes, a hospital, school, monasteries, and even to a monk's funeral, to visit and talk. At Sitthaung, where there was fierce fighting during the Second World War, one man who invited us into his home told us that the gods brought us to see him because he now knew more about the world than he did before our visit.
The steps to his humble home consisted of little more than a wooden ramp that we found almost impossible to negotiate, but which his daughter glided down effortlessly with her baby on her back. He was a contented man, he said, because he has everything he wants – children, grandchildren, six buffalos, two cows and a son-in-law worth the equivalent of a buffalo.
In between shore excursions, we rested and relaxed aboard the Pandaw, with occasional cooking demonstrations and talks about the local culture helping to pass the time. The food was excellent and varied, a mix of Burmese and western food with an impressive Burmese banquet to celebrate the end of the journey. The boat is charming and comfortable, paneled almost completely in teak, with spacious two-bed cabins all with ensuite bathrooms.
It was a bit like being at a private house party, being waited on hand and foot by crew who anticipate every need. Shoes taken from us as we boarded the boat after each excursion magically reappeared clean outside our cabins, a couple who fell ill were fussed over with ginger tea, and when we moored in one difficult spot, the crew literally carved steps out of the earth.
We embarked in the ancient capital of Bagan, where there are more than 2000 pagodas, stupas and religious edifices, stretching as far as the eye can see. Built mostly between the 9th and 14th centuries, they are one of the great archaeological sites of Asia, second only to Cambodia's Angkor Wat.
Shwedagon pagoda
A private charter flight from Kalemyo delivered us back to Yangon, still commonly referred to asRangoon, a city of faded colonial glory and the breathtaking Shwedagon pagoda with its shimmering gold roofs. A highlight was high tea at The Strand, a gorgeous old hotel once operated by the same folk who owned Raffles in Singapore.
Travelling to Myanmar inevitably raises questions about whether you should or shouldn't go – the Lonely Planet guide gives useful summaries of the arguments for and against. What is clear once you get there is that the locals are very pleased to have you in their country. We were reminded by several brave souls who broached the subject of politics that "the only thing we (the Burmese) can do is tell you people to spread the word."
One way tourists can help is to make direct donations. Pandaw is involved in several community projects and during our visit, everyone pitched in to contribute money to a school and hospital.
Despite the fact that most people in Myanmar live a hand to mouth existence, they are dignified, stoic and among the warmest and most welcoming people on earth. They are also devoutly Buddhist.
At the desolate National Museum in Yangon, where there are more staff than visitors, our guide points out the Lion Throne that was once in the palace at Mandalay. At the foot of it is a goddess looking over an elephant and a tiger in combat as they vie to control the world.
"She (the goddess) brought peace to them and it's now a message that if you pray to this goddess you can have peace in the world," says our guide, with resignation or hope, I'm not sure which.
Fact file:
Pandaw Cruises offers 13-day cruises on the Irrawaddy and Chindwin Rivers in Myanmar (Burma) and 8-day cruises on the Mekong River in Vietnam and Cambodia. There is also a 3-day Bagan to Mandalay cruise. The cruises are operated by the Irrawaddy Flotilla Company, represented in Canberra by Active Travel (phone +61-2-6249 6122; www.activetravel.com.au). The Chindwin River cruise is priced from $4945 per person on a twin-share basis. Prices are from Rangoon to Rangoon; international airfares are extra. Departures are on September 1 (upstream) and September 11 (downstream).
This story originally appeared in The Canberra Times, April 1, 2007.
© Christine Salins