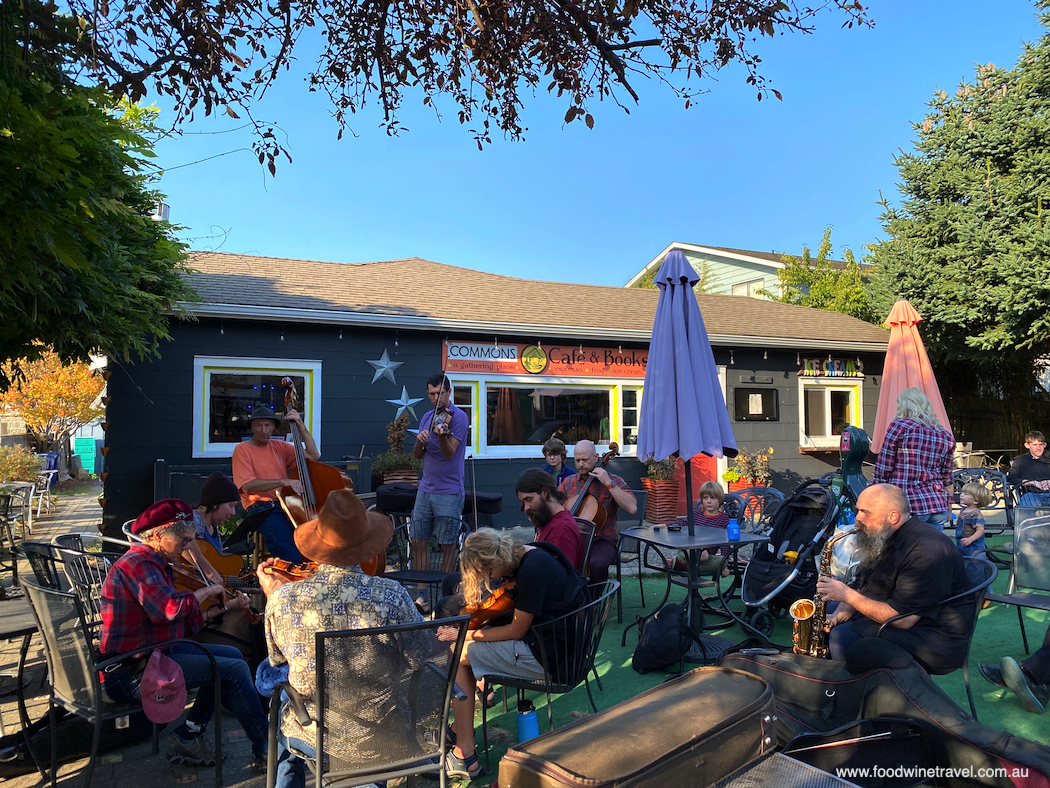 Fred invited us to take a seat on a stack of colourful imported rugs in his shop, Music for the Eyes, in the town of Langley on Whidbey Island, USA. "Let's have a chat and get to know each other," he said. The rugs we were sitting on were made by a women's collective in Pakistan, and were once described by one of his customers as "twice as funky, and half the price" as anything available in Seattle. They were also characteristic of all the other clothes, accessories, furniture, craft, and artefacts from exotic places around the world in his shop.
Fred told us that he had spent a lifetime in the diplomatic service, mostly in countries 'where you had to boil the water' and had started the shop on retirement with a vast collection of artefacts from those places. He regularly stocks the shop sustainably and responsibly through visits to Uzbekistan, Pakistan, and most other Stans.
Fred had also spent time working in Georgia and that was our connection, because earlier that day when we had told some other people on Whidbey that we had been there recently we were told that we should drop into Fred's shop. The Langley grapevine was in full operation and by the time we got there, Fred had been expecting us and wanted to have a long chat.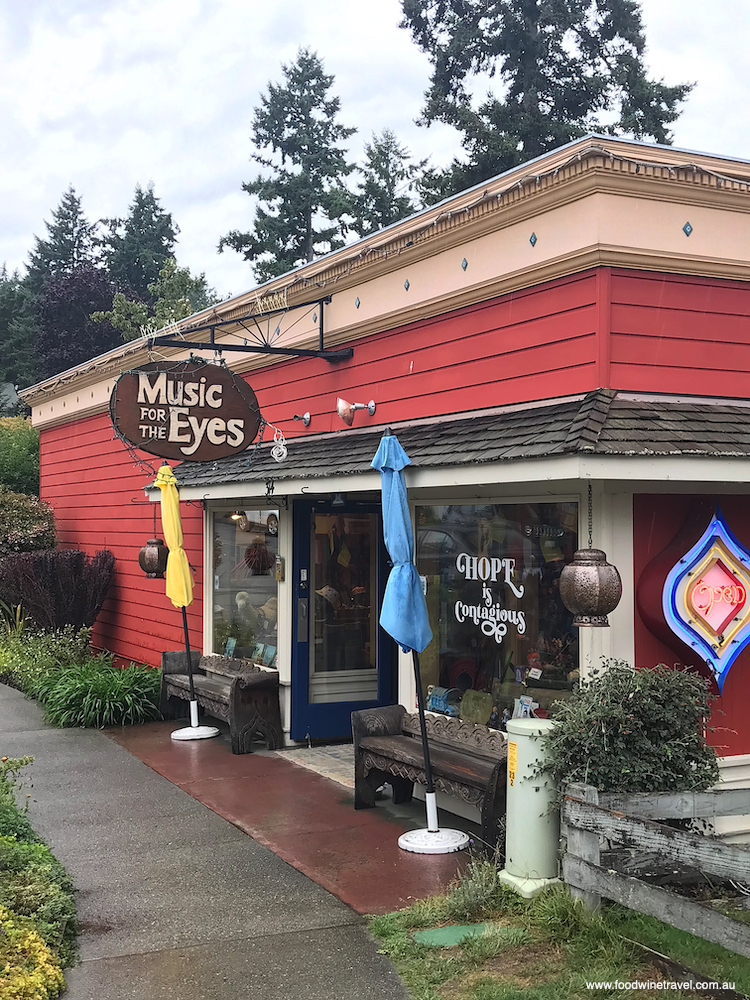 We talked a lot about Georgia and travels and Fred also gave us some good tips about where to go and what to see on Whidbey Island. Although there don't seem to be any secrets in Langley, Fred let us into what he called "the best kept secret on Whidbey Island" – the location of a giant ancient cedar tree in some of the last remaining old-growth forest on the island.
The next day we set out to find the tree with Fred's directions. We found the right track and not too far along, there it was — majestic and imposing — a 500-year-old cedar tree. A moment of quiet reflection ensued. After a while, we set off back along the track and encountered three people heading towards the tree.
One was a local, Gary, who obviously also knew the best-kept secret. He was in the company of his cousin, Steve, and Steve's wife Valerie, visiting from out of town. We chatted with them for some time and they were interested in our comparison of Whidbey Island to Tasmania.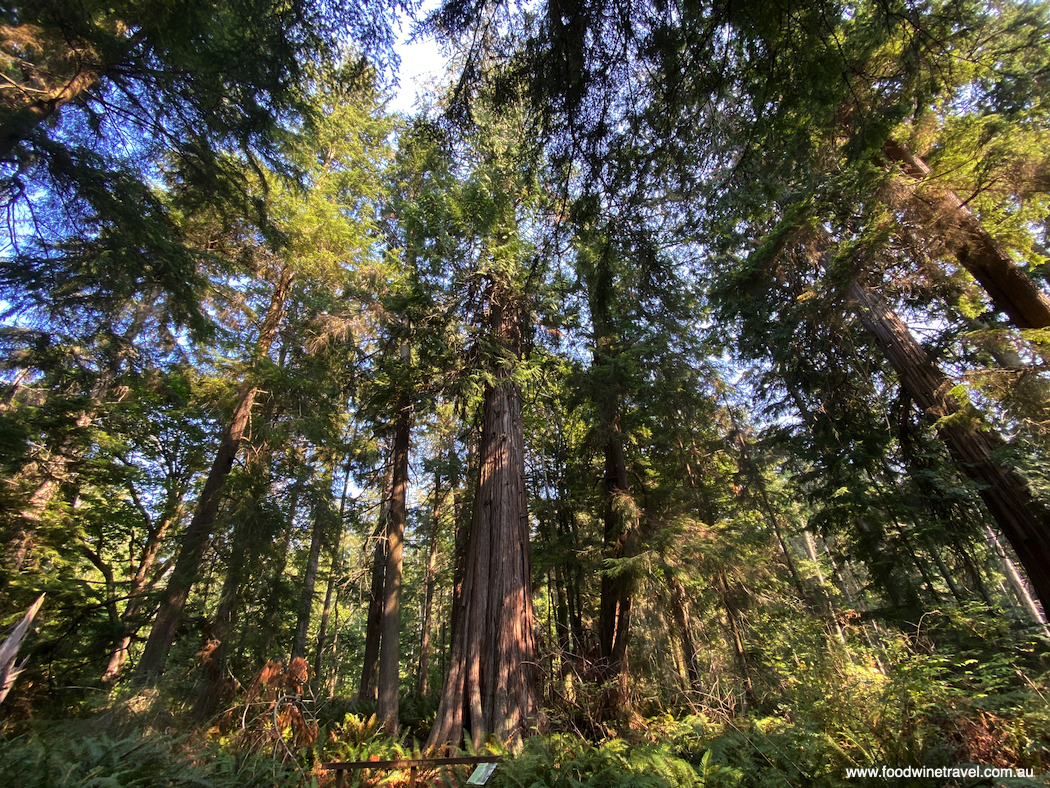 After saying goodbye, we headed for Coupeville, the historic and picturesque town featured in the 1998 movie, Practical Magic. Located on the water in Penn Cove, there is plenty of history here, and a visit to the museum is certainly revealing. Walking out on the old jetty you get a panoramic view of the Cove and beyond. Strolling around the colourful town, who should we run into again but Gary, Steve and Valerie, who were up for another chat.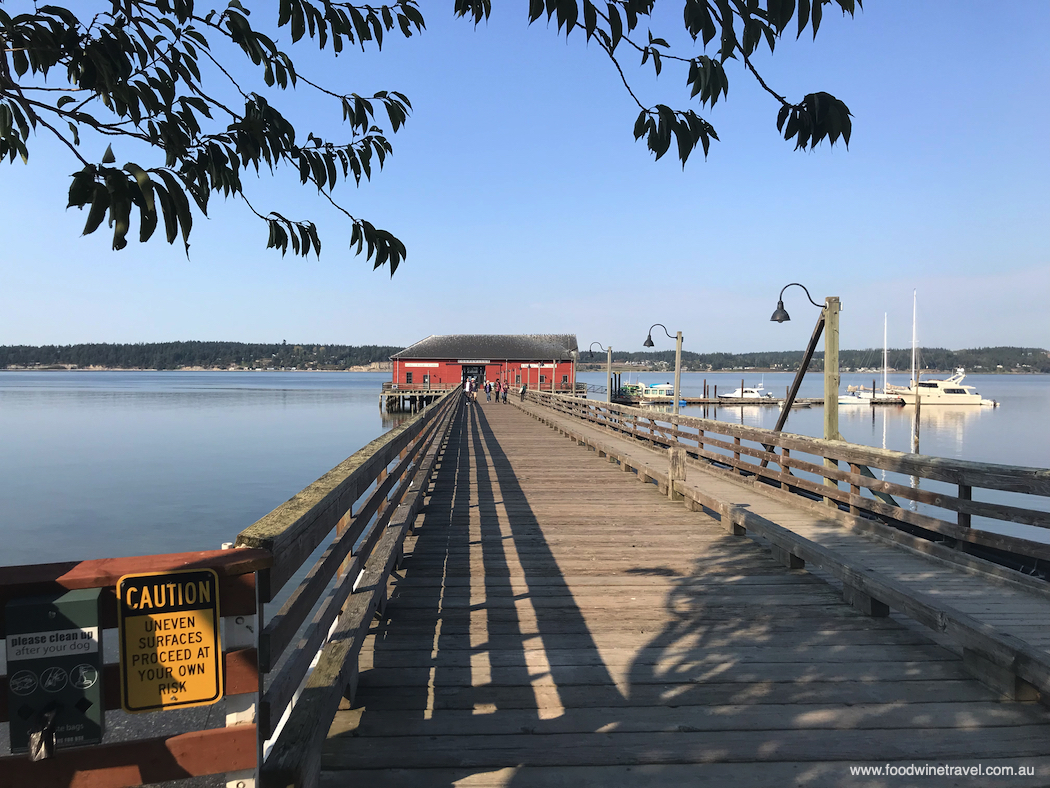 That evening after dinner in Langley, we headed for the newly opened Double Bluff Brewery to see the all-female gypsy jazz band Cafe Impromptu, playing in the courtyard. The place was totally packed, but suddenly three people were waving at us to join their table, Gary, Steve and Valerie. We talked about travels and about life on Whidbey and at one stage were introduced to the mayor when he came by. The chat went on for over an hour before we headed to a concert up the road at DjangoFest NorthWest, the fabulous gypsy jazz festival that had brought us to Langley.
The next evening, I was back in the Double Bluff Brewery again for Cafe Impromptu and had just bought a beer when a woman with a serious-looking camera asked if she could take my picture. I told her the fee would be $100. Although she didn't seem to take me as seriously as her camera, it did open up a chat. She was, in fact, a professional photographer who usually specialises in black-and-white landscapes.
She introduced me to her wife Frances who it turned out, owned a didgeridoo and could play it, so the chat continued. There seems to be a fascination with didgeridoos in the North West and West Coast of America. Frances and Denise were locals and I told them that I thought Langley was an artistic place, very laid-back and a bit alternative. They told me it was like living in the '60s, although I'm not sure I can remember what that was like.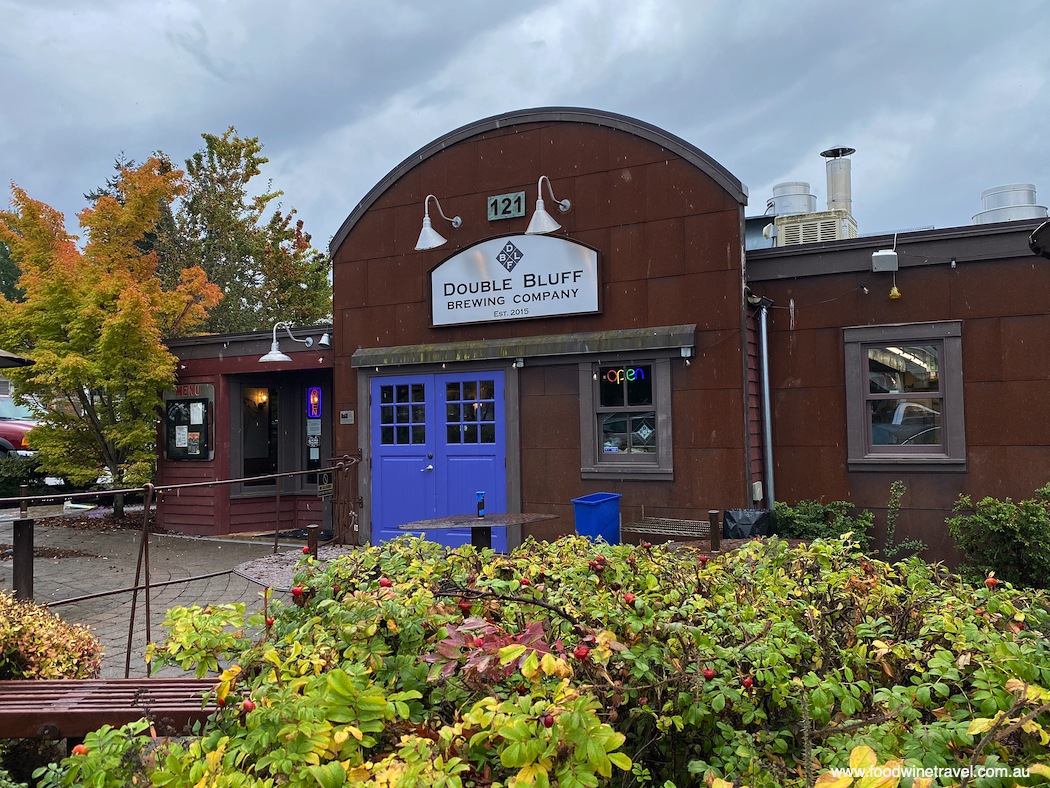 DjangoFest NorthWest is a big annual event in Langley and the atmosphere is warm and inviting with locals and visitors alike up for a chat. On the festival's opening night, I got talking to Jerry who was visiting from Florida but comes to Langley every year for the festival. Jerry is a musician who plays what he calls 'an eclectic blend of musical styles'. He told me he would be playing in a jam session every morning at 10am outside the Commons Café in Langley, one of a number of jam sessions around town during the festival. The chat with Jerry continued on and off for the next five days. He is a great musician and has connected with other gypsy jazz musicians in Australia. At one of the jams, he played Waltzing Matilda, with a nod in my direction.
At one of the jam sessions outside the Commons Café, I got chatting to Bob, who it turns out, owns about 30 didgeridoos, has been to Australia and teaches the didge to young students. We discovered that we had a lot in common, apart from a love of gypsy jazz. Bob introduced me to his friend Ben who happened by. Ben promptly invited me to his birthday party that night in the Bayview Community Hall. "Half of Langley will be there," he said. The other half must have been at DjangoFest.
Whidbey Island, Washington State, is a beautiful place with a fascinating history and lots to do and see, but what makes any place even more enjoyable is the people you meet and the conversations you have. People and their stories enrich the travel experience. For five days on Whidbey Island, everyone was up for a chat. No doubt they still will be when you get there.
With thanks to Embrace Whidbey and Camano Islands for supporting our attendance at DjangoFest NorthWest '23. It was a privilege to experience this beautiful part of the United States' Pacific Northwest.