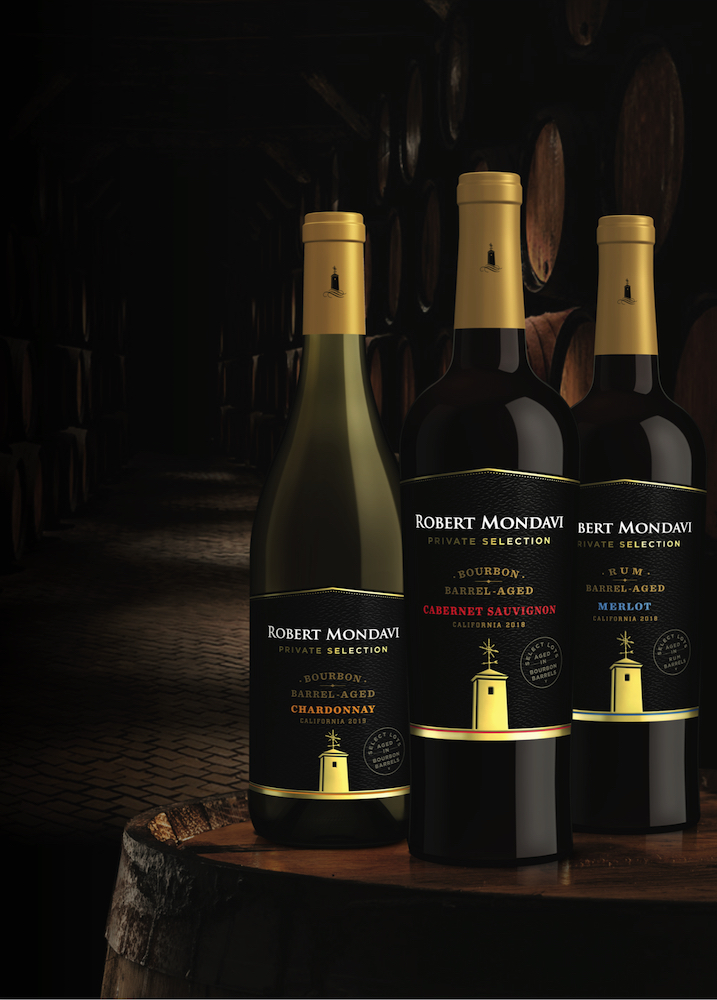 "We taste bourbons every year when we put these blends together. It's one of my favourite days of work," says Glen Caughell, the winemaker behind the Robert Mondavi Private Selection portfolio of wines.
If you're wondering why a winemaker would be tasting bourbon in the line of duty, it's because the Californian producer does a range of wines aged in bourbon barrels and it helps to be across the different flavour profiles. Always an innovator, Robert Mondavi has given a completely modern twist to an age-old process with its spirit barrel-aged wines.
They've been hugely successful in the United States, and in Asia where they were launched just over a year ago. Three Private Selection wines launched in Australia late last year – a Chardonnay and a Cabernet Sauvignon, both aged in bourbon barrels, and a Merlot aged in rum barrels. Each has a recommended retail price of $25. The first two have been the backbone of the portfolio in the U.S. The rum barrel-aged Merlot is a first release worldwide.
All three wines are sourced from premium vineyards along California's Central Coast. Glen describes the region around Monterey as having a "unique climate influenced by the Pacific Ocean which gives us amazing weather during the growing season".
"We have beautiful cool nights and a nice marine layer (of fog) every morning and evening which influences how much energy the vines need to use when it comes time to producing and ripening the grapes," he says. "These wines definitely have a richer fuller flavour. Having warm days and cool nights really allows for a long growing seasoning. We get a beautiful even ripening across the vineyards."
The grapes are picked in the cool of night for optimum flavour. They are then blended and barrel-aged for three to 10 months. The 100% American oak barrels, used only once for bourbon, are filled multiple times with wine. Deciding on the portions from first, second, third and fourth-use barrels is a careful balancing act – only about 5 to 10% of the Chardonnay is from new barrels. "We don't want to overpower the wine with the spirit. We still want you to know you're drinking a Chardonnay," says Glen.
The 2018 Robert Mondavi Bourbon Barrel-Aged Chardonnay comes from what Glen describes as a "wonderful vintage (with) beautiful ripening weather … we had some amazing flavours coming off the vines". Those flavours are taken to another level after nine months of ageing in charred bourbon barrels. Think grilled pineapple, peach and toffee, complemented by sweet caramel, baking spices and vanilla notes from the bourbon.
The Chardonnay is quite golden in colour, rich and creamy, the flavours lingering and caressing with a warmth that takes me by surprise – the bourbon effect was more obvious than I expected. Glen suggests pairing it with salmon and other fish, soup (butternut pumpkin or even tomato), and says it even goes well with pork or bacon. "I could pair anything with bacon but that's just me," he says. We enjoyed it with snapper in panko crumbs, along with roast kipfler potatoes. Stewart says it is "absolutely sensational" with a cheese board.
The 2018 Robert Mondavi Rum Barrel-Aged Merlot is rich with a dark ruby red colour and a lush, sweet, finish. Aged in rum barrels for 10 months, it would go beautifully with a range of hearty dishes, from soups and curries to red meats including, as Glen suggests, short ribs with a spice rub.
"The Caribbean spiced rum is such an incredible flavour profile on its own that matching it with this Merlot brings it into a completely different category. There's a real sweetness that you don't get from traditional barrels, nor do you get from the bourbon," he says.
"We wanted to find (a wine) that would be fun and playful with the rum spirit but that would have really ripe flavours (to) stand up to the rum. Every time I smell this wine, I smell something that's different from the rum barrel itself – spices, toasted coconut, molasses, a little vanilla … these amazing, interesting, sweet notes."
The 2018 Robert Mondavi Bourbon Barrel-Aged Cabernet Sauvignon is full-bodied with robust flavours of black cherry and blackberry. Aged in bourbon barrels for 3 months, the wine takes on caramel, brown sugar and spice characters from the bourbon. We loved the wine's beautifully soft but full mouthfeel. Glen suggests matching it with pasta or beef. "Or you can just have the wine as your food. I do that a lot as well," he chuckles.
He says ageing in spirit barrels takes the wines to a completely different place, adding caramel, vanilla, toast and sweet spice notes "to create something that's new and fresh and different".
New and different is important if a Californian wine is to have any chance of success in Australia. The spirit barrel-aged wines are under cork, which could have been a no-no for Aussies given our love of screwcaps. The Aussie dollar (at around 73 cents to one US dollar) also makes imported wines a tough proposition.
But according to Stewart Crabb, VP of Sales (Asia Pacific) for parent company Constellation Brands, Australian retailers have embraced the product. Launched initially in BWS, the wines are now in every major retailer in Australia.
The bottles are "really good-looking" and Aussies have always shown a keenness "to try different things", he says. And while there is a trend locally towards more medium-bodied reds, people prepared to pay $25 will likely appreciate the "stronger palate" of these wines.
"This is a massive portfolio for us in the U.S. (Spirit barrel-aged wines are) one of the fastest growing segments in the U.S," says Stewart. "I think you'll see a lot of innovation in this space over the next few years. We wanted to be ahead of the market here."
Given that Constellation has plenty more spirit barrel-aged wines in the U.S to draw on, these first three Australian releases are likely to be the start of a whole new trend here – assuming Aussies take to them. Glen is confident they will. "I love what these wines bring to the wine industry overall, the uniqueness and innovation behind these wines. They're something that's new and exciting and hopefully it catches on with everyone in Australia."
He encourages people to taste the wines next to the spirit itself. "It really makes the bourbon in the wine pop to a different level."
The Robert Mondavi Private Selection range is available at BWS, Dan Murphy's, Liquorland and First Choice Liquor Market nationally at RRP $25.00.