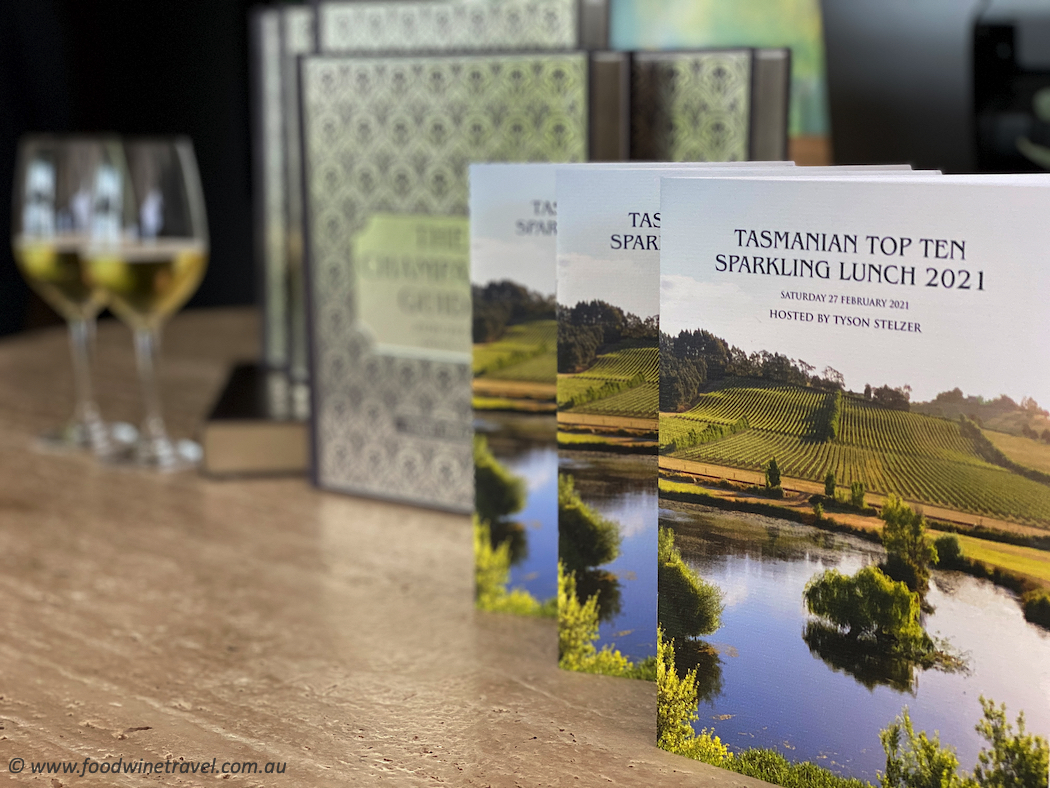 For a small wine region, Tasmania packs an almighty punch. Its sparkling wines, in particular, have achieved such finesse in recent years that the whole world is taking notice. And while many are being made with the same attention to detail as the finest Champagne, Tasmania's sparkling wine is selling for a fraction of the price, making this a voyage of discovery that's definitely worth embarking on.
Unprecedented demand for Tasmanian bubbles saw sparkling wine account for a record 40% of Tasmania's grape crush in 2020. Nevertheless, it's still very much a boutique industry. Around 4.3 million bottles of sparkling wine are produced across the whole island, a tiny amount by world standards. The (geographically much smaller) Champagne region produces 70 times that amount!
Tyson Stelzer, who has spent a good part of his wine-writing career specializing in Champagne, says some who know of his love of Champagne are surprised to see him getting excited about Tasmanian wine. "Then they taste the wine and they understand. It's exciting to see these wines are starting to be acknowledged around the world, off a tiny, tiny base."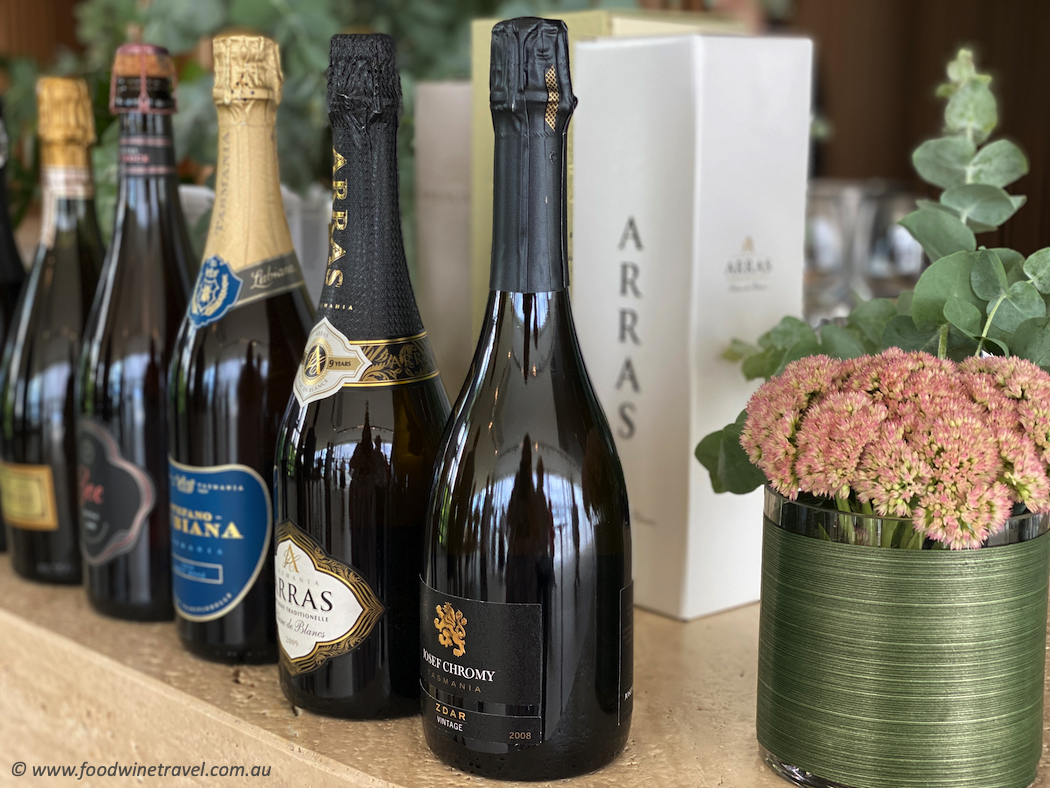 In Stelzer's Top 30 Australian Sparklings of 2020, Tasmania claimed 19 places, with House of Arras leading the charge with six cuvées. So bowled over was Stelzer by the quality of what he tasted – "it was incredible" – he thought it called for a celebration. Thus was born his Tasmanian Top Ten Sparkling Lunch, held at the Lumiere Events & Culinary Studio, a glamorous new event space in Brisbane's Breakfast Creek Lifestyle Precinct.
The lunch featured one wine from each of the top Tasmanian estates, carefully matched with an outstanding 5-course menu that studio owners Shannon and Clare Kellam presented at a beautifully set long table in a light-filled space overlooking Breakfast Creek. "These to me are the greatest sparkling wines outside of Champagne," said Stelzer, as he introduced 10 remarkable wines.
He loves the fact that Tasmanian winemakers have "similar quality aspirations to Champagne but they're not trying to make Champagne". Unlike Champagne, Tasmania is "a young region, so maritime that you can see the ocean from many of these vineyards, with a history of sparkling that seriously goes back 25 or 30 years compared with Champagne that has a history of sparkling winemaking going back 300 years and at least two millennia of still winemaking".
"The other crucial difference is that Champagne has chalk, that white stark austere mineral bedrock to its vineyards which gives the wines a different character, a different freshness, a different structure. Tassie doesn't have chalk, so it's a very different style of wine."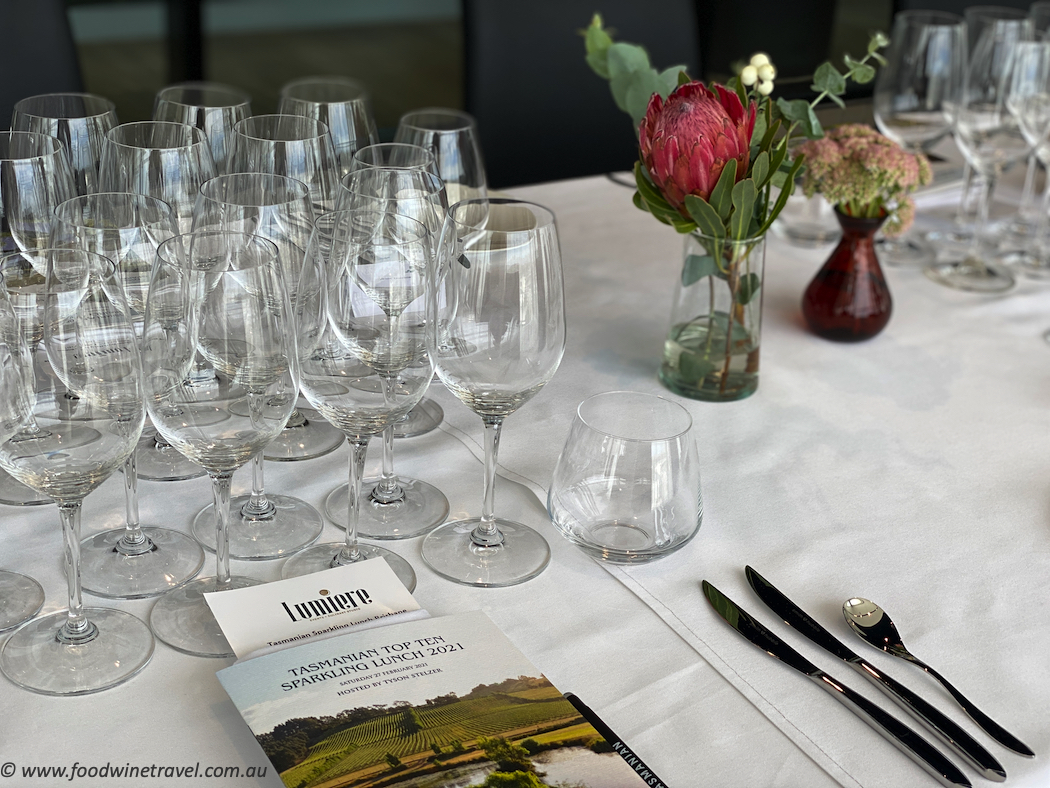 There's a huge price difference too, and it's very much in Tasmania's favour. "The average price of sparkling wine grapes in Tasmania is $3000 a tonne. In Champagne, (it's) €8,000 a tonne. We're talking about eight times the price of raw product in Champagne, which means (these Tasmanian) wines mostly sell for between $50 and $100, with a couple of exceptions going above that, compared with vintage Champagne of similar ilk that sell for two, three, 10 times that price. I love the fact that these wines are affordable but made with the same quality criteria."
Stelzer's favourite place for sparkling wine outside of Champagne is the Pipers River district, in the north-east of Tasmania, about 45 minutes' drive from Launceston. This area is cooler and more humid than most parts of Tasmania, with cloudy weather and mist frequently rolling in from Bass Strait. Grapes struggle to ripen in these conditions. "That's what makes wines like these so pristine and so fresh."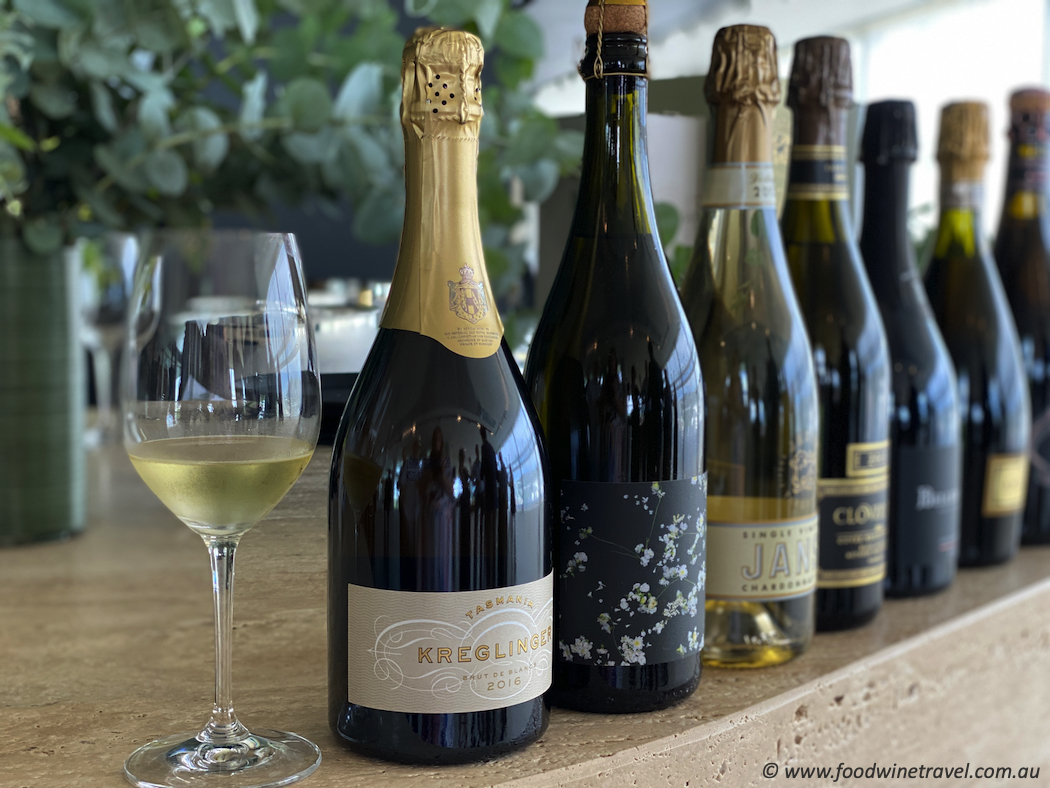 The first two wines tasted, Krelinger Brut de Blancs 2016 and Barringwood Blanc de Blanc 2015, were both made by Natalie Fryar, one of Australia's most highly respected sparkling winemakers, who spent 14 years at Jansz before going out on her own, creating her own label, Bellebonne, and consulting to others.
It's the most refined Krelinger that Stelzer has ever tasted, and the estate is in his view one of the most elegant in Australia. He tells guests a story about when he first tasted the Barringwood. He thought it was the greatest wine Barringwood had ever made, and then he discovered that Fryar had made it as well.
These elegant 100% Chardonnays were complemented by appetizers of Whitsundays coral trout with brioche sabayon, and Jerusalem artichoke panna cotta with crispy levain.
Stelzer loves drinking Blanc de Blanc. "For our climate in Queensland there is no greater drink than Chardonnay," he says. (I'll second that.) "You cannot overstate the importance of Chardonnay in the sparkling world in an age when we're trying to eat and drink more elegantly."
The next two wines were also Blanc de Blancs: Jansz Tasmania Single Vineyard Chardonnay 2013, and Clover Hill Cuvée Exceptionelle Blanc de Blancs Méthode Traditionnelle 2013. They were served with chilled Moreton Bay bug with a dressing of verjuice, peach, almond and spring onion.
Chef Shannon Kellam was praised for his presentation of the bugs, sourced from a Tin Can Bay fisherman and served in perfectly cut medallions which made them very easy to manage.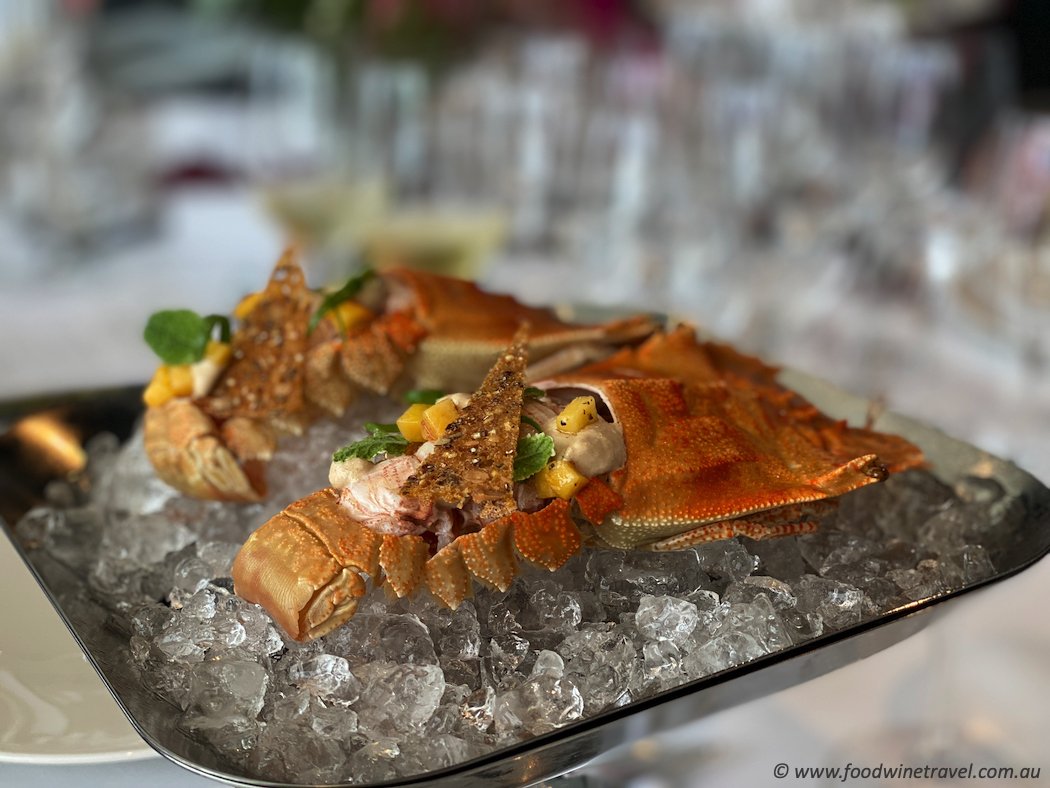 Fryar also made the Jansz, which despite being from 2013 has a beautiful freshness, lively with lemon, peach and brioche flavours. Unlike the Jansz non-vintage cuvées that are sourced from all over Tasmania, this one comes from what used to be known as the Heemskerk vineyard in northern Tasmania, planted by Josef Chromy and Andrew Pirie. The vineyard was later purchased by the Hill-Smith family who released the first Jansz Chardonnay a few years ago.
"It took me by surprise because I always thought Pinot Noir was the hero variety of Pipers River," says Stelzer. "The precision here in an 8-year-old wine is like nothing you'll find anywhere else in the world outside of Champagne. I love this wine. It is vibrant, lively and absolutely captures the character of that vineyard, not only the freshness and vitality, but there's something else there as well."
The 'little bit extra' is an oyster shell character from the sea, brought in by the winds from Bass Strait. The subtlety of the Jansz is in striking contrast to the richer, fuller-bodied and more complex Clover Hill.
Two Rosés are served with the next course, a continuation of the seafood extravaganza with lightly poached Tasmanian rock lobster and an interesting rhubarb and celery emulsion spiced with pepperberry, an ingredient native to Tasmania.
Bellebonne Natalie Fryar Vintage Rosé 2017 appeared more delicate than the Apogee Deluxe Vintage Rosé 2016, which displays yeastier notes and has layers of strawberry, cherry, and mixed spice. "When someone suggests that Rosé is not a serious wine, I have two answers for them and they're both in your glass right now," Stelzer tells guests. "Every time they take my breath away. They're both the definition of Pipers River elegance."
Made from 100% Pinot Noir, the Bellebonne Rosé also has hints of oyster shell, along with notes of Turkish delight and cherries. Fewer than 2,000 bottles are produced and it sells out in a heartbeat. (Fryar recently released her first non-vintage Rosé which also sold out.)
Andrew Pirie's Apogee Rosé is a blend of Pinot Noir, Chardonnay and Pinot Meunier, handpicked from a tiny vineyard that is pretty much his front yard in Lebrina. "If Pipers River is the finest site for sparkling wine in Australia and Rosé is its finest style, Andrew Pirie is more responsible for that than anybody else," says Stelzer. "Virtually every other vineyard taste(d) today was planted by Andrew."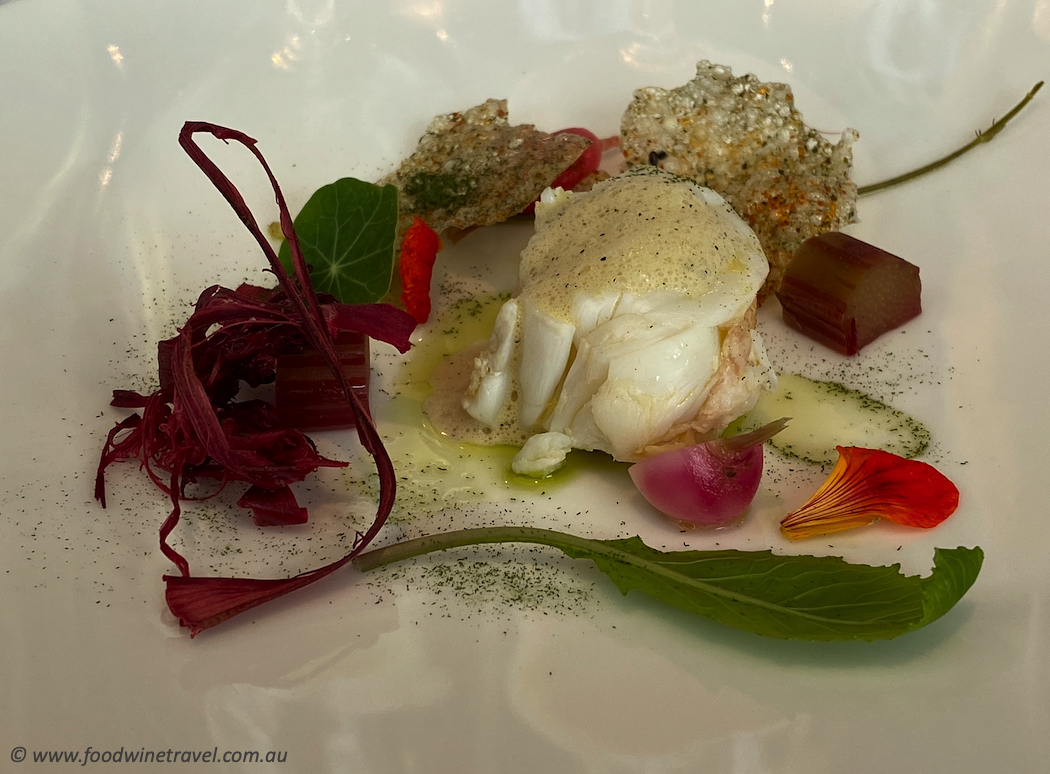 Pale and bone dry with a zesty young freshness, Bellebonne and Apogee are very different from the next two Rosés, which are fuller bodied and perfectly suited to the galatine of roasted quail that came next. This was my favourite course and the effort that went into preparing the Brisbane Valley quail was extraordinary. Pan-seared, butterflied, boned, rolled and poached, it showed exemplary technique. Served with local plum and hibiscus-scented pan juices, it was utterly delicious.
Ghost Rock Zoe Brut Rosé Méthode Traditionnelle 2016 is a beautiful take on Rosé, and Stelzer says it took him by surprise when he tried it last year for the first time. A blend of Pinot Noir and Chardonnay, it has an ever so slight smoky character carried across Bass Strait from Victorian bushfires in 2016.
Stefano Lubiana produces one of my favourite Tasmanian Pinot Noirs so it was a treat to taste the Stefano Lubiana Brut Rosé 2015, made from 100% Pinot. This biodynamic vineyard is in the Derwent Valley in southern Tasmania, where the wines are generally bigger and richer, yet this is light, bright and beautifully pristine.
The final course of Aged Romano pecorino cheese, served with green apple compote and stoneground sourdough, was an inspired match for the House of Arras Blanc de Blancs Méthode Traditionnelle 2009 and Josef Chromy Zdar Sparkling 2008. (This latter wine sells for $160, if you can get your hands on it. The privilege was not lost on us.)
The creaminess and acidity of the Arras Blanc de Blancs complemented the apple perfectly. A beautiful melange of almonds, biscuit, white stone fruits and crème brulee, it has complexity from 8+ years on lees, yet a remarkable vibrancy. It would not be overstating it to say that Arras has done more for the reputation and recognition of Australian sparkling wine than any other Australian estate.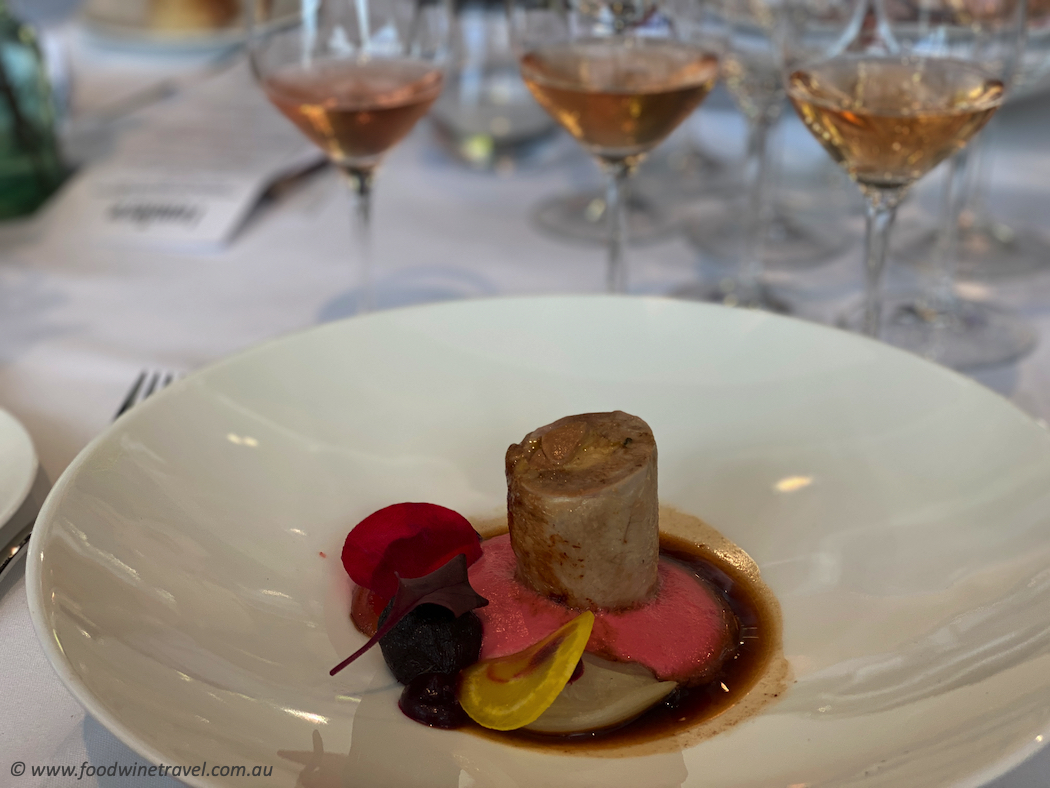 Winemaker Ed Carr has been perfecting Arras ever since he began making it in 1995. Whereas all the other wines featured at the lunch were single vineyard, this is a true blend, sourced from all over Tasmania and lavished with love and attention to achieve the desired style. Arras was the first estate to win a trophy for Champion wine at an Australian wine show with a sparkling wine.
Zdar Sparkling 2008 is the top prestige cuvée from Josef Chromy, a beautiful vineyard on the Tamar River where Pinot Noir is the hero. This wine is just over half Chardonnay and just under half Pinot, and despite being 13 years old, will live for a long while yet. "(It) will be an amazing wine to drink for the next decade," says Stelzer. "I love the way hard cheese makes an old sparkling sing. To me, it's a beautiful marriage."
While global Champagne sales fell during the pandemic, the sparkling wine market in Australia has never been healthier. Most Tasmanian winemakers are scrambling to source more fruit, despite a flurry of planting two years ago.
"Everyone expected the big players, Arras, Jansz, Clover Hill, Josef Chromy, would start to shift their purchasing to their own vineyards and that therefore the grape prices would drop around about now. The exact opposite has happened," Stelzer says. "The demand for these wines has gone through the roof, mostly domestically but they're starting to break into export markets (too). Tasmania finds itself in a very unique place right now."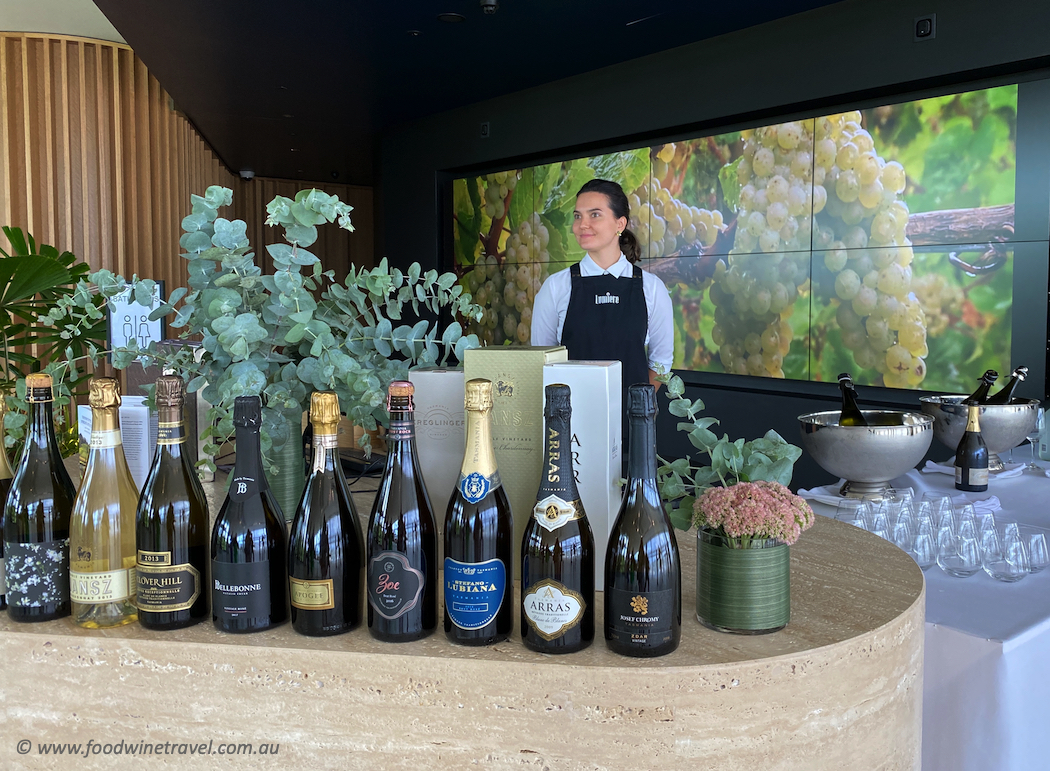 ---
With thanks to Tourism Tasmania for hosting Christine and Maurie at the Tasmanian Top Ten Sparkling Lunch.
You might also be interested in our story Premium Australian Sparkling Wine, Arras, Just Keeps Getting Better And Better.