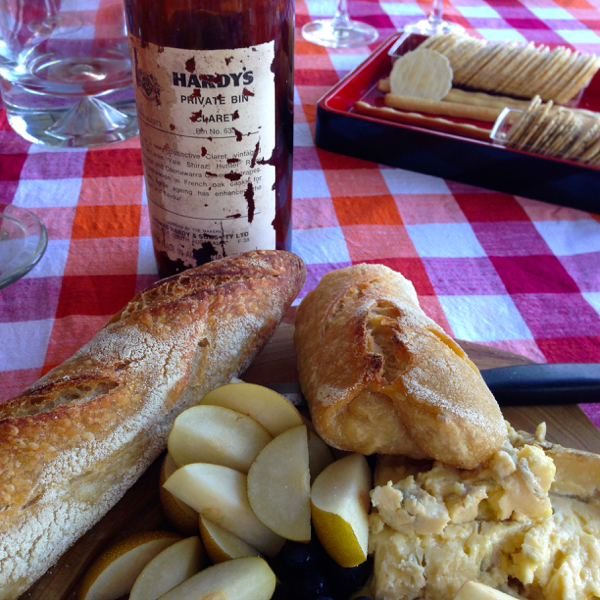 It's always a thrill to taste old wines. First of all, there's the excitement, coupled with a little nervousness, about what it's going to taste like. Then there's the cause for reflection about what you were doing when the wine was made. And finally, there's the gratitude for winemakers who bottle their wines knowing that future generations might be drinking the fruits of their labour long after they are gone.

Not all wines are made to be cellared, of course. Indeed, the vast majority of Australian wines are best enjoyed while young and fresh, as they are made in the knowledge that people will likely be drinking them soon after purchase. Sometimes, though, a wine just gets buried and fails to resurface for a few years, and then it's even more of a lucky dip as to whether it's going to be any good.

We had the privilege of tasting two old wines at the weekend, one a 1973 Hardy's Private Bin Claret Bin No 635 and the other, a Hardy's wine of indeterminate origin (as practically all the labeling was missing). We could only assume it was from the same era given the circumstances in which the wines were found.

These two old beauties were buried – literally – under a house in Canberra and had recently been unearthed by friends who invited us to share in their uncorking. Michael and Elizabeth Croft assembled a table of like-minded friends who share their principles in eating slowly, locally and ethically, and we all got together for an alfresco lunch at the Crofts' beautiful Mountain Creek Farm.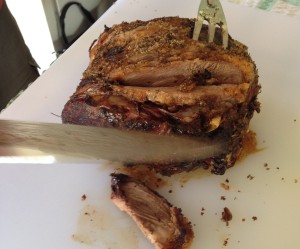 The Crofts roasted a leg of mutton from a 5-year-old Wiltshire sheep off the property, and as it was being carved, Michael pulled the cork on the two old wines.
Both were still in remarkably good shape for 42-year-old wines, with none of the pong that old wines often exhibit as they are being decanted, and very little of the brownish colour that you might expect from such old wines.
Both were still quite a bright red colour, and while the general consensus on the unlabeled wine was that it was "a bit thin", the No 635 was medium-bodied with generous flavours of cherry and blackberry. It went down a treat with the roast.
With the help of Google, I was able to fill in some of the gaps where the label had torn, and here's what it said:
"This is a very distinctive Claret vintaged from McLaren Vale Shiraz, Hunter River Hermitage and Coonawarra Cabernet grapes. After maturation in French oak casks for 2 years, bottle ageing has enhanced the bouquet and flavour."
With further searching, I found two copies of Epicure in The Age, dating from the '70s, in which the Bin 635 was mentioned. The first was from June 8, 1976, and the wine was being made available to readers as part of an Expovin offer of "Two dozen top wines". As well as a large Hardy's ad, there was editorial referring to "The Keeping Dozen" and "The Drinking Dozen".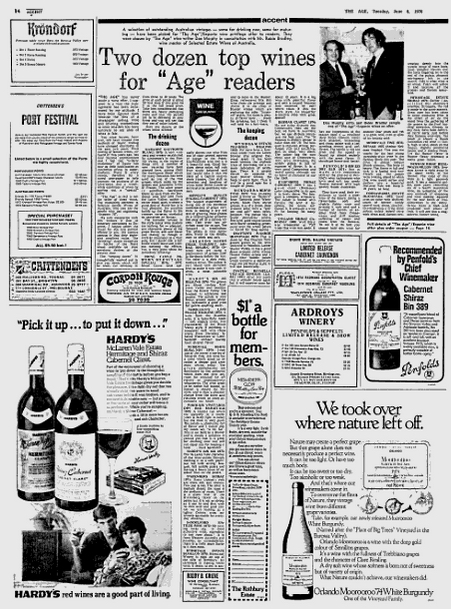 The 1973 Bin 635 was listed under "The Drinking Dozen" and described thus: "The McLaren Vale character of this wine comes through, marking it as a soft generous red with strong bouquet, full middle palate and leaving a heavy layer of residual fruit on the palate."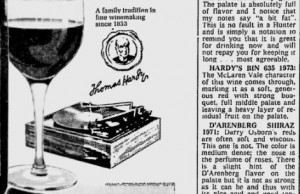 Interestingly, in an ad in Epicure on March 1, 1977, the same wine was described as a "full flavoured wine with good aging potential". We can certainly vouch for that.
With many thanks to Michael Croft for sharing this special bottle, and to our lovely friends who so generously shared their table with us.
Tell me, readers, do you enjoy old wines and what is your most memorable experience?