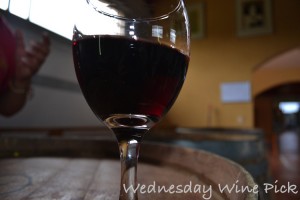 Penny's Hill 2015 The Experiment Grenache, $35
I love Grenache and I especially love Grenache from McLaren Vale. This South Australian region has some of the oldest Grenache vines in Australia, if not the world, and they are an absolute treasure. I believe this is one of our most underrated grape varieties. All I can say is, if you taste this wine from Penny's Hill you will be an immediate convert (if you're not already). Wow! This might be not just my pick of the week, it might be my pick of the year.
In 1996, Penny's Hill took some of their century-old Grenache bush vines and transferred them over to a modern trellis system. It was an experiment designed to reduce the vines' vigour and hence increase the concentration of the fruit, and as can be seen from this stunning wine, it was a huge success.
The wine wraps around the tongue like velvet, caressing with its dark cherry and cinnamon flavours, and a hint of licorice. The taste lingers, which is a good thing, because you want it to go on forever. We enjoyed it with crisp skinned duck with a citrus sauce, but winemaker Alexia Roberts says it is a "star food matcher" that will go with many different dishes. "Don't be afraid to experiment," she says.