A Walk In Old Sydney. By Michael Tatlow. Published by New Holland, softcover, 200 pages.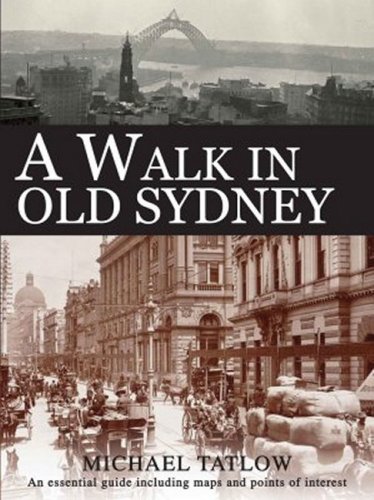 It's one thing to read about old Sydney but a book that sets you moving on a journey through its history and landscape and provides maps to follow is more than just a book.  It's an experience.
A Walk in Old Sydney is a guide to learning more about Sydney's colonial landmarks and discovering some of its lesser-known stories.  The book details 63 points of interest and nine separate walks that, if undertaken in sequence, take you in a loop around the city.
You can attempt them all in a day but to take in everything on offer and visit some of the cafes and pubs along the way it could easily take a week.  You may be hard pressed to get past some of the old pubs in the rocks, like the Hero of Waterloo, the Palisades and our oldest continually operating pub, the Lord Nelson, once famous for its Nelson's Blood stout.
Michael Tatlow points us in the direction of many landmarks whose stories are often overlooked in the busy rush of today's Sydney.
The obelisk in Macquarie Place is what he calls Australia's "Ground Zero", from which all road distances are measured.
Walking through the Argyle Cut, it is hard to imagine that it was first started by convict gangs overseen by one of the most sadistic officers in the colony.
The book contains some fascinating prints and pictures including many old photographs contrasted with the same modern day scene.  The "walk" takes us from the beginnings of Sydney and its colonial landscape through to modern developments at Darling Harbour and the Chinese Gardens.
Scattered throughout the book are a number of historical "snapshots" and trivia buffs will relish these quirky little titbits.  They include a piece on David Scott Mitchell whose name adorns the Mitchell Library and whose collection of books and other rarities was monumental even by today's standards.
The snapshots also provide some fascinating facts on the first white man to catch a fish in Sydney Harbour and the terrorising activities of the Argyle Cut Mob.
The book is appropriately dedicated to Jack Mundey who, along with other members of the NSW Builders Labourers Federation, was responsible for saving many of Sydney's old buildings through the Green Bans.
An iconic photo of Jack Mundey being carried off by police during the demonstration to save the Playfair Building at the Rocks hit me with a surge of nostalgia.  I was there at the time, in the crowd providing vocal support for the BLF action.
Jack himself is now an icon and there is even a Jack Mundey Place, which serves as a reminder that Sydney has a living and evolving history.  If you want to experience it, start walking and let Michael Tatlow be your guide.
A Walk In Old Sydney is available through Fishpond with free postage anywhere in Australia.