Ahh … Paris, The City of Lights, or La Ville-Lumière if we're getting fancy. Home to Ladurée and its world-famous macarons.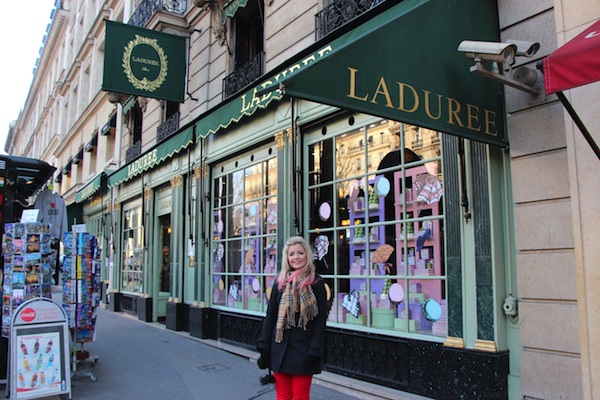 I must say that I agree with fellow blogger Andrée-Ann, from La Voie a la Bouche. I'm not sure whether the Ladurée macarons live up to the hype. Although they are delicious, and probably superior to any you'll find in Australia (perhaps not – happy to hear your suggestions), there are better macarons in Paris.
For instance, after sampling a Pierre Hermé macaron, I was sold! But this expedition was not entirely about the small round meringue-like delights; it was also about larger, buttery, pastry delights.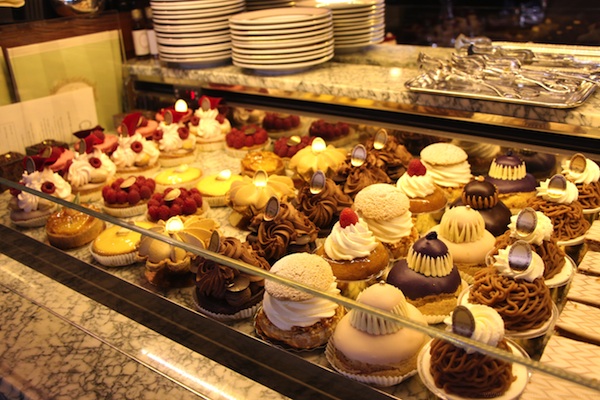 Funny story actually. I had it in my mind for a long time that I wanted to visit Ladurée the next time I was in Paris, having never tried the latest it-dessert from the patisserie that claims it as its own. So when I began planning my latest trip to Europe, Paris was a must-do and Ladurée was at the top of the list.
It so happens that while strolling along the rue Royale, we stumbled upon the lovely vintage Ladurée tea room – one of the oldest in Paris – as opposed to the pastry shop I  had in mind. The tearoom had dark wood panelled walls and a tiny pastry cabinet in the corner. The whole time, we were saying "wouldn't they have the pastries out there, on show?" and we later realised why. The shop was next door.
It turns out that we didn't really have to sit down and have coffee and croissants in order to taste the macarons, but I'm glad we did.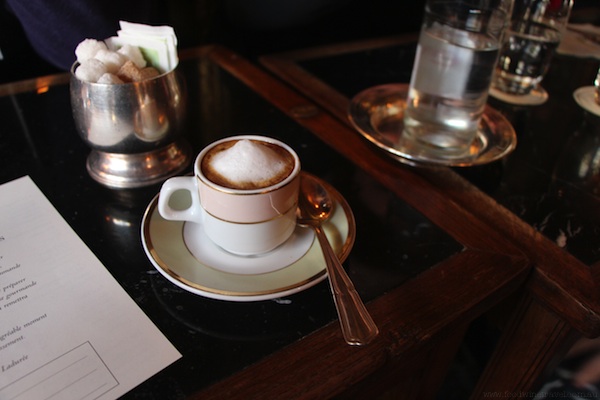 I had a delicious hazelnut black coffee accompanied by a croissant with a sweet nutty filling and light glaze. This was my favourite and surpassed the macarons. It was light (in texture, not in calories I'm sure) and buttery. Filled with sweetness and little pockets of air. So good! As for the macarons, I had a rose-flavoured one and a lemon one, both satisfying, but yeah, I prefer Pierre's (we're totally on a first name basis)!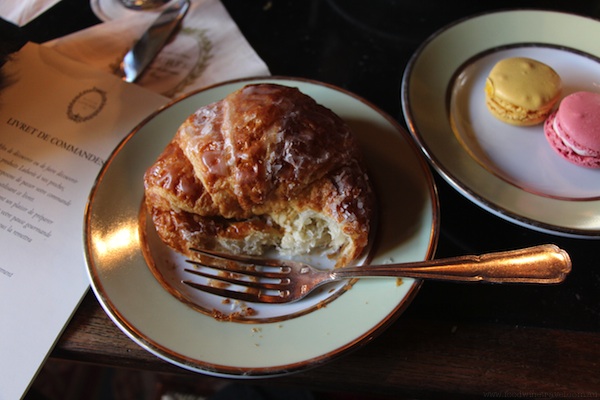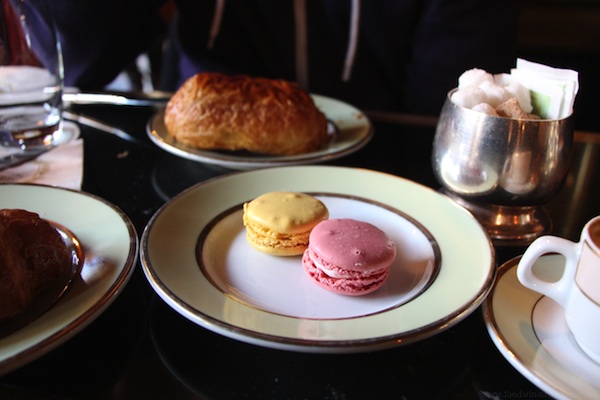 The story of Ladurée dates back to 1862 when Louis Ernest Ladurée, a miller from France's southwest, opened a bakery at 16 rue Royale in Paris, where the tearoom now stands. This beautiful tearoom is more than 100 years old and still plays host to the high society of Paris, just as it did when it first opened.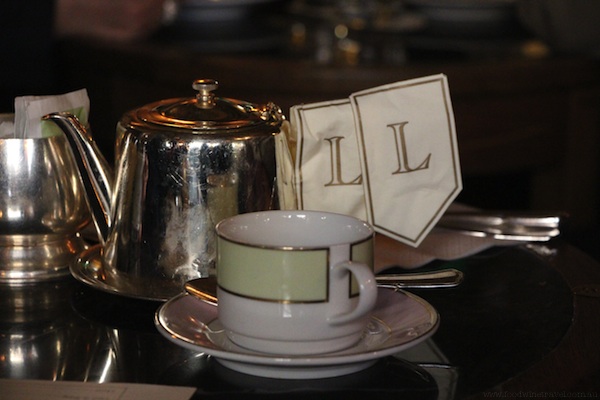 Macarons are Ladurée's most recognised creation, and the patisserie has taken the world by storm. Interestingly, macarons as we know them in Australia are considered mini-size in Paris. A standard macaron in Paris is considerably bigger.
My advice? Don't stop at the macarons if you visit Ladurée anywhere in the world. Try something else too!
Photos © Alise Salins.