No matter where you are in the world, that time of day when the sun sinks below the horizon is always rather magical, isn't it? Especially if it's been a big day at work and you can now kick back and relax.
Stevan Paul, a former chef, now food writer in Hamburg, embarked on a trip around the world capturing that magic moment. It became the theme for his book, Dining At Dusk, published by Murdoch Books, a cookbook with recipes for tapas, antipasti, mezze, ceviche, yakitori, tacos and apéritifs from around the world.
He shows how easy it is to indulge in afternoon sundowners in style, and he has even curated music playlists to go with the many food and drink ideas in this lovely book. The book follows the golden hour around the globe – from Samoa, where the sun sets first, through Australia, Japan, India, Europe, Morocco and Brazil, to the USA and Mexico.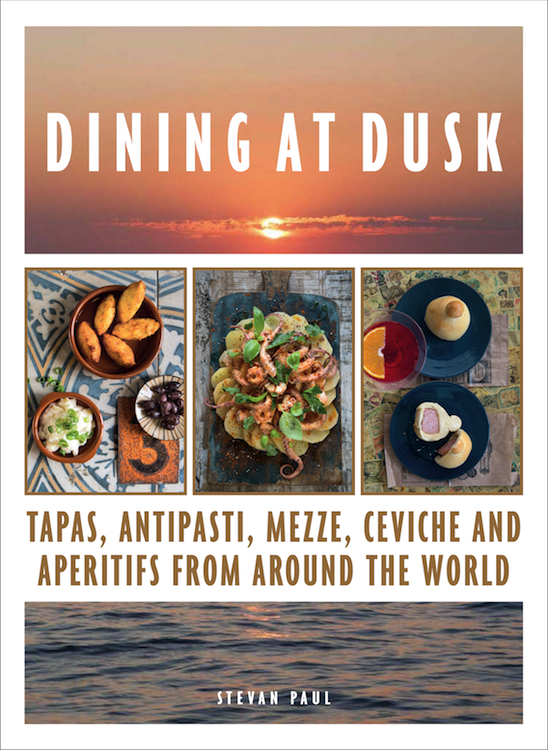 There's our Italian favourite, focaccia with a refreshing Aperol Spritz, Guinness and steak pie from a British pub, mussels in a beer broth from Belgium, and something very recognisable from my Dutch heritage, bitterballen, small round croquettes that are often served with digestive bitters, Jenever (gin) or more often these days, an after-work beer.
Dining At Dusk is such a clever concept because when you think about it, most cuisines have their own particular snacks for sundowners. The author visited Australia where he fell in love with the spectacular sunsets and tucked into a plate of Fremantle sardines. In China, he snacked on spring onion pancakes, as per the recipe here.
All the recipes are uncomplicated and simple to prepare. It's relaxed, comforting food, the perfect antidote to a tough day in the office.
---
Buy your copy of Dining at Dusk from Book Depository now, with free delivery worldwide
---
Recipe for Chinese Spring Onion Pancakes
(makes 12 pancakes)
360 g (1½ cups) flour (type 405, plus extra for dusting)
1 level tsp baking powder
Salt
220 ml (7½ fl oz) warm water
1 to 2 drops sesame oil
4 spring onions
Oil for frying
6 tbsp soy sauce
4 tbsp hot sweet chilli sauce
3 tbsp rice vinegar
Combine the flour, baking powder and a little salt in the bowl of a food processor fitted with dough hooks. Add the warm water. Combine and knead to a smooth dough. Continue to knead at low speed until pliable, about 5 minutes. This can also be done manually or with the dough hook of an electric mixer. Shape the dough into a ball. Brush thinly with sesame oil, cover with a clean dish towel and leave to rest for 30 minutes.
Divide the dough into 12 even pieces and shape into balls. Dust your work surface with flour and roll out the balls into thin rounds. Slice the spring onions finely, season lightly with salt and divide among the dough rounds. Roll up the dough and shape the rolls into snails. Roll out the snails into thin rounds again.
Preheat the oven to 80°C (175°F). Heat a little oil in a large non-stick pan and fry the pancakes until golden brown, about 3–4 minutes per side. Keep the cooked pancakes warm in the oven. Slice and serve with dipping sauce.
For the dipping sauce: Combine the soy sauce, chilli sauce and rice vinegar and serve with the pancakes.
Recipe and images from Dining at Dusk by Stevan Paul, photography by Daniela Haug. Published by Murdoch Books and reproduced with the publisher's permission.
This story originally appeared in PS News online.