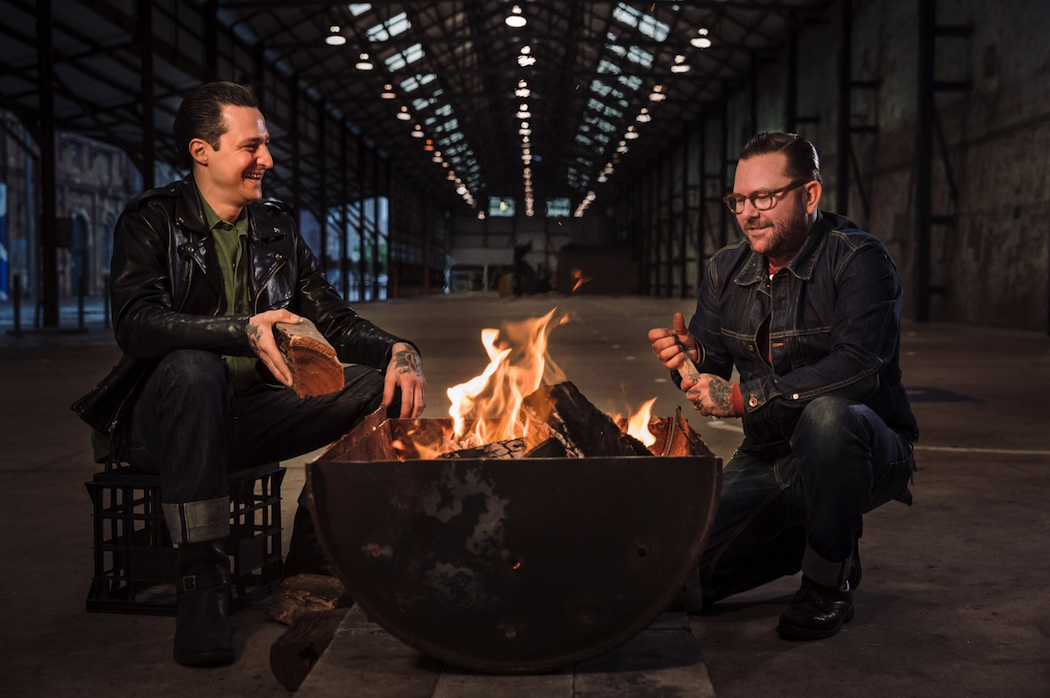 It'll be smoke and spice and all things nice at a special Night Market to be held at Carriageworks on Friday, July 27. The one-night-only winter food experience will see 55 of Sydney's leading restaurants, bars and producers presenting menus evocative of the theme, Burning Love. They'll be using smoke and spice, careful slow-cooking, heat and flame to showcase local seasonal produce.
Curated by Porteño's Ben Milgate and Elvis Abrahanowicz, the event follows the sell-out success of Carriageworks' summer Night Market. The duo say the 'Burning Love' theme is all about showcasing food that comes from careful preparation – "honest cooking from the heart". "The theme to us is open to interpretation, a challenge we set for those participating: What is it that makes you do what you do – your 'burning love' for food and drink. For us it's that literal – we love cooking with fire, that's our burning love – what's yours?"
Participating in the Night Market for the first time will be Morgan McGlone of Belles Hot Chicken, Andy Evans of Neil Perry's Spice Temple, ever-popular Mamak, Gelato Messina, Bodega 1904, Buffalo Dining Club, Alpha Restaurant, Ormeggio at The Spit and more.
Chefs and restaurants returning to the Night Market will include Darren Robertson of Rocker Bondi and Three Blue Ducks, Kylie Kwong from Billy Kwong, Mike McEnearney of No.1 Bent Street, Palisa Anderson of Chat Thai, Michael Rantissi of Kepos Street Kitchen, Ben Sears of Paper Bird, Flavio Carnevale of Marta and more.
Menu highlights
♦ Shellfish cooked over coals by Nick Smith of Rising Sun Workshop
♦ Hot smoked fish by John Susman of Fishtales
♦ Smoked mushroom toastie with salsa verde, cultured cream and pickled onions by OzHarvest
♦ Hot damper bread cooked over fire, slathered in rosemary butter from Pepe Saya
♦ Whole pumpkins cooked over coals served with nigella and spiced yoghurt from Mike McEnearney of No.1 Bent Street
♦ Sai Oua pork and herb sausage with fresh Boon Luck Farm vegetables, herbs and banana leaf wrapped in sticky rice by Palisa Anderson of Chat Thai
♦ Charcoal grilled octopus with sofrito sauce and ajo blanco by Ben Milgate and Elvis Abrahanowicz of Porteño
Free demonstrations
♦ Traditional Aboriginal fire making and cooking techniques from Dwayne Bannon-Harrison of Ngaran Ngaran Cultural Awareness
♦ Demonstration by seafood legends Stephen Hodges and John Susman
♦ Ben and Elvis will be cooking eight-hour wood-fired crucified lamb, braised peas and chimichurri
There'll be beer from local Enmore brewers, Young Henrys and The Grifter Brewing Co., spirits from Demoiselle Distillery with a primal smoked vodka and smoked absinthe, a special blend from Archie Rose Distilling Co., a Smoke Spritz made with Regal Rouge wild rosé, mezcal, charred plum and lemonade, and many more drinks to choose from. Seedlip will serve a range of non-alcoholic drinks.
The red-hot line-up of bands that will entertain market-goers includes the Van Demons, a local garage four-piece inspired by the sounds of The Chantays. Surfaris and Link Wray will bring the sounds of 1960's instrumental surf era to life, and the new project of Jeremy Davidson (of The Snowdroppers), JD and the Hunger Men, will play country, blues, Americana, gypsy and rock.
In keeping with the Night Market's philosophy of celebration, collaboration and community, representatives from several community organisations including Two Good Co., OzHarvest and the National Indigenous Culinary Institute will feature.
Tickets are $10 (children under 12 free) and we'd suggest getting in quick if you're interested as previous Night Markets have sold out prior to the event.
If you go:
Night Market, Carriageworks
Friday, 27 July, 5pm to 10pm
$10 (children under 12 free)
Tickets: www.carriageworks.com.au