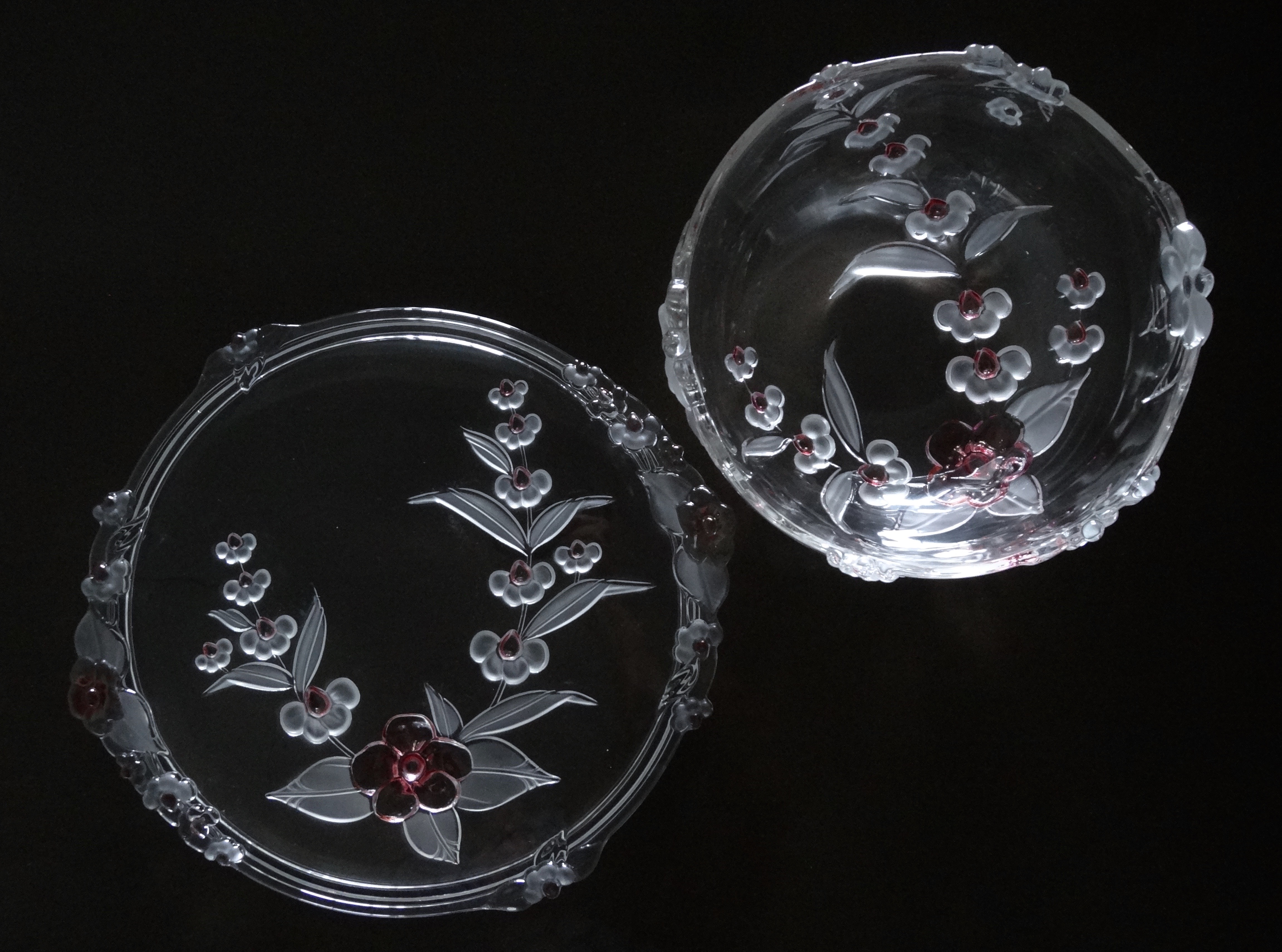 If there's one thing I learnt from our move north it's that our kitchen certainly doesn't need any more plates, bowls, crockery or decorative items. But need and want are two separate things, right? I've had the large bowl in the top right of this picture for many, many years. I've always loved it – it's so very pretty with its frosted glass leaves and deep pink flowers. So when I saw a cake plate with the identical design in a shop selling vintage wares that has opened across the road, there was no question about it coming home with me.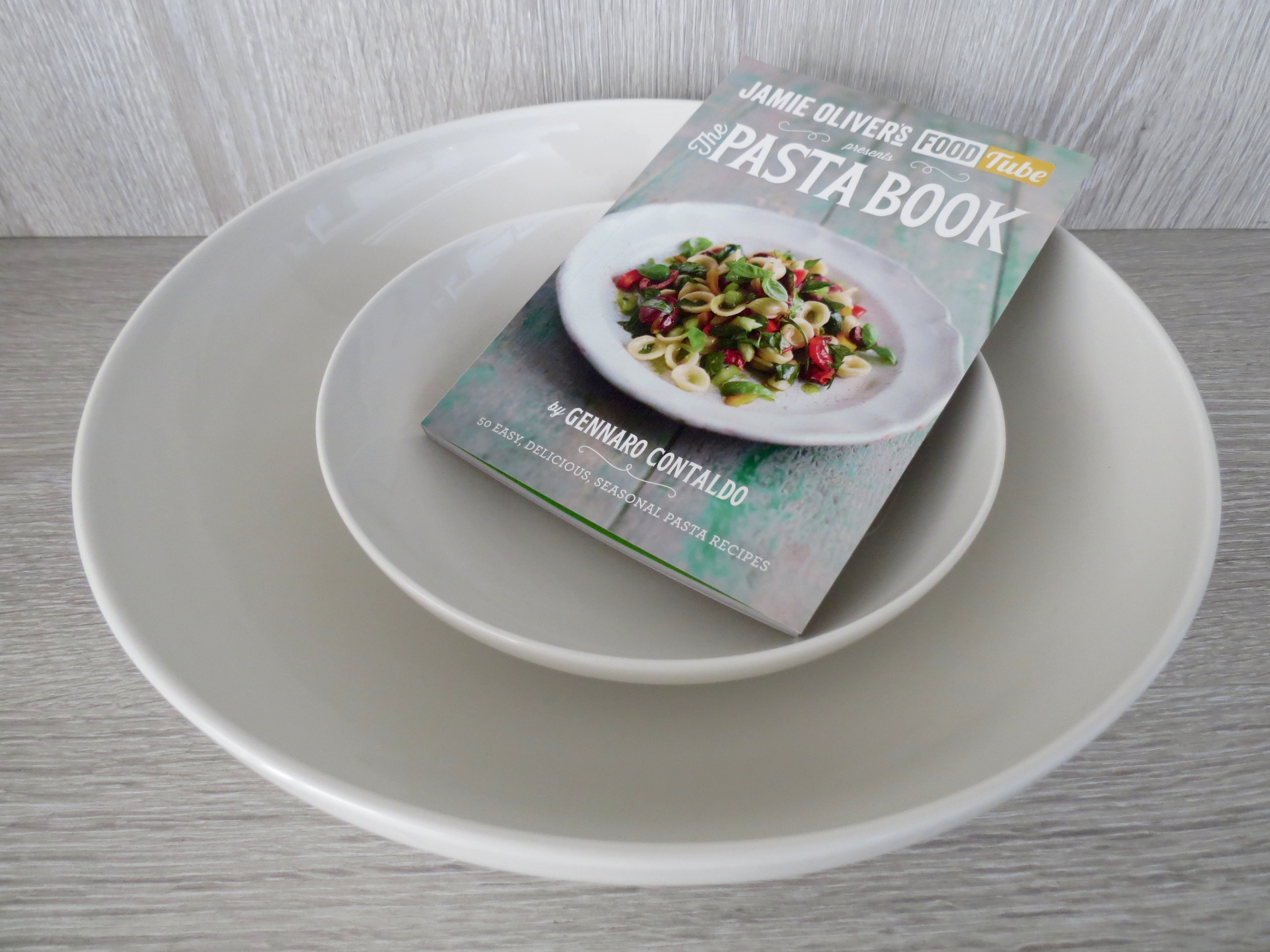 I've also had to make some space in the cupboards for these two white serving bowls from Jamie Oliver's dinnerware line sold in Woolworths. I was eyeing them off when they first came out but resisted the temptation …. until the price dropped to $5 for the big bowl and $3 for the smaller one. At those prices, they were definitely too hard to resist.
The Pasta Book from Jamie Oliver's Food Tube is by Jamie's Italian mentor, Gennaro Contaldo, and although it's only a small book (not quite pocket-sized), it has lots of delicious recipes, including one for pappardelle with duck ragu that was a huge hit with our guests. I cooked the ragu gently all night and we were so eager to tuck into it for lunch the next day that I neglected to take a photo.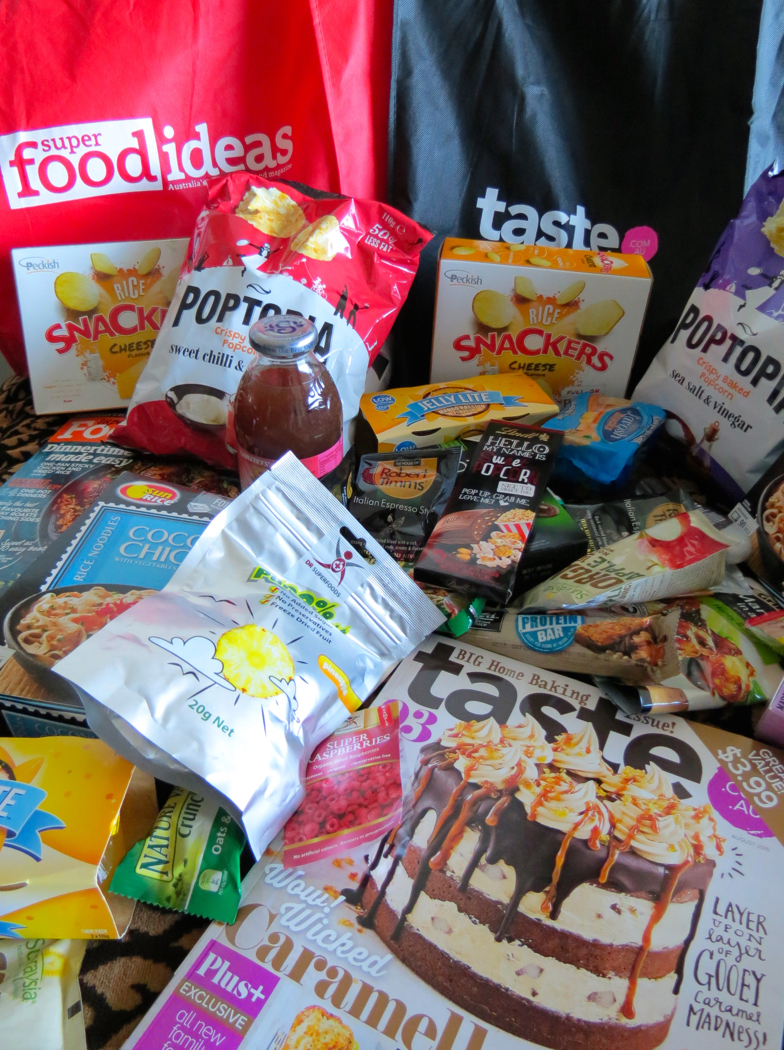 This is part of the haul from two showbags we bought at the Royal Brisbane Show, affectionately known as the Ekka. We have very few products in our kitchen as we shop regularly and eat mostly fresh food, but a lot of these snacky things looked like fun and there were a couple of magazines to further entice me.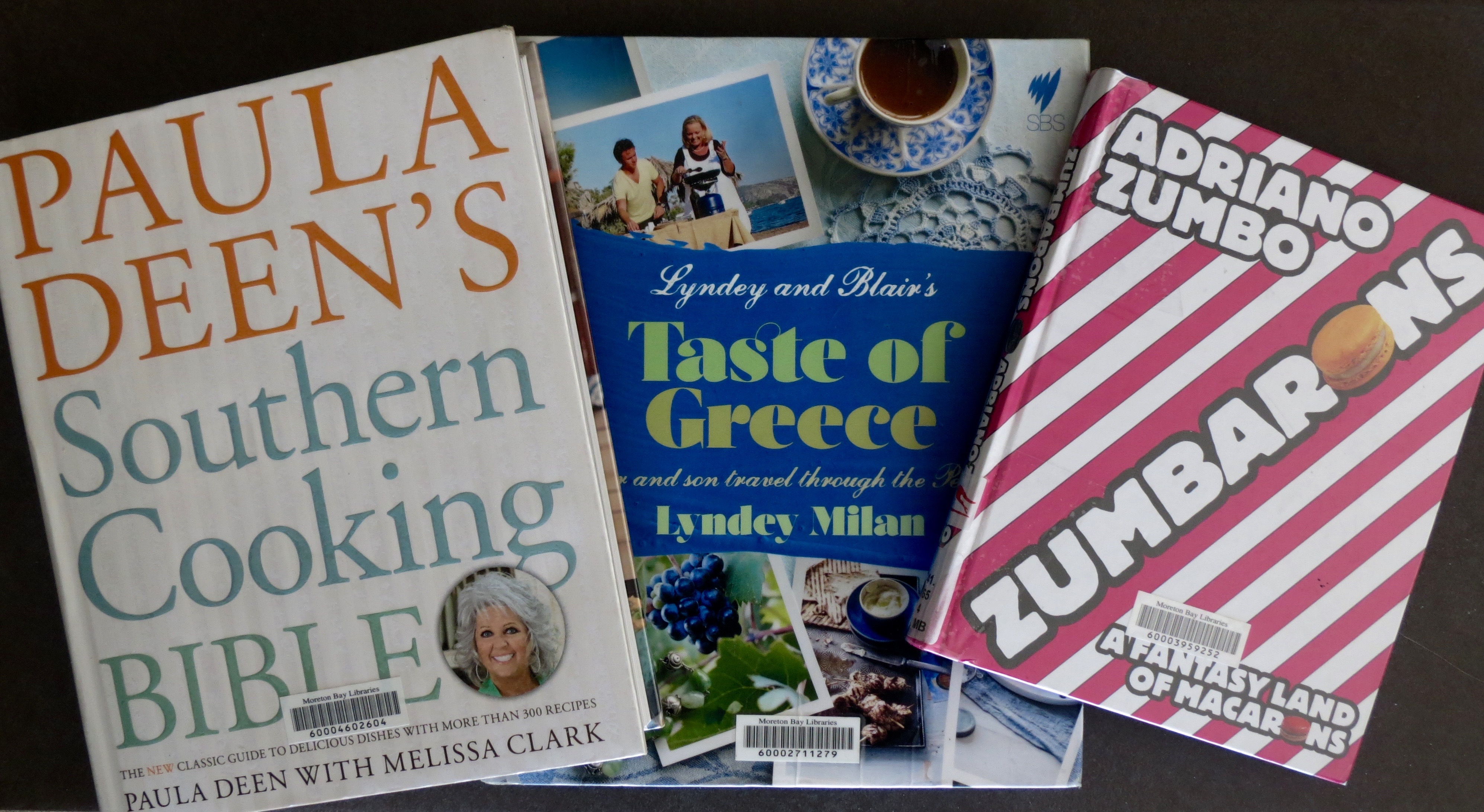 We have an excellent library in Redcliffe and I've been catching up with a few cookbooks that I've wanted to check out for some time now: Adriano Zumbo's Zumbarons, Taste of Greece by my clever friend Lyndey Milan, and Paula Deen's Southern Cooking Bible. The last one interested me because when we were in the United States last year, we visited the shop attached to Paula Deen's restaurant in Savannah, Georgia. She's an icon there.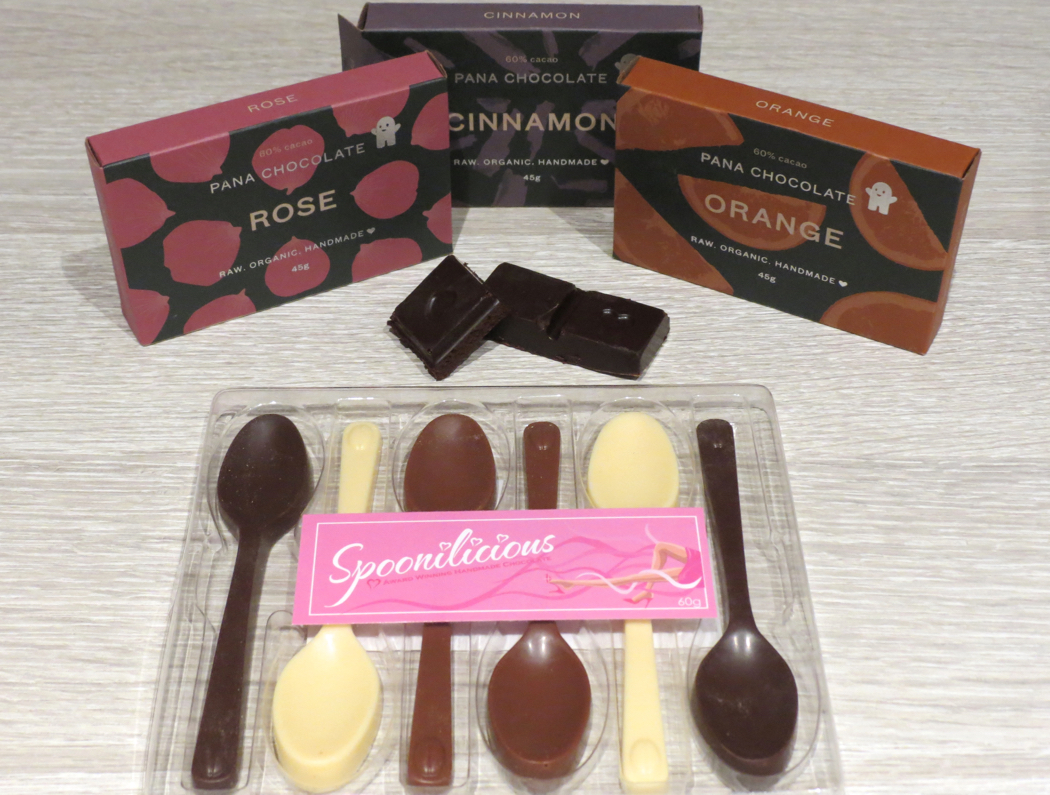 We can never go past exquisite chocolates and we loved these three from the Pana range that we bought at the Finders Keepers Market in the grounds of the Old Museum in Brisbane. We chose dark chocolate in rose, cinnamon and orange flavours and, my oh my, they were good. I definitely couldn't choose a favourite between the three of them.
The Spoonilicious chocolate spoons were given to us as part of a sampler pack promoting the Regional Flavours event in Brisbane. They're handmade at the Gold Coast from milk, white and dark Belgian chocolate. What fun dunking them in warm milk!
Another gift in my kitchen is this colourful swag of beautiful fresh asparagus, signalling that spring is here. We've been cooking some fabulous asparagus dishes, the highlight a very simple dish of asparagus dressed with lemon juice, lemon rind and chopped mint.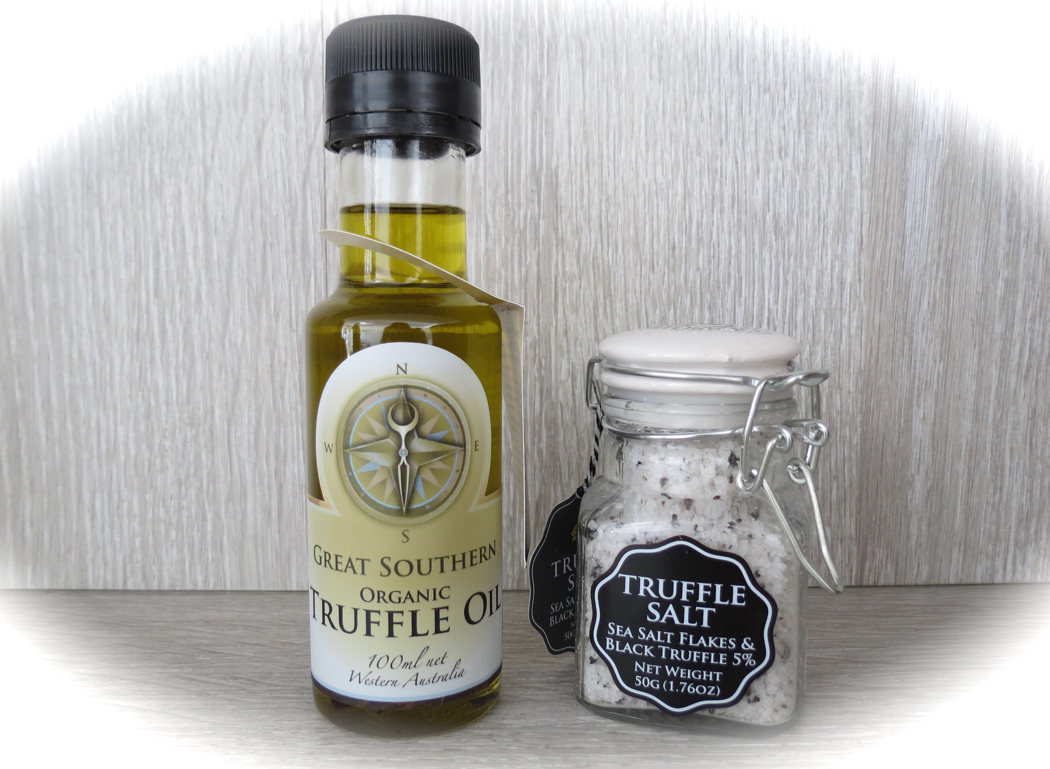 And, finally, in my kitchen are Truffle Salt and Organic Truffle Oil, both made with Australian-grown truffles. They were given to me during my visit to Canberra for last month's Truffle Festival. Canberra and the surrounding region provide near-perfect conditions for growing truffles. The industry there is going from strength to strength, and the Truffle Festival is a great showpiece for it, with truffle-themed dinners, truffle hunts, truffle cooking demonstrations and more. The season for it has passed so now we'll just have to look forward to next year's event.
Thanks to Celia from Fig Jam and Lime Cordial for hosting In My Kitchen each month – pop over to her blog and take a peek into some other lovely kitchens.
More In My Kitchen posts.