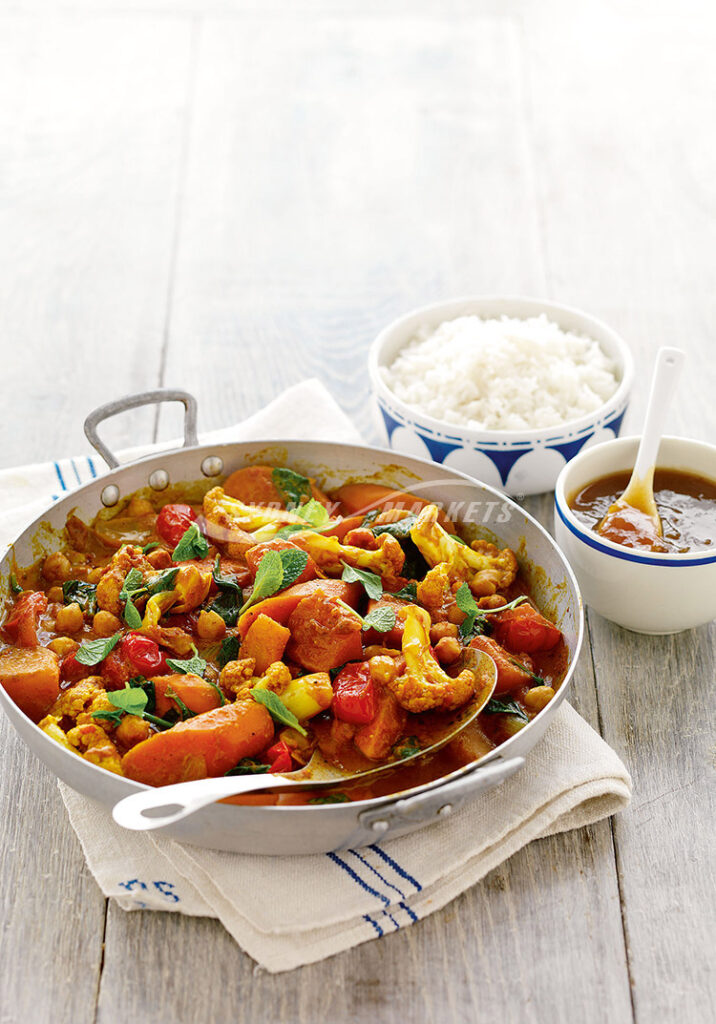 With winter freezing us to the core – last Tuesday, Canberra recorded the lowest July temperature in 20 years – coupled with the fact that many of our compatriots are in lockdown, it's time to turn up the heat with a delicious curry.
Josh (according to a quick Google search) is a Sanskrit name for passion, heat, enthusiasm, pleasure … you get the gist. Rogan means red, from the same Indo-European origin that gives us the French word 'rouge'.
Put the two together and you have Rogan Josh, an aromatic Indian curry that definitely hits the spot on these chilly winter evenings. Normally made with lamb or mutton, this recipe from Sydney Markets brings together some of my favourite veges – carrot, kumara and cauliflower – in a yummy dish that is guaranteed to warm you from the inside out.
CARROT, KUMARA & CAULIFLOWER ROGAN JOSH CURRY
Serves 4
2 tablespoons vegetable oil
1 brown onion, cut into thin wedges
350g kumara (orange sweet potato), peeled and cut into 3 to 4cm pieces
1/3 cup Rogan Josh curry paste
¼ cauliflower, trimmed and cut into bite-sized florets
400g can diced tomatoes
400g can chickpeas
1 cup reduced fat coconut cream
50g baby spinach leaves
125g mini roma tomatoes, halved lengthways
Steamed basmati rice, mango chutney and mint leaves, to serve
STEP 1 Heat oil in a large saucepan over medium heat. Add onion and cook, stirring often, for 3 minutes. Stir in kumara and carrots and cook, stirring often, for 5 minutes. Add curry paste and cook, stirring, for 2 minutes. Add cauliflower and canned tomatoes. Cover and bring to the boil. Reduce heat and simmer, stirring occasionally, for 30 minutes.
STEP 2 Add chickpeas and coconut cream. Cover and simmer, stirring occasionally, over low heat for 30 minutes. Stir in spinach and mini roma tomatoes. Cook for 5 minutes. Spoon into a serving bowl. Serve with basmati rice, mango chutney and fresh mint leaves.
Recipe courtesy of Sydney Markets Limited.
If you enjoyed this recipe, you might also like this Sweet Potato & Mushroom Curry.