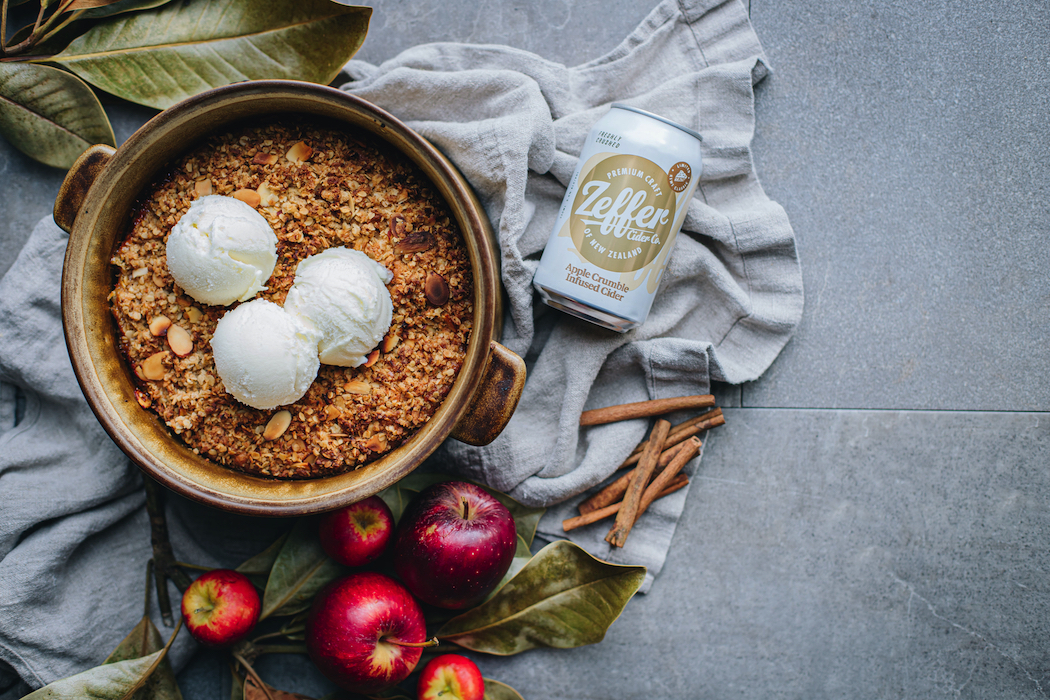 I first tasted Zeffer Apple Crumble Infused Cider on a trip to New Zealand a couple of years ago and was super impressed. It's such a delicious taste of apples, cinnamon and vanilla, all beautifully balanced and not overly sweet. I'm delighted that this fabulous craft cider is now available in Australia. I'll be able to get my fix as often as I like!
We were sent a sample of the product along with a recipe for Apple Crumble, which I duly baked and enjoyed with a glass of cider. It's not a combo that I would have immediately thought of, but they went together like hand and glove. This is definitely one after-dinner treat that I'll be serving again.
The recipe is reproduced here for anyone who wants to try it too. I have to confess to skipping the sponge layer – I let the crumble layer and the apples (I used Kanzi's) speak for themselves and the dish was delicious even without the sponge. Serve it with a scoop of icecream or if you want to be really decadent, a good dollop of pure cream.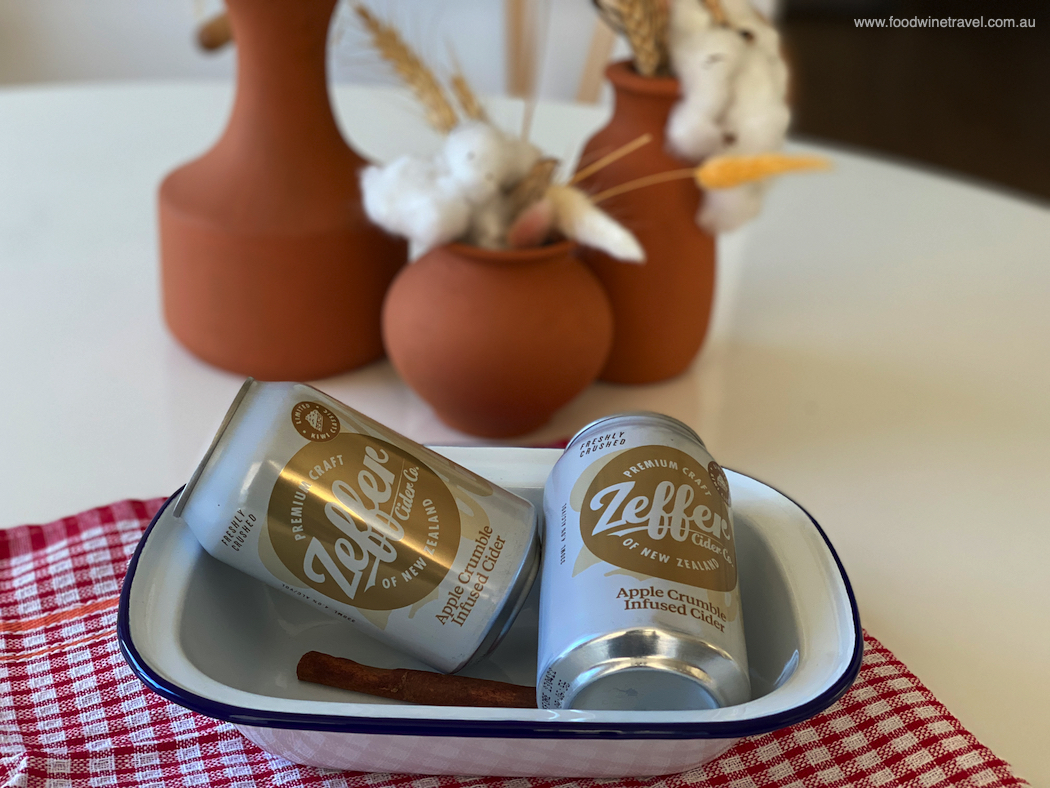 Zeffer Apple Crumble Cider was launched in New Zealand a couple of years ago and has almost reached cult status there. It's made with fresh apples from Hawke's Bay (which, if you've been there you'd know, is a veritable fruit bowl for New Zealand). They're picked and crushed when the juices are sweet, though the skin still has a little tartness so the end result is quite refreshing. Not only has it become Zeffer's top-selling cider but it is also New Zealand's top-selling cider.
Zeffer Cider Co. was founded by cider-loving couple Hannah Bower and Sam Whitmore, who became fascinated with the huge popularity of cider when they travelled through the UK. After returning to New Zealand, they started dabbling with their own recipes and selling it at the local farmer's market. It was one of the first craft ciders in New Zealand and it was an instant hit.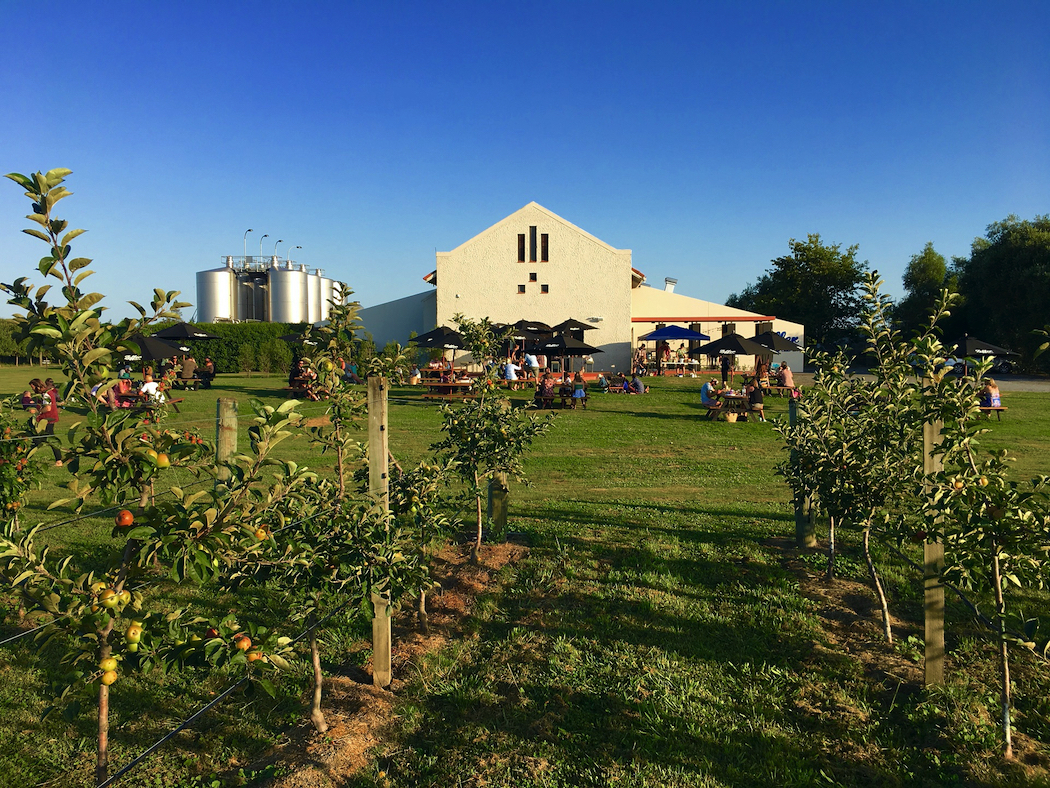 Head cider maker Jody Scott hails from Devon in the UK, the heart of cider country, and is a winemaker by trade. Both culinary apples and traditional cider apples are used to craft the ciders, the culinary apples giving a clean, fresh, bright flavour and the cider apples bringing body and tannins to the mix. All Zeffer products are vegan, gluten-free and made with fresh juice, not concentrate.
Zeffer Apple Crumble Cider is available from Dan Murphy's and BSW stores nationally at $5.99 a can or $22.99 for a 4-pack.
If you're planning a trip to New Zealand when flights resume, Zeffer has a beautifully designed taproom where you can try a range of flavours, from original Crisp Apple to the Apple Crumble Infused Cider and seasonal releases such as Guava and Lime Infused Cider. It's at 1747 Korokipo Road, Fernhill, Hawke's Bay, New Zealand.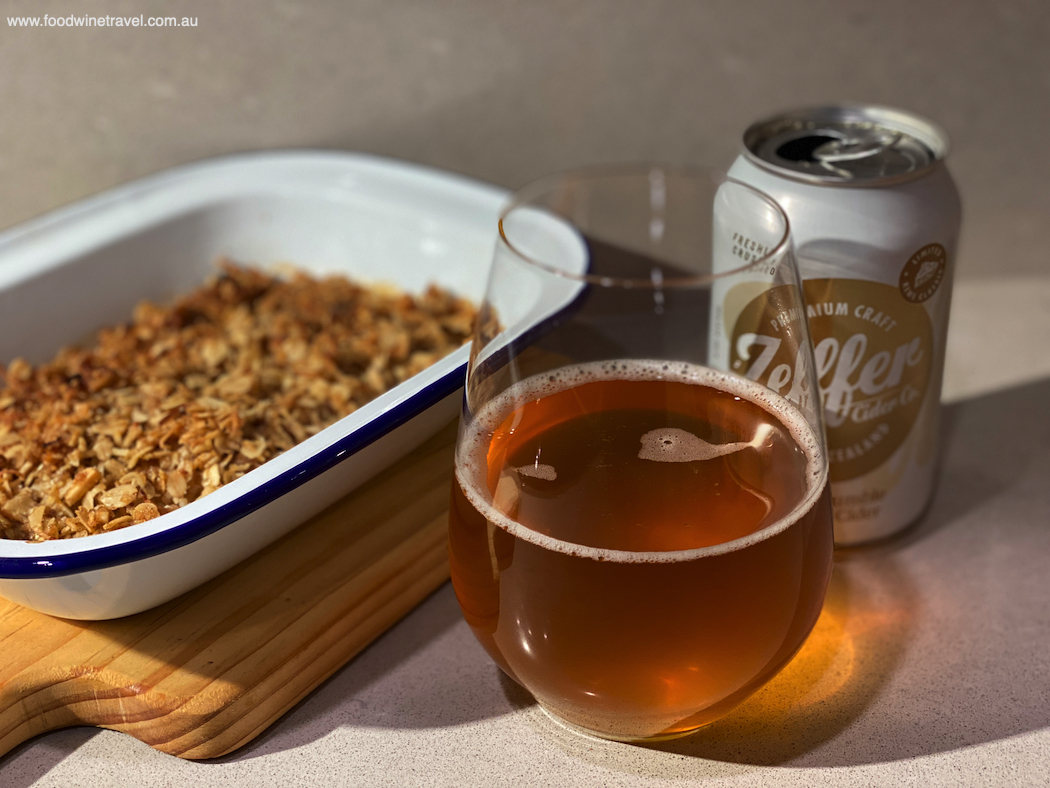 Apple Crumble Dessert Paired With Zeffer Apple Crumble Cider
For the filling:
8 apples (Granny Smith, or mixture of Granny Smith & other varieties)
¼ cup sugar
½ cup water
For the crumble topping:
½ cup rolled oats
2 tablespoons desiccated coconut
2 tablespoons sliced almonds
1 tablespoon brown sugar
½ teaspoon ground cinnamon
80g butter, softened
For the sponge:
125g butter, softened
½ cup sugar
2 eggs
1 cup flour
2 teaspoons baking powder
½ teaspoon ground cinnamon
2 tablespoons milk
Preheat oven to 190 deg C fan bake.
Prepare filling:
Peel, core and slice apples, and place into a medium saucepan with the sugar and water. Cook over a medium heat with the lid on, stirring occasionally, for about 5 to 6 minutes. Carefully drain off excess liquid, and spread apple evenly into a medium-sized baking dish.
Prepare crumble:
In a bowl, mix all of the dry crumble ingredients together thoroughly. Rub in the butter until the mixture is combined and crumbly. Set aside.
Prepare sponge:
Cream butter and sugar until light and fluffy. Add eggs one at a time, beating well after each addition. Sift flour, baking powder and cinnamon into the creamed mixture and fold in until combined. Add the milk and mix to combine.
Create the pudding:
Spoon the sponge mixture evenly over the fruit (which should still be warm). Sprinkle the crumble mixture evenly over the sponge. Bake at 190 deg C for 25 to 30 minutes or until golden, and a skewer comes out clean. Serve warm with fresh cream or icecream.
Recipe developed by Christall Lowe: www.thestyletales.com