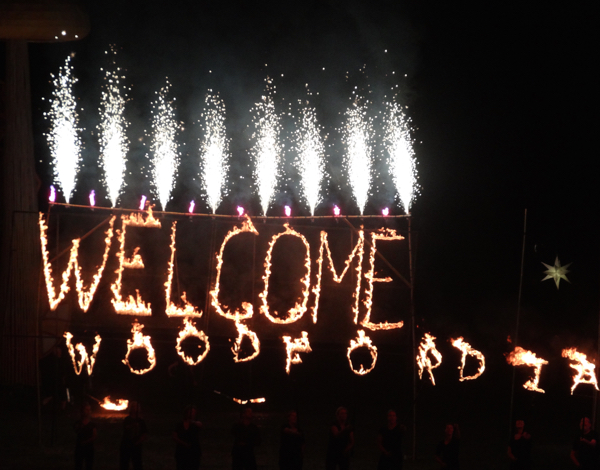 Truck drivers, pirates, ex-Prime Ministers, rainbow people, accountants, grandmothers with tattoos, grandmothers without tattoos, people who used to work for the government, mums, dads and small children wearing multi-coloured gumboots are just part of the crowd that flock to Woodford every year to contribute to a harmonious atmosphere of great music, community and unexpected experiences.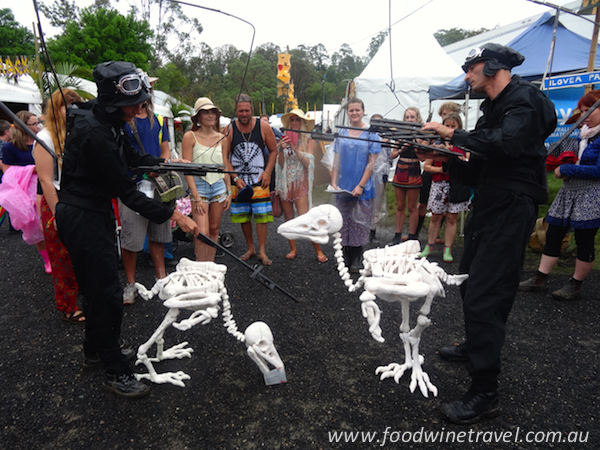 Shortly after arriving, I was tapped on the shoulder by 10-year-old Ryan, who in an attempt to exchange one of the playing cards given to him by the Leaf Goddess was given a dare that resulted in him giving me a hug and telling me as much as he could about himself in one minute. It was his first time at Woodford and Ryan turned out to be someone who I thought was the most interesting 10-year-old there. It's the sort of perfectly normal thing that can happen at Woodford.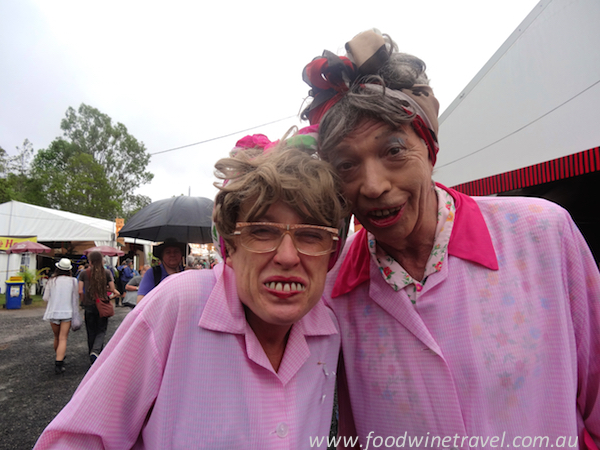 A bit later in the day we also met Audrey and Audrey, the ladies who were doing a sterling job cleaning up the place and making everything just right. Audrey (the other one of the two) gave us some extremely useful advice – "Never clean higher than your tallest guest". A very tidy bit of information, I must say.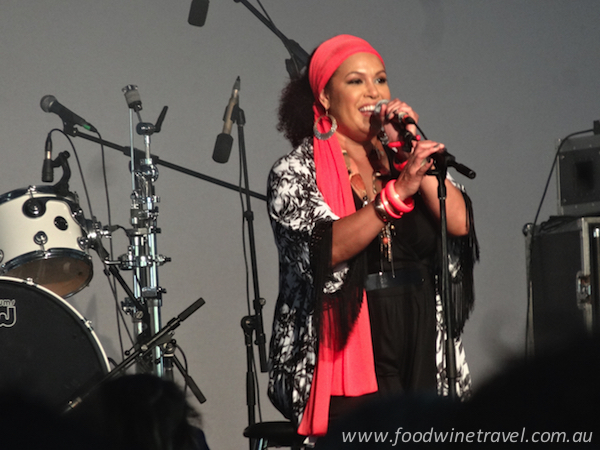 The rain was falling steadily when we crowded into the Grande tent for Christine Anu's performance. Her music was interspersed with some wonderful tales of growing up in the Torres Strait, and to resounding applause she finished up with what is now her signature song, My Island Home.
Her feisty rendition of Sunshine actually kept the rain away for a few hours allowing us to wonder through the seemingly endless array of stalls and sample some very tasty satay and gado gado. You can have a palm leaf hat plaited on the spot or choose from an amazing array of clothes, footwear, artefacts and jewellery. The range and quality of food available at Woodford is some of the best I've seen at any festival.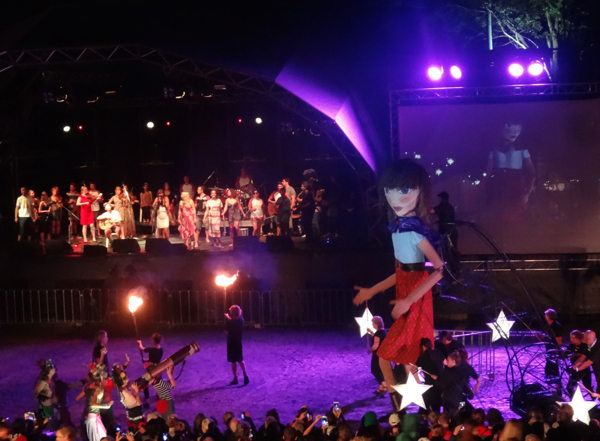 The rain also stayed away for the opening ceremony on Saturday evening, when along with a couple of thousand other people we took our places in the Amphitheatre for a sensational show of music, light and fire. The ceremony was overseen by Tilda, the giant puppet girl, as part of her quest for freedom and unmasking. The opening and closing ceremonies and the fire events are a tradition at Woodford and are evocative of the feelings of inclusion and harmony that characterise the festival.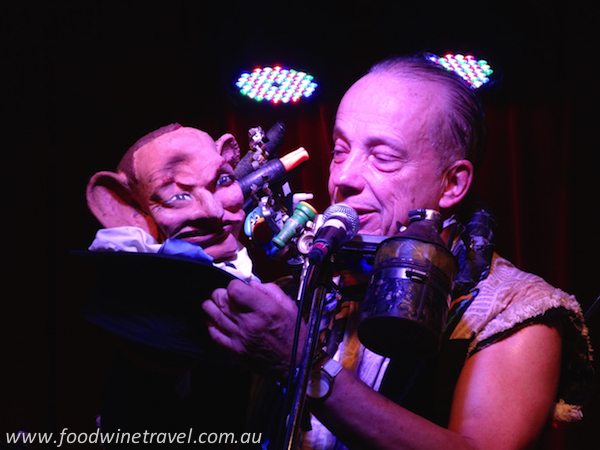 At the end of the night, we found ourselves in the 'Duck' for one of my all-time favourites. I first saw Mic Conway as part of the Captain Matchbox Whoopee Band at Martin Sharpe's Yellow House in Sydney way back in the '70s. All these years later he still has the magic and, with his National Junk Band, has just released a new CD, Diagonally Parked in a Parallel Universe.
Two of the songs from this CD have been released as a 78rpm record – yes, really! Releasing a 78 was apparently a life-long ambition that Mic finally achieved after 40 years. The good time music just keeps coming with the National Junk Band using every instrument and object possible, including the kitchen sink.
In the instrumental breaks, Mic is up to his usual tricks juggling, fire eating, tap dancing and turning his walking stick into an umbrella or a bunch of flowers and even pulling an Abbott out of a hat. The puns are relentless and if the National Junk Band doesn't make you happy, nothing will. A lot of reviewers have found it hard to describe what Mic Conway does and just like Woodford itself, you've really got to experience it.
The Woodford Folk Festival continues until January 1.
For information, visit www.woodfordfolkfestival.com