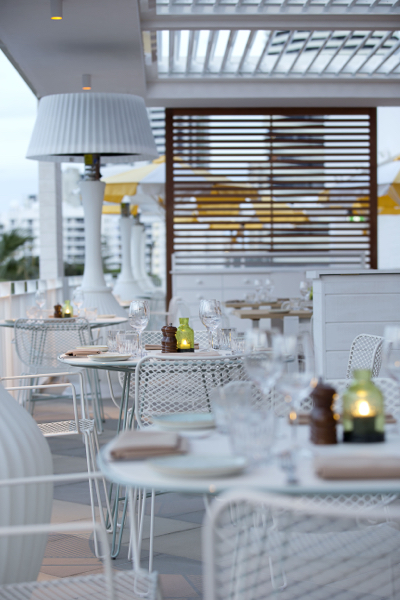 I've had the privilege of dining at Cucina Vivo twice since it opened earlier in the year and I guess that must mean I like it. I do. I like it a lot.
The restaurant is the result of an extensive transformation currently underway at Jupiters Hotel & Casino at the Gold Coast, budgeted to cost about $345 million all up. It's aimed at taking the hotel to 6-star status and turning it into a dining destination that people will be drawn to, rather than just a place where they might have a feed while enjoying a flutter.
Whereas previously the dining venues at Jupiters were very inward looking, Cucina Vivo looks down on the newly landscaped pool area. The designers apparently wanted to create the feel of clifftops on the Amalfi Coast, and the white cabanas, private bungalows and poolside bar certainly lend a very swish feel. By night, the soft glow of lights on the tropical palms adds to the romance.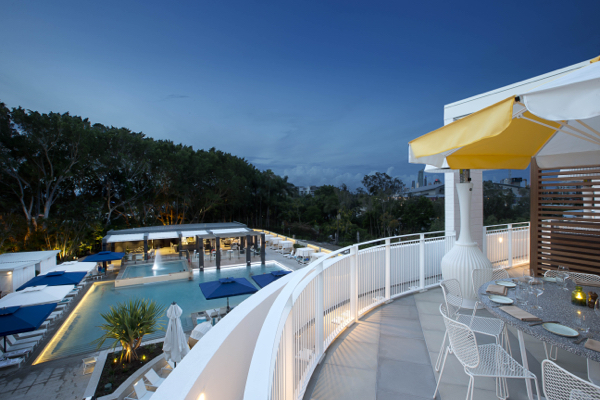 That you can sit out on the balcony and enjoy this setting in comfort in winter is a reminder of how blessed we are here in the Sunshine State. The indoor part of the restaurant opened in December, and the outdoor area in February, with Luchetti Krelle commissioned to do the design. The same firm was responsible for the design of Kiyomi, Jupiters' new(ish) Japanese restaurant.
We love Kiyomi but whereas Kiyomi is dark and brooding with intimate spaces, Cucina Vivo is light and bright with long tables that lend themselves to shared plates. The same firm also did the design for Fat Noodle at Treasury Casino & Hotel in Brisbane, and Momofuku Sieobo and Adriano Zumbo at The Star in Sydney.
Travertine and marble are used extensively to create strong architectural elements, while a 2-metre long woodfired oven in the centre of the room provides continuous entertainment. With fresh ingredients and their signature smoky flavour, Cucina Vivo's woodfired pizzas are, not surprisingly, a crowd pleaser.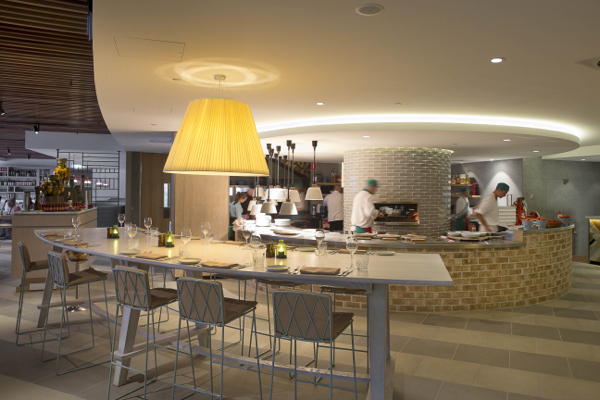 The menu draws on traditional Italian dishes as well as interpretations of the classics. Our waiter, Kevin, handles it all with aplomb and enthusiasm as he tries to steer us in the right direction, even though we're faced with an almost impossible choice.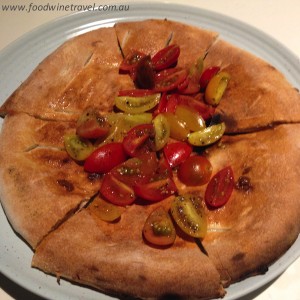 We start with Pizza forno (garlic flatbread with heirloom tomatoes, basil and garlic, pictured at right) and are very quickly onto the Carpaccio, very thinly sliced, seared eye fillet with rocket, parmigiano and lemon. On our second visit, we loved the Brandy-flamed king prawns with garlic, chopped cherry tomatoes and Italian parsley.
I've sampled a few of the pasta dishes including the deliciously simple Spaghetti with extra virgin olive oil, chilli and light parsley crumb; and the Tortelloni Repleni, with crab meat, ricotta, lemon zest and green pea puree. It's splendid for its bright green colour as much as its delicate flavour.
This is the only dish I had on both visits and I'll definitely be ordering it again. I'm imploring Cucina Vivo to never take this one off the menu!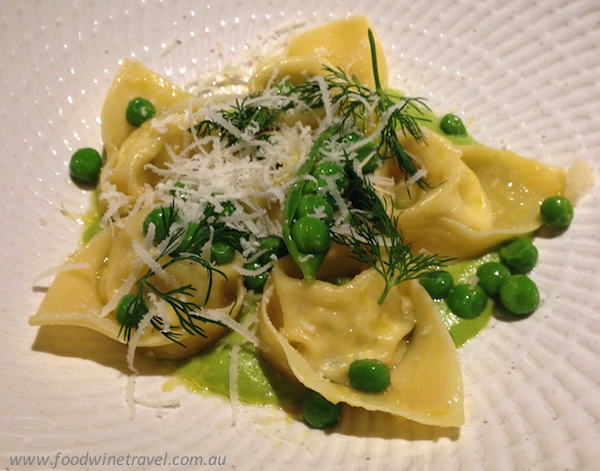 I can't speak highly enough of the mains either: succulent Costolette d'Agnello (grilled half lamb rack with chestnut gnocchi and broad beans) and Petto di Polo (chicken breast with braised mushrooms and charred figs), both perfectly cooked and complemented beautifully by the other ingredients.
Other popular dishes we could have ordered included Oven-braised Wagyu beef meatballs and Lasagna di carne – layers of home-made pasta with bolognese, béchamel, parmigiano and mozzarella.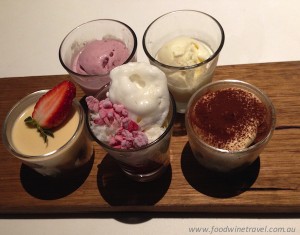 Flavours of Italy takes a little bit of this and a little bit of that from the dessert menu with an assortment of gelati, tiramisu and zuppa inglese (chocolate and vanilla cremeaux, vanilla sponge, fresh fruit and nitrogen poached meringue).
But it's the indulgent Cioccolata Rosso Ferrari that really steals the show – a Ferrari red chocolate sphere with grappa-infused chocolate sauce poured at the table so that it runs off the sphere to resemble lava running off a volcano. Crack open the volcano to reveal pistachio crostata and strachiatella icecream inside. Presto!
The 240-seat Cucina Vivo is available for group bookings, corporate lunches and has a 12-seat private dining area. One of our visits was on a Monday night and the place was pumping. There wouldn't be many places on the Gold Coast (or indeed elsewhere) pulling so many people in on a Monday night, testament that Jupiters has dealt a perfect hand with this new baby.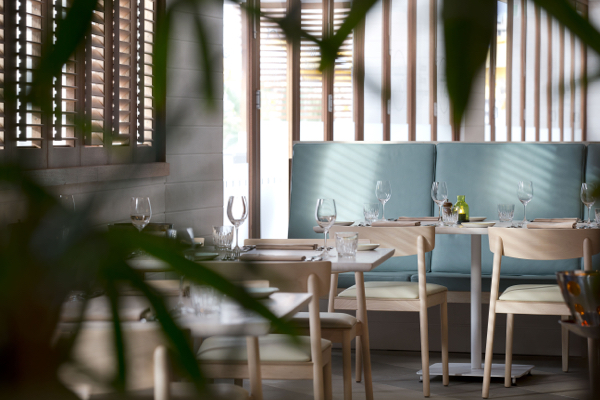 Fact File:
Cucina Vivo
Jupiter's Hotel & Casino
Broadbeach, Qld Australia
+61 7 5592 8443 or 1800 074 344
Open daily from 5.30pm and for lunch on weekends.
Top 3 photos and bottom photo by Remco.