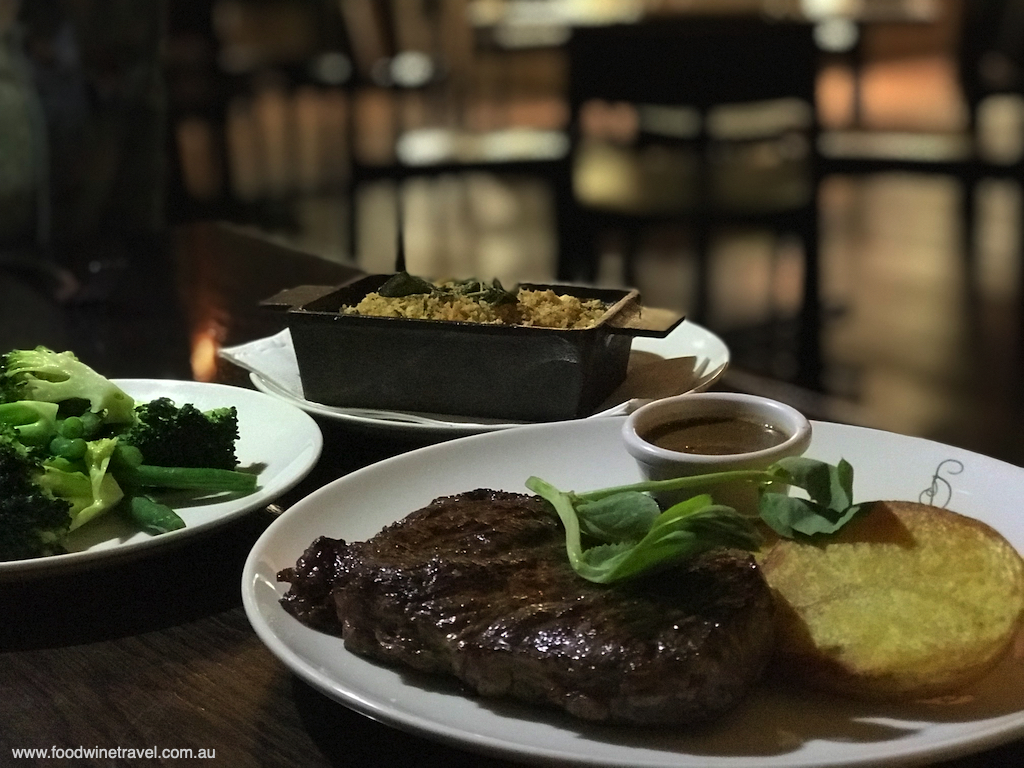 The menu at Lennons in Brisbane's Next Hotel consists of mostly classic dishes and comfort food, but with a gourmet twist. Take the classic dish of duck confit. An entrée-sized serve of confit duck leg, it rests on beetroot puree and pickled beetroot adorned with shards of beetroot 'meringue', an effect that is at once both familiar (in the beetroot) and striking (in the meringue).
Head chef Coby Davies oversees the kitchen of this brasserie-style restaurant which focuses on fresh Queensland produce. Among highlights of the menu are richly marbled and juicy wagyu steaks from the Australian Agricutural Company. These are one menu offering where there is no twist, no adornment, just great food cooked simply, allowing the flavours to speak for themselves.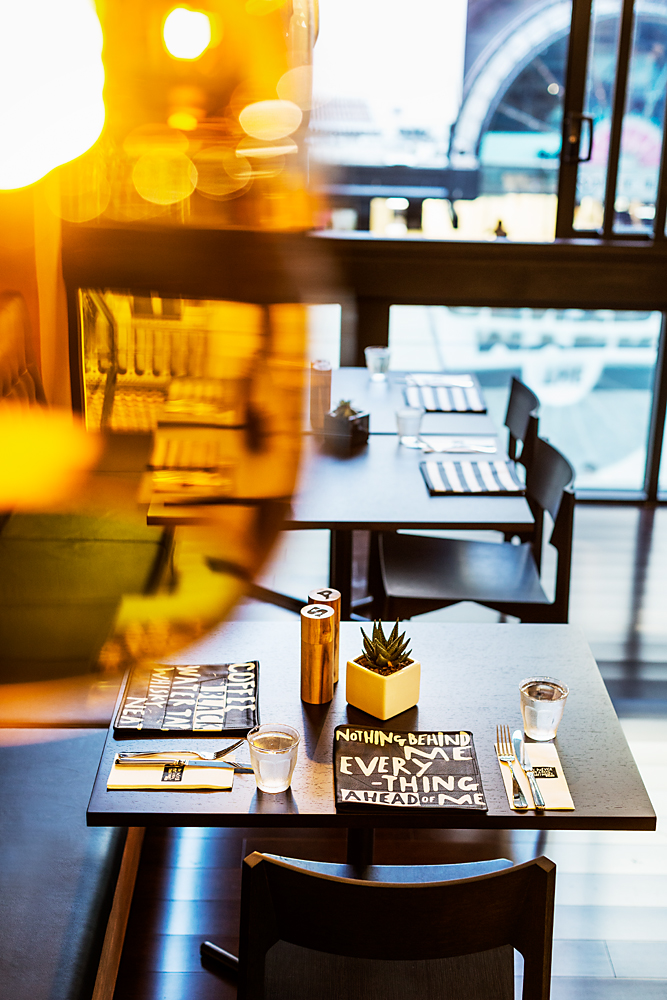 We enjoyed 300g scotch fillets with classic accompaniments of Dianne sauce and café de Paris butter, but we could also have chosen a 250g sirloin cut, pepper sauce or red wine jus. The restaurant's steak and seafood dishes are prepared on a stunning Parilla grill.
Located adjacent to the hotel reception on level two, Lennons is a casual but classy venue with floor to ceiling windows overlooking Queen Street Mall. You really only see the mall's neon signs and tree tops from this height, which gives the feeling of being in the thick of things without feeling like you are in a goldfish bowl.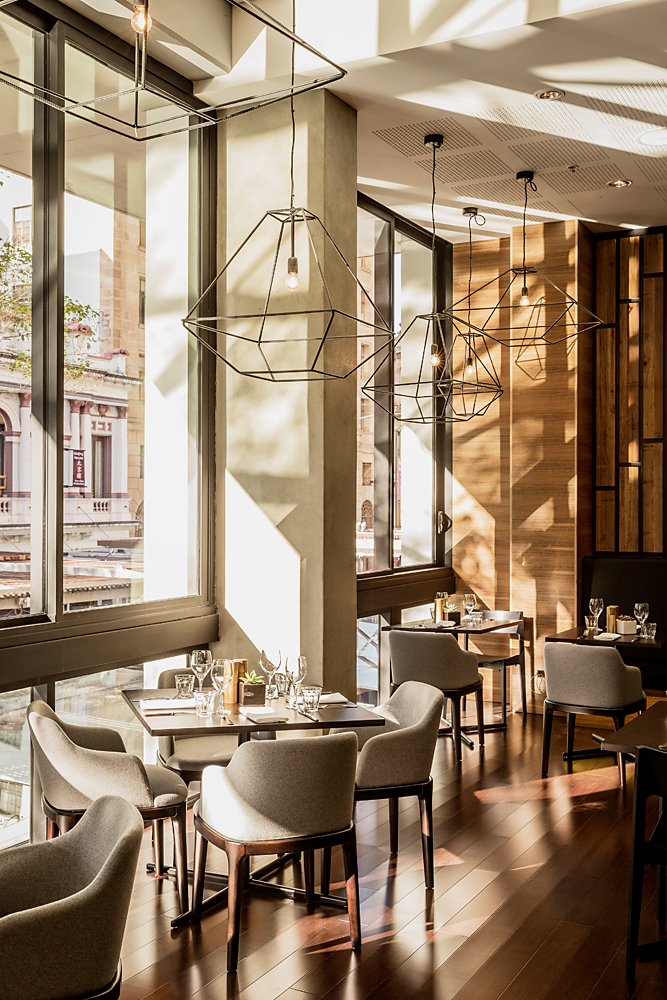 The restaurant's name is a nod to the hotel's heritage. One of Brisbane's leading hotels for ever and a day, Lennons underwent various transformations over the years before a complete reincarnation as the Next Hotel in 2014. This is the flagship brand of Singapore-based Next Story Group and was the world's first Next Hotel.
We really like the fact that Lennons supports not just local food producers but also brewers, cider producers and winemakers. A couple of Queensland wines are available by the glass (Sirromet Vineyard Selection Rosé and Ballandean Estate Merlot) and at least five Queensland wines in the bottle. Having said that, I took the opportunity to re-visit an organic McLaren Vale wine, Spring Seed 2016 Scarlett Runner Shiraz which sells for a very reasonable $10 a glass.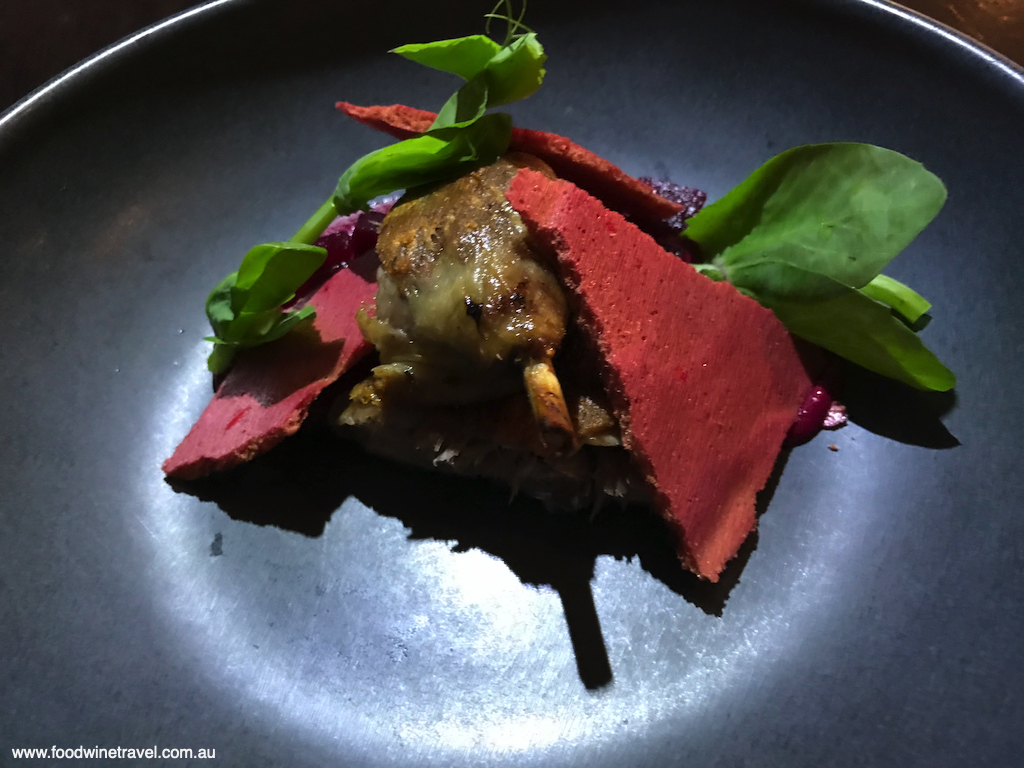 Complementing the aspiration behind the menu, the venue has a contemporary yet cosy ambience, with the kitchen open to public view, and a clean modern décor softened by warm wooden finishes. It's an adaptable space that translates easily from breakfast to lunch to an after-work business dinner or get-together with friends or loved ones.
Among the dishes on the current menu are an entrée of Shaved wagyu beef, horseradish crème fraiche, chimichurri and kale chips, and a vegetarian main of Wild mushroom risotto with truffle, parmesan and sage. The signature dish is Pork Belly with braised red cabbage, fried speck and apple cider jus, a winter favourite.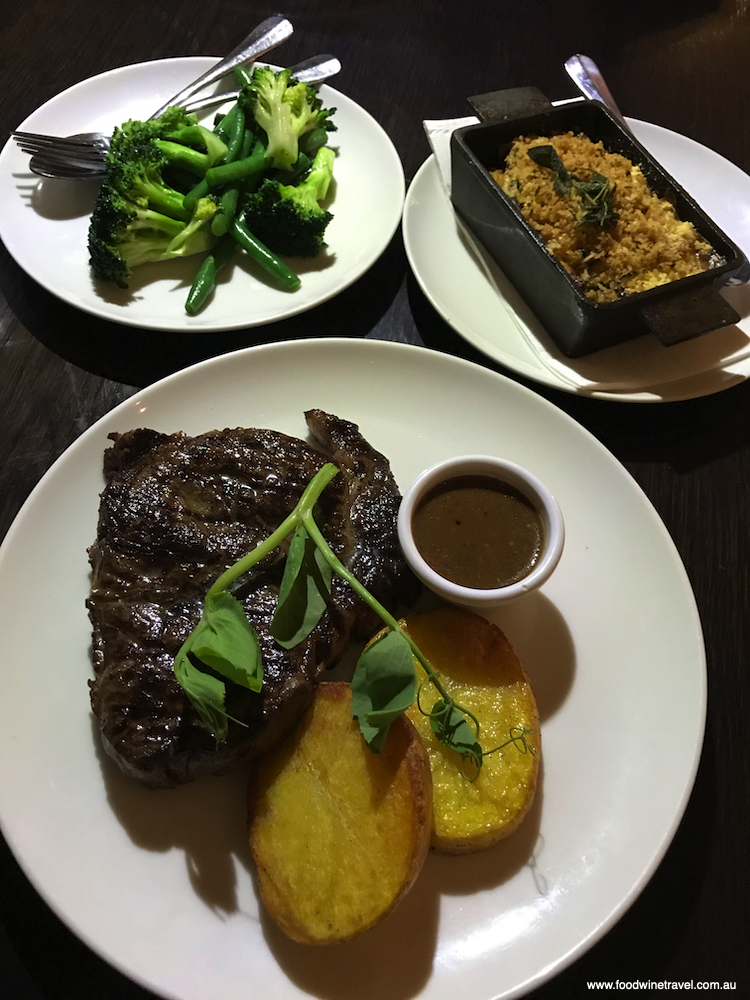 Desserts are homely too, the Steamed plum pudding with crème anglaise and rum and raisin icecream such a big serve that we were stumped. Vanilla crème brulee with pistachio tuille and cranberry jam; Strawberry semifreddo with mulled wine jelly and lemon sable; and Pumpkin pie with walnut brittle and citrus crème fraiche are among other enticing desserts.
"I really wanted to design a menu that represented upmarket modern comfort food, that would appeal to corporate and leisure guests alike," said chef Davies. "A lot of corporate travellers miss out on a home-cooked meal with family and loved ones while away on business. We try to encapsulate this familiar home-cooked feel for guests when they dine with us."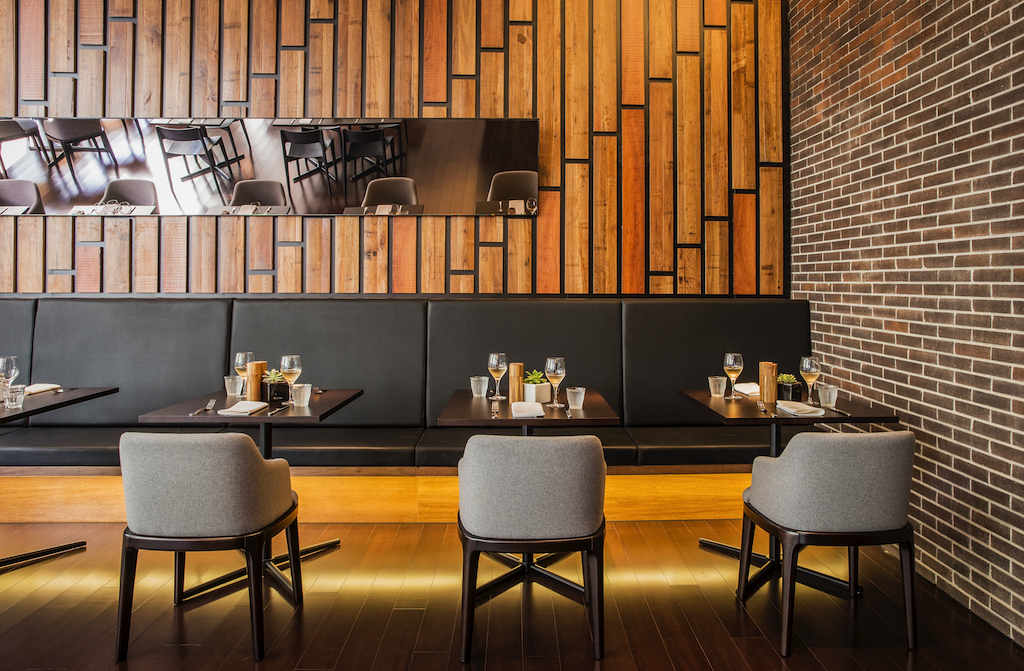 Lennons Restaurant & Bar is open seven days a week for breakfast, lunch and dinner. Look out for the $25 lunch special and the $45 dinner special. Lunch specials include a choice of main and a glass of house wine for $25, or two courses and a glass of house wine for $33. The $45 dinner menu has a choice of three mains, a glass of house wine, and a choice of entrée or dessert, for $45.
If you go:
Lennons Restaurant & Bar
Next Hotel Brisbane
72 Queen Street
Brisbane Qld Australia
Bookings: +61 (0)7 3222 3232
www.lennonsrestaurant.com