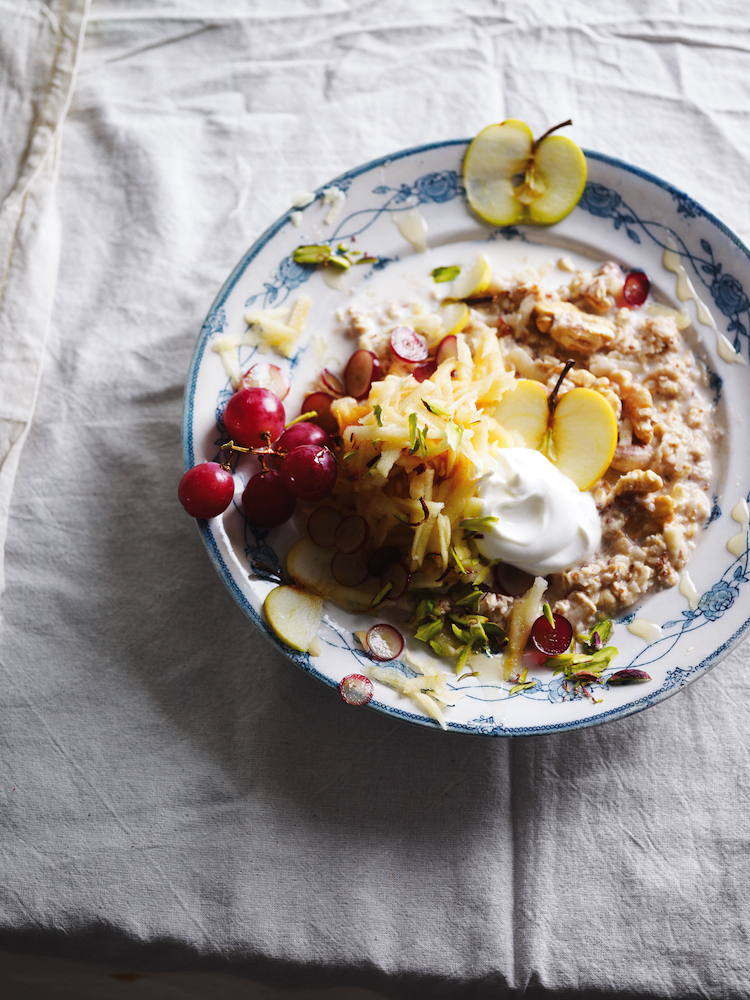 Fruit is often used in recipes for preserves, cakes, sorbets, and desserts – all sweet dishes. But it can be an incredible complement to savoury dishes too, as demonstrated in Fruit: Recipes That Celebrate Nature, published by Smith Street Books. Food writer, food stylist and avid gardener, Bernadette Worndl, shows how adding blackberries to a duck breast and chard recipe or caramelised pears to a pork and sage recipe creates an incredibly tasty dish with a great depth of flavour.
Worndl is based in Vienna, Austria, and finished writing the book in Puglia, Italy. Before becoming a cookbook author, she worked in some of the best kitchens in Austria and later worked at famed San Francisco restaurant, Chez Panisse, under the tutelage of influential chef Alice Waters. Therein lies the book's focus on fruits more commonly seen in Northern Hemisphere kitchens, rather than the broad array of both tropical and cool-climate fruits that we are blessed with in Australia.
Works of art
You won't see any bananas or mangoes in these pages – the latter, in my humble opinion, the queen of fruit – but you will find elderberries and gooseberries amongst the cherries, figs, melons, pears and berries. I have another minor criticism too – I'm surprised at the inclusion of a recipe for Melon With Ice Cream that consists purely of a couple of scoops of vanilla ice cream in a melon half, as delicious as the combo is.
It's an odd inclusion given that it is an otherwise stunning collection of 120 sweet and savoury recipes, and most of the photographed dishes look like works of art. The presentation of this book will have you drooling. Twenty different fruits are featured, with the book arranged alphabetically by fruit. There's a strong leaning towards Mediterranean-inspired dishes, which Australian audiences will appreciate, along with plenty of inspiration for incorporating fruit into your everyday cooking.
While many people are familiar with classic pairings like lemon and chicken, apple and pork, and cranberries and turkey, Worndl demonstrates a world of flavour combinations that many are missing out on. There's a lovely recipe for Pork Cutlets in which the flavours of caramelised pears are combined with the smoky wooden-barrel notes of Cognac and crème fraîche.
Worndl's favourite breakfast, Bircher Muesli, lends itself to seasonal combinations using different grains, seeds and nuts or fruits. A grated apple always makes an appearance though.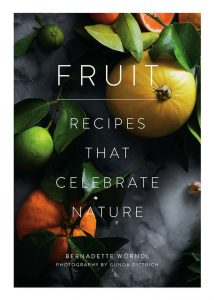 ---
Buy your copy of Fruit from Book Depository now, with free delivery worldwide
---
Pork Cutlets With Caramelised Pears And Sage
4 pork cutlets
salt and freshly ground black pepper
1 bunch sage
2 tablespoons clarified butter
4 small pears
6 French shallots
1 garlic clove
5 juniper berries
5 peppercorns
1 bay leaf
40 ml Cognac
100 g crème fraiche
Preheat the oven to 120°C. Season the cutlets with salt and pepper. Pick the sage leaves. Heat half the clarified butter in a frying pan over high heat. Add the sage leaves and cutlets, and quickly sear the meat on both sides. Transfer the cutlets and sage to an ovenproof dish and cook in the oven for 15 minutes.
Halve or quarters the pears. Peel and halve the shallots, and bruise the garlic clove. Heat the remaining clarified butter in the same pan and cook the pear, shallot and garlic until golden brown. Add the juniper berries, peppercorns, bay leaf and Cognac, and very carefully set alight to burn off the alcohol. Stir in the crème fraîche. Remove the cutlets from the oven and transfer them to the sauce. Spoon the sauce over the cutlets for the flavours to combine, then season with salt and pepper and serve. This goes well with creamy polenta.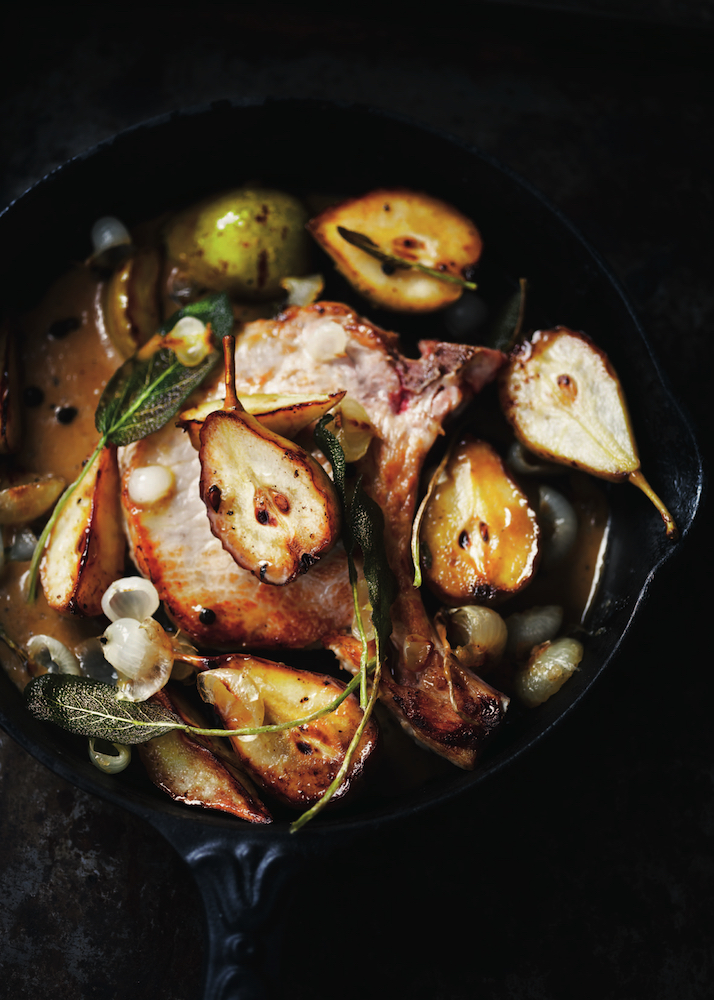 Bircher Muesli With Grated Apple, Pepitas, Yoghurt And Fresh Grapes
2 apples
1 handful walnuts
100 g (3½ oz/1 cup) rolled (porridge) oats
2 tablespoons linseeds (flax seeds), roughly crushed
2 teaspoons wheat bran
2 tablespoons pepitas (pumpkin seeds)
150 ml (5 fl oz) milk
300 g (10½ oz) yoghurt
pinch of salt
small handful shelled pistachios
small handful grapes
honey, for drizzling
Coarsely grate one of the apples and roughly chop the walnuts. Place in a bowl and add the oats, linseeds, wheat bran, pepitas, milk, 200 g (7 oz) of the yoghurt and the salt. Stir well to combine, then cover and refrigerate overnight to soak.
The next day, roughly chop the pistachios and coarsely grate the second apple. Finely slice two grapes. Serve the muesli in shallow bowls and top with the apple, remaining yoghurt, grapes, pistachios and a drizzle of honey.
Recipes and photos from Fruit by Bernadette Worndl. Photography © Gunda Dittrich. Published by Smith Street Books and reproduced with the publisher's permission.
This story originally appeared in PS News online.