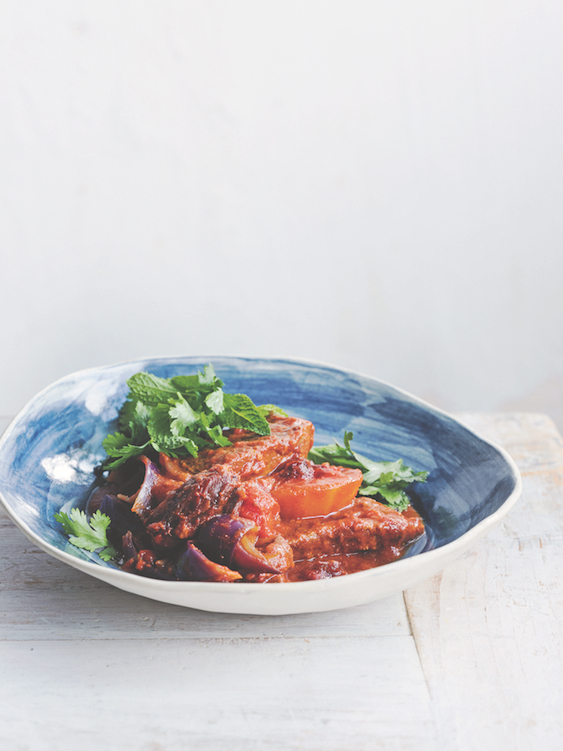 It's that time of year when the slow cooker gets a good workout. I love how easy it is to set and forget, producing delicious winter-warming dishes that are perfect for chilly days.
Cookbook author Ross Dobson used the slow cooker year-round when running a busy café and restaurant. "Time and time again the slow cooker proved itself the most enterprising and time-saving kitchen appliance," he writes in the introduction to The Healthy Slow Cooker, published by Murdoch Books.
He used it to make soups and curries, poach chicken, cook vegetables to perfection, and even to make baked beans by simmering them overnight so they would be ready for breakfast the next day.
Dobson says that with very little effort on his part, much of the food he makes in his slow cooker at home is not only healthy but also often gluten-free, vegan or vegetarian.
The bestselling author of numerous cookbooks including King of the Grill, Fired Up and Fired Up Vegetarian, Dobson has compiled his favourite family pleasers in The Healthy Slow Cooker.
The recipes are packed with vegetables, use smart carbs and super-healthy legumes and pulses, and draw on aromatic herbs and spices for flavour. Organised into chapters including Sunday Suppers, Weekday Dinners, Set and Forget, Soups, Curry Night and Relaxed Weekend, the recipes span the globe, from Asia to North Africa and the Middle East.
Dobson says he sometimes feels like a broken record espousing the virtues of Moroccan cooking in slow cookers, but its flavours and techniques really are perfectly suited to them.
"For this tagine, everything is literally just thrown into the slow cooker and time does the rest, making this an ideal dish to put together before you head out of the door in the morning," he says.
---
Buy your copy of The Healthy Slow Cooker from Book Depository now, with free delivery worldwide
---
Recipe for Beef, Sweet Potato and Date Tagine
Serves 4
750 g (1 lb 10 oz) blade steak
2 teaspoons ground cumin
2 teaspoons sweet paprika
1 teaspoon ground ginger
1 tablespoon cornflour
2 red onions, sliced
1 small sweet potato, peeled and cut into thick rounds
12 medjool dates
2 x 400 g (14 oz) cans whole tomatoes, drained
2 tablespoons date syrup
handful small coriander (cilantro) leaves
handful small mint leaves
Heat your slow cooker to Low. Trim off all the fat from the beef and discard. Cut the beef into large bite-sized pieces and put into a bowl. Add the cumin, paprika, ginger, cornflour and a generous seasoning of salt and pepper. Toss to coat the beef, then tumble into the bowl of the slow cooker. Cover the beef with the onions, followed by the sweet potato and dates.
In the same bowl you used for tossing the beef, combine the tomatoes and date syrup. Roughly mash the tomatoes with a potato masher or fork, then tip into the slow cooker. Cover and cook for 8 hours, until everything is tender and aromatic. Stir gently, then transfer to bowls and scatter with the herbs.
Recipe and images from The Healthy Slow Cooker by Ross Dobson, photography by Jeremy Simons, published by Murdoch Books and used with the publisher's permission.
This story originally appeared in PS News online.