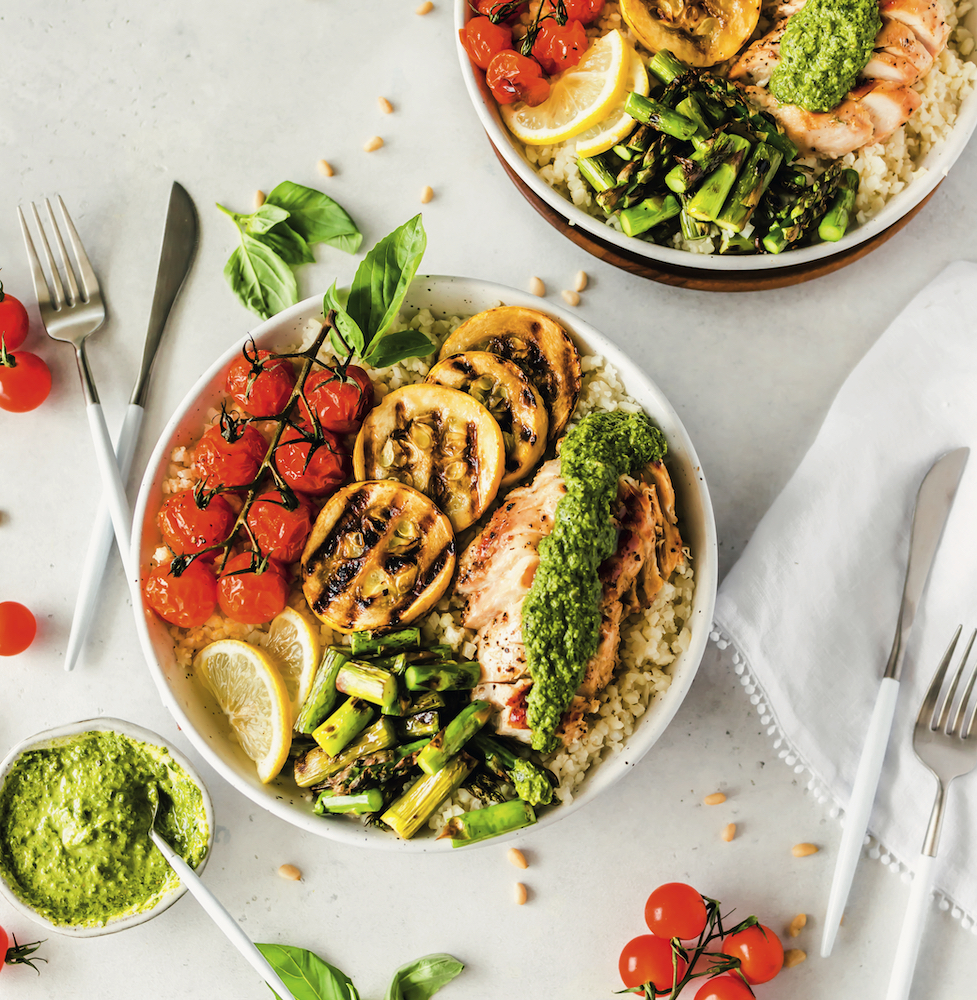 I'm sure there are a lot of people like me who care about what we eat and who aim to make healthy food choices, but don't want to restrict ourselves to particular diets. In learning to understand the choices, we might make gradual shifts in our eating habits without making wholesale changes.
Personally, I'm not about to give up grains or dairy but if you asked Ashley McCrary, author of the Clean Paleo Family Cookbook (published by Fair Winds Press) she would tell me why I should. She adopted a paleo lifestyle in 2014 and cites it as the reason for her weight loss and for her overcoming infertility.
With two young children now in her life, her cookbook is geared towards dishes that the whole family will love. She provides illustrations of how a "mamma bear meal" can be plated as a "baby bear meal" – similar components, just presented differently. Healthy does not have to be boring, expensive or tasteless, she stresses.
Paleo is defined as whole, unrefined, unprocessed foods, much like our ancestors ate thousands of years ago – so, no grains, legumes, dairy, wheat, soy, gluten or artificial ingredients. Natural sweeteners such as raw honey, coconut sugar and real maple syrup are fine.
Keto Paleo with fewer carbs
'Squeaky clean paleo' is much the same but without the sweeteners – only dates allowed. 'Keto paleo' is like traditional paleo but with fewer carbs and no starchy veggies like sweet potato. Got that? All the recipes in the book are labelled so that we know which of these three categories they fall into.
The recipe here belongs to all three. McCrary, who also runs a blog called Healthy Little Peach, says power bowls are a great way to fuel the body. This simple recipe will revolutionize your lunch or dinner, she says.
Traditional pesto relies on Parmesan or pecorino cheese, both non-paleo, so these have been swapped for cheesy-tasting nutritional yeast. (This can bring any protein or veggie to life, says McCrary. Try it on veggie spirals.) Nutritional yeast and cauliflower rice are both readily available in most supermarkets.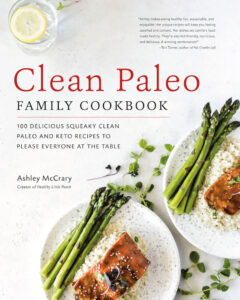 ---
Buy your copy of Clean Paleo Family Cookbook from Book Depository now (free delivery worldwide).
Buy your copy of Clean Paleo Family Cookbook from Australian-owned Booktopia.
---
Basil Pesto Chicken Power Bowls
Serves 4
4 boneless, skinless chicken breasts (6 ounces [168 g] each)
4 vines with cherry tomatoes
1 tablespoon (15 ml) olive oil, plus more for drizzling
2 yellow squash, sliced
8 spears asparagus, trimmed
4 cups (560 g) cauliflower rice (see note)
Sea salt and black pepper, to taste
½ cup (120 g) Basil Pesto (see below)
Lemon slices, for garnish
1. Grease the grill and preheat to 400°F (200°C) or medium-high heat.
2. Place the chicken on the grill and cook until the internal temperature reaches 160°F (71°C), 5 to 8 minutes on each side, depending on the thickness of the breasts.
3. Place the tomatoes (on the vine) on a sheet of aluminium foil and drizzle with a little olive oil. Set it on the grill and cook until they become a little shrivelled and soft, 5 to 6 minutes.
4. Right before the chicken is done, add the squash and asparagus to the grill and cook until tender and grill marks are visible, 2 to 3 minutes on each side. When ready, remove the asparagus to a cutting board and chop into 1-inch (2.5 cm) pieces.
5. Meanwhile, heat the olive oil in a large skillet over medium heat. Add the cauliflower rice, cover, and cook, stirring occasionally, until tender, 5 to 6 minutes. Sprinkle with a large pinch of salt and pepper.
6. Assemble the power bowls by adding 1 cup (140 g) cauliflower rice to each of 4 bowls. Add a chicken breast topped with 2 tablespoons (30 g) of the pesto. Set a vine of tomatoes, some squash, and asparagus pieces around the chicken. Serve with lemon slices.
Note: If you are using a head of cauliflower, add the florets to a food processor and pulse until it becomes a rice-like consistency. Add the rice to a bowl along with ¼ cup (60 ml) water and microwave for 2 minutes. This will help make it tender and quicker to cook in step 5. You should have about 4 cups (560 g).
Basil Pesto
Makes: 1 to 1½ cups (240 to 360 g).
2 cups (80 g) fresh basil leaves
1 cup (30 g) baby spinach
1/3 cup (45 g) pine nuts
1 clove garlic, coarsely chopped
3 tablespoons (45 ml) lemon juice
2 tablespoons (4 g) nutritional yeast
1 teaspoon lemon zest
Sea salt and black pepper, to taste
½ cup (120 ml) light olive oil
1. Rinse the basil and spinach and pat dry with a paper towel. Set aside.
2. Add the pine nuts and garlic to a food processor and process until smooth, about 20 seconds.
3. Add the basil, spinach, lemon juice, nutritional yeast, lemon zest, salt, and pepper. Pulse 4 to 5 times to break up the leaves.
4. Turn the food processor on low and slowly add the olive oil through the feed tube until everything is well combined.
5. Serve immediately or store in an airtight container in the fridge for up to 4 days.
Recipes and images from Clean Paleo Family Cookbook, by Ashley McCrary. Published by Fair Winds Press and reproduced with the permission of Murdoch Books.
This story originally appeared in PS News.