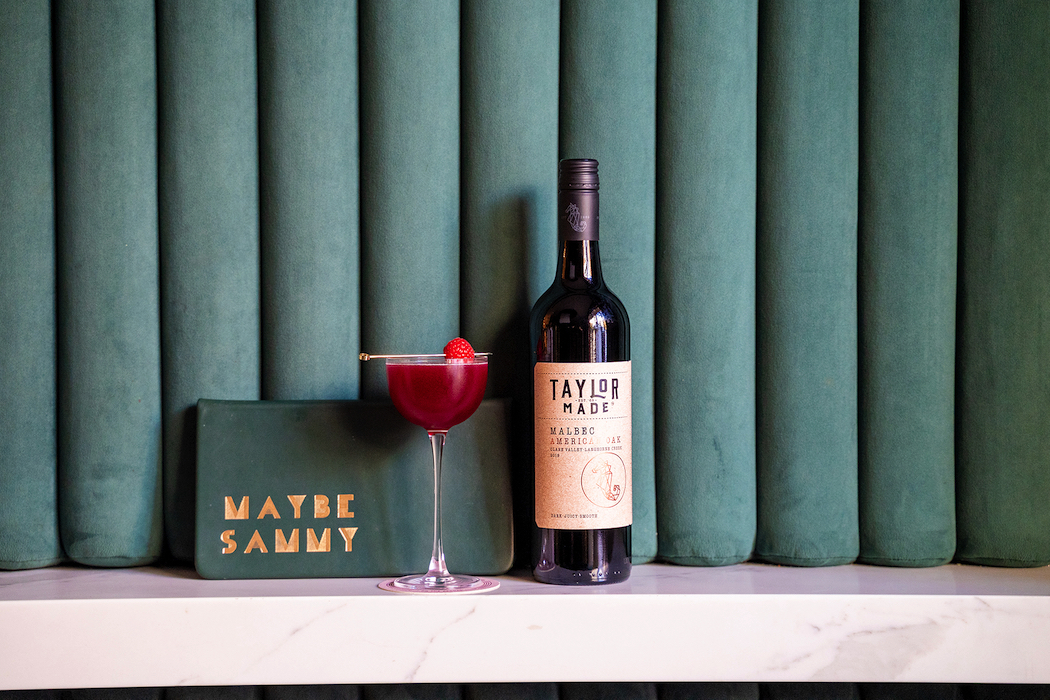 Claret Snap … I can't begin to tell you how good this cocktail is. Created by Maybe Sammy bartender Will Oxenham, it's an utterly delicious mix of gin, lemon juice, cacao syrup, fresh raspberries and Taylor Made Malbec.
Will says the idea of a vinous cocktail is nothing new, though we've yet to see it on many cocktail lists here in Oz. Will previously worked at Dante in New York, ranked the world's number one cocktail bar in 2019 (World's 50 Best Bars list). There, he came to embrace the idea of wine in cocktails, and he's continuing to draw on some of that inspiration now that he's at the gorgeous Sydney rooftop bar, Dean & Nancy.
With Covid rearing its ugly head, Maybe Sammy, the creative team behind Dean & Nancy, has had to pivot its business to helping people create fabulous cocktails at home. On September 28, it will be running a virtual cocktail-making class in which you can learn to make two superb cocktails with Taylor Made wines as the key ingredient.
By being one of 200 people to register for the class ($115 + booking fee), you'll get sent a kit with two Taylor Made wines (Prosecco and Malbec), bar tools and most of the ingredients you'll need. The live event will be streamed on Facebook.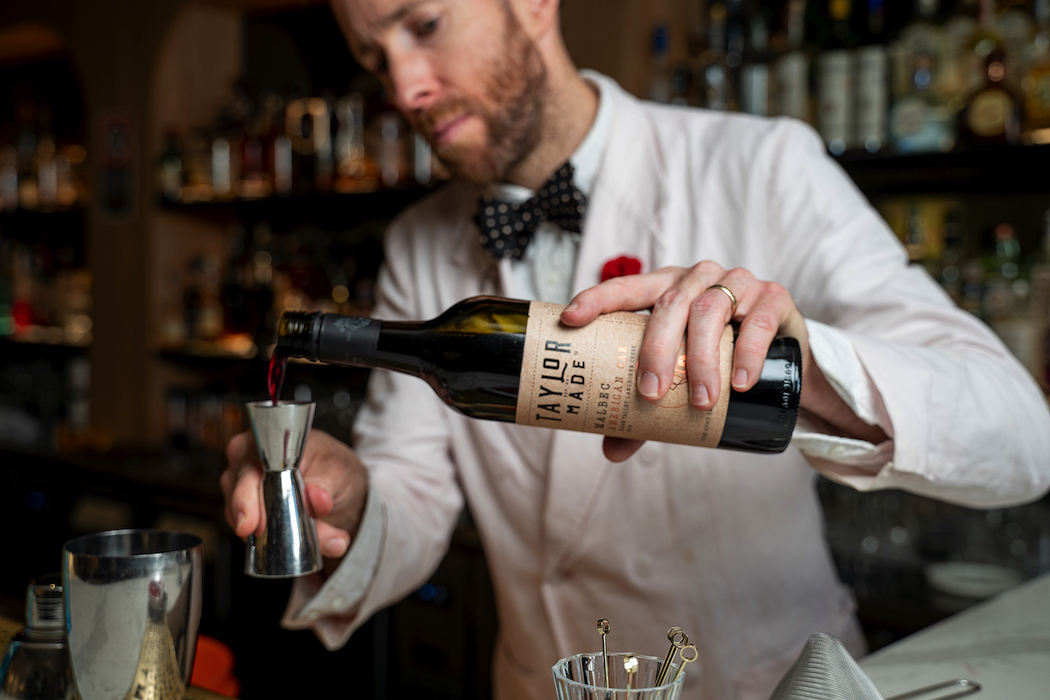 We had a preview of the event and it was great fun – the evidence being in the huge amount of mess we made. Clearly Maurie and I have a bit of work to do in mastering how to use a cocktail shaker when all eyes are on the screen 🙂 The reward was two divine cocktails, the Claret Snap mentioned at the beginning of this piece, and Passionfruit Sgroppino, a twist on the classic Italian digestive.
Sgroppino, which means 'to untie' (as in 'untie your stomach'), is made by whipping together Italian Prosecco, lemon sorbet and vodka. Will's recipe uses passionfruit sorbet, gin, Aperol, cacao syrup and Prosecco, though we substituted Weis mango sorbet as that's all we could get at our local supermarket. This was a nice variation, especially with a little bit of orange rind grated on top, but we're looking forward to trying it with the passionfruit sorbet once we can shop further afield.
After we finished making the cocktails, we naturally had a lot of wine to finish off, and that certainly wasn't any hardship.  The Taylor Made Prosecco ($25), is from Victoria's King Valley, where Prosecco reigns supreme. A refreshingly dry fizz, it is bursting with citrus, green apple and pear notes, and is a joy to pop the cork on.
The Taylor Made 2019 Malbec ($25) was a real revelation – juicy, rich and full-bodied, it slipped down a treat. Made with Clare Valley fruit, it is full of intense dark fruit characters, plum/spicy notes, and a lingering smooth finish. No wonder the Claret Snap tasted so good.
Here are the two recipes we used. If you want to re-create them at home, consider ordering one of the Taylor Made kits and registering for the online class so that you can shake, stir, swizzle and sip along with the mixology masterminds at one of Sydney's most glamorous bars.
For more information, visit www.taylormadewines.com.au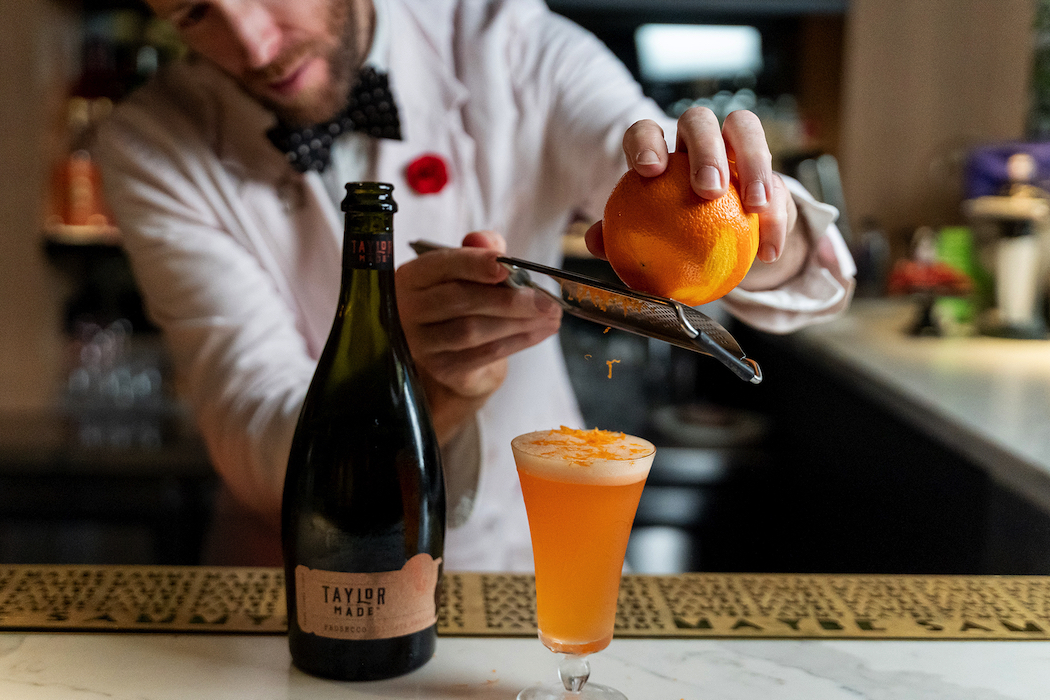 Claret Snap
Ice
30ml gin
30ml Taylor Made Malbec
20ml lemon juice
20ml cacao syrup
3 fresh raspberries
Build all ingredients in a shaker and shake hard to break up the raspberries. Strain through the shaker strainer and a tea strainer to remove any raspberry bits as you pour the drink into a chilled glass. Looks delicious with a skewered raspberry on top for garnish.
Passionfruit Sgroppino
1 scoop/40g passionfruit sorbet
20ml gin
15ml Aperol
10ml cacao syrup
pinch sea salt
Taylor Made Prosecco
Put a scoop of sorbet in a metal mixing bowl. Add Aperol, salt, cacao syrup and gin. Use a whisk to break up the sorbet for a few seconds, and combine the liquids. Once it has broken down a little, add half the Prosecco and whisk to combine. It should be getting frothy and harmonious by now. Add the last of the Prosecco, and whisk gently for a few seconds to combine. Pour gently into a chilled wine glass and try not to drink it all in one big gulp!
If you enjoyed these recipes, you might like to check out more of our delicious cocktail recipes here.