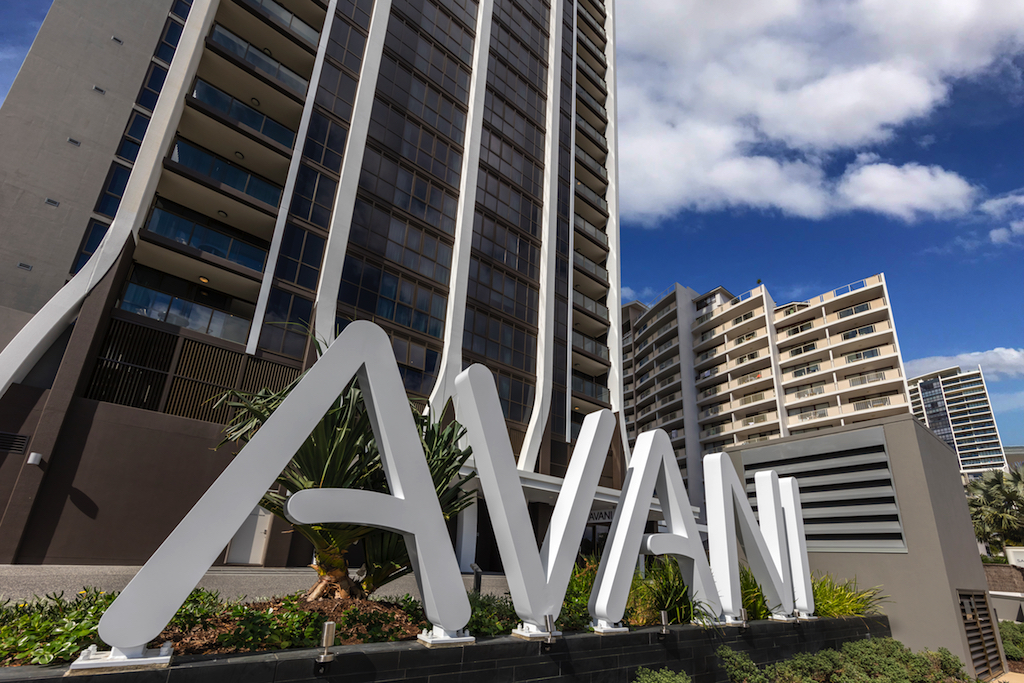 Although Avani is new to Australia, it is one of the fastest growing lifestyle brands in the world. It really is a case of 'watch this space'.
The Avani Broadbeach Gold Coast was the brand's first Australian hotel, officially celebrating its opening last month, although it had its 'soft' opening more than a year ago. Other Avani hotels have already followed in Australia, including Melbourne Central, Melbourne Box Hill and Adelaide.
Avani is part of the Bangkok-based Minor Hotels group, which also owns the Anantara and Oaks brands, among others. Oaks, too, is flourishing, and is now up to its 60th hotel in Australia. And judging by the speech given at Avani's opening party, we can expect to see the luxury Anantara brand in Australia soon too.
Avani pitches itself as a "young, vibrant upscale hotel" brand. Whether that means it is young and vibrant or whether it implies it is aimed at a young and vibrant clientele, I'm not sure, but we felt very comfortable at Avani Broadbeach, even though we are not young (although we like to think we are vibrant!)
The hotel consists of residential-style apartments, our two-bedroom apartment on the 8th floor having a fully equipped kitchen with full-sized fridge. Guests can order fruit, veges, meat and other groceries from Coles Online and have it delivered to their apartment seven days a week.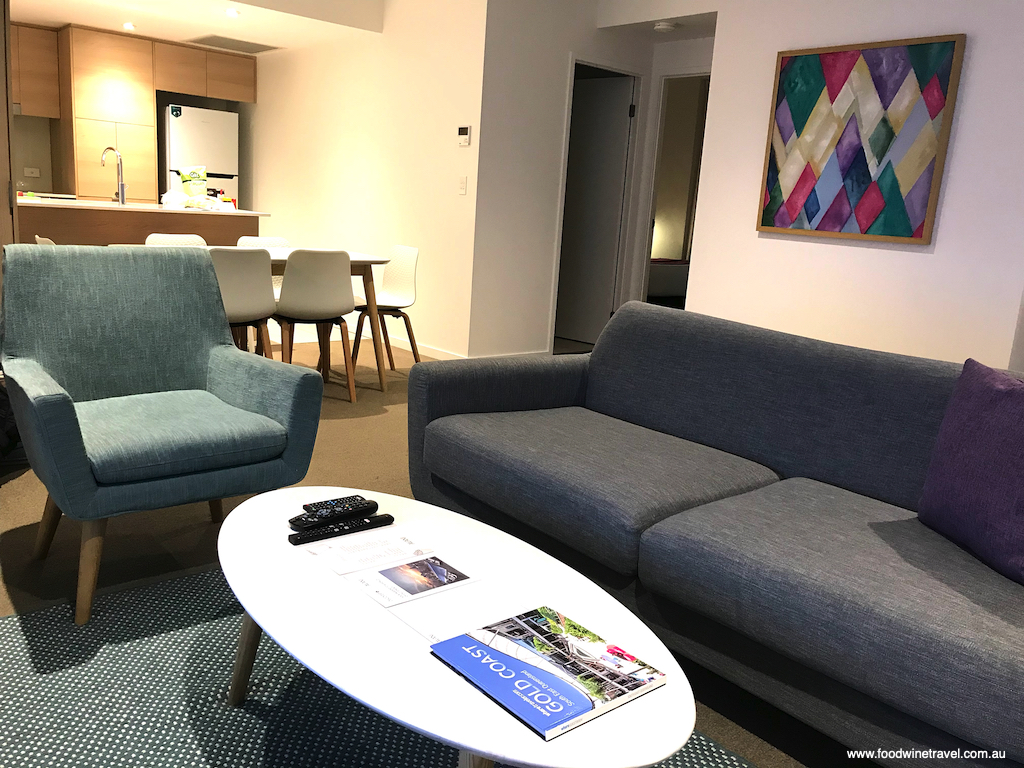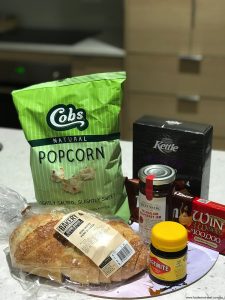 Our fridge was stocked with orange juice, butter, cheese and Farmhouse Gold milk, while on the counter there was stone-baked bread, Beerenberg raspberry jam, vegemite, crackers, popcorn, and Tim Tams. What more could you want?
The Nespresso coffee machine came with a choice of 2 types of pods, both compostable (big tick of approval). Both were dark-roasted Sourced coffee from Melbourne, one with sweet caramel and almond notes, the other a stronger blend with dark chocolate notes. It was nice to have a choice of flavours, nor was there any stinting on the number of pods available, unlike some hotels that only offer two or three (which for two people doesn't even allow for an afternoon and a morning cuppa each).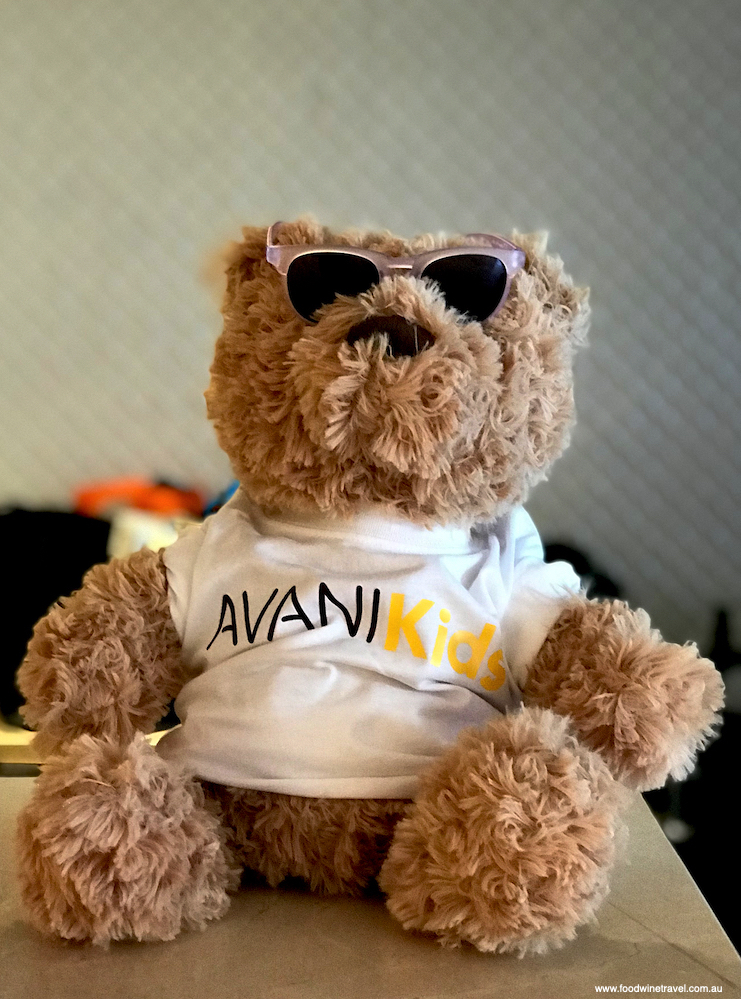 Avani says in its promotional material "It's the details that matter" and there are certainly plenty of thoughtful touches throughout the hotel. In the corner of our living room, there was a yoga mat and an exercise ball, and we could have booked a yoga instructor or personal trainer if we'd felt so inclined.
Guests can borrow a GHD hair straightener from reception, where forgetful travellers can also get hold of a sewing, dental, shaving or kids' colouring kit free of charge. If we'd had littlies with us, we could have also put in a request for a kids' pack with beach towel, bucket and spade, floaties, toys, underwater camera and sunglasses.
For taking in the local sights, a brochure was provided with directions for 5km and 10km routes for running, walking or cycling.
Using your mobile phone, you can scan a Facebook Messenger code on your hotel room key to open up a Facebook chat with a local guide who will give you tips on getting around, things to do, even how to find a hidden gem for coffee or a meal. We didn't trial this service – which can be used anytime, anywhere, providing you have wifi of course – but it sounds like a really handy service, doesn't it?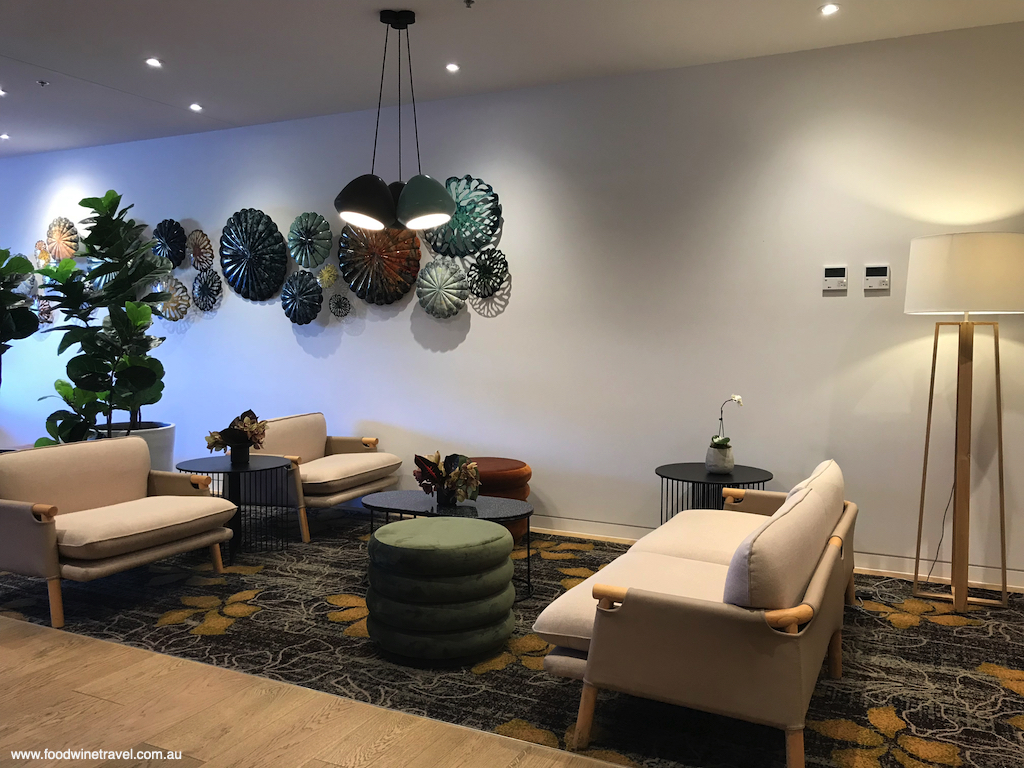 At the opening party, we were told that the essence of the brand is "Sleep, Service, Space, Sustenance". We found that the hotel delivers on all counts. As far as Sustenance goes, Miss Moneypenny's has opened on the ground floor, offering excellent food at remarkably good prices.
For those who don't know, Miss Moneypenny's is a very popular, very cool restaurant/bar in Noosa. It's a terrific fit for Avani and it's great to see this offshoot at Broadbeach. (I wish it would open at Oaks Mon Komo in Redcliffe.) Miss Moneypenny's catered for the Avani Broadbeach's opening party and the food was some of the best cocktail/finger food we've tasted.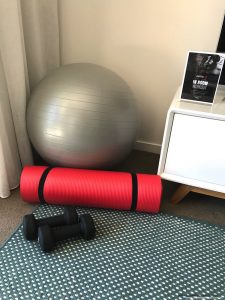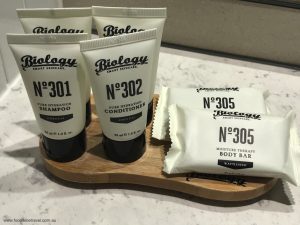 Avani Broadbeach also has a sports bar, gym and a great outdoor area with lounges, barbecues, and 25-metre heated pool. The apartments have free wifi, DVD players and smart TV with free Foxtel.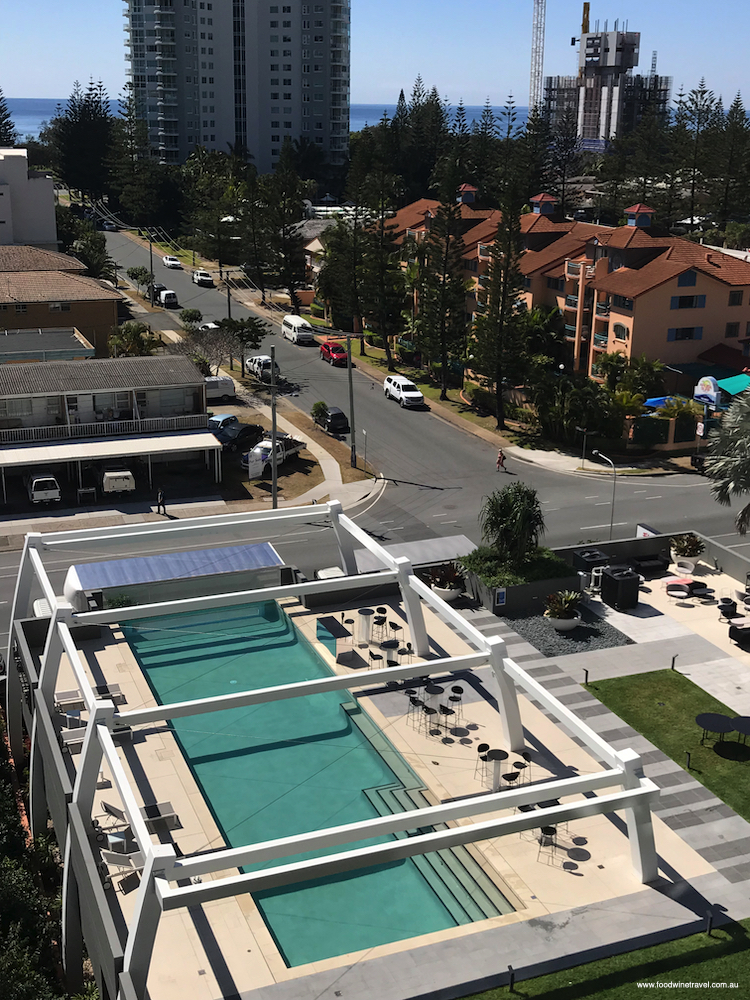 The hotel is a few blocks back from the waterfront but our spacious balcony nevertheless had a good view, down over the pool area and across to the ocean. It's just a few minutes' walk from a G:link light rail station and handy to the Pacific Fair shopping centre (lots of shops and restaurants), The Star (casino, entertainment and some great restaurants), Gold Coast Convention and Exhibition Centre, and the Broadbeach market held at Kurrawa Park on the first third and Sunday of the month.
Parking is available for $15 a night, or $10 per night for stays of 7 nights or more.
If you go:
Avani Broadbeach Gold Coast Residences
2663 Gold Coast Highway
Broadbeach 4218 Qld
Australia
Tel: +61 7 5634 8600
www.avanihotels.com
Christine and Maurie were guests of the Avani Broadbeach. We stayed in room 803.