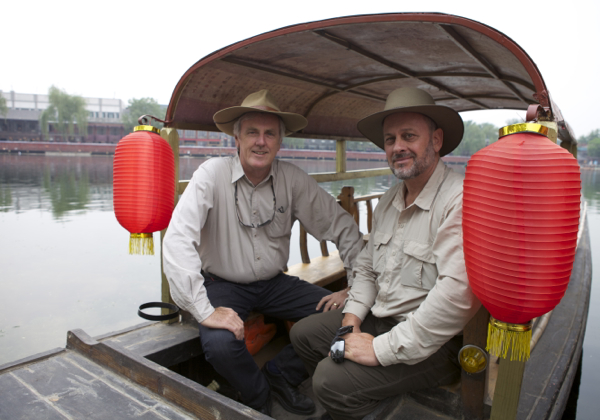 Seven million people in China travel on the Metro every day, but that didn't prevent a traffic jam in 2010 that extended for 100 kilometres and lasted for two weeks. This is just one of the many amazing things discovered by Tim Flannery and John Doyle, who, having roamed around Australia in previous series, decide to see just where all Australia's iron ore is going. Doyle, otherwise known as Rampaging Roy Slaven, and his environmentally friendly mate, Flannery, make an unlikely pair but have now established an easy rapport with each other and a gentle but provocative interview style.
In their 3-episode series, Two Men In China, now available on DVD, the two men visit Beijing, Shanghai and Chengdu and chat to some influential expats as well as some of China's new elite and not so elite. The Chinese have a long view of history and are acutely aware of what they see as an embarrassing period of colonialism. The two men discover a real pride in China's resurgence and progress — one construction worker, who has been working away from his wife and children for some time, tells them that he is happy to do so to for the "fatherland".
Ying and Yang
Being the sort of blokes they are, the two men translate ying and yang into a balance of quirky and serious enquiry. They visit a restaurant serving animal penises as well as facilities saving and protecting bears and pandas. Australia sends a small mountain to China every day resulting in half the world's steel production, but despite the fact that we were one of the first Western nations to establish diplomatic ties with China in 1972, not many Chinese know much about our country. All that has changed now that two enterprising Australians have provided the Chinese with the meat pie, opening a shop in Beijing called Two Guys and a Pie.
In addition to the three episodes that originally screened on the ABC, the DVD has bonus film clips capturing some informative interviews and quirky stories. For anyone thinking about visiting China, this DVD is a great start. Change in China is rapid and relentless and for those who are already familiar with the country, you'll find the different perspectives fascinating and no doubt rekindle the urge to go back again.
The Two Men In China DVD costs $29.99 and is available from ABC Shops and other selected shops.