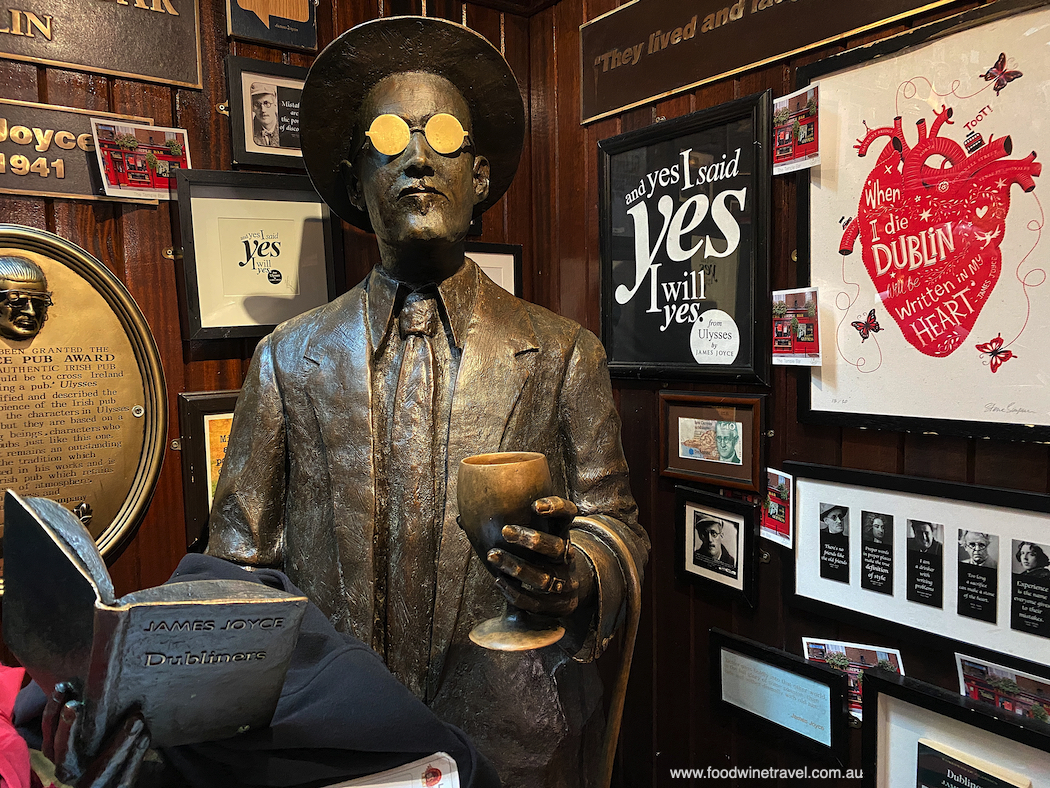 A bloke I met in a pub in Cork told me that in Ireland the weather always gives you something to talk about. It wasn't what started our conversation but we did turn to the weather eventually. What got us started was the music – six musicians who all seemed to be versatile on a number of instruments playing a range of rhythmic traditional tunes. The bloke introduced himself as Mossy and when I told him I had the same name we were fully bonded.
Mossy is the Irish nickname for Maurice, a common name in Ireland courtesy of the French who kept coming to Ireland to help fight the English. Mossy told me that the music at Sin É that night was "nice gentle stuff", with a couple of musicians all the way from Dublin. "It's usually a lot more lively," he said, "but this is really good." And it was. Sin É is one of the best pubs in Cork if you want to hear traditional Irish music in a cosy, quirky atmosphere.  
Eventually we went next door to The Corner House, another great venue for traditional music and friendly people. There, a group of fiddlers were in full swing. It was basically a jam with players coming and going and occasionally launching into some vocals. A great night with music, a pint of Murphys, and some chat.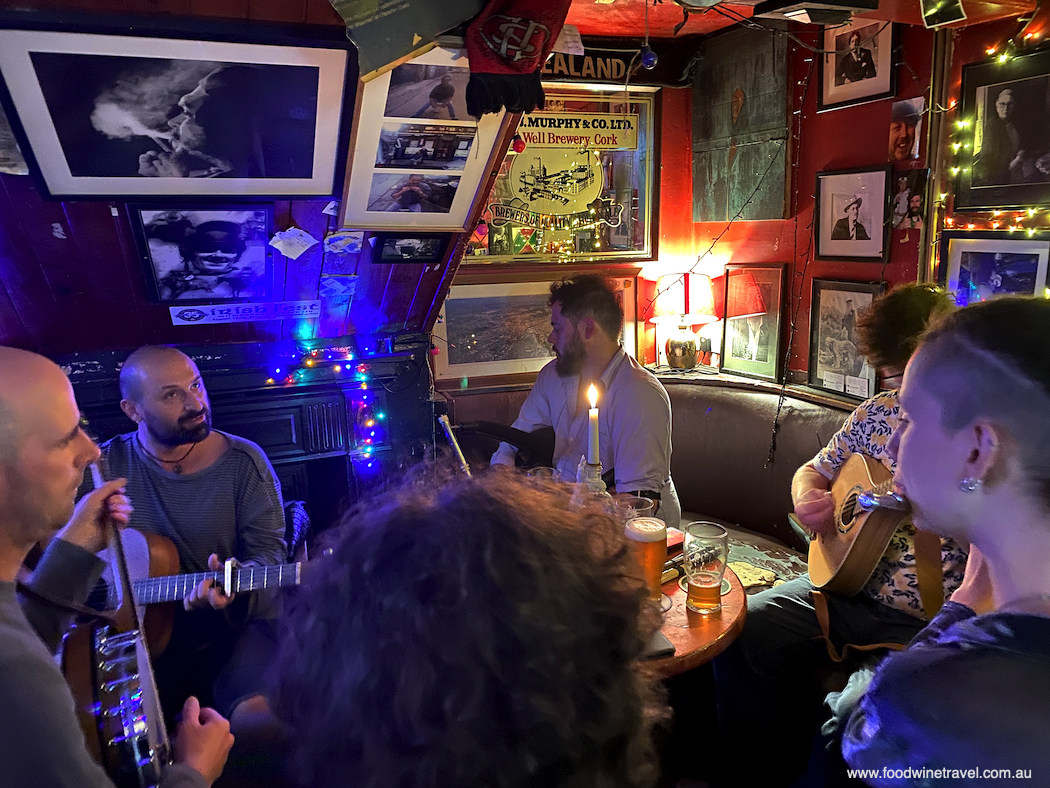 Apart from the weather, my accent is always an opener for a chat. "Are you from Australia or New Zealand?" they invariably ask. Mostly they can't tell the difference, even when you say "fish and chips". When it's established that you're Australian, there's always a relative in Melbourne, Perth, Sydney, Brisbane or wherever, and you're away. It's simply not that hard to start a conversation in Ireland and chat away endlessly.
On the Icon Walk near Temple Bar in Dublin, we met Anthony Carey from the Icon Factory, a non-profit  artists' cooperative and art shop nearby. He came out to talk to us when he saw our interest in the murals and art works along the walls. He told us the history of the walk and the story of artists whose work is featured there. The Icon Walk is a hidden gem in Dublin which essentially captures the story and soul of Ireland along the walls of what was previously a couple of forgotten back alleys known for crime and vandalism. They call it "the greatest story ever strolled".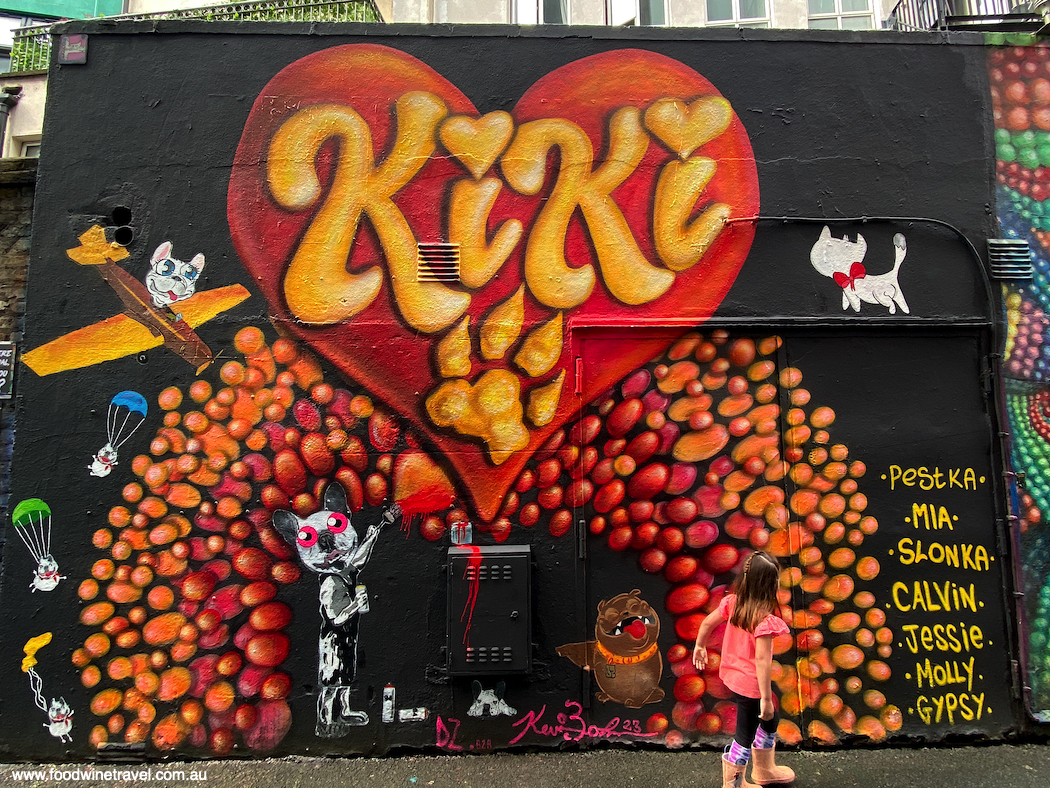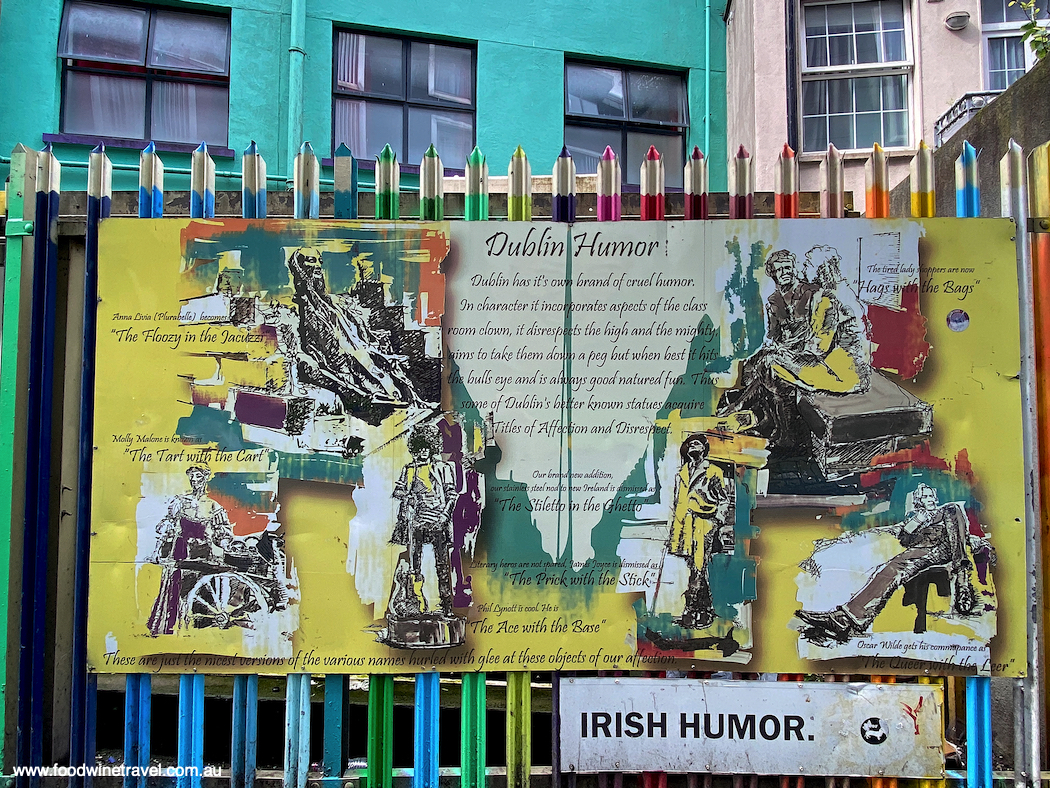 The art and murals feature Ireland's sports people, writers, playwrights, musicians, actors, activists and patriots. It showcases everyone from Luke Kelly, Rory Gallagher, and Father Ted, to Edna O'Brien, James Joyce, and Flann O'Brien. There's wit and wisdom and some typical Dublin irreverence like Molly Malone being referred to as the "tart with the cart". One section highlights Irish women: writers, activists and the often-overlooked women who were prominent in the Easter Uprising. The Icon Walk is a must if visiting Dublin; you mustn't miss the chance to have a chat to Anthony.
Sometimes the conversation starts when you just look at someone and nod, which is what I did in the Heron Café in Fermoy, County Cork. I nodded at the guy on the next table and he told me that the barista didn't come from Fermoy. "How do you know that?" I said. He then told me that there is a distinctive Fermoy accent. He could also tell my accent and let me know that his daughter lives in Australia. When I told him that my great grandfather came from Fermoy, we were away and chatted on over a cappuccino. If you want a good coffee in Ireland, I recommend the Heron Café where you might even get chatting to a local. The owner learnt his trade in Melbourne and his café is near the bridge in Pearse Street.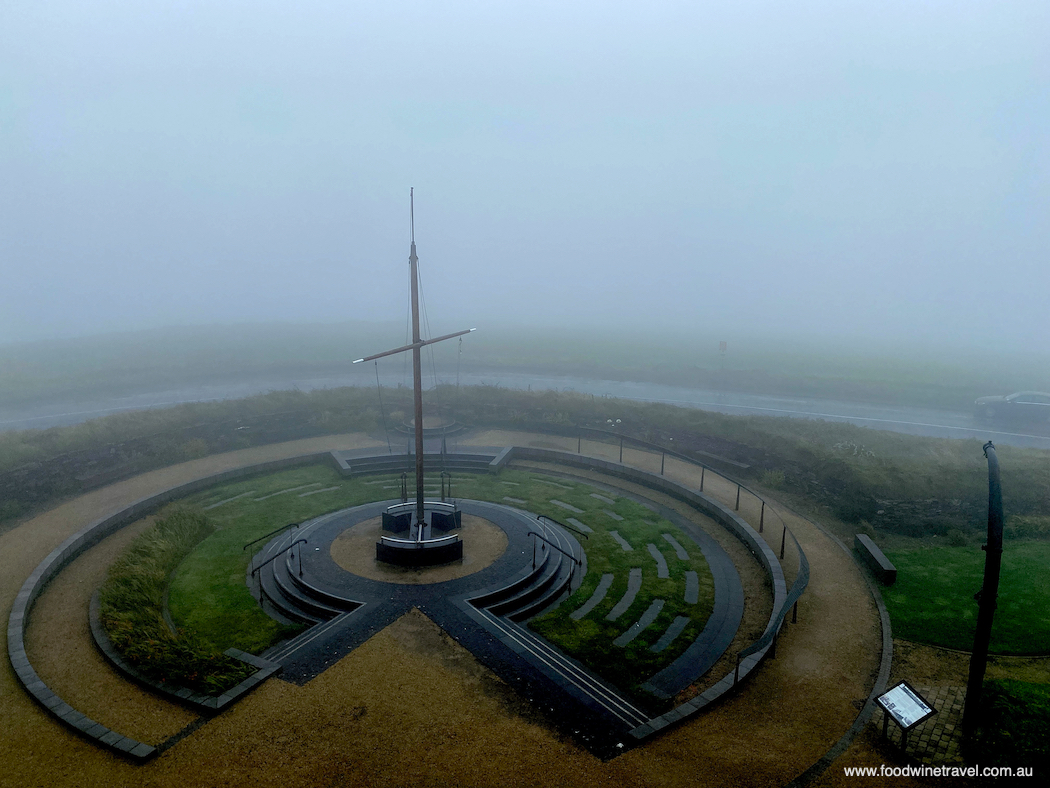 Not far out of Kinsale, County Cork, we visited the Lusitania Museum which is located in the Old Head Signal Tower, built in 1804 and the nearest point to where the Lusitania was torpedoed by a German U-boat and sank in 1915 with the loss of nearly 1,200 lives. The museum is in one of 81 towers that the English built around the coast of Ireland 200 years ago to watch for possible invasion by the French. The round versions of these towers are called Martello Towers and James Joyce one lived in the one at Sandycove near Dublin, which now houses the James Joyce Museum. Sandycove is also the starting point of Leopold Bloom's one day journey across Dublin.
The Lusitania Museum is a fascinating mix of artefacts from the ship, media reports and newsreels and personal stories of the survivors. The original inquiry into the sinking was held in the Old Kinsale Town Hall which is now the Kinsale Museum (also worth a visit). Shannon, who was behind the ticket counter at the Lusitania Museum, was incredibly knowledgeable about the sinking and its aftermath. On realising that we came from Australia, she was up for a long chat too. She had recently done a family history DNA test and discovered that she had Australian connections and so was planning a trip to Australia.
We chatted about Australian places and history, the enthusiasm that she showed about the Lusitania story overflowing into her interest about our country. She told us that on a fine day the view from the top of the tower is panoramic and spectacular. However, it was raining with heavy cloud and mist, giving us something else to chat about. We couldn't see much from the top of the tower, so I'd suggest checking the weather before you go and maybe having a chat with a local to make sure that you get the best from the most southerly point of the Wild Atlantic Way.
In Ireland, it really doesn't matter what the weather is like and where you're from, everyone is up for a chat.
For information about travelling in Ireland, visit:
Tourism Ireland
Pure Cork
Wild Atlantic Way
Book your tours in Ireland through Viator. Please note, we earn a small commission if you click on the Viator link, but you won't pay any extra. It helps us maintain the site so that we can keep bringing you the stories we love.
For more great stories about Ireland, check out our posts here.