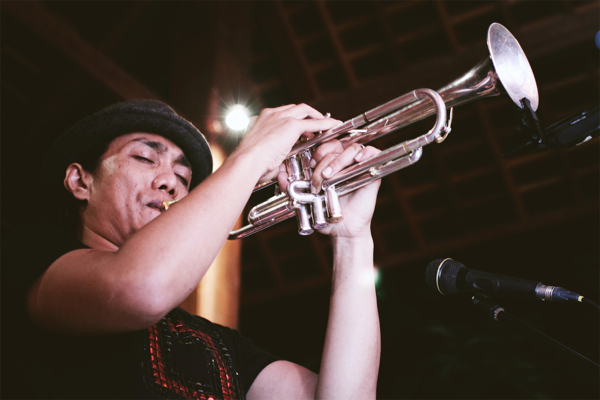 Last year, I had the privilege of meeting Janet De Neefe, the Australian-born cookbook author, restaurateur and driving force behind the Ubud Writers & Readers Festival, now in its 10th year. Janet lives in Bali and has done wonders for putting Ubud on the map and turning its fortunes around.
So it is with great pleasure that I'm agreeing to Janet's request to help publicize the inaugural Ubud Village Jazz Festival. Up to 100 international and Indonesian jazz musicians are expected to converge on the hillside town for the event on August 9 and 10. It will be held in the grounds of the Arma Museum and promises a fantastic program of world-class jazz performed under the stars, from twilight until late.
Destined to become Bali's premier jazz event, invited guests include Peter Beets (Netherlands), Uwe Plath, Dian Pratiwi (Germany), Yokohama Association of Artists (Japan), David Ades (Australia), Balawan, DwikiDharmawan, Listen Dialogue, The Jongens, DiraSugadhi, Yuri Mahatma, Koko Harsoe, Astrid Sulaiman, Rio Sidik, Underground Jazz Movement and Ito Kurdhi.
The festival is the brainchild of Yuri Mahatma, jazz musician and one of the founders of the Bali Jazz Community, and Anom Darsana, of Antida Music Productions. "The idea to hold an international Jazz Festival was born after Serambi Arts Antida, Denpasar, was forced to close in 2012," said Anom, who will direct the festival.
"Since then we have held highly successful Jazz Rendezvous events as a lead-up to this festival. The event is run by those who wish to offer something to Bali but not solely for commercial purposes. We see it as a meaningful way to align the creative industries and tourism in an ongoing sustainable way."
As part of their community commitment, the festival will fly the eco-friendly banner by using only LED lighting, home-made torches, bicycles for musicians to ride to and from venues, recycling bins and a no-plastic bags policy. Food stalls and refreshments will be available, offering many of Ubud's famous culinary specialities.
Photos courtesy of Andika.