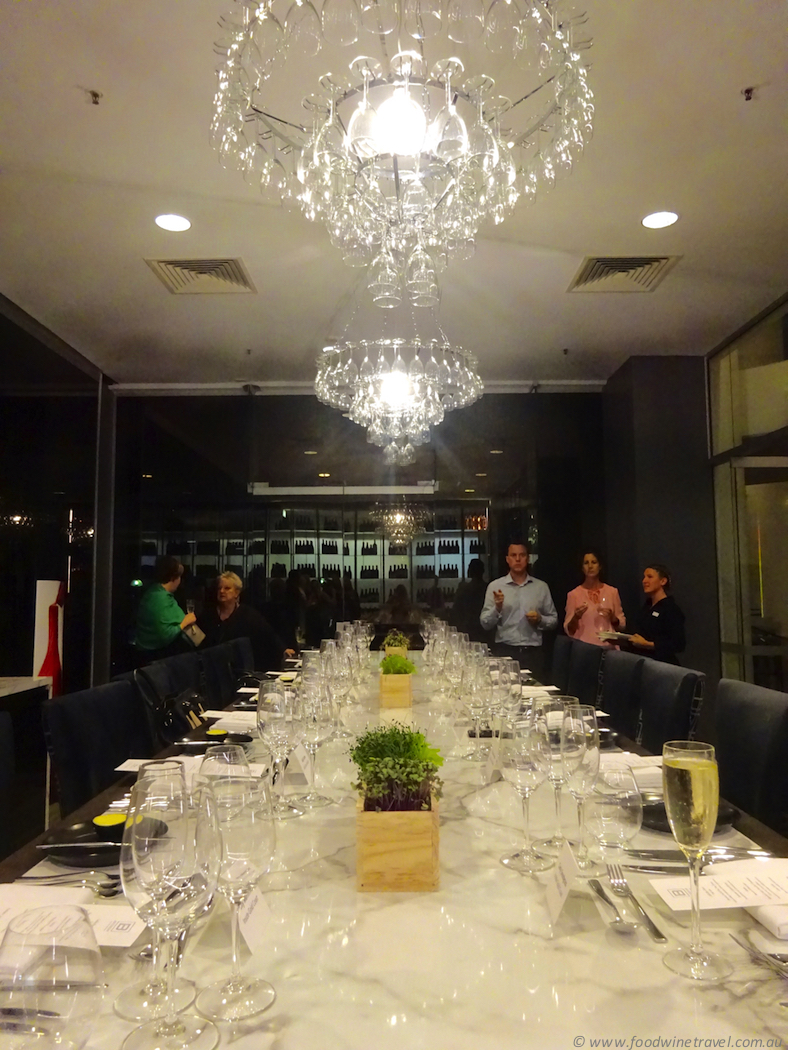 Balthazar is an intimate and elegant new space on the ground floor of the Crowne Plaza Surfers Paradise. It seats just 18 people around a single marble table, with chandeliers overhead and walls of wine specially chosen by the hotel's sommelier, David Stevens-Castro.
The restaurant is available for exclusive use and when it is not being used for one of the degustation menus on offer, it can be enjoyed as a wine bar with tapas, a great opportunity to experience this classy venue. The hotel's general manager, Ian Pirodon, said coming up with the concept of Balthazar was a "cocktail napkin moment".
The venue opened last week with a special dinner showcasing Crowne's degustation menus. What a treat to be there to experience the wonderful line-up of dishes prepared by executive chef Jean-Marc Heussner.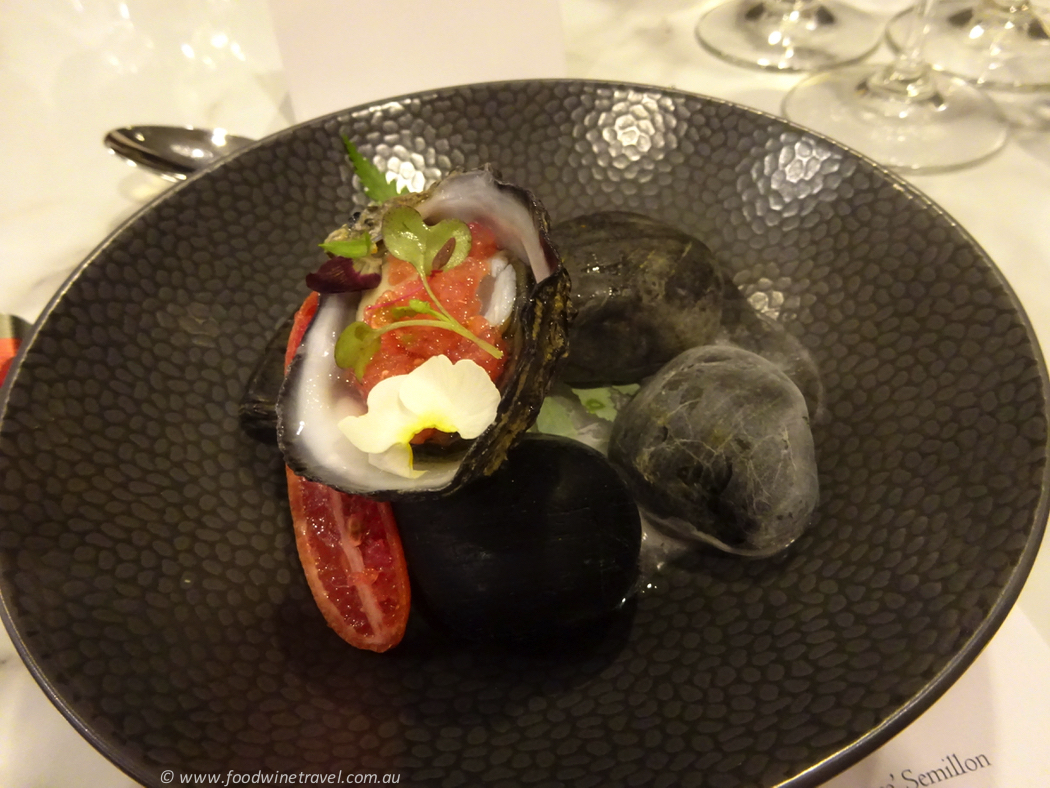 Pirodon described the opening night degustation menu as "French with a Gold Coast twist" and Heussner himself was on hand to introduce each course as it arrived at the table. Hailing from Montargis, south of Paris, Heussner talked about how growing up in France inspired him in his cooking, the smell of his mother cooking rabbit for lunch etched firmly in his memory.
Despite working on the Gold Coast for 25 years, Heussner admits to having a great fondness for French oysters, believing them to be the best. Nevertheless, he has fallen in love with Coffin Bay oysters, which he says are full of flavour and not too salty. His Coffin Bay oyster garnished with finger lime from northern NSW was paired with Penfolds 2012 Cellar Reserve Semillon, a beautiful wine served at a beautiful temperature (not too cold as many whites are, especially in Queensland).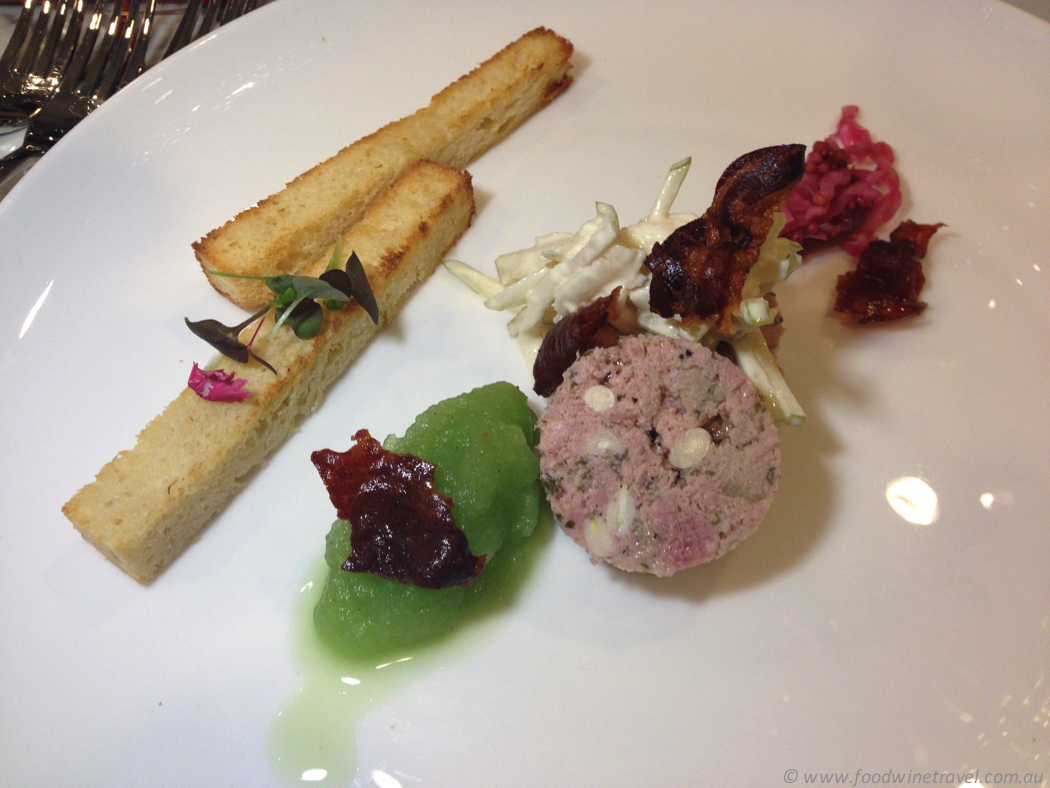 Penfolds' brand ambassador, Adrian Marchioro, selected the wines, drawing on special small-batch wines that are only made in special vintages. "Great Barossa Semillon is something to behold," said Marchioro, and yes, it was, with pristine notes of orange and grapefruit.
Next up was a slice of Pancetta, veal and pine nut terrine with green apple puree, celeriac remoulade, crispy pancetta, and soft toasted brioche on the side. "My father was a hunter and this terrine is my mother's recipe. It's a true story, not a MasterChef story," said Heussner. The terrine was paired with Penfolds 2012 Cellar Reserve Sangiovese, a bright, fruity, aromatic Barossa wine with Maraschino cherry flavours.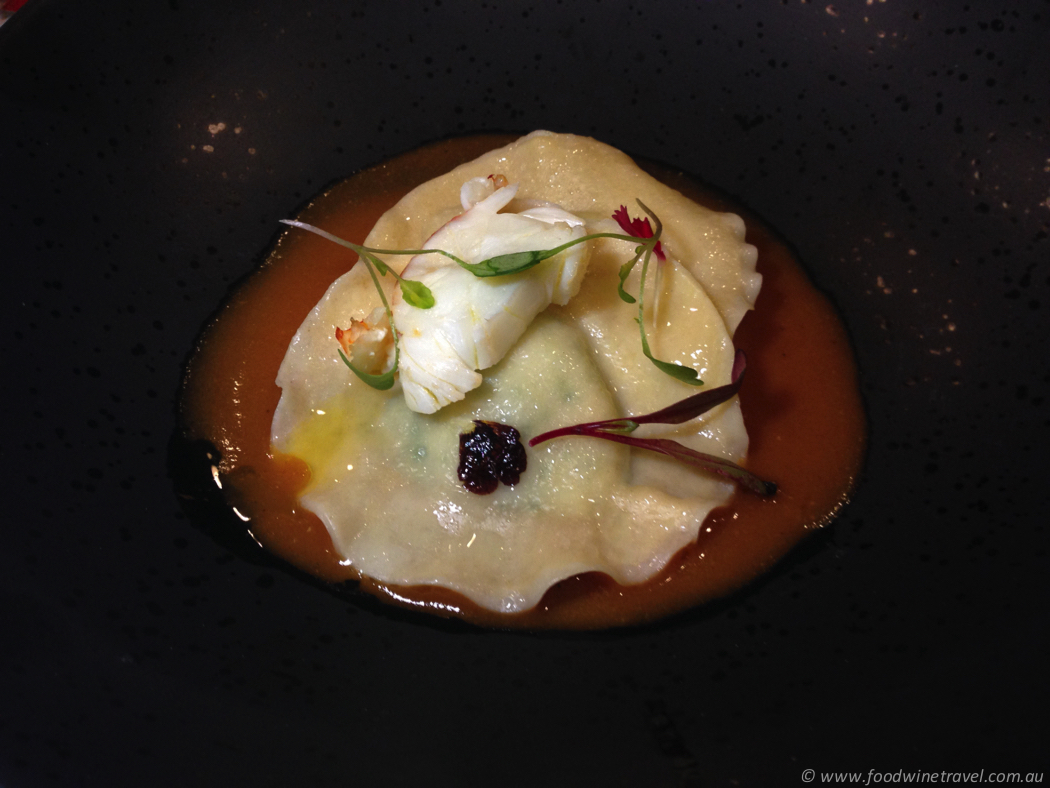 Heussner learnt to cook the next dish, Lobster ravioli with poached lobster tail and Armoricaine sauce, not from his family but while working under a moody three-Michelin-star chef in the Loire Valley. A classic of French cookery, the tomato-based Armoricaine sauce originated in the Côtes-d'Armor region of north-west France.
"It's nothing else but 1 kilo of flour and 10 eggs," said Heussner of the ravioli, but the lobster mousse it is filled with, and the Armoricaine sauce, take it to another level. The Penfolds 2014 Cellar Reserve Pinot Gris it was paired with was delicate and refreshing with lovely ripe pear notes.
"We're seeing a lot of people move from Sauvignon Blanc to Pinot Gris," said Marchioro. "It's such a pretty wine. It has more texture, balance and is definitely more food-friendly than Sauvignon Blanc."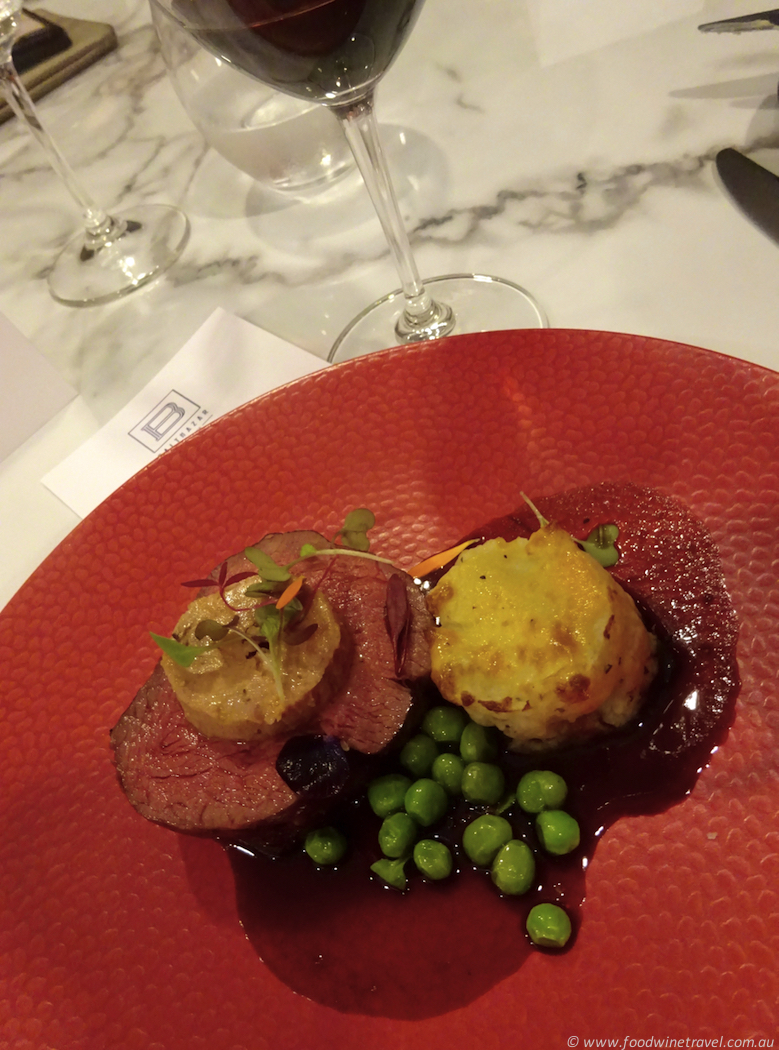 After a palate cleanser of Watercress and black pepper granita, it was on to the highlight of the evening, Beef tenderloin with goose liver, duchesse potato, and green peas "a la Francaise", served with … wait for it … Penfolds 2003 Grange.
The grass-fed meat came from Oakey Farm on the Darling Downs and was served with a double-reduced jus that takes three days to make, the bones being cooked for 24 hours before the addition of shallots, white wine, butter and other ingredients. "It takes 30kg of bones to make 6kg of sauce," said Heussner, who says they always have a pot on the stove in the kitchen.
What to say about the Grange, one of Australia's most prestigious and certainly its most recognized wine? With complex spicy dark fruit, this multi-regional Shiraz has chocolate notes from the Barossa, plum characters from McLaren Vale, mint and eucalypt from Coonawarra, and lavender from Magill – all in one smooth, rich blend. I had one glass, then another, then another. Definitely my lucky day.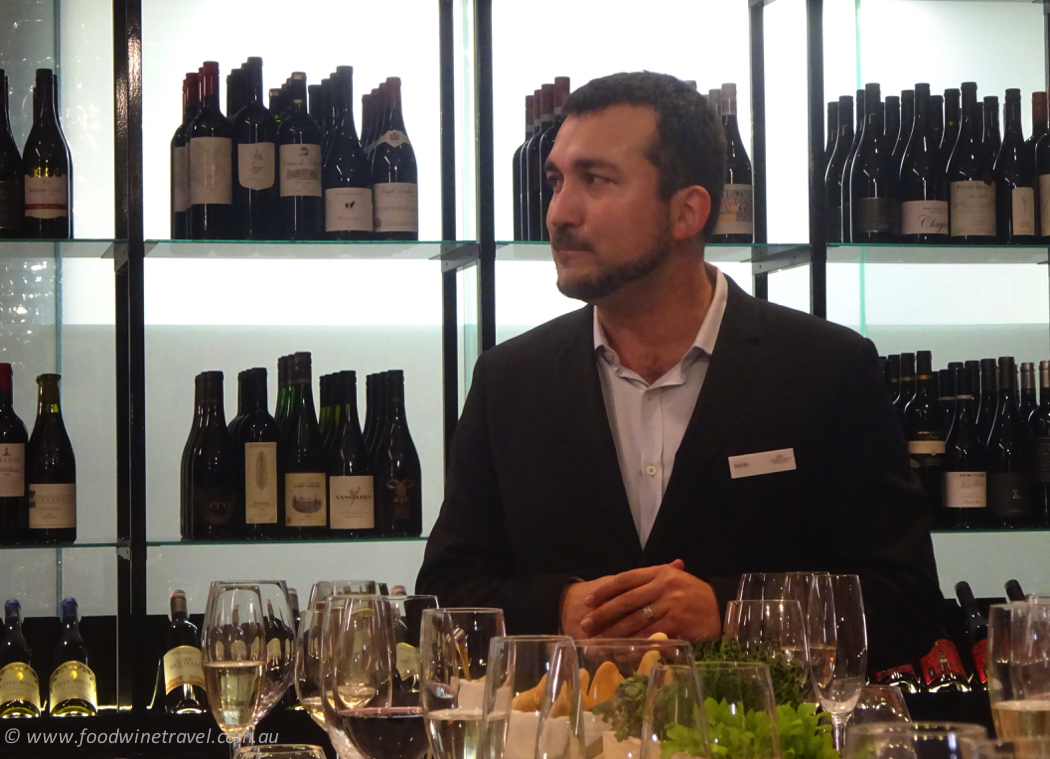 The treats didn't end there, as Penfolds' luscious 2014 Cellar Reserve Viognier was brought out to complement a fabulous shared fruit platter and individual citrus tartlets with lemon thyme syrup and vanilla crème fraiche. This stunning dessert wine has just a teeny amount of residual sugar and lovely apricot, citrus and honey notes.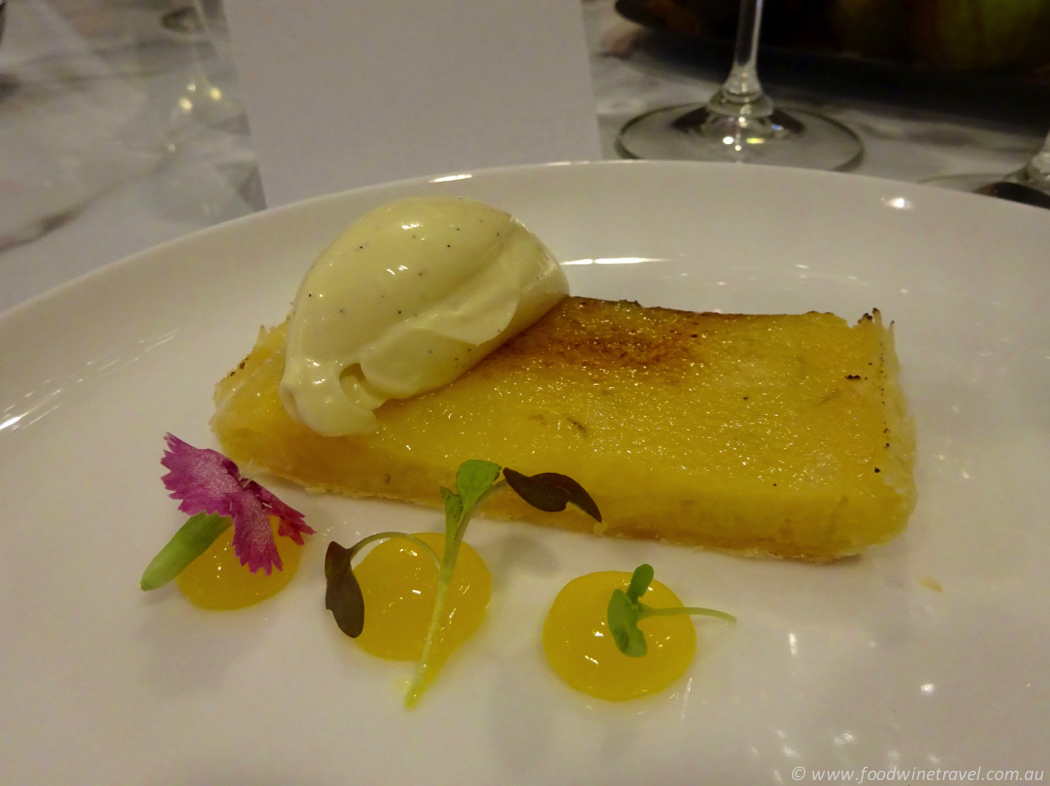 The final treat: dark chocolate and orange, and macadamia milk chocolates, from Queensland's Mayfield Chocolates. The dishes enjoyed on the opening night are an example of the degustation menus on offer in Balthazar. Contemporary Chinese and Australian menus are also available.
With 18 people seated at the communal table in complete privacy from the rest of the hotel, this is the perfect venue for a special celebration, a business dinner or even an intimate wedding. It could be used in conjunction with the hotel's chapel, a popular venue that handles more than 40 weddings a year.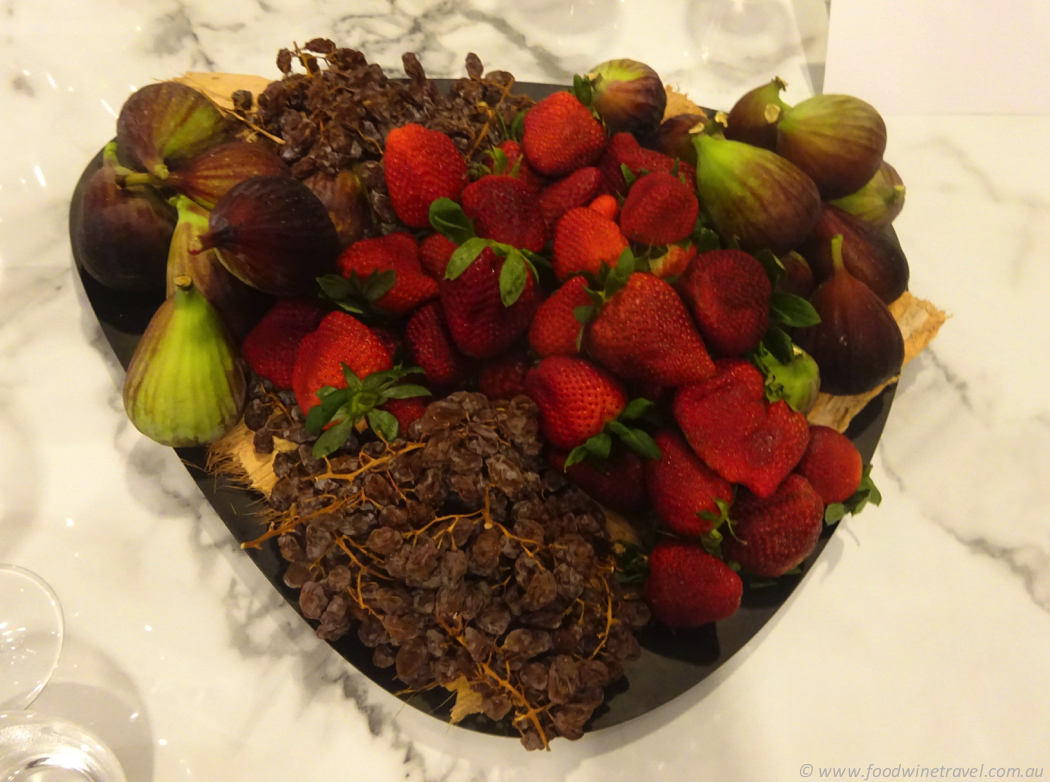 On evenings when Balthazar is not booked, a tapas menu is available. The venue is fully licensed and wine is also available for retail purchase. Looking at the more than 500 labels on the shelves, there are many I'd be happy to pour into my glass – interesting, different choices that you won't readily find in bottle shops.
There aren't many exclusive dining rooms on the Gold Coast and this one offers a sophisticated and private yet warm and inviting experience that is hard to beat.
If you go:
Balthazar
Crowne Plaza Hotel
2807 Gold Coast Highway
Surfers Paradise Qld
Australia
www.crowneplazasurfersparadise.com.au
Tel: + 61 (0)7 5592 9900
With thanks to the Crowne Plaza for hosting me at the opening of Balthazar.