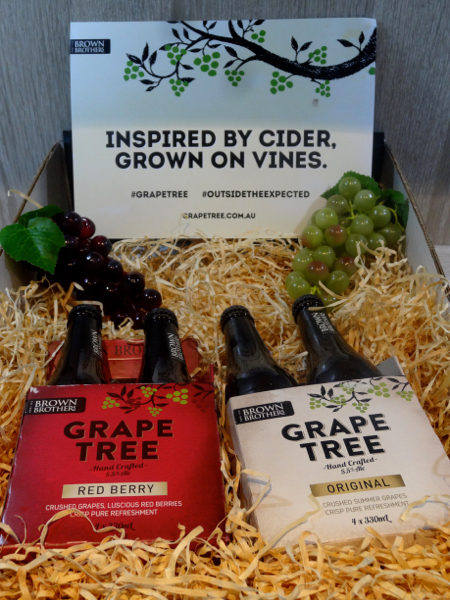 Ever the innovator, Brown Brothers has released two cider-style beverages called Grape Tree, made entirely from grapes. Available in Original and Red Berry, Grape Tree comes in 330ml bottles and sells for around $5 a bottle or $19 for a 4-pack.
The first thing to say is that this is not cider. Brown Brothers says it is "inspired by cider". Regular cider drinkers are encouraged to try it as an alternative to all the apple and pear ciders on the market. Those who aren't keen on cider but who are looking for a non-bloating, not so sweet alternative should also put it to the taste test.
Both beverages are light and easy drinking with a clean, crisp, refreshing taste. They are made from 100% Brown Brothers grapes, with a little bit of the red variety Cienna going into the Red Berry. It's a little sweeter than the Original and actually does taste of berries.
Low in alcohol
The Original is my pick for a light, summer time, day-drinking alternative if you don't want as much alcohol as a glass of wine or as much gas as a beer. Grape Tree is 5.5% ABV, which is similar to most popular ciders, although some are up around the 8 or 9% level.
In the last five years, cider sales in Australia have increased by over 30%, partly as a result of some heavy marketing and tax anomalies, but also reflecting a changing Australian drinking palate. Cider is more popular with under-30 year olds but Grape Tree probably has a market at all demographics, especially when you consider the possibility to match it with summer food. It has an affinity with food that you just don't get with most ciders.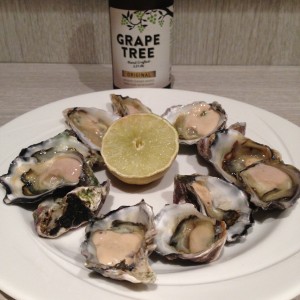 I tried the Original with some Sydney rock oysters and some grilled snapper and will be doing it again – an experience that I'm keen on sharing with others. There is a floral hint to the Original that reminded me of some wines that complement seafood.
I'd suggest that the Red Berry would be a good match with lunchtime meat or pasta dishes and especially something like a Thai beef salad. Enjoy it straight from the bottle, lightly chilled or poured over ice.
I did wonder about the name, Grape Tree. There is in fact such a tree, native to Brazil with large grape-like berries that grow on the trunk. Apparently it has also been grown in North Queensland and I'd be very keen to try the fruit. In the meantime, I'll stick to what Brown Brothers is selling in bottles – made entirely from grapes.