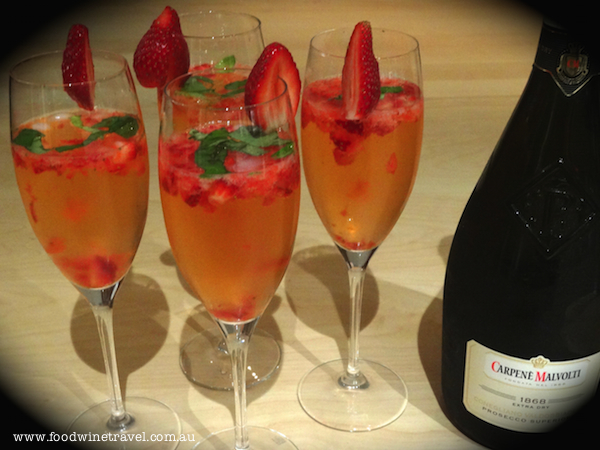 Who loves a celebration? I do, and right now I've got plenty to celebrate. I'm celebrating:
*my new home in sunny Queensland
*my appointment as official blogger for Good Food Month
*how blessed I am to have such a wonderful family and friends
*the beautiful water view I wake up to each day
*the little bird that has just started visiting my balcony
In my view, those are pretty good reasons to pop the cork on a bottle of bubbly. The Prosecco we are celebrating with is from Carpenè Malvolti, an Italian winemaker with a long (140-year) history. We sampled the Prosecco in a truly delicious Strawberry Basil cocktail (I'll share the recipe further down in this post).
The strawberries and the agave nectar in this recipe add a lovely sweetness to the very dry Prosecco. As it just so happens, I recently bought a bottle of agave nectar from Kunara, the fabulous organic marketplace near Nambour, and was keen to give it a whirl. The basil adds another interesting dimension.
Carpenè Malvolti Prosecco from northern Italy represents very good value (a certain big Aussie liquor chain is selling it for under $20). It's aromatic, a little fruity and although it is labelled Extra Dry, it is not as dry as sparkling wines with zero dosage – in fact, it has a somewhat creamy mousse and texture. It goes beautifully with Mediterranean cuisine (funny that!) and it also makes a great base for cocktails, as the recipe below demonstrates.
Another Italian winner in the cocktail stakes is Amaro Montenegro, a liqueur distilled from more than 40 herbs. Sweet with a slightly bitter finish, it can be enjoyed straight, with soda water and lemon rind, hot, or in cocktails.
It's readily available in Australia along with Rosso Antico, a ruby red, lightly fortified bittersweet aperitif made from 32 herbs and spices. Serve it neat or on ice, garnished with lemon or orange, or with tonic, ginger beer, lime or your favourite spirit. It also goes beautifully with Prosecco and some muddled berries.
Food Wine Travel has a gift box containing a bottle of Carpenè Malvolti and a bottle of Rosso Antico to give away to one lucky reader – entering is as easy as sending in your favourite cocktail tip.
STRAWBERRY BASIL SPARKLER
2 strawberries, chopped
2 basil leaves
splash of agave nectar
splash of lemon juice
100ml Prosecco
Muddle the strawberries and the basil in the agave and lemon juice. Add the Prosecco with ice and gently fold. You could strain the contents into a Champagne flute but I didn't bother. Garnish with a slice of strawberry on the rim.
Related post: Win some Italian bubbles!