Food.Wine.Travel is delighted to be chosen as an official blogger for:

"Go to your cupboard and get out your fat clothes," warns the event manager of Good Food Month in Brisbane, Natascha Mirosch. Yes, folks, the event that has won the hearts (or should that be bellies?) of Sydney and Melbourne foodies has arrived in Brisbane for the first time.
Like Good Food Month, I'm a newcomer to Brisbane. Personally, I think my timing couldn't have been better. There's a whole feast of events to experience and I can't wait to see how the city shines during this month-long celebration of local restaurants, cafés, bars and producers.
Am I ready for a month of eating, drinking, cooking and learning? You bet! There'll be parties and pop-ups, bar hops, special lunches and dinners. One of the events I'm most looking forward to is An Afternoon With The Stars on July 13, when Brisbane chef Ryan Squires (Esquire) will team up with Peter Gilmore (Quay, Sydney) and Andrew McConnell (Cutler and Co, Melbourne) for an afternoon masterclass.
An Afternoon With The Stars
"The three together will be magical," said Natascha, adding that the Good Food Month program has been designed so that there is something for everyone who loves food. You might have to get in quick though – some events have already sold out.
That's not surprising judging by the vibe at Kwan Brothers for last night's launch. This cool new bar in the Valley was shoulder to shoulder with folk who had come to party! If you haven't been to Kwan Brothers, let's just say it is reminiscent of a Singapore hawker market, Hong Kong night market, Bangkok street cart and Tokyo izakaya all rolled into one, with some pop culture bling thrown into the mix.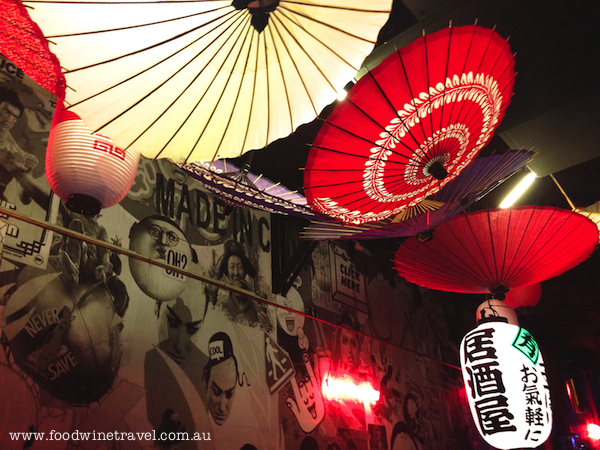 It serves small plates, platters and share food, and we got a taste of the menu last night with a selection of pan-Asian flavours including spring rolls, fried chicken, noodles boxes and scrumptious pork belly bao. Kwan Brothers is one of the venues in the Good Food Month Supper Club, offering ginger tiger prawns, crispy green rice flakes and nahm jim from 9pm ($16.90).

The music last night was loud … too loud actually. I could barely hear my host, Franziska McCarthy, marketing and communications manager of Cathay Pacific Australia, telling me all about the great work the airline is doing with its menus (right down to handmade noodles in the airport lounges and freshly prepared noodles on board – how awesome is that?)

Although I'm new to Brisbane, I'm not new to Good Food Month as I attended some events in Sydney in 2012, where Antonio Carluccio told naughty jokes and where I saw first hand how the Night Noodle Markets really rock. I can't wait to see the Night Noodle Markets at South Bank from July 17 to 27, and it's exciting that some leading restaurants from southern states, including Longrain and Mamak, will be at the Brisbane event.

"It's all about the Fairfax food love," said the editor of The Sydney Morning Herald Good Food Guide and festival director, Joanna Savill, who introduced me to Sarah Mandelson, CEO of Serendipity Ice Cream. I had no idea that Serendipity was started by Sarah's mother 48 years ago, at a time when good icecream was almost unheard of in this country. A regular stallholder at the Sydney Night Noodle Markets, she'll be bringing some of the more popular Serendipity flavours to the Brisbane Noodle Markets.

I also had the pleasure of chatting to Jake Harrison, who together with his sister Elle was a finalist in the 2013 series of My Kitchen Rules. Jake and Elle have the very popular Chitty Banh Banh stall at Eat Street Markets and we can look forward to more of their food at the Night Noodle Markets.

I'm thrilled to be chosen as an official blogger for Good Food Month and, like everyone else, am keenly awaiting the launch of the Brisbane Times' Good Food Guide on Monday night. Who'll pick up a hat and who will lose one? Follow my posts (subscribe over in the top right column!) and join me for this delicious feast.

To download the Good Food Month program, go to www.goodfoodmonth.com

You might also enjoy: Good Food Guide 2014; Good Food Month Preview; Night Noodle Markets; Meeting Ferran Adria; Gerard's Bistro: A Winning Formula; Vintaged Bar + Grill; Hats Off dinner @ Malt Dining; Champagne High Tea @ Customs House;