Thinking about date night this weekend? Lost for a Father's Day present for your dad who 'doesn't want anything'? Don't worry, I have you covered.
For those who like to finish a meal on a sweet note, how about beginning on one as well? Life is short, isn't it? So let's order dessert first!
Head chef of Bacchus Southbank, Mark Penna, says: "Life is uncertain, therefore always opt for the Dessert Degustation, it's five times as sweet." I adore a degustation, a word used by the French to mean 'taste carefully' – and the one at Bacchus is no exception.
Before the courses actually start, we're treated with chocolate cigars and homemade marshmallow rolled in coconut. Plus, delicious beignet-type treats with a subtle hint of citrus, covered in fine sugar and accompanied by a creamy condiment for dipping.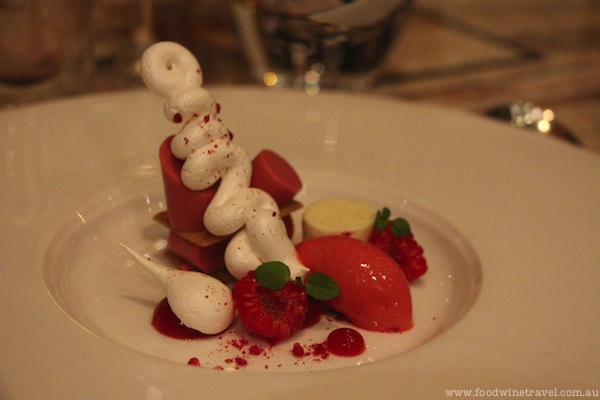 For the main menu, out comes a deconstructed raspberry pannacotta with fresh and freeze dried raspberries, vanilla cheese cake and a deep pink, fruity sorbet. A touch of white pepper balances out the mild bitterness of the raspberry. Sablé lies between panna cotta bites, adding texture to the dish.
For an additional $20, each course can be paired with an expertly matched vino.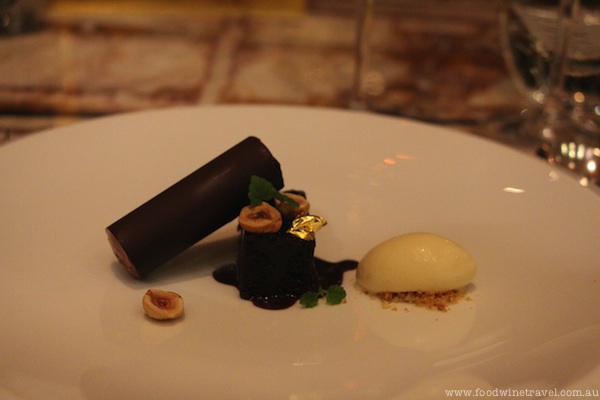 Next up we have a micro-brownie, with micro mint next to.. regular sized hazelnuts. The chocolate conduit is filled with a delectable hazelnut mousse – is there anything nicer than cracking perfectly tempered chocolate to reveal a smooth creamy filling?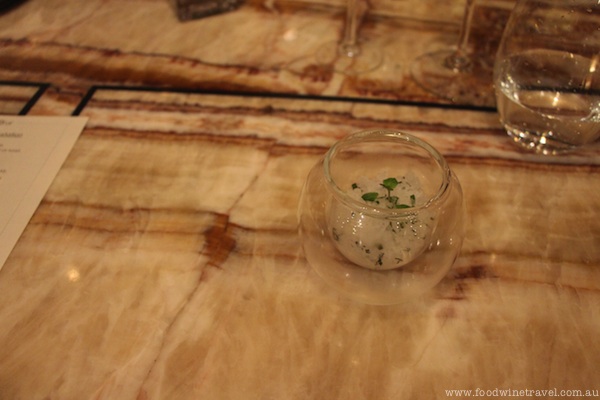 Switching gears, out comes a mid-course palate cleanser. Cooling and fresh, with light notes of lemon and lime and a sprinkle of mint, I'm ready to continue the feast.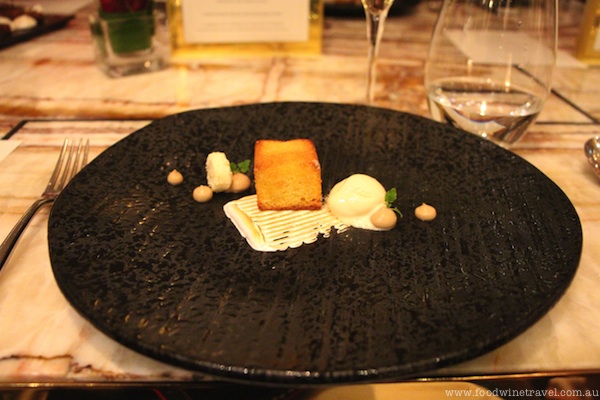 Now we have crispy, sticky, toasted polenta. A favourite of the table, this dish aims to please. With scorched almonds and toasted meringue brushing the plate, it's easy to see how.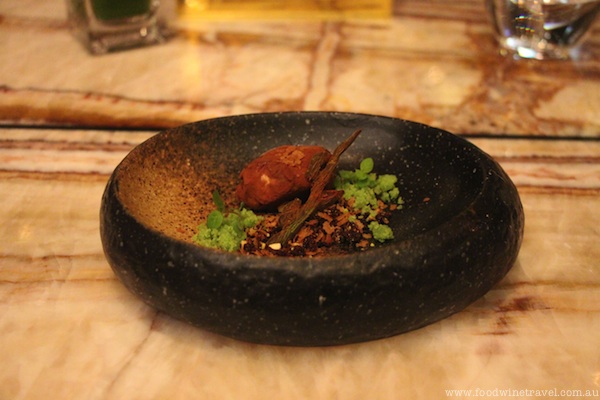 Surprise! We're treated to a walk in the park. Okay, this doesn't count towards the actual walk in the park I will have to take after this meal, but I'll take it.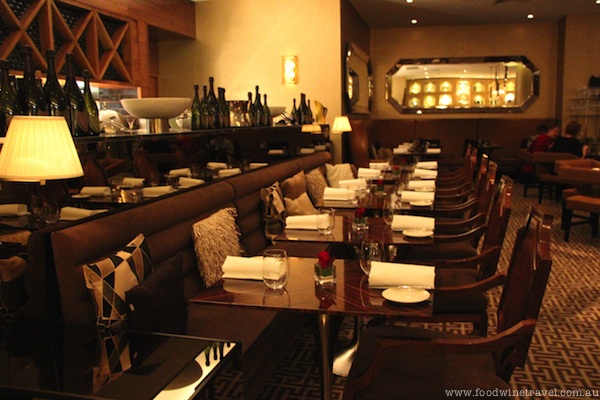 The chef asks us to close our eyes and imagine rummaging through thick forestation. Feel the crunch of the praline, like rocks beneath feet, the snap of the branch hand painted with edible dye, the rock, a salted caramel ice cream rolled in chocolate dirt.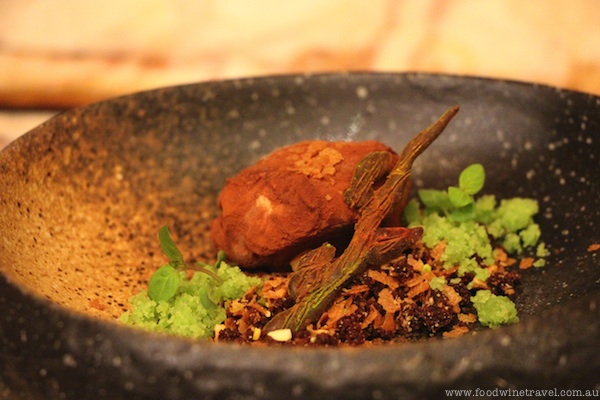 Greenery is added in the form of pistachio cake and micro herb. This is not a dish you can pre-make, each one skilfully handmade and plated right before serving.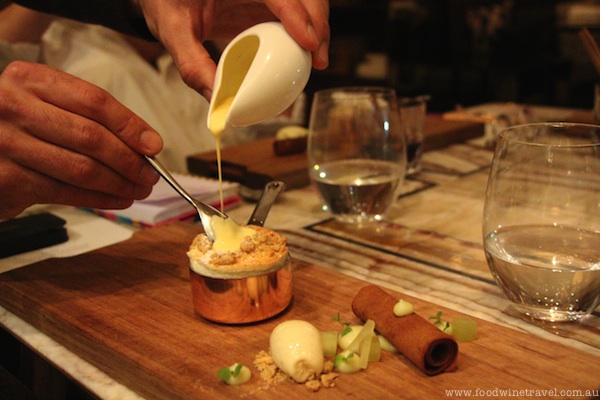 Our Head Chef hand delivers the next dish. He carefully punctures the soufflé, and pours a warm cinnamon crème anlgaise inside. The apple crumble soufflé, paired perfectly with a vanilla bean ice cream and simulated cinnamon quill, is a warm delight.
We learn that the cubed apple on the side has been cryovaced, a process in which food is sealed and cooked in airtight plastic which gives it a really unique taste and texture. Head Chef Mark isn't one for chem-cooking, he says, but merely a slight introduction of molecular gastronomy.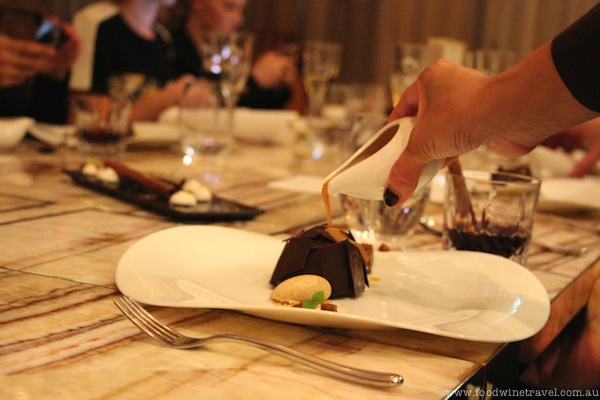 The last course of the evening is a not-your-average sticky date pudding. Guarded by a perfectly tempered chocolate fortress marked 'B' for Bacchus, the pud is warm on the inside and so am I.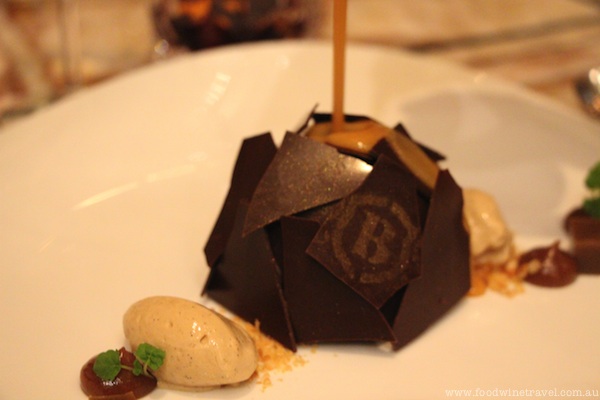 Complemented by a prune and Armagnac ice cream, this is the perfect note to end on.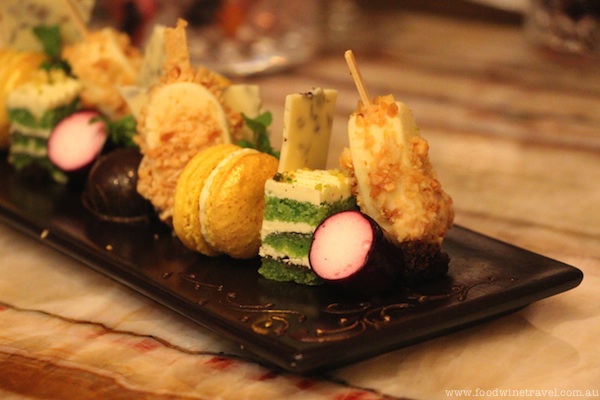 To finish, a selection of petite-fours, which included Pastry Chef Tammy Cole's own creation of handmade, miniature Golden Gaytimes. Gold leaf adorns mini macarons, mouth-wateringly moist marshmallows resemble radish and chocolate truffles – all trying to find room in the tummies of happy diners.
My favourite? The white chocolate shards, sprinkled with toasted fennel – a truly magical combination.
Whatever you do, do not let guilt ruin the experience. After all, dessert is good for you! This is happiness, rolled in a bit of delicious, dipped in lip-smacking crunch. Put this on your to-do list this weekend and at least you'll get one thing done.
Crafted by Head Chef Mark Penna with 26-year-old Pastry Chef Tammy Cole, the five-course Bacchus Dessert Degustation ($49pp) is a treat. Enjoy after a meal, as a late supper or like me – on its own, in all its glory.
Fact file:
Bacchus Restaurant
Podium level, Rydges Southbank
Corner of Great and Glenelg Streets, Brisbane, Australia
Details: www.bacchussouthbank.com.au
Alise was a guest of Rydges Southbank.