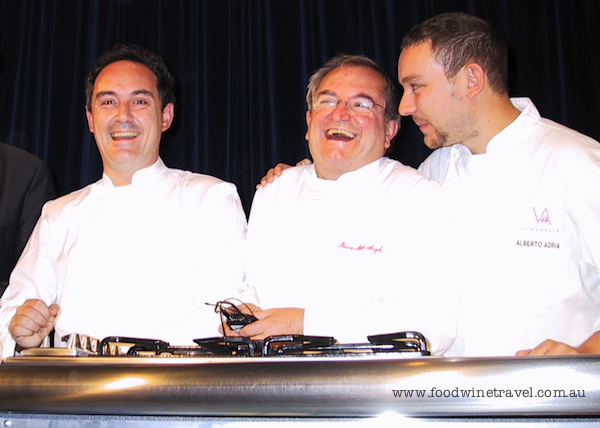 Pictured from left: Ferran Adrià, Juan-Mari Arzak, Alberto Adrià at Tasting Australia, Adelaide 2001.
This article originally appeared in The Canberra Times Food & Wine in November 2001.
© Christine Salins
Imagine a dish made from nothing but water and a little gelatine. Impossible? Not when you see Spanish chef Ferran Adrià work his magic. He demonstrates how water can be used to produce an entire dessert comprised of granita, a dollop of mousse, a solid mousse square, shavings of ice on top, and sauce around the edge of the plate.
At his guest appearance at Tasting Australia in Adelaide, he drew gasps of breath from seasoned chefs and food writers who thought they had seen it all until they encountered his strawberry in a 'ravioli' wrapping made from nothing more than water and gelatine.
Not that Adrià would actually serve a dish like this, although given his propensity for surprise one wouldn't put it past him. The demonstration is aimed at putting our imagination to work, so we can see that by using different techniques, there are numerous possibilities from the one starting point. The same exercise could have been applied to fruit juice, truffle oil or whatever.
He's been called everything from a mad scientist to the "best cook on the planet" (the latter by none other than French chef Joel Robuchon) but there is no doubt that Adrià has tongues wagging.
His elBulli restaurant in northern Spain not only carries three Michelin stars but it draws a steady stream of the world's leading chefs – Paul Bocuse and Charlie Trotter are among those who have made the pilgrimage. Time magazine hailed him as one of six culinary innovators for the new millennium.
Serious diners book up to a year in advance and pay upwards of $A200 to eat in what is, by all accounts, an unremarkable looking restaurant reached by a mountainous road that winds about 160 km north of Barcelona.
'The Bulldog'
The restaurant has been there for 47 years, named elBulli (or "the bulldog") by its first owner who was fond of bulldogs. Adrià was 20 years old when he went to work there 19 years ago, after doing his military service in the kitchen and beginning his career washing dishes.
He was appointed chef two years later but his enthusiasm and the million-dollar view were not enough to pull in the crowds. "It was an empty restaurant for almost 10 years because no one understood what they were doing," said Juan-Mari Arzak, Adrià's friend and fellow chef who joined him at Tasting Australia.
The two are an unlikely pair, the older Arzak a third-generation restaurateur whose Arzak restaurant in San Sebastian has been in the family for 125 years. They come from two vastly different regions, Adrià from Catalonia, Arzak from the Basque country, but they share an avant-garde approach to food that sustains a deep friendship. Adrià admits they should be fierce competitors but they've learnt it's better to be united.
'There are hundreds of Spanish chefs doing some of the most wonderful imaginative things (but) Juan-Mari is the most avant-garde in Spain and in the world."
Adrià admires Arzak's passion: "He is capable of coming to your door at 4am to talk about food." Arzak returns the praise. "I can only say that I also love him. We're very good friends. In music terms, I would be heavy metal and Ferran would be an old rocker."
Arzak's restaurant is located in the house his great-grandfather built and while he admits that it has "bad access and is not particularly beautiful", he has a strong tradition to protect. "I've had plenty of opportunity to change to much better locations but those walls have something special."
The food, on the other hand, is all about change as Arzak takes classic dishes and deconstructs them. Some have evolved since the 1970s to the point where they bear almost no resemblance to the original dish, only the ingredients providing continuity with the past.
Classic dishes deconstructed
One of the most important dishes in Basque cuisine, for example, is baby squid, available only from July to September and fished one by one so that they don't release their precious black ink.
In 1975 – Arzak is meticulous in noting the dates of such changes – he began serving the dish with a black ink sauce poured around the squid. Today, the squid has a black crust, made by mixing gelatine into the black ink sauce, and a broth is poured on top as it is served. The heat from the broth dissolves the gelatine, giving some jus to the dish.
"We call it mutant soup because the colour changes from black to red when the source is poured," says Arzak. "Cooking should be fun. You can do things to the food which change the presentation without ever changing the flavour."
Another traditional Basque dish, hake with clams, also took on a new twist in 1975, when Arzak came up with a dish of hake with olive oil, preparing a dressing in a separate bowl and allowing it to macerate, before garnishing the dish with deep-fried vegetables.
"I believe food texture and acidity are very important. I like this dish to be crusty and crispy," he says.
Three years ago, it assumed its present form, hake with leek ash, a dish inspired by a visit to the Yucatan Peninsula in Mexico. "They were burning capsicums to peel and dry out and would crush it in a mortar and pestle to make a paste."
On his return to San Sebastian, Arzak substituted leeks for the capsicum, burning them until they form an ash, then making a vinaigrette sauce with olive oil and infusing it with the leeks and a little cider vinegar. Arzak also enhances hake using a powder made from Iberian ham, while for tuna fish he incorporates some peanut powder into the salt he uses to season the dish.
"I play around with seafood and sometimes add a little licorice flavour which enhances the seafood flavour, but it's very important not to overpower the flavour of the original. There has to be a balance and an equilibrium."
Arzak is delighted that his daughter, Elena, who he describes as "the winning number in my life", is continuing his work: "I've been really lucky that she'll carry on the business."
Solid friendship
The first time he dined at Adrià's elBulli restaurant, Arzak couldn't understand a thing but he realised there was "something good behind it". Now their friendship is such that he admits to having taken ideas from Adrià and consulted him when he needed help.
For his part, Adrià installed a new high-tech kitchen and gradually saw his customer levels increasing. Remarkably, he now has a team of 35 chefs working for him, although elBulli only seats around 50 diners. "If you want good food, you need a lot of chefs to feed them," he says.
Located in a resort area about one hour south of the French border, elBulli only opens between April and September, and since last year, for dinner only. Adrià uses the winter months to experiment in his Barcelona "laboratory" – "It's a normal thing with other métiers so why not with food?"
Adrià likes to incorporate the four basic tastes – sweet, salty, bitter and acid – into each dish and believes that smell is the "most forgotten sense in today's food".
"You can have a food with flat tastes or a food with ups and downs. The sixth sense is what plays a big role in creative cuisine." Adrià says creators are not inventors, "they are people who see things".
"Thousands of people had done aspic with agar agar but until 1998, no-one realised that if you heated agar agar to 70 degrees it wouldn't melt."
In 1998, Adrià realised that warm gelatine offered potentially thousands of applications and began using it, his revolutionary approach creating a ripple effect around the world. The most obvious use, he says, was for thickening jus without affecting the flavour. Thickening truffle jus, for example, would normally have required the addition of butter or cream, but "these would diminish the jus. By adding the agar agar, it is 99.5 per cent pure truffle jus".
Applying the technique further, he takes a chicken or beef consommé, jellies it with agar agar and when it is set, cuts it into strips to make tagliatelli-style "pasta".
"A technique like this one completely changes the approach of a chef," says Adrià, adding that it is very important for the media to note the date it occurred. He says it is not important who did it first – in fact, his aunt made a consomme jelly before he did. What IS important is how it opens up whole new avenues of cooking.
Chronicle of change
Adrià is planning three books on the elBulli story, each of which will be "chronologically dated … a history of the technical concepts that have made the evolution of elBulli cuisine possible".
"The warm consommé was a revolution," says Arzak, who with Adrià's blessing, took the idea and applied it to grapefruit and strawberry to make an interesting "sushi".
"I could have kept it a secret for a long time but I only have praise for this technique, so I was happy to share it," says Adrià.
In another simple, yet revolutionary approach, Adrià came up with a technique for making foams and mousses that preserve the pure flavour of the food. The technique was inspired by seeing the foam floating on top of a glass of fresh fruit juice and realising that it was the best flavoured foam he had tasted in his life. "Over two years it became an obsession," he said. "How could we make a mousse that was the pure flavour, without the butter?"
The gift of a nitrous oxide canister intended for whipping cream provided the solution. He put it to use making foams, using everything from coconut milk to strawberry and raspberry purees, parmesan (infused in a little cream and kept warm by placing the siphon in hot water) and warm mayonnaise ("magic" on top of asparagus, says Adrià).
He came up with the foam technique in 1994 and by 1998, it had evolved into a warm mousse, made with the addition of a little gelatine.
"This doesn't mean we've stopped using a traditional mousse in our restaurant. It's just another option. When I first started doing it in 1994, everyone was saying we were crazy, it was bullshit, it wouldn't work. In 2001, there are thousands of chefs using the foam technique."
Gelatine gets a good workout in Adrià's kitchen, and he also uses it to create the effect of a "cloud" of soy sauce, something he expects will soon be widely copied. Adrià loves soy sauce but although he enjoys tempura dipped in it, he "always thought it would be nice to have soy sauce with a texture of meringue". He whips it with a kitchen mixer until it forms an emulsion, using a little gelatine and water to hold its shape.
Adrià says it is no longer necessary to use expensive ingredients to impress diners. "The first rule of creativity if being able to surprise your customers."
That he does, taking a piece of cuttlefish, slicing it very thinly in a machine and folding it ravioli-like over ice cubes made from coconut milk. The cuttlefish is hardened under a salamander, and when the diner takes a bite, it explodes in a burst of coconut and ginger.
Cauliflower is transformed into "couscous" by grating it, adding some spices and frying it. Soy bean sprouts are cut into tiny pieces to make "rice". "It's not better than rice but it's a different way." The rice then becomes a risotto, with the chopped sprouts mixed into a Milanese sauce made from shallots, white wine, saffron and consommé.
Not surprisingly, not everyone enjoys Adrià's food, although invariably they are astonished by it. Some diners feel challenged by it, as though he is experimenting with their tastebuds. At the Tasting Australia demonstration, one professional privately questioned why anyone would "go to all that trouble to achieve the same taste in a different form?"
All that matters is the magic
But for Adrià, all that matters is the magic. "Once you've finished dinner, has it been magical? Yes or no? Those who say no will probably never come back again."
Both Adrià and Arzak have other interests, including catering businesses, which provide them with the means to be purists in the kitchen. Adrià has produced a range of aromatic olive oils in collaboration with Spanish company Borges. These are being sold to Australian restaurants and if successful, will probably be launched on to the consumer market.
Adrià says his recipe for innovation starts with the information he gathers from travelling, tasting and reading. During their visit, their first to Australia, the pair travelled to the Red Ochre nursery in the Riverland to sample native Australian foods such as lemon myrtle, quandong and wattle seed. Excited by what they found, there was immediately talk of plants being sent to Spain and orders of fresh fruits in season. One can scarcely imagine what dishes this extraordinary duo will be inspired to produce as a result.