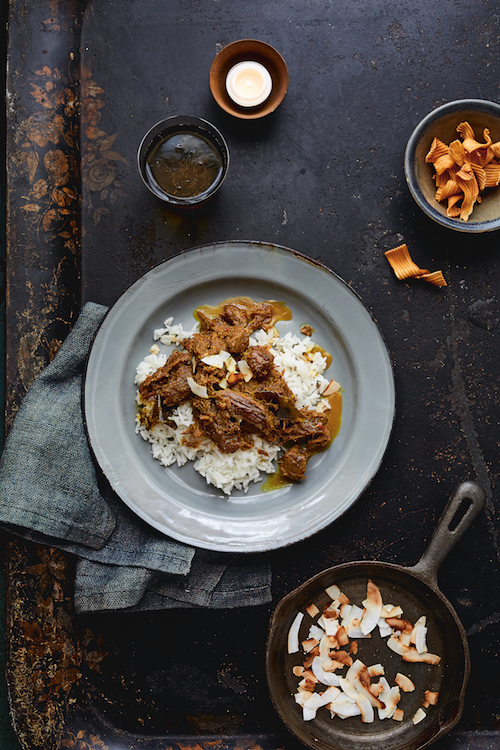 "For a land that was once the beating heart of the spice trade, it is curious that Indonesian food is characterised by its freshness," writes Eleanor Ford in her new book, Fire Islands, published by Murdoch Books.
"Rather than relying on dried spices, fresh ingredients are pounded to spice pastes known as bumbu to unlock exotic, vibrant flavours. Ginger, galangal, red chillies, coconut, tamarind, treacly palm sugar, shrimp paste, lemongrass, smoky fermented soy sauce, turmeric root, peanuts, garlic – these are the Indonesian culinary backbone. There is heat, complexity, richness and savoury piquancy."
Ford is a London food writer whose work draws on exotic, far-flung destinations (her first book was Samarkand). She writes with authority on the Indonesian archipelago, having grown up there as the daughter of an architect who designed hotels in Bali and Java. Ford moved back to Indonesia with her own young family many years later, and as a lover of Indonesian food and having travelled the country extensively, is well-equipped to offer a personal, intimate portrait of the country and its cooking.
The recipes in Fire Islands are vibrant and exotic yet totally accessible. Spanning the entire country, from the more refined cooking of Java to the spicy heart of Sumatra and the festival foods of Bali, they are organised according to ingredients (e.g. rich and creamy, dry and aromatic, salad and vegetables, sweet and sticky etc) The Sumatran specialty of Beef Rendang featured here has captured the world's attention perhaps more than any other Indonesian dish.
"There is something compelling about the beef with its dark caramelised crust and tender inside suffused with gentle spice," writes Ford. "What makes it unique is that the cooking passes from braising to frying in the same pan, like a casserole made backwards." Stunning photography of both the dishes and Indonesian landscapes and street scenes bring the recipes to life.
---
Buy your copy of Fire Islands from Book Depository now, with free delivery worldwide
---
Recipe for Beef Rendang
Serves 4 to 6
800 ml (3¼ cups) full-fat coconut milk
900 g (2 lb) beef brisket or chuck steak, cut into bite-sized pieces
1 tablespoon dark palm sugar (gula jawa), shaved
2 teaspoons salt
2 lime leaves
2 turmeric leaves (optional)
1 lemongrass stick, trimmed, bruised and tied in a knot
1 cinnamon stick
Bumbu spice paste
8 small red Asian shallots, peeled
5 large red chillies, seeded
4 garlic cloves, peeled
2.5 cm (1 inch) galangal, skin scrubbed
2.5 cm (1 inch) ginger, peeled
2.5 cm (1 inch) turmeric, peeled, or 1 teaspoon ground turmeric
½ nutmeg, grated
pinch of ground cloves
Roughly chop all the ingredients for the bumbu and whizz to a paste in a food processor. Add a good splash of the coconut milk to help the blades do their work. Once smooth, transfer to a large wok or large, shallow casserole pan.
Add all the other ingredients to the wok, making sure there is enough liquid to submerge the meat – add a splash of water if needed. Bring to the boil, stirring to stop the coconut milk splitting. Lower the heat and cook at a slow-medium bubble, more lively than a simmer as the liquid needs to reduce. Cook uncovered for about 2 hours, stirring from time to time. The meat should be tender, most of the liquid evaporated and the oil will have separated from the coconut milk. Remove the lemongrass and cinnamon.
At this stage, the meat and spices that have been braising will start to fry in the hot oil. This is called 'tempering' and needs to be done with care. For about 10 minutes, you will need to stir gently but frequently over a medium heat until the coconut oil becomes thick and brown. The stir-frying then needs to be continuous for the final 15 minutes or so, until the oil has been absorbed by the meat, which will be a dark chocolaty brown.
Leave to rest for half an hour or more before serving at room temperature. Rendang keeps well in the fridge and the flavours only improve with age.
Recipe and images from Fire Islands by Eleanor Ford, photography by Kristin Perers, published by Murdoch Books and reproduced with the publisher's permission.
This story originally appeared in PS News online.