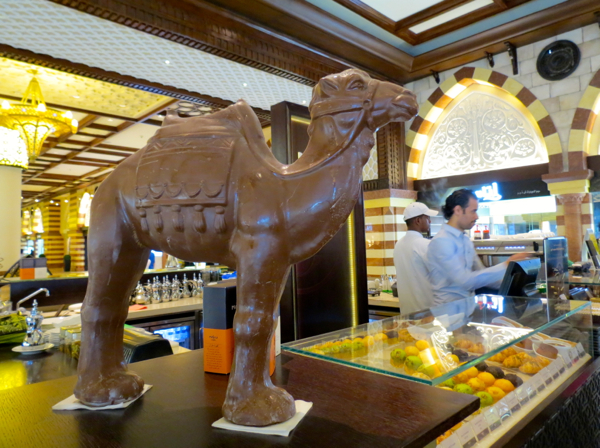 Camels have been the mainstay of traditional Arab life for centuries, not only for transport but also for sustenance. Despite having ridden these ships of the desert more times than I care to remember, I've never actually tasted their milk. So when I came across a camel milk café in the Dubai Mall, it was most definitely time for a rest stop.
As an aside, you can do with a rest while browsing around the mall, for like everything in Dubai, the mall is very big – big enough to have not just a walk-through aquarium and underwater zoo, but an ice skating rink as well. It's said to be the biggest shopping mall in the world.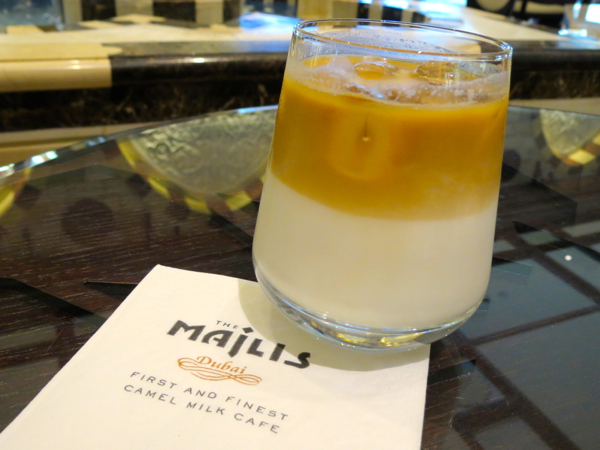 Even though we were looking not buying, we were still tired from all the walking, so we welcomed a break at this lovely café. The Majlis opened in Dubai Mall in 2012 in a joint project between Emirates Industry and Al Nassma, which produces the camel milk products. There are now two other cafés as well, one at Jumeirah Grand Mosque and one at Arabian Adventures' desert camp.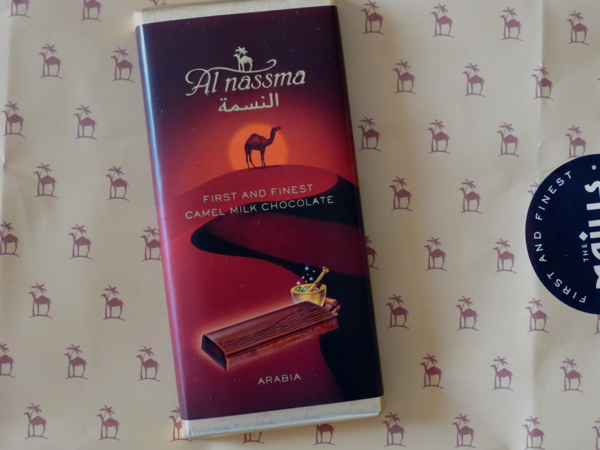 The cafés sell a range of chocolates made from camel milk, including the impressive big one at the top of this post. There are also little camel-shaped chocolates in gift boxes, camel milk icecream, and chocolate bars ranging from 70% cocoa down to milk chocolate with orange and macadamia, dates, cardamom and so on. Yum!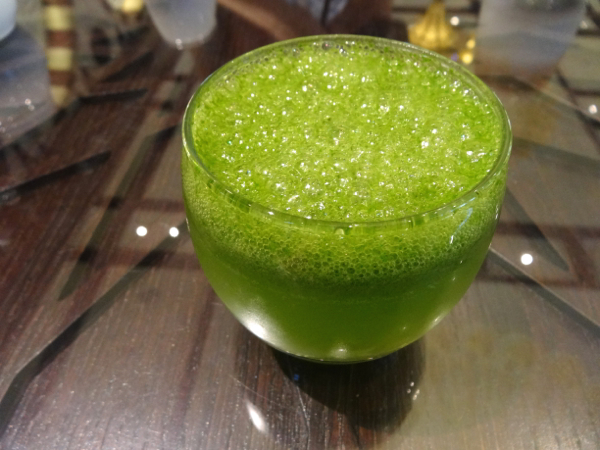 The café has its own coffee blend made from Ethiopian beans, which it serves with camel milk in hot drinks such as Camelccino and Camellatte. I had an iced coffee made from camel milk (see above) and was pleasantly surprised by the milk's subtle flavour. Never a milk lover, cow or camel, Maurie had a refreshing mint and lemon drink which was bursting with flavour, goodness and vibrant colour.
All of the café's baked goods – muffins, sweets etc – are made from camel milk. Coffee lovers will also find cinnamon, Turkish and Arabic green coffee, "Qahwah" (served from a traditional Dalla coffee pot) and other beverages from the Middle East such as local teas and Karkadeh, made from dried flowers. It also does fresh fruit juices and sandwiches.
Located in the "Souk" at Dubai Mall, The Majlis is a relaxing oasis with a small fountain at its heart and an Arabic sense of place.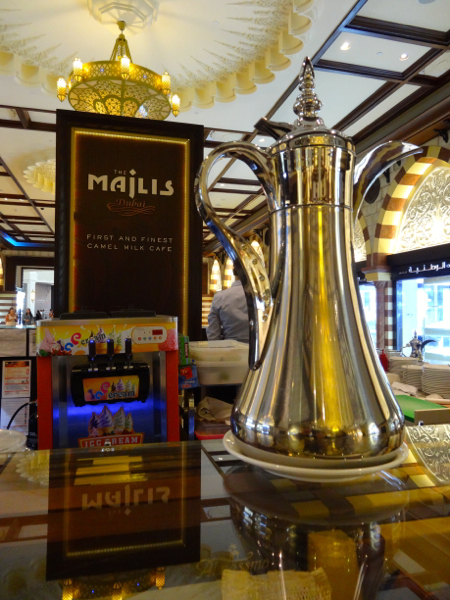 Some interesting facts about camel milk: it is naturally low in fat, containing about half the fat content of cow's milk. It is much richer in minerals, calcium and vitamin C than cow's milk. Camel milk and dates were the traditional diet of the Bedouins until the mid 20th century. There are no known allergies to camel millk; it might be easier for those with lactose intolerance to digest.
There's a sad ending to this tale: we bought one of the chocolate bars to sample at home, but accidentally left it and a bag of other exquisite chocolates at a café in Abu Dhabi airport. Someone, somewhere, is hopefully enjoying our extravagant purchases.
Fact file:
The Majlis Dubai
Dubai Mall, United Arab Emirates
Visit: www.themajlisdubai.com