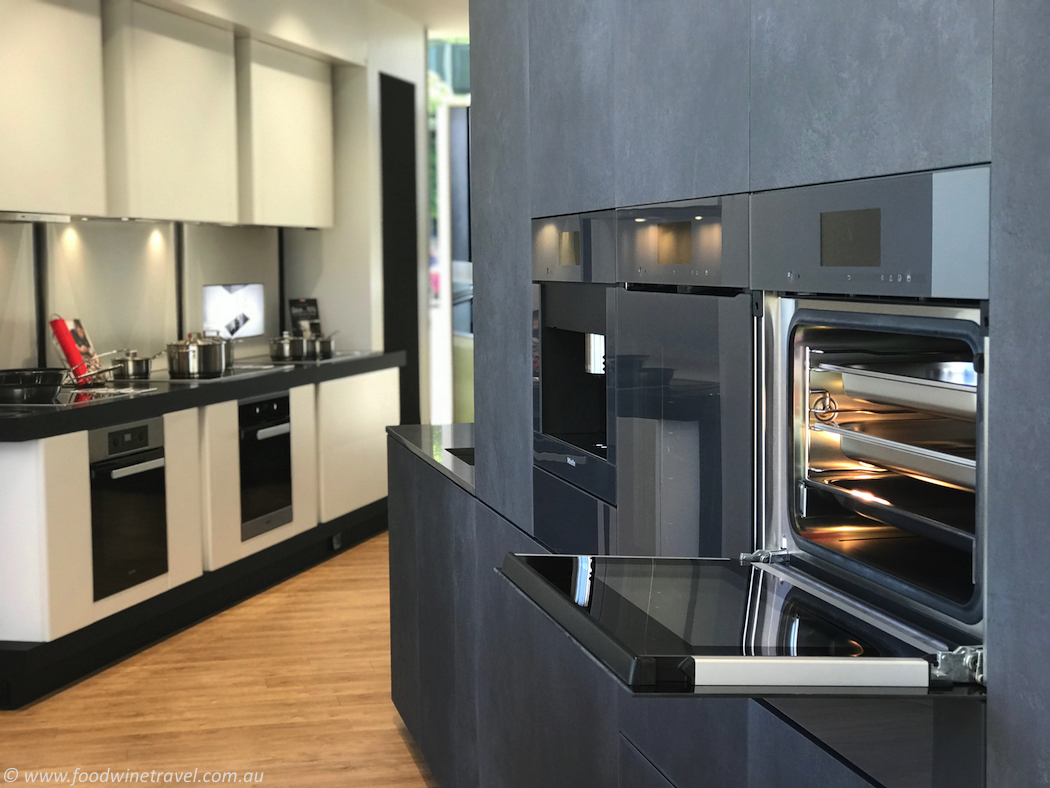 I'm happy to be partnering with Miele to bring you this sponsored post.
Pendant lighting, sleek surfaces, modern chairs and bold splashes of red all go to make Brisbane's new Miele Experience Centre a cool addition to the Newstead dining and shopping precinct. Located in a recently opened complex opposite Gasworks in Skyring Terrace, the Miele Experience Centre is a great place to pop into if you are planning to update your kitchen appliances, or even if you just want to take advantage of the free cooking demonstrations and dream about what your kitchen might look like.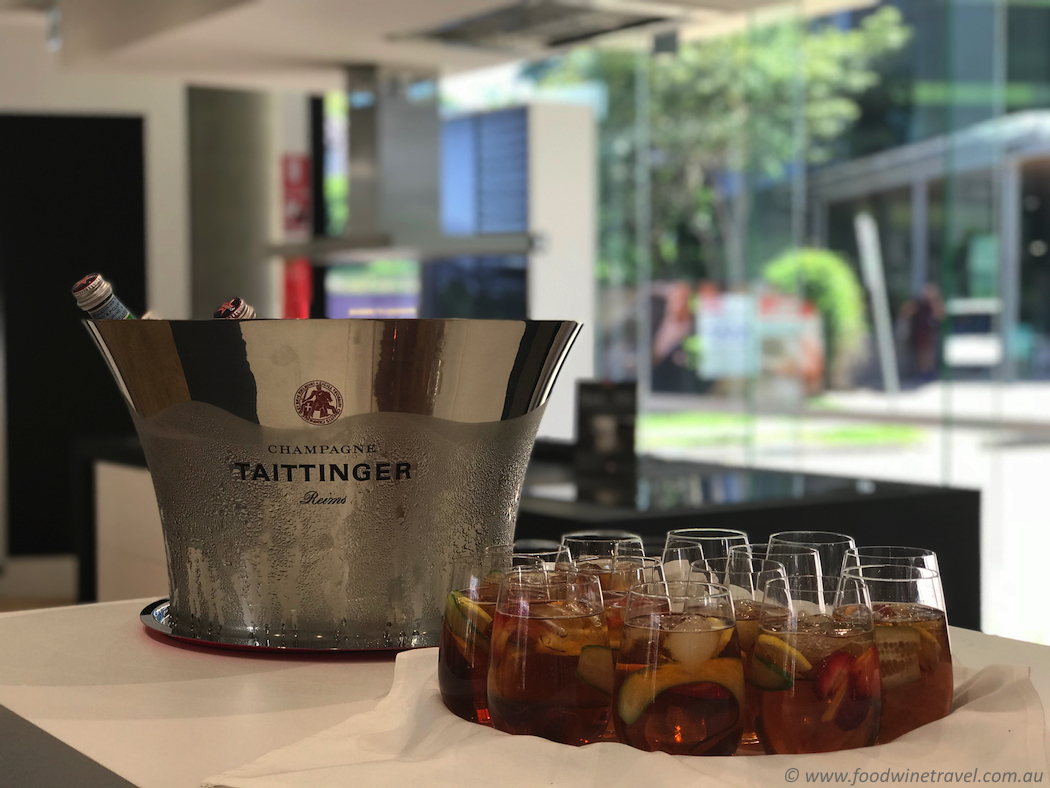 Food Wine Travel was invited to visit the centre shortly after it opened, and we really believe that Brisbane folk are in for a treat. As Miele's culinary experts, Isobel and James, showed just how easy it is to whip up a salmon dish in 10 minutes, sous vide melt-in-the-mouth lamb backstrap, and turn out a delicious rosewater custard using state-of-the-art Miele appliances, I was mentally making plans for renovating our home kitchen.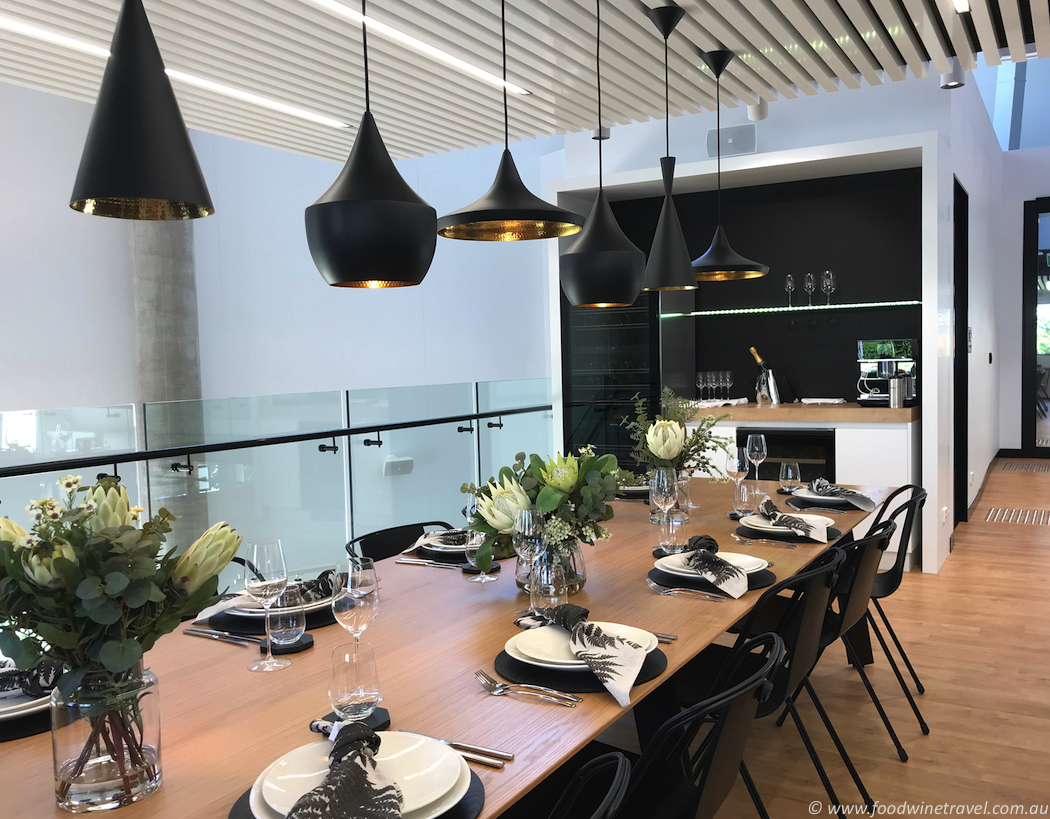 And it seems I'm not alone in being under their spell. "The people who work here are not only passionate, they genuinely want you to own Miele," says marketing director, Gabriella Franklin, as the chefs hover between steam and steam combination ovens operated at the touch of a finger, and an induction cooktop with a built-in extractor. Who would have thought a cooktop could be designed to eliminate the need for a noisy, overhead rangehood? Yes, please, I want one now!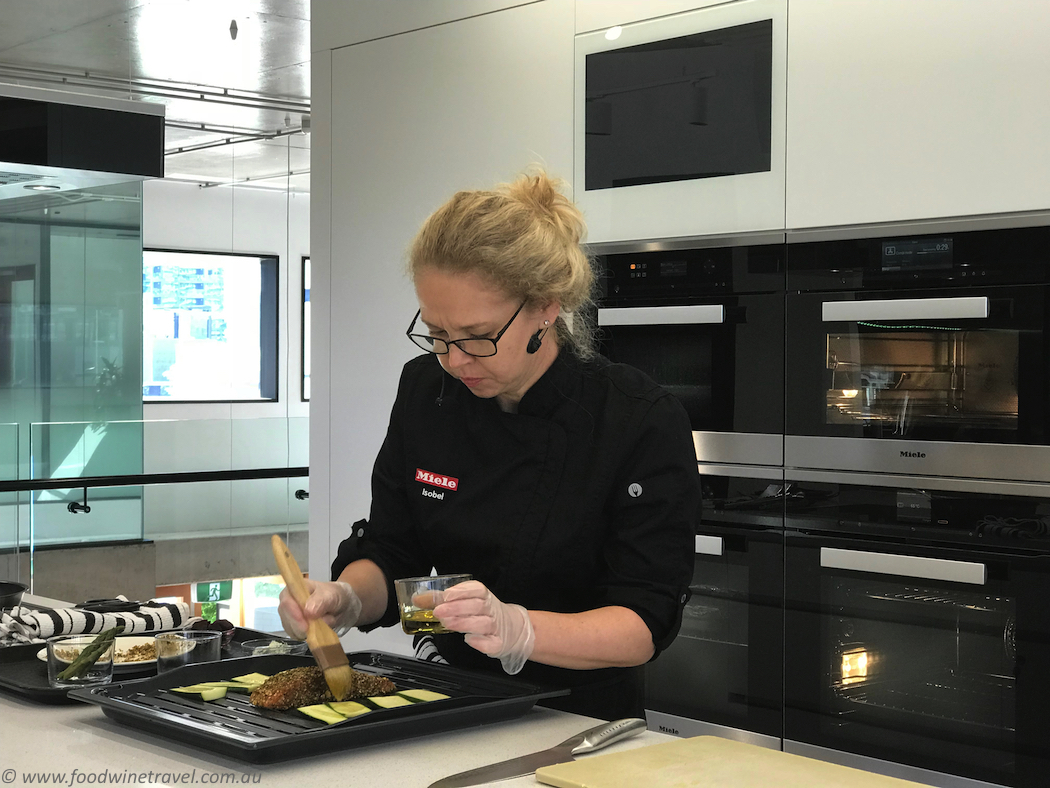 "We wanted to create an environment where consumers feel at home," says Gabriella. "We see it as a retail sanctuary and somewhere that we hope really inspires people. Immer besser is part of our DNA."
The immer besser slogan, which translates as forever better, sums up what this still family-run company is all about. Miele has embodied first-class product quality and German engineering since 1889. "We are almost 120 years old and still retain our family values. We're always thinking of designs and how they can enhance your life," says Gabriella.
The decisions that people make in choosing their kitchen appliances are ones they will probably live with for 20 years, so it's important to choose appliances that are the best fit for your lifestyle. Miele's German-engineered appliances are tested to the equivalent of 20 years use.
The Experience Centre in Brisbane's Newstead is the 92nd in the world and the aim, according to Gabriella, is for it to be "unique, very experiential and engaging". We got a taste of that as we were led from the showroom floor upstairs to the demonstration kitchen, where we were seated at the kitchen bench so that we were totally immersed in the experience.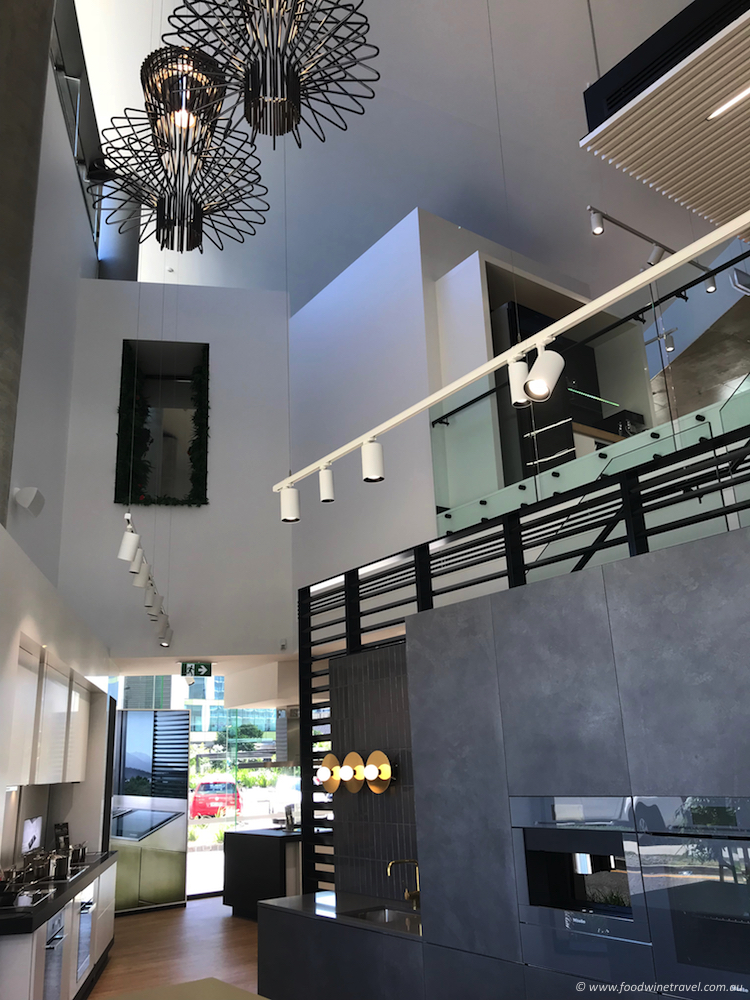 Isobel began with a demonstration of a steam combination oven, one of their most popular ovens and a particularly good solution for apartments. Turning out an impressive dukkah- coated salmon with zucchini and asparagus in 10 minutes flat, she talks about how easy it is to perfect the salmon when steam is used. "When you cook with moisture, the outcome is the same level of pinkness from top to bottom," she says. "Without moisture, it gets dark outside then gets pinker in the middle."
"The steam combination oven is fabulous for doing bread," she adds, noting that beef too is a cinch in this little beauty. "With beef, you can select the level of rareness you want."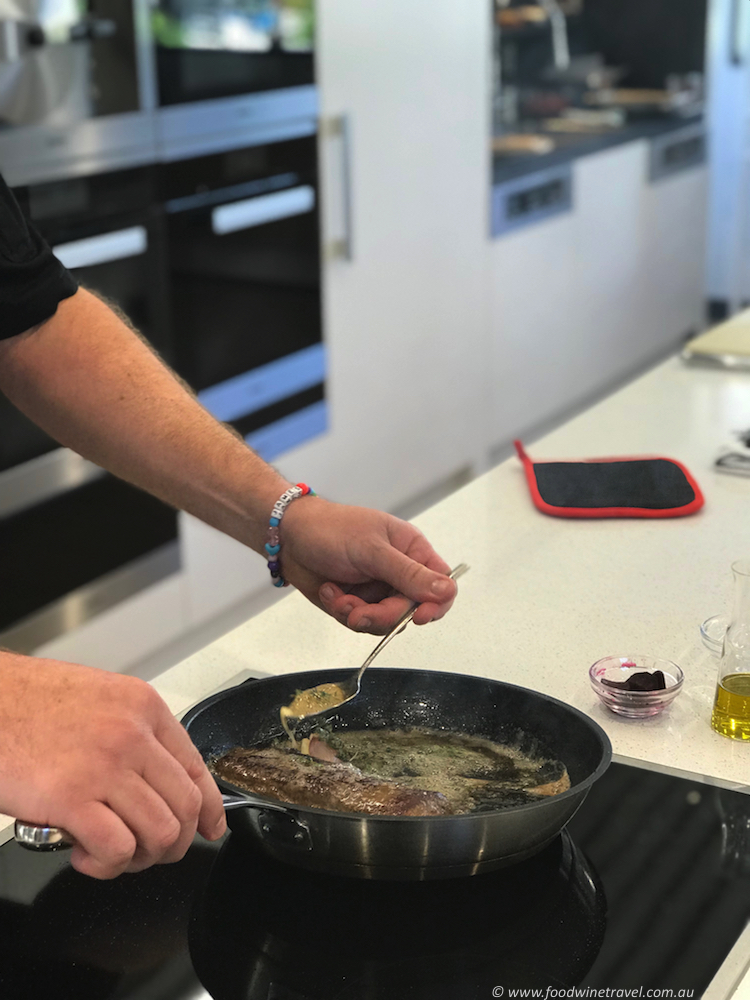 James takes meat cookery up a notch when he demonstrates the benefits of cooking with pure steam. He marinates the lamb backstrap in hickory smoke, tamari and cumin, and puts the whole lot into a plastic bag that is sealed in a vacuum sealing drawer and popped into a steam oven, ready to be sous-vide.
"At 100% humidity, you can drop the temperature to 60 degrees," he says, the long, slow cooking resulting in a tenderness that is hard to beat. He serves it with a pilaf made from cauliflower 'rice' that has been cooked for 8 minutes at 100 deg C.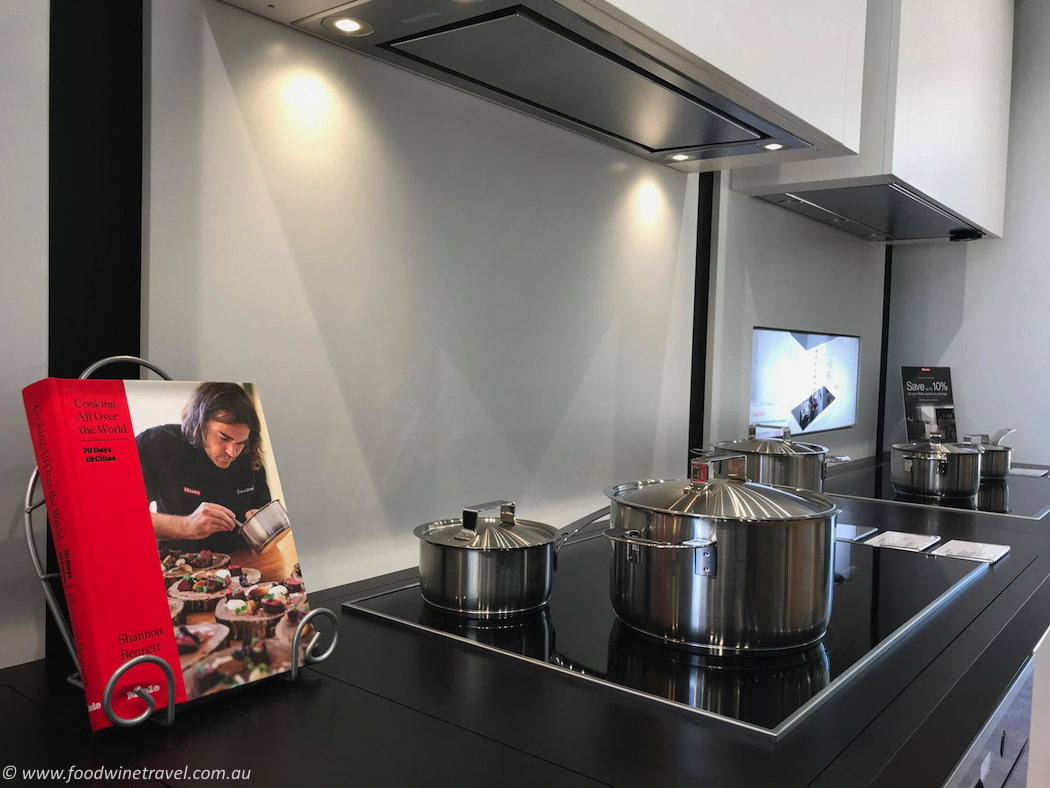 James also cooks some carrots sous vide, which really intensifies their flavours, and he explains how the near foolproof appliances make it virtually impossible to overcook your food. "You can't control rare meat with a lot of appliances but with steam you can," he says.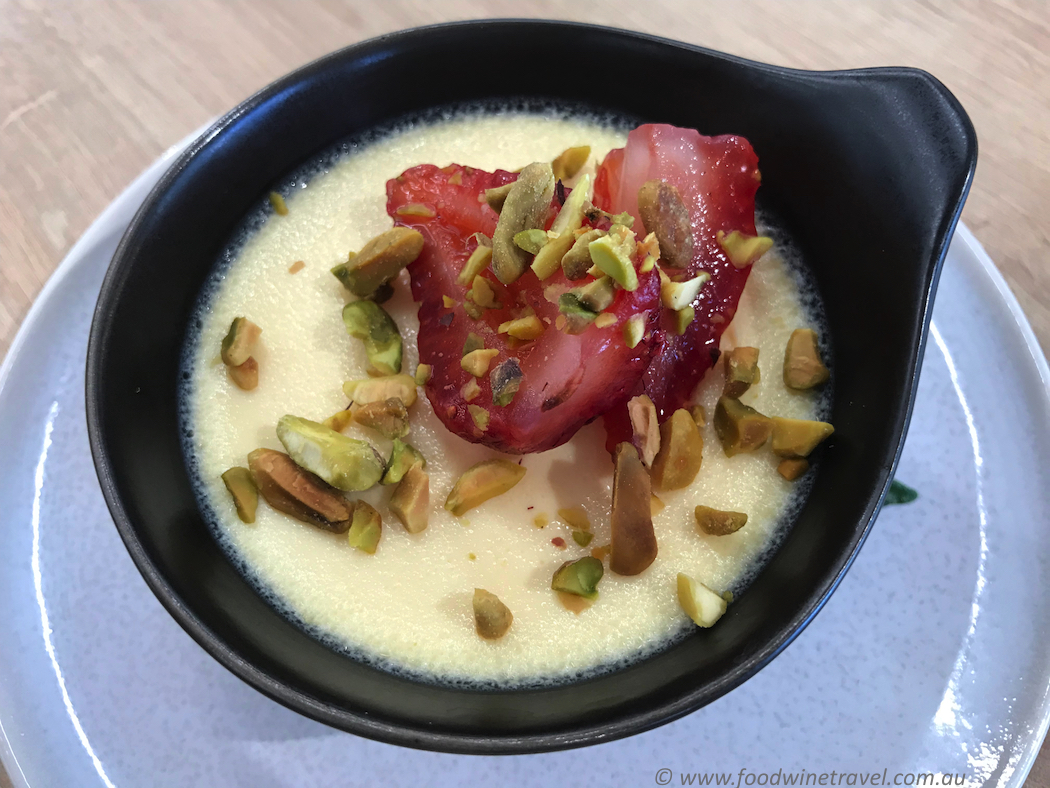 In the blink of an eye, a rosewater custard is cooked in the steam combination oven and served topped with strawberries and pistachio – the strawberries having been allowed to sit in a little bit of sugar and orange blossom water for an hour.
Miele's free cooking demonstrations are held almost every day and are designed to highlight the features and benefits of its appliances so that customers get the most from their purchase. Those who are considering purchasing are also welcome to attend. It's easy to book and there is no obligation to purchase.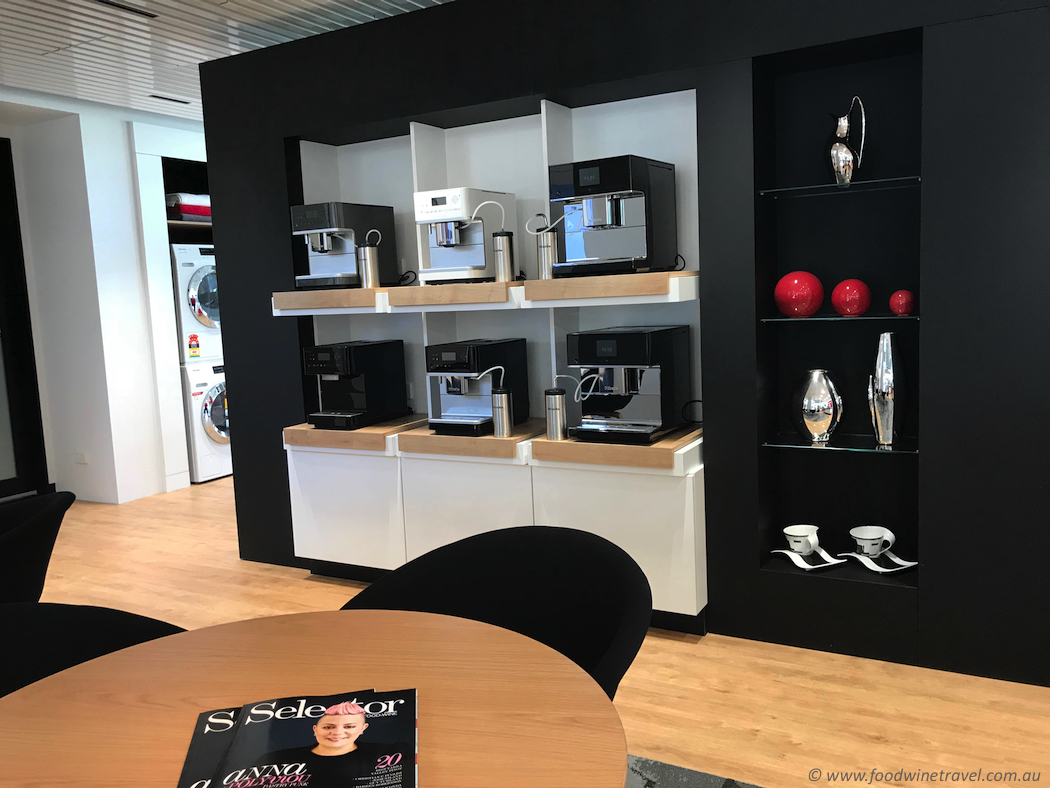 Miele Experience Centres like the stylish one in Newstead allow you to see, touch and experience an extensive range of appliances in one place. You can spend as much time as you like learning about kitchen, laundry and floor care appliances, and there is an interactive screen so that you can compare different models and have the information emailed to you at home.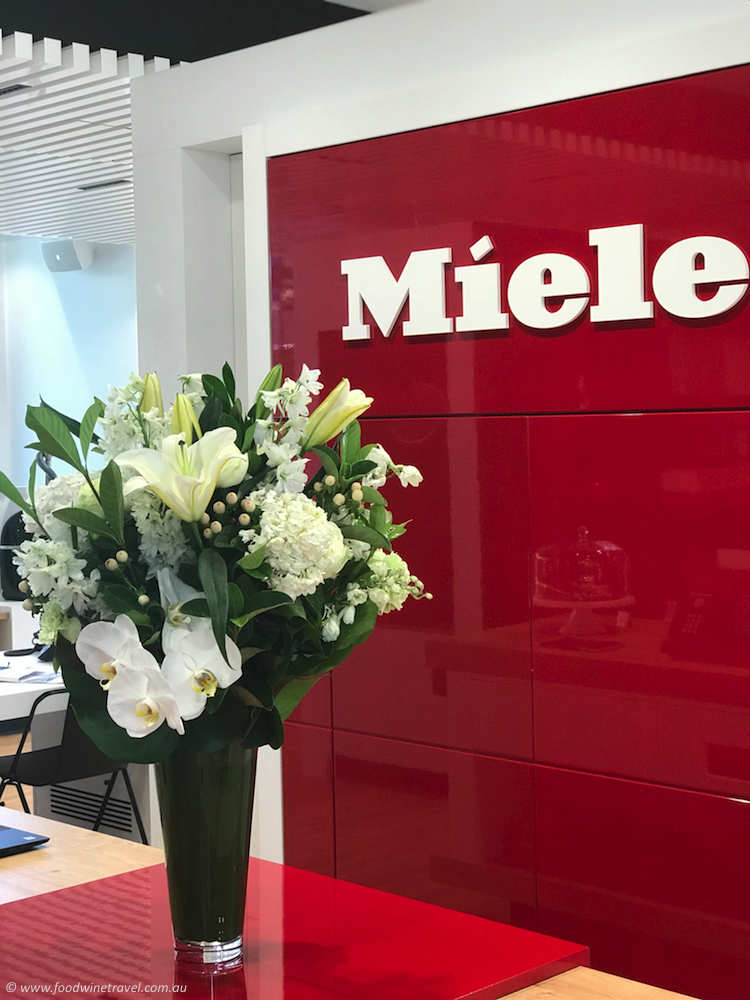 Miele's MasterClass programme features menus created by Shannon Bennett, Michael Meredith and Maggie Beer. As part of a small group you watch their delicious recipes come to life, enjoy a delicious meal and leave with tips, recipes and a newfound expertise.
For more information or to book for an upcoming cooking demonstration, visit the Miele website.