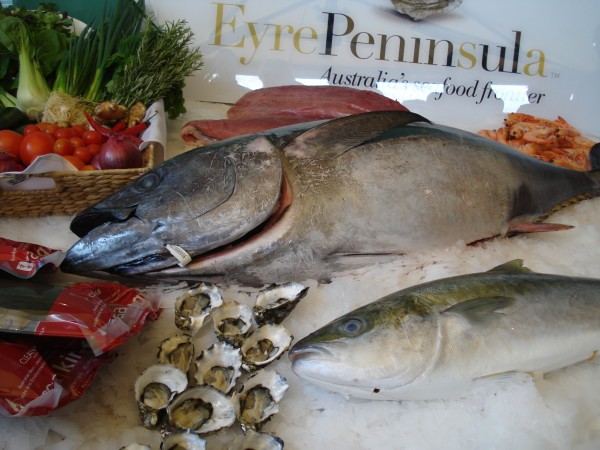 Get set for a gourmet extravaganza when Tasting Australia is held in South Australia from April 26 to May 3.
The program was launched last week and once again it looks set to retain its spot as one of Australia's premier food and wine festivals. (If you asked festival director Ian Parmenter, he'd say the premier food and wine festival).
As well as more than 80 public events across Adelaide and regional South Australia, the festival always includes an extensive program for visiting food and wine media.
I've been fortunate to have attended almost every festival since its inception in 1997, and have always found it to be not only a great networking event, but also an opportunity to discover more about our wonderful produce and talented chefs.
Parmenter and South Australian chef Simon Bryant cooked up a storm in the Adelaide Central Market to celebrate the launch of the program.
Among the highlights: the hugely successful Celebrity Cooking program and Feast For The Senses continue, Word of Mouth will be extended, Out to Lunch offers an opportunity to dine with celebrity chefs, and there'll be a greater focus on the arts and youth this time around.
Activities include cookery demonstrations, hands-on cooking classes, gala dinners and intimate lunches and dinners in some of South Australia's most scenic locations.
Feast for the Senses, to be held in Elder Park on the weekend of April 28-29, is the biggest public event, attracting tens of thousands of food, wine and beer lovers.
The festival brings together chefs from around the world and some of the biggest names in the Australian food industry. International guests this year include Mark Hix, Richard Fox, Rachel Allen and Martin Bosley.
Among the Aussie line-up are George Calombaris, Matt Moran, Guy Grossi, Pete Evans, Stephanie Alexander, Justin North, Miguel Maestre, Adrian Richardson, Philippe Mouchel, Jeremy Strode, Matthew Kemp, Paul Mercurio, Matt Stone, Anna Gare, Maeve O'Meara, Simon Bryant, Maggie Beer, Mark McNamara, Andre Ursini and Poh Ling Yeow.
A flagship event this year is the Best of British Dinner on Monday, April 30, at the Intercontinental Hotel, Adelaide.
It will bring together leading British and Australian chefs, with proceeds from ticket sales going towards sending Australian athletes to the London 2012 Olympic Games.
Bookings for all events: www.tasting-australia.com.au