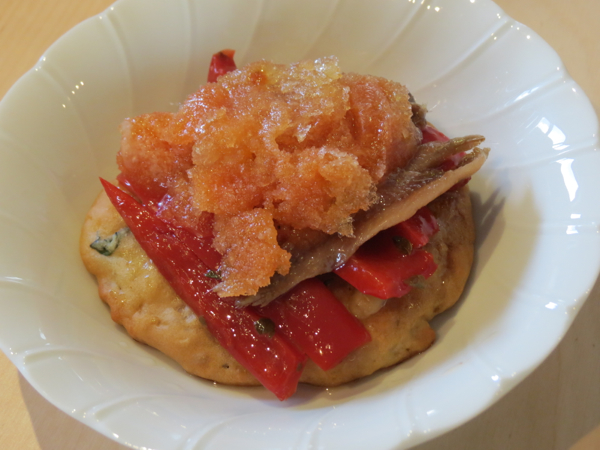 The last of our summer basil needed using before the frost got to it and so this dish was born.
It's not really a biscuit as it is slightly spongy in texture, but I'm not sure what else you would call it. I was quite generous with the spoonfuls on the baking tray and one single biscuit ended up being a perfect size for an appetizer.
What to top it with? I had the last few scoops of Frugii's Bloody Mary sorbet in the freezer, and inspired (very vaguely) by Movida's anchovy on crouton with smoked tomato sorbet, I placed a couple of anchovies on top of each biscuit, a few strips of roast capsicum and finally a dollop of the Bloody Mary sorbet.
Frugii makes amazing icecream as anyone who has tasted John Marshall's superb products at the Capital Region Farmers Market will tell you. Yes, his Bloody Mary sorbet does contain Vodka and it has a real kick to it!
It complemented the salty anchovy and the cheesy biscuit perfectly, and won rave reviews from my taste testers.
Play around with your own combinations and let me know what works for you.
Related post: John Marshall: Frugii Icecream
BASIL AND PARMESAN BISCUITS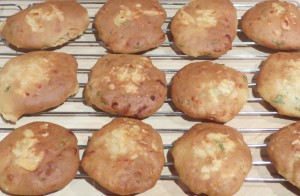 2 cups plain flour
½ teaspoon salt
1 ½ teaspoons baking powder
1 ½ teaspoons bicarbonate of soda
4 tablespoons fresh basil, chopped
3 tablespoons Parmesan cheese
1 ½ cups plain yoghurt
½ cup milk
1 tablespoon olive oil
Parmesan cheese to sprinkle on top
Preheat oven to 180 degrees C.
In a bowl, combine the flour, salt, baking powder, bicarb soda, basil and cheese.  In another bowl, combine yoghurt, milk and oil.
Add wet ingredients to dry ingredients and stir till the mixture just comes together.
Put small spoonfuls on a baking tray (allowing room for the biscuits to expand) and sprinkle generously with remaining Parmesan cheese.
Bake for about 15 minutes or until nicely golden.
Top with one or two anchovies and a scoop of Bloody Mary sorbet on each biscuit.