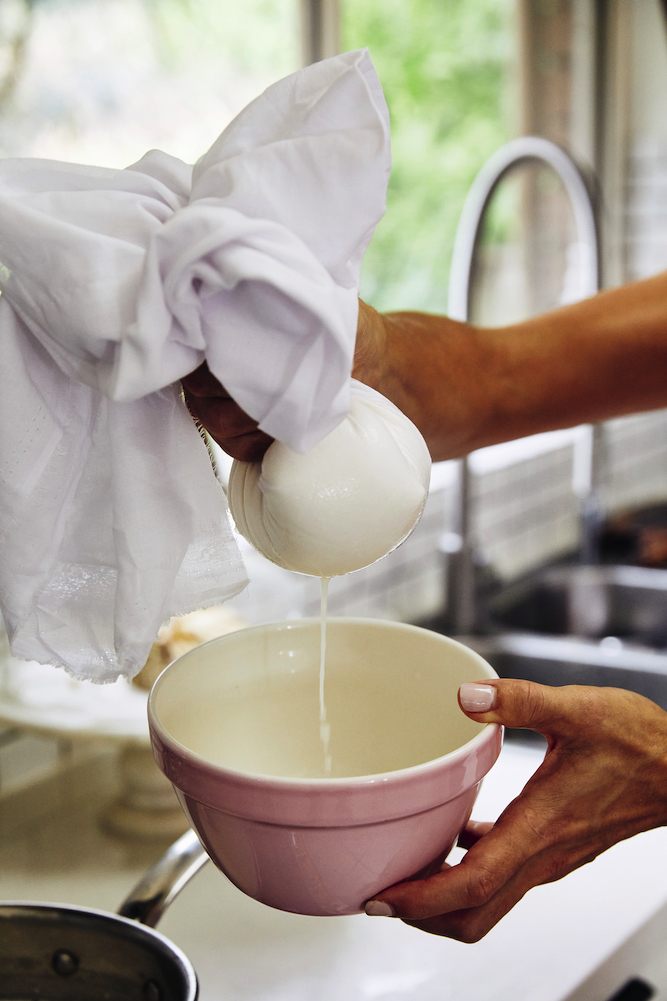 Make your own cheese and cook like an Italian home cook. I think any of us who enjoy cooking would like to cook like an Italian home cook, or at least like an Italian nonna.
There's good reason for that, says Aussie-Italian home cook, Silvia Colloca. "Italians are taught from a young age to cherish the ingredients we cook with, whether home-grown or store-bought," she says. "We have observed our nonnas caring for these ingredients with passion and knowledge, and turning them into meals we will never stop craving or recreating."
In her latest book, The Italian Home Cook, published by Plum, Colloca sets out to show you how to cook like a true Italian, using humble ingredients such as end-of-summer tomatoes, salty anchovies, vibrant greens, oozy burrata and more. These are the dishes made lovingly in homes around Italy every day, and they are often brought to life with only a handful of ingredients and the simplest equipment.
Among the recipes you "need to know" are Cherry Tomato Risotto, Baked Stuffed Capsicums, Tuscan Ribollita soup, Osso Buco with Cannelini Mash, and her Mum's Red Wine and Pear Cake. Having hosted four TV shows on SBS and the ABC, along with authoring six cookbooks, the Italian-born now Sydney resident loves to share delicious recipes that have been passed down through her family for generations.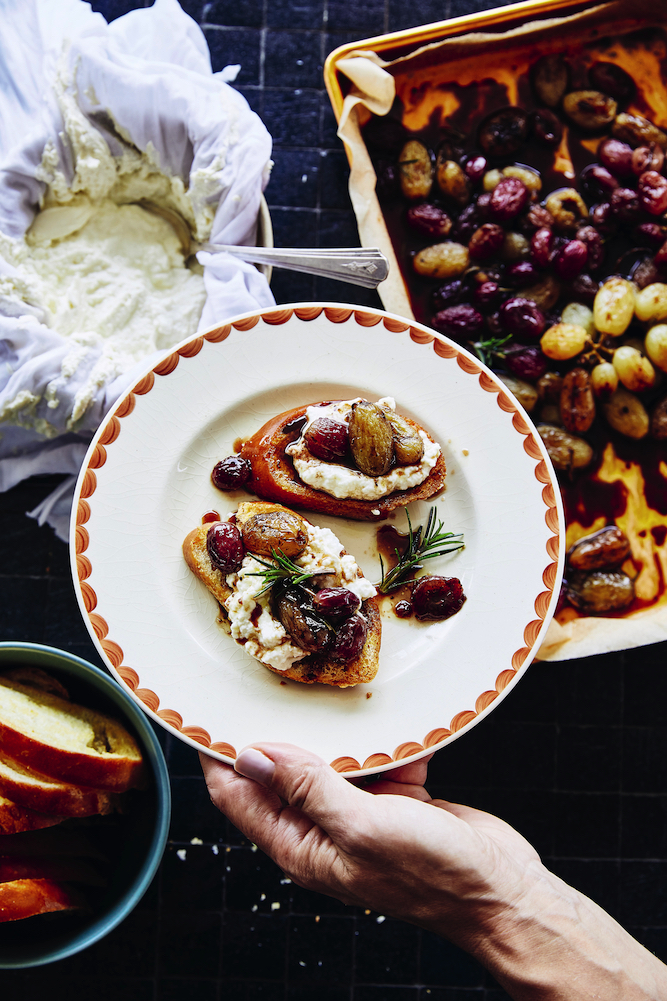 Make your own cheese
As Colloca demonstrates here, if you have milk and lemon, then you have homemade cheese. "It really is as easy as that," she says. "It's incredibly satisfying to watch milk separate from its whey and set into soft curds. Once squeezed between layers of muslin, the curds can be enjoyed in their softer form, or left to set and then sliced. The leftover whey is a precious nectar that must not be discarded. It can be used in place of buttermilk in baking, or reheated and turned into ricotta, which translates as 'twice cooked'. All this from milk and a few drops of lemon juice!"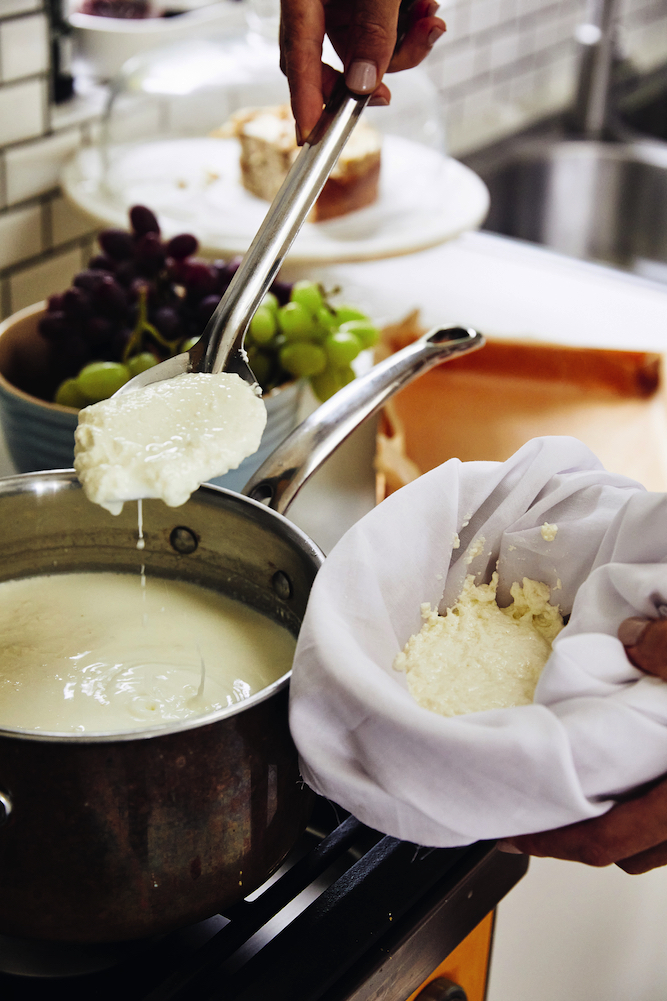 ---
Buy your copy of The Italian Home Cook from Book Depository (free delivery worldwide).
Buy your copy of The Italian Home Cook from Australian-owned Booktopia.
---
Homemade Cheese Curd with Roasted Grapes and Crostini
Serves 4 to 6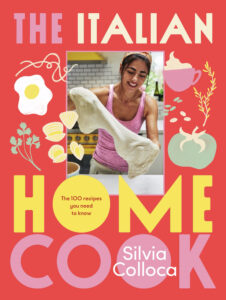 180 g (1 cup) seedless red grapes
180 g (1 cup) seedless white grapes
2 tablespoons extra-virgin olive oil
2 tablespoons vincotto (see notes)
a few rosemary sprigs
freshly ground black pepper
1 baguette, thinly sliced
CHEESE CURD (makes 250g)
2 litres full-cream milk
150 ml double cream
juice of 1 large lemon
salt flakes
To make the cheese curd, pour the milk and cream into a large saucepan and bring to just below simmering point (around 90°C). Add the lemon juice and a pinch of salt, stir and turn off the heat. Cover with a lid and leave for 10 minutes to allow the curds to form.
Line a large bowl with a double layer of muslin cloth. Use a slotted spoon to scoop up the curds and tip them into the bowl. Lift the corners of the cloth and tie them into a knot, then slide a wooden spoon handle under the knot to suspend the bundle over the bowl. Set aside to drain for 30 minutes, then scoop the curd into a bowl. (Pour the whey into a jar, cover and refrigerate for up to 2 days.)
Preheat your oven to 200°C. Line a baking tray with baking paper.
Place the grapes in a large bowl and crush some with your hands to release their juices, keeping the rest whole. Add the olive oil, vincotto, rosemary and some salt and pepper, mix and tumble onto the tray. Roast for 25 minutes or until the grapes are scorched.
Toast the baguette slices until crisp. Spread some curd on the toasted bread, top with the grapes, drizzle on the roasting juices and enjoy.
Notes: Vincotto is a syrupy condiment made from grape must and is easily available in well-stocked supermarkets; balsamic vinegar is a great alternative.
Store any leftover curd in an airtight container in the fridge for up to 3 days. It will firm up as it sets.
Recipe and image from The Italian Home Cook by Silvia Colloca, photography by Rob Palmer. Published by Plum and reproduced with the publisher's permission.
**Enjoy many more delicious recipes from our Food Wine Travel files here.**