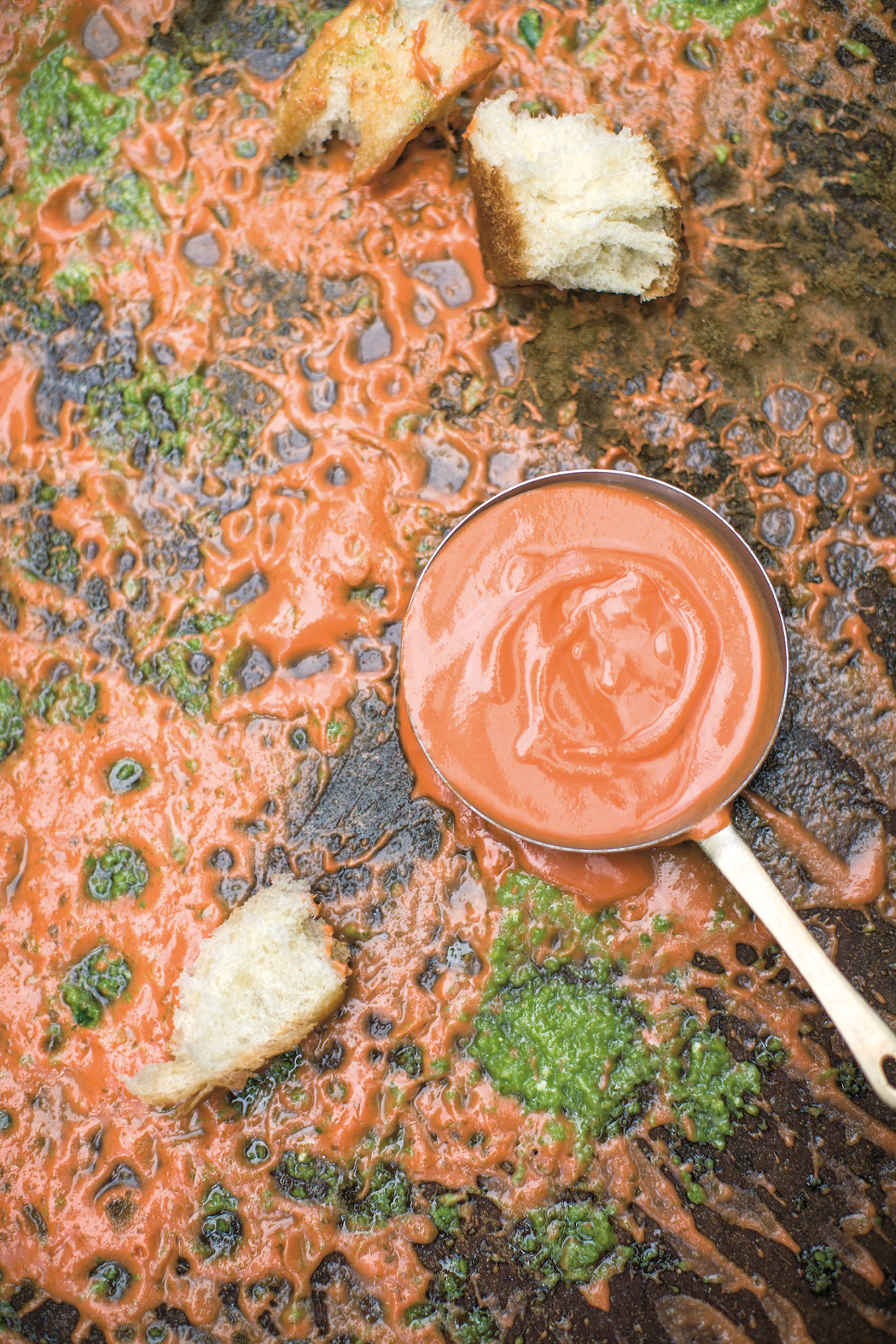 London restaurant, The Palomar, is hot, hot, hot. Featuring dishes from modern Jerusalem, influenced by the rich cultures of Southern Spain, North Africa and the Levant, The Palomar met with widespread critical acclaim when it opened in Soho in summer 2014.
The intimate, 34-seat restaurant continues to go from strength to strength, The Guardian voting it best restaurant of the year. The name, if you're wondering, originates from the period of Spanish rule in California in the 1800s (it means 'dovecoat').
The restaurant's debut cookbook, The Palomar Cookbook, published by Hachette Australia, includes recipes for the restaurant's signature dishes and has a 'little bit of everything' from the key players. Chef Tomer Amedi wrote the recipes, Papi tells his story, Yael reveals her love of baking, Zoe shares a glimpse into a day in their lives, Marco demonstrates his passion for cocktail making.
With mezze dishes to share, sweet and savoury pastries, simple dishes for a quick fix and more complex dishes for a main meal, the recipes are evocative, innovative and bursting with flavour. There's advice on essential ingredients and spice mixes (What's in the cupboard?), entrées and appetizers (the Meal before the Meal), Raw Beginnings, the Main Act, the pastry room, and dishes for those who want to kick back.
Chef Tomer Amedi's multicultural heritage
Chef Tomer's cooking bears all the hallmarks of his multicultural heritage. He was born and raised in Jerusalem, home to Jews from all over the world, as well as Muslims and Christians. He considers himself the luckiest chef alive – unwittingly, effortlessly exposed to a huge variety of cuisines – "in effect, travelling without moving". With The Palomar, the journey continues.
The bread recipe here is a variation of a Yemeni bread that was traditionally baked overnight in a lidded aluminium pot. The end result is buttery fresh and beautifully rich in texture.
"When we opened The Palomar, we knew we needed a bread that was perfectly suited to plate-mopping, so I came up with this fluffy version of kubaneh," Tomer says. "Luckily for us (and you), it needs only 30 minutes' baking. You don't need special baking proficiency to make this bread — just be fearless!"
In the restaurant, the kubaneh is served with White Tahini Sauce and Velvet Tomatoes, but any kind of sauce, mezze or salad is up to task.
The Velvet Tomatoes are a cross between gazpacho and a Yemeni grated tomato sauce. This fresh tomato dip can be enjoyed with bread or even as a cold fresh sauce for raw fish or some grilled vegetables. The most important thing is to get really good ripe tomatoes and extra virgin olive oil — there's no room to hide with only two key ingredients.
**Buy The Palomar Cookbook from Book Depository.
The book is a real bargain on Book Depository right now. Food Wine Travel gets a small commission on purchases through this link but it doesn't cost you any extra.
KUBANEH BREAD
Makes 6 small loaves or 3 larger loaves
As kubaneh baking pots are not something to be found in every home, you can use 6 x 12cm (4 ½ -inch) baking rings instead to make individual loaves, or 2 x 900g (2lb) loaf tins, each measuring 28.5 x 13.5cm (11 x 5 inches), for larger ones.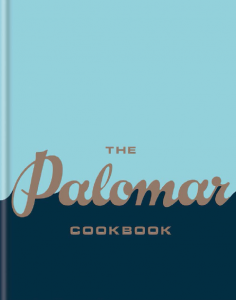 500g (1lb 2oz) plain flour, plus extra for dusting if making by hand
30g (1oz) fresh yeast (or 10g/¼ oz fast-action dried yeast)
15g (½ oz) salt
70g (2½oz) granulated sugar
1 small egg (50g/1¾ oz)
320ml (10½ fl oz) cold water
100g (3½ oz) unsalted butter
In the bowl of an electric mixer fitted with a dough hook, or in a mixing bowl if making by hand, mix the flour and yeast together on a low speed, then add the salt and the sugar. Mix in the egg and the water, making sure there is no flour left unmixed at the base of the bowl. The dough will be very sticky, but do not worry — this is exactly how it should be, so do not be tempted to add any flour.
Knead the dough on a low speed for 3 minutes, or by hand in a bowl, then cover the bowl with clingfilm and leave the dough to rest for 10 minutes.
Uncover the dough and knead it for about 1 minute to let some of the air out, then re-cover with clingfilm and leave to rest for a further 10 minutes. Repeat this kneading and resting process, then uncover and knead once more to let the air out — three times in total.
Leave the dough to rise for about an hour or until tripled in size. Next comes the fun part — it's time for some hand-in-butter action. Line a large baking sheet with baking parchment. Take 6 x 12cm (4 ½ -inch) baking rings (if going that route) and place on the baking sheet. Melt the butter in a pan on the hob or in the microwave — it should be lukewarm rather than piping hot, otherwise dipping your hands in it will be no fun at all.
Clean your work surface and use your hands to grease it with a little of the melted butter. Make sure you keep your hands and work surface nicely buttered throughout. Now divide the dough into 6 evenly sized balls (150g/5 ½ oz each). Take the first ball and, using your buttered hands, begin to spread the dough into a thin sheet roughly A4 paper size (30 x 42cm/12 x 16 ½ inches) — it's okay if you get a hole here and there.
Keep buttering your hands and work surface if needed. Use your hands to roll the sheet into a tight tube. Now spiral the tube into a coil and place in a baking ring. Repeat with the rest of the balls of dough. If using loaf tins, you can fit three balls of dough in one tin.
Once your baking sheet is loaded with the 6 beautiful kubaneh coils, leave them to prove for 30 minutes or until tripled in size. Meanwhile, preheat your oven to 200°C/180°C fan (400°F), Gas Mark 6.
Bake the kubaneh for 20–25 minutes (or 30 minutes if using loaf tins), turning the baking sheet around halfway through cooking to ensure a nice even colour on each loaf. Take the baking sheet out of the oven and leave the loaves to cool for 10 minutes (I warn you, that'll be a tough 10 minutes — the smell will drive you mad). Now remove from the rings and that's it — you are ready to rip and dip!
Note: To keep the loaves fresh, make sure they're kept tightly wrapped or sealed and they'll be fine overnight at room temperature, or for up to 3 days in the fridge. Or follow our mothers' example and freeze a couple so that you're always at the ready for an unexpected guest. They defrost brilliantly, and are very easy to warm up.
VELVET TOMATOES
Serves 4
500g (1lb 2oz) very good-quality red tomatoes (ripe and a bit soft are the best), cut into quarters
½ –1 green chilli (depending on how hot you like it)
1 tsp toasted and ground cumin seeds
4–5 tbsp extra virgin olive oil
salt, to taste
Put the tomatoes, chilli and cumin into the most powerful blender you can get your hands on. Blend until smooth. Then while continuing to blend, add the olive oil gradually. The mixture will emulsify and give you that velvety texture you want. Add salt to taste, and then comes the most important part: strain through the finest sieve you have (in the restaurant a chinois is used).
Note: The chef prefers to enjoy this the same day, but it will keep fresh in a sterilized airtight container in the fridge for 2 days, or you can store it for up to 5 days and use in any sauces for pasta and other dishes.
Recipes and images from The Palomar Cookbook, published by Hachette Australia and reproduced with permission from the publisher.
This story originally appeared in PS News online.